Corvette
From the beginning, one of the core values of AutoZine is talking about and comparing cars from 3 continents. Now the site is coming to an end and I'd like to have a conclusion about this topic. Let me take Corvette, 911 and Skyline as examples, not only because they are my front-page cars but also because they represent the spirits and traditions of the USA, Europe and Japan respectively.

It is quite unbelievable that the C5 Corvette is still built on the same format as muscle cars 30 years ago, most notably is the big pushrod V8. Well, what else can characterise American performance cars ? For a company having no tradition at all, GM's preference of pushrod V8 for Corvette is mostly due to cost reasons. You know, when the Cadillac had already got multi-valve V8s as standard, the C5 still developed the pushrod LS1 engine because the profit margin of Vette used to be very slim and the volume is not as big as perceived - although the Vette is the dream car of every American boys and engages a lot of covering pages of American car magazines, annual sales is just around 33,000 units, or double of the exclusive-feeling Porsche 911. Mercedes builds more high profit SLK than it.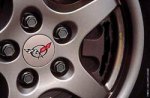 Production cost and development budget used to limit the success of Vette. While performance per dollar is still unmatchable, handling used to be Corvette's weakest aspect. Remember American magazines compared the C4 with Japanese rivals like Supra, 300ZX and gen III RX-7 ? every occasion the Vette won in grip but lost in steering, balance, transmission and of course ride comfort. The C5 is much better, but hardly called as a winner. Its steering and shift quality still lag behind the best of the world. The Getrag gearbox can get overheated for continuous hard use. The plastic and fit & finish of interior is the poorest.

Using the budget to enhance performance instead of refinement is the philosophy of this car as well as many American performance cars. However, I can't help praising the work done by the C5 considering the budget it got. While the pushrod V8 sounds old, it can amaze European by its compactness and lightweight. It's powerful, torquey and maybe not as thirsty as we believed. It let us rethinking why we need multi-valve and smaller capacity at extra cost ... anyway, the development potential of the LS1 is limited, so is the days lying beyond pushrod engines. Without multi-valve and variable valve timing, pushrodder will not be able to keep pace with the progress of modern engines. Even GM's trucks are switching to a 24-valve inline-6 with VVT and variable intake. Who else is still in favour of pushrod ?
While pushrod V8 may die in the next decade (although unlikely to happen in the 2003 new Corvette), the Vette will live forever. It is still the symbol of American sports cars. I have no doubt that it will continue to be superfast, cheap and unrefined. That's good to all over the world, as we don't need another 911 or Skyline.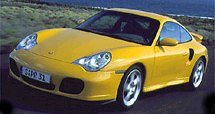 911
While American sports cars are designed base on market analysis, European sports car specialists are usually driven by engineers' passion and perhaps the will of a few legendary masters, namely Enzo Ferrari, Ferry Porsche, Colin Chapman, Ferdinand Piech etc. Therefore European sports cars have strong characters - no matter strength or flaws. Every marque has its own persistence in a unique philosophy, say, Ferrari persists in V12, Porsche 911 persists in flat-six, Lotus must be lightweight, Morgan is wooden frame .... now you may say most of such persistence have been sacrificed for customer needs, but European car makers manage to retain their traditional character in a new packaging, because they care about traditions and image.

Take the 911 as an example. From the first one in 1964 to the latest 996 Turbo, everything has been changed but one can easily tell you both of them comes from the same breed. The evolutionary shape is one of the main reasons. In the 60s, the frog-eyes headlights were deemed to be a functional rather than artistic design, but once they became the symbol of 911, they were retained, evolved and enhanced gradually. Yes, gradually. While Japanese cars change styling completely for every generation, European cars deliberately retain the spirit of the old styling as much as possible, though every generation modernize a bit. In this way, the frog-eyes of 911, double-kidney grilles of BMW and Ferrari's wave shoulder line are printed deep in our memory.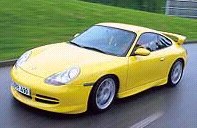 In R&D, European sports cars specialists are far more radical than US opponents, because they know strong image depends on engineering excellence rather than styling. GM might be the father of automotive styling (Harley Earl restyled all GM cars every model year), but it doesn't understand engineering is the decisive factor for building a strong marque, therefore Cadillac Allante failed. On the contrary, Porsche spent a lot of money to research and develop engine technology, Tiptronic, 4-wheel drive, PSM stability control, aerodynamics, ceramic brakes .... a lot of time spent to test and tune the cars in Nurburgring the big ring, a lot of attention to quality of material and selection of suppliers. This is hardly believable for a car maker so small in production volume - last year around 30,000 cars built. How can it find the development budget ? The answer is to sell cars at premium price. A 911 might cost less than double of a Corvette, but the resultant profit margin is several folded. Therefore Porsche can afford a high percentage of engineering cost. The real question is how to sell so many premium 911s. The answer is again strong image. You see, the establishment of image depends on the quality of product. Once the image is improved, price could be raised to lift the quality of product again. The success of Porsche and Ferrari are the result of such long-term accumulation.

Skyline
In contrast, Japanese car makers have the tradition of "no tradition". Although they have some of the world's longest serving name plates, say, Toyota Crown, they change everything ground up every generation. This is because they are more market sensitive than self-confident. Another reason is that they are hard working - while European cars usually serve for 7 years with a mid-life facelift, Japanese used to launch new generation every 4 years. (Maybe a bit longer now because of recession)

They stunned the world times to times by demonstrating their ability to beat the Western even without any experience. 240Z, MR2, Lexus LS400, 300ZX, MX-5, NSX, Skyline GT-R, S2000, Yaris ... when they decide to make a world class machine, nothing can stop them. The European might take 20 years to do so, the American might say impossible from the very beginning, the Japanese do it in one night - in fact, a lot of nobody-know sleepless nights. They are hardworking, serious and care about details. This explain why they build the world's most reliable cars. The English don't know what quality is. The Italian ignore quality. The German talk about quality. Only the Japanese carry out quality.

Compare with the European, Japanese is even more technology-fancy. The Skyline, for example, has all the most sophisticated technology that the Western can't imagine, such as computer-control multi-plate clutch 4-wheel drive and computer 4-wheel steering which implement the most adequate understeering / oversteering. Whenever European pioneer a new technology, the Japanese will follow very soon and further enhance it. Whenever the Japanese made a technology standardize, the European may take 5 or 10 years to match. Examples are multi-valve engines and 4-wheel drive (now nearly all Japanese new cars have it as option).

Versus Big Three, Japanese car makers found the USA market is their promised land. They achieved double-figure growth annually, took the first 2 places of car sales chart with Camry and Accord, established luxury arms there. They dominated the compact-size segment, then the largest selling mid-size segment. Where the Big Three left, they engaged that market. Where the Big Three is concentrating (i.e. SUV), they are gearing up to challenge. So, against the Japanese, Big Three seem now in a danger zone. Once the SUV love affair dry out, they will find difficult to go back.

The disadvantage of Japanese cars used to be lack of character and boring handling. However, since the GT-R, many Japanese performance cars were tuned in Europe, such as Lexus IS200. Some may even be styled by foreign designers, such as Yaris. The combined effort of Japanese and European has been proved to be world beating - Japanese reliability, technology and value for money, Euro-style handling and look.

The problem for Japanese cars remains to be lack of tradition. That's not good to them because they can't enjoy premium price due to accumulated image, but benefit real car lovers, as we can enjoy superior cars at bread-and-butter price.

Corvette, 911 and Skyline, all are interesting cars to me despite of different philosophies behind them. I hope they will be long live forever and never be ruined by globalization.

- Mark Wan, 14 July 2000.