Not long ago, the fastest Mercedes 190E was powered by a 2.5-litre four pot with 197hp. Just after an eye blink, a C36 stormed Stuttgart by its 3.6-litre, 280hp inline-6. Then it even gets a V8 displacing 4.3-litre and good for 306hp. Today, the fastest little Mercedes becomes C55, with a 5439c.c. V8 capable of 347hp and 390 lbft. Does the muscle car era come back ?

Undeniably, cars are growing quickly since the late 80's. There are a few reasons. The most apparent one is due to the requirement of safety. Since the late 80's, crash protection regulations in European and US have been tightening. New requirements such as side impact test, 50% offset frontal crash test were introduced while the speed of crash test was increased steps by steps. This calls for more passive safety design, that is, stronger chassis and larger crumple zone. Meanwhile, public concern also led to the popularity of active safety device such as airbags (some prestige cars have 10 airbags now), ABS, Traction Control, ESP etc.

All cars, no matter small or large, has to pass the same crash test. Inevitably, small cars suffer more from the safety upgrade. Today, a Volkswagen Golf GTi weighs 1279kg compared with the first generation's 906kg. Undoubtedly, the requirement for refinement and comfort also contributes to the weight increase. We are more and more concern of interior space as we are generally taller than our parents. As a result the new Golf is nearly a class larger than the Mk1, the latter compares well with today's Polo.
However, disregarding the growth in size our cars are still heavier than our parents' - an evidence is that the little Lupo 1.0 now weighs the same as Golf GTi Mk1. Compare with our parent's, our cars are better built, care about the detailed finishing, has more sound deadening material, incorporate hydraulic engine mounting, suspension-mounting subframes etc. and have a hell lot of equipments.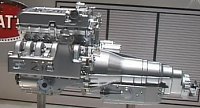 Bugatti's W18
Luxurious cars should have been affected relatively less as their inherent advantage in crash protection, and because they were already well-equipped in the good old days. But we also see a foolish, purposeless competition for subjective satisfaction. Mr. Ferdinand Piech thinks a Bentley should have a W16 to match the status of the millionaire customers. A Bugatti needs 2 more cylinders just because, as he said, to position the brand higher than Bentley. A battle of "No. of Cylinder" broke out as Mercedes decided to have even more - a V24 displacing nearly 12 litres.
In fact, Mercedes itself has already started another battle in its C-class, CLK, E-class and ML-class ranges. All of them now get the largest 5.5-litre V8. The A-class is the only model not involving the cylinder or engine capacity battle, although we know there is a 250hp twin-motor A-class on pipeline.

BMW and Audi are less crazy, but not by too much. The original M5 displaces 3.5-litre. Today's powered by a 5-litre V8. Similarly, the original M3 (2.3-litre 200hp) versus new M3 (3.4-litre 340hp); Old Audi S2 Avant (2.2-litre turbo 230hp) versus new S4 Avant (2.7-litre V6 turbo 265hp); Old Audi S6 (2.2-litre turbo 230hp) versus new S6 (4.2-litre V8 340hp)

They might think the more the power the better the car. I don't think so. Undeniably, today's C55 is far more expensive than the late 190E-2.5-16. The Golf V6 is also a lot dearer than a Mk2 GTi 16V. Apparently they appear to different customers - the C55 appears to the riches used to buy SEC, the Golf V6 targets the BMWer. They just build a higher class car on a smaller chassis, not upgrading the existing car.

We miss the affordable M3 mk1, the raw but fun Golf Mk1 and many many cars buried by the trend of growing.

- Mark Wan