Suddenly many readers talk about Vector. More precisely, talk about my Vector page in the Strange Car section. For any people other than American, believing a push-rod 7-litre V8 outputting 700hp is simply unbelievable. But our Uncle Sam always says nothing is impossible in America. He argue that pushrod engine had been proved as capable of running to 800hp in NASCAR, or 1600hp in dragsters. He pointed out that there are many modified cars in America capable of reaching 100hp/litre while costing just a few hundred dollars for modifications. Is America really a dreamland ?

If so, Ford Mustang SVT wouldn't have been accused for producing just 280hp rather than the claimed 320hp, Callaway C12 wouldn't have had just 465hp out of 6.3 litres (or in Uncle Sam's words, 382 cubic inches) and the 8-litre Dodge Viper would have doubled its horsepower. Dream is dream, reality is reality.

We, non-American, do not necessarily hate push-rod engines. However, in terms of top end power efficiency, it is just the basic theory (that every mechanical engineers know) tells us that the push-rod type valve gear is not the most optimised design. Not just because the long and heavy push-rods limit the revvability of the engine, but also because we assume all push-rod engines have just 2 valves per cylinder, without variable valve timing. Both limit the efficiency of breathing. If you believe the Vector's push-rod V8 had 700hp on tap, then the contemporary McLaren F1 would have had 1000hp. No, the 48-valves, variable valve timing BMW V12 just produced 103hp per litre, versus Vector's 100hp per litre. And who dare to say the Vector made better engine than BMW's Motorsport department ?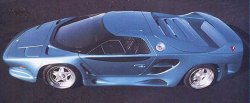 If it is AMG or Callaway, I have no problem of believing it's claimed power. But this is VECTOR, the most notorious supercar maker in the world. All the stunning claimed performance data were not testified by car magazines. The same for car modifiers. Tuners may claim big figures, saying they had reached that on the test bed. But the cars provided for car magazines were always said as "detuned" version because the development was still undergoing. Who knows how they tested the engine on the test bed ? For how long ? By re-programming the engine management system alone, you may get 100 more horsepower, but the engine would neither last the first 1,000 miles nor pass the emission test. That's why they always lend the "detuned" version for journalists testing.

So what's the point of saying some racing cars have push-rod engines delivering 100hp/litre ? Racing car is racing car. They run on high Octane petrol (e.g., Formula One is 102 RON, versus the best 98 RON you can get in your gas station.) so to enable a compression ratio of probably 14:1. Our best road cars are just around 11.0:1. Direct injection might improve that a little bit. As a result, racing engine squeeze more horsepower out of the same capacity.

Racing engines are designed to complete the race distance and no more. As long as it is enough to do so, all the extra weight are going to be cut in order to increase rev and power. For instance, the light weight valves, connecting rod, piston etc. might not be reliable enough for road use.

Then comes the emission regulations, which further limit the horsepower of our road cars. Adding all these, it is impossible to prove the feasibility of 100hp/litre road-used push-rod engine based on the "evidence" from motor racing.

What about the muscle cars in the 60's and 70's ? Didn't they prove that push-rod engine could be highly efficient ? No. Their headline-topping horsepower figures always worth doubting. Firstly, the race for horsepower in the muscle car era might push the Big Three to claim bigger numbers than the real ones. Secondly, in those years power were measured as Net rather than today's Gross. An example would give you a clearer view - the Jaguar XKE V12 claimed 272hp (Gross) or 317hp (Net), the latter is 16.5% up from the Gross power !

Uncle Sam also told us his experience of riding on a 70's muscle car. He insisted he felt the POWER of the push-rod engine and recorded a fabulous quarter-mile time. Unluckily, it is the TORQUE and gearing that dictate the acceleration, not the top end power. You cannot testify the power without running to maximum speed. Well, for a 450-horsepower muscle car, the top speed is likely to be 180mph I think …. did Uncle Sam ever reached that ?

That's enough. Those enjoy watching NASCAR and drag racing might think different from the rest of the world. And the rest of the world would never understand how "great" the push-rod engines are, excluding about their size.

- Mark Wan