I read quite a lot of magazines, what a pity none of them ever tried to have a technical insight into Volkswagen's V5 (previously called VR5, if you remember). It seems VW is not very eager to reveal its secret.

The question is : how can a five cylinder formated in Vee angle manages to balance ? Apart from the earliest samples, the V5 has been proved to be as silky smooth as any V6, so there must be some tricky counter weights or balancer shafts inside. Anyway, journalists have no idea at all.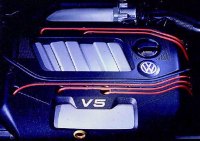 It is interesting yet confusing to analyse the engine development strategy of Wolfsburg and its subsidiary in Ingolstadt. "What a mess" is probably the best phrase to describe it.
Since the early 90's, we saw the engine programs of VW and Audi conflicted times and times. While Audi had a 174hp V6, VW created a VR6 having the same size and the same power (just 2hp down). Then, Audi's 1.8 and 1.8T unit are overlapped by VW's 2.0 sohc and 2.3V5 respectively. As Audi upgraded its V6 to 5 valves, Wolfsburg also put 4-valves head into the VR6, which could also compete with Audi TT's high boost 1.8T.
On one hand the group is cutting cost by sharing platform, on the other hand Ferdinand Piech let the internal competition of his engine departments exists.

A VW board member commenting this, 'Whenever Piech want things done he put two teams against one another. Audi people are terrified of VW's move upmarket. And it works.'

How to explain the development of odd engines - V5, VR6, W12, W16 and W18 ?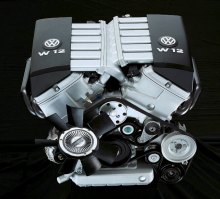 It is known that Piech originated the idea of 5-cylinder in-line during his years as the head of R&D of Audi. The idea eventually turned out to be a driving force to Audi for more than a decade. During his years with Porsche, he designed the turbo flat 12 for the 917 racing car, also in his brain was a 16 cylinder engine but never realised. So, it is probably his enthusiasm about the no. of cylinders lead to the birth of VW's W12, Bentley's W16 and Bugatti's W18.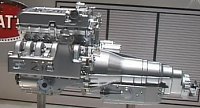 Bugatti EB218's engine.
To other car makers, the cylinder war makes no sense. Considering V12 is the smoothest configuration, while could be easily fitted in many luxurious cars or supercars, who need more cylinders ? BMW showed a V12 displacing in excess of 6 litres and capable of 627hp, who needs a bigger engine ?
W-formation engine has some advantages in packaging. For instance, the W12 is just as short as a four cylinder mounted longitudally. However, it is likely to have more frictional loss (thus less powerful) and having difficulties in cooling (thus incapable for motor racing). It won't be lighter than any V12.
W16 and W18 are even overweight for supercars. No wonder they are reserved for only Bugatti and Bentley.