I saw a full page advertisement in newspaper showing a brand new Honda S2000 locating in front of shadows consisting of several championship-winning McLaren Honda F1 cars of the late 80's and early 90's. The ad said Honda's heart had never quitted F1 since then (true, it still struggles in the name of Mugen) and it is going to come back with its own F1 team in next season. It also said the S2000 is the real world interpretation of Formula One.

Well, just a few days later Honda announced the death of its own F1 car which had been under testing for 2 months in the hands of "Holland flyer" Jos Verstappen. After completed half of the proposed test distance, the ex-Benetton driver was called in the pit and was told the bad news that Honda had decided not to go on the program and would rather be an engine supplier to Jacque Villeneurve's BAR team next year. In other words, Mr. Honda will not see his own GP car flying in Monte Carlo or Silverstone etc. probably for the rest of his life. The last time he saw it was in the 60's.

If could be a blow to the company which is celebrating its 50 years anniversary and once said the return to F1 as a team as its biggest birthday present. Honda thought it could became another Ferrari, which always has its own engine, chassis and team and is perceived as a true racer.

There is no official explanation, but it is understood that the death of Harvey Postlethwaite, technical boss of team Honda, on 15th Apr from a heart attack has a decisive influence to the program. But I guess Honda's ambition can't be stopped by one man's death. The most likely reason could be the competitiveness of the car and also the resources available. Last time Honda pulled out of F1 because it couldn't afford more than the US $ 70 million it paid annually to match with Renault. To make also its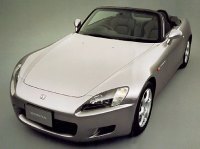 own car need at least another 50 million a year, yet money isn't everything. Ferrari and McLaren, for instance, have the most sponsorship among all teams but they had struggled many years to find winning formulas, that is, technical directors Ross Brawn and Adrian Neway respectively. However, even Postlethwaite, who brought Jackie Stewart 3 driver championships, was no longer in the league of Brawn and Neway, while Honda itself has virtually no experience in setting up a winning team or developing a winning chassis in any form of 4-wheel motor racing since the 60's. Yet the success in the 60's was very limited. I think it is a wise decision to be no more than an engine supplier, although it came too late.

The S2000 advertisement I saw also reminded me another thing. Not only Honda's marketing department, but virtually all car magazines misled us by saying the car (or its engine) is benefited by F1 experience. I don't know how they define the term "F1 experience". If they say today's 4-valve head is benefited by the 1912 Peugeot GP car, then I can't argue. However, it seems that they really believe that the little roadster has some advanced technologies gaining from the F1 program a few years ago to make a 9,000rpm red line, but then again none of them, including Honda's press release, point out WHAT ARE those F1 technologies. The PGM-FI fuel injection ? Ask any owners of ordinary Civic !

As I've pointed out in my detailed S2000 report, the VTEC was never used in F1 engines. The hollow camshaft and forged pistons are just a common technique shared by every sports car specialists, let alone F1.
The 9,000rpm redline is mostly contributed by the high speed racy cam set of the VTEC, whose inflexible, discrete design won no favour from European car makers. Mitsubishi is one of the few car makers also adopted cam-changing variable valve timing mechanism. Its MIVEC system enables the very "ordinary" Lancer 1.6 MR to rev to 8,000rpm redline, yet the MR doesn't have hollow camshaft and forged everything.

Linking road cars to the image of racing success is usually the trick by marketing people. Do you remember Honda claimed the NSX was tuned by Ayrton Senna ? Have you notice Ferrari uses Schumacher and Irvine to demonstrate every new Ferrari road cars to the press ? Maybe they'd say just a 10 min test drive by the ingenious Senna or Schumacher is enough to provide valuable opinion to tuning. Do you believe it ?

If F1 technology really benefits road cars, Renault Sports Spider would have been powered by a 2-litre engine incorporating pneumatic valves, capable to spin up to 10,000rpm and output 270hp. Remember, it is Renault V10 which beat the Honda V12 and the on-form Senna in 1992. No way. When Renault pulled out of F1 in 1997 it won all the reputation in race tracks but its road car still relies on those old-tech 2-valve engines. It said resources would concentrate back to road car division which was once ignored. This story tells us F1 racing may even slow down the development of road car technology. Although there may be around 5% technology could be eventually transferred to road use, but the race car program wastes the remaining 95% budget. Today, 2 years after quitting F1, Renault has developed the first European direct injection petrol engine. Maybe somebody will describe it as another result of "F1 experience" !

- Mark Wan