Time Tunnel
911RS Timeline
---
1973 911 RS 2.7
Many journalists regard it as the best 911, mainly because of crispest handling. Porsche made this special edition for GT racing, therefore everything was lightweight. 2.7 litres capacity enabled 210hp.
---
1974 911 RS 3.0
Again, to homologate Group 3 GT racing, Porsche built 106 units 911 RS 3.0. It was evoluted from the RS 2.7, with new 230hp 3 litres engine, wider rear fenders and whaletail spoiler.
---
1992 911 RS 3.6
While the turbo was overloaded with full equipments, Porsche prefer to use normally-aspirated 911s as the weapon in motorsport. This RS 3.6 was basically a sport-tuned 964 Carrera 2. 50kg lighter weight, less equipments, stiffer suspensions and 10 more horsepower differed it from its donar.
---
1993 911 RS 3.8
Soon after the introduction of the 3.6 litres RS, Porsche decided to fully participate in German, FIA and Le Mans GT racing series. As a result, an even more racy RS, now with 3.8 litres and 300hp in road form, was born. RSR was the racing version installed with roll cage.
---
1995 911 RS 3.8


911 RS was always a great-driver's car, the last one was with no exception. Still using the 3.8 litres 300hp engine from 3 years ago, but the 993 suspensions improved its handling a lot. Nearly as exciting to drive as the the original 911 RS 2.7.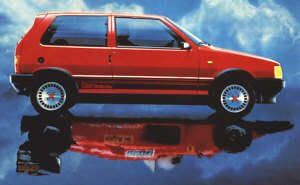 Remember this car ? Fiat Uno turbo i.e. This advertisement said :
The power source for all these superlatives is a 1299cc engine which combines electronic fuel injection and mapped electronic ignition with a water cooled turbo-charger, inter-cooler and oil-cooler - a system developed by Ferrari Formula 1 race engineers.

Not F1 tech at all, although the same Magneti-Marelli supplied the management system to Ferrari F1. What the ad. didn't tell you is : FIAT was the main sponsor of Ferrari F1. Can you see its logo behind the F1 driver ?
Reader's Letter
Hi Mark,

This is Fred from Silicon Valley USA again! How are you doing, Mark? How's the work?

I love to have any one who has the same opinion on SUV as yours. You are right that it's useless to have SUV here. But, you know what? they have excuses such as they can go to Lake Tahoe (4hrs drive from San Jose) in the winter (snowy up there in winter), or they can go off road (That's bull shit!).

I really hate seeing those SUV running on the street of Silicon Valley. One reason is that it block the view of people driving in cars behind it. Another things it it sucks gas like hell and I feel sick and tire when I drive home from work. From my work place to home sweet home or school (where I am pursuing my MSEE degree now), I have to driving thru a 5 mile "Parking Lot" which is US Highway 101 (4 Lanes each way). I cough all the time because of the stinky smell of smog, especially, from V8 Ford F-Series, Chevy Ram, and other Shitty V8 trucks.

I hope that Clinton will sign the bill on SUV emission restriction so that less SUV will be sold in the US and hopefully it'll be banned some day. I love to see that day.

In the US, V6 3.0L or 3.2L should be the largest engine for cars (Except luxuries) because I see that there is no need for larger cylinders. 40% of
people in US are very hypocritic. They say that they are environmental friendly and driving Trucks and SUV, blah blah blah, and for sure that it's illegal to kill bad people.

Best regards,

Frederick Nguyen