FIAT 500






Debut: 2007


Maker: FIAT


Predecessor: no







| | |
| --- | --- |
| Published on 10 Jul 2007 | All rights reserved. |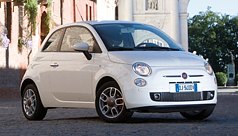 To build a good small car these days is not an easy task. The requirements for safety and refinement always contradict with small size and low price. Even more difficult is to build a good small car that looks desirable. BMW's Mini is unquestionably very successful in this area. However, it is no longer a small car and its price is far from bargain. The same goes for the "new people's car" – Volkswagen New Beetle. Both Mini and Beetle are modern remake of classic icons. Unfortunately, both lost the spirit of the original cars and became niches selling at premium prices. If you want to buy a really affordable small car that offers modern performance, comfort, safety and refinement yet feeling absolutely desirable, you must look no further than Italy.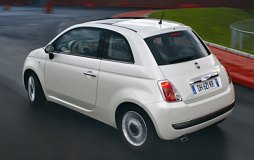 Fiat has a rich history of building the world's best small cars – just a check with my classic car archives and you'll find famous nameplates like 500 Topolino, 500 Nuova, 600 and Uno. The new 500 (or "Cinquecento" in Italian) is the modern interpretation of the 500 Nuova of 1957. From outside it has a strong visual link with the original design, especially the egg-shape body shell, round headlights and flat nose. Most important, it looks as cult as the old car and I'm sure everybody will love it from first sight. Like BMW's Mini, which was designed by the same man – Frank Stephenson, the new 500 uses a lot of chromed decorations to deliver a premium feel. Its cabin is also full of tasteful design and fine quality materials to lift it above ordinary small cars. Apart from Mini, I'm afraid no other small cars could be so visually attractive.

However, what lift it above Mini is packaging. The 500 is very compact – some 153mm shorter and 56mm narrower than the Mini. It weighs considerably less, too – the 1.2-liter car and 1.4-liter car tip the scale at 865 kg and 930 kg respectively, some 195 kg and 130 kg lighter than the basic Mini One ! Its drag coefficient of 0.325 is also a little better than the Mini. These factors translate to better fuel economy, greener emission and lower running costs. It also means you can opt for a smaller engine to obtain the same performance.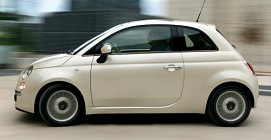 You might think the compact size and lightweight must have some drawbacks in cabin space and safety. Not really. The cabin of 500 is actually roomier than the Mini, especially for rear seats. It can accommodate two 6-footers behind another two 6-footers. Boot volume is also bigger, i.e. 185 liters versus 160 liters. This is a cleverly packaged little car like the original Dante Giacosa design. As for safety, Fiat used computer simulation to find a solution to achieve 5-star or even 6-star crash rating from a very short front overhang. It also equips the 500 with the most extensive safety equipment in the sub-mini class, such as 7 airbags, ESP stability control, ABS, EBD electronic brake force distribution and ASR anti-slip control.

To lower development and production costs, the new 500 is derived from the platform of Panda and built alongside it at the Tychy plant in Poland. It shares the same wheelbase but employs wider tracks and a lower roof to improve handling. The front overhang is shortened while the rear overhang is lengthened a little to resemble the rear-engined old car. Suspensions are basically the same as Panda, albeit with revised tuning. Steering is again electrically assisted and provides a City mode with lighter weighting for the ease of parking. 1.4-liter Sport model provides an additional Sport button to increase steering effort and sharpen throttle response.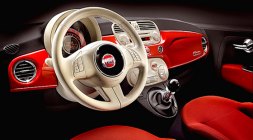 Engines are similar to the Panda, too. Base engine is the well proven 1.2 liter FIRE 8-valve with 69 horsepower. On paper, it seems outdated and short of power. On the road, however, it feels refined and potent, thanks to strong bottom and mid-range torque. It is an excellent budget engine. In the middle of the range is the famous 75hp 1.3 Multijet 16V turbo diesel engine. At this price you can hardly find a diesel engine as gusty and refined yet delivering 67.3 mpg and emitting only 111 g/km of carbon-dioxide. On the top of the range is a 1.4-liter FIRE 16V engine, coming from Panda 100HP. 100 horsepower, a sporty exhaust note and a close-ratio 6-speed gearbox give it a quite exciting character and 0-60 mph in under 10 seconds. Nevertheless, it has no intention to be a hot hatch, because Fiat reserves that place for the forthcoming Abarth 500, which employs a 135hp / 150hp 1.4T-JET turbo 16V engine. We can't wait for the Abarth model...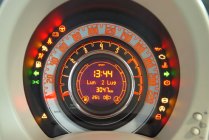 On the road, the little 500 feels lively and nimble. Its good engines, slick gearchange and light clutch contribute to an enjoyable driving. The small size, tight turning circle and excellent visibility make it so easy to drive in the city. Like Panda on which it is based, it rides very well, too. Push it harder in corners, its handling doesn't distort. It provides bags of grip and the chassis is remarkably neutral yet predictable at the limit. Ultimately, it can't match Mini in the eyes of keen drivers because it has more body roll and the steering is neither as quick nor as weighty. However, both cars' electrical power steering are not renowned for road feel.

That said, the new 500 scores very high marks in driving, comfort, practicality and, most important, desirability. Moreover, it is also highly affordable, if not as cheap as Panda. This is the best sub-mini for years. It proves that Fiat is still the leader of small cars, even 50 years after the original 500.
Verdict:





| | |
| --- | --- |
| Published on 25 Jun 2008 | All rights reserved. |
500 Abarth

| | |
| --- | --- |
| | We didn't expect the egg-shape 500 could look so sporty... |

We like the new Fiat 500 very much. It is an exceptional combination of style, quality, practicality and affordability. What it hasn't shined yet is performance. Any successful supermini should provide a good performance derivative, or what we usually call "hot hatch". BMW's Mini has Cooper S, Peugeot has 207GT or RC, Renault has Clio RS and (later on) Twingo RS… They earn good money for their makers and lift the image of lesser models. At Fiat, the moniker "Abarth" is used for that task. Abarth is a very valuable heritage to Fiat. It has a glorious racing history during the 1950s and 1960s. Its image was associated with some really successful Fiat road-race cars. Using the marque carefully could benefit the new generation fast Fiats, as we have seen in Grande Punto Abarth. Now the Abarth conversion is expanded to the little 500.

Like its bigger brother, the 500 Abarth gets some tasteful cosmetic enhancement. The front bumper incorporates a big air intake to feed the intercooler and a couple of outlets to release the hot air. Deep air splitter and side skirts improve aerodynamics. Ditto the new rear bumper with integral diffusers and exhaust pipe at either side. We don't know how much benefit the short diffuser brings at its maximum 127 mph top speed, but it certainly enhances the look. As in Grande Punto Abarth, you will find a pair of red door mirrors and Abarth red racing stripes graphics at either side. Finally, a set of very stylish alloy wheels complete the conversion. Well done ! We didn't expect the egg-shape 500 could be made so sporty.


| | |
| --- | --- |
| | At this price segment its performance is virtually unbeatable... |

Its engine is a detuned version of its bigger brother's 1.4-liter DOHC 16V turbocharged unit. Power is scaled back from 155 hp to a still respectable 135 hp. Maximum torque is 138 lb-ft at 2500 rpm or, if you turn on the Sport mode, 152 lb-ft at 3000 rpm. Compare with the naturally aspirated Renault Twingo RS (133 hp / 118 lbft) and Mini Cooper (120 hp / 118 lbft) – both are its closest rivals in terms of price and market positioning – the Fiat's superior turbocharged torque delivers significantly stronger performance. It accelerates from 0-60 mph in merely 7.5 seconds, while its rivals take about 1 second longer. The good temper of this turbocharged engine means excellent everyday usability. Its brisk performance is easily accessible. Ultimately, Fiat's 1.4 turbo engine is not as sweet as the 1.6 turbo unit of Mini Cooper S, but at this price segment it is virtually unbeatable !

In the cabin, the Abarth enhancement include bucket seats, a flat-bottomed steering wheel, alloy pedals, a turbo boost gauge and some leather trims. The driver seat is still mounted too high, but that is necessary because of the high shoulder line. Rear legroom becomes tighter due to the thicker front seats.


| | |
| --- | --- |
| | Fun to drive up to 80 to 90 percent effort... |

The Abarth's suspensions are stiffer and 15mm lower than the standard 500. Rear anti-roll bar has been added. It employs larger brakes made by Brembo, larger alloy wheels (16-inch standard and 17-inch optional) and wider tires (195/45 standard and 205/40 optional). Like the recent Lancia Delta and Mini John Cooper Works, it employs a Torque Transfer Control (TTC) system which applies soft braking on the spinning inside front wheel to transfer more torque to the outside front wheel. This enhance grip and reduce understeer in tight corners, thus greatly enhance its maneuverability on twisty roads.

On the road, the 500 Abarth is a competent hot hatch. It has plenty of pulling power but no torque steer at all. Its power is well matched with the capability of its chassis. The little car is quite agile, if not as sharp as Mini Cooper. Its tall body is subjected to some roll, at least this is how you feel from the high-mounted driving seat. It runs into safe understeer near the limit and back off won't change much its attitude. However, in the twisty it handles fluently thanks to good grip, excellent braking and the aforementioned TTC. You might not be pleased with its artificial feeling electric power steering, but frankly, fewer and fewer hot hatches these days inspire their drivers with communicative steering.

The 500 Abarth is fun to drive up to 80-90 percent effort. Above that threshold it will be no match with Mini Cooper. However, taking its strong performance, desirable packaging and keen pricing into consideration, it could be the most attractive choice in its price segment.

Verdict:




| | |
| --- | --- |
| Published on 21 May 2009 | All rights reserved. |
500 Abarth SS

| | |
| --- | --- |
| | Sportier and rawer, but equally desirable. |

To most people, Fiat 500 Abarth hits the sweet spot between driving fun and practicality. However, if you prepare to sacrifice some comfort for more excitement, you can opt for the £2,500 Esseesse (SS) package. This package brings a list of upgrade: 17-inch alloy wheels, stiffer suspension setup, 5 mm lower ride height, cross-drilled brake discs and upgraded pads. Besides, the 1.4-liter turbo engine gets higher boost due to revised ECU and a less restricted air filter. Max power has increased by 25hp to 160hp, while max torque is lifted from 152 to 170 lb-ft. This allow the SS to accelerate from rest to 60 mph in less than 7 seconds, respectable for an egg-shape mini car.

On the road, the SS feels noticeably sportier – and rawer – than the standard Abarth. Its engine produces stronger torque from the mid-range and sounds more gruffy. The front rubbers grip hard while the steering is quick and accurate, if still not communicative. Body control is excellent thanks to the stiff suspensions. The combination of taut handling, faithful braking and tractable engine means SS is surprisingly fun to drive in the twisty. The only downside is a hard ride, which could be harsh on less smooth surfaces.

Being harsher and noisier than the standard Abarth, the SS is more suitable to hardcore drivers. Undeniably, it is neither as entertaining as Renault Clio RS nor as all-round as Mini Cooper S. However, that doesn't prevent it from tempting buyers away from its rivals, especially when it looks so desirable.

Verdict:




| | |
| --- | --- |
| Published on 5 Nov 2008 | All rights reserved. |
Derivative: Ford Ka

| | |
| --- | --- |
| | Calling it a joint venture may be a little misleading. In fact, Ford Ka is a repackaged version of Fiat 500. |

Everybody knows A-segment small cars are difficult to turn profit. They are cheap to sell but not necessarily cheap to build or develop. They are heavily influenced by the rise of raw material costs and the tightening safety and emission regulations. The only way to guarantee profitability is to increase economy of scale through joint venture. This was why Toyota sought PSA (Peugeot and Citroen) as its partner for the Aygo project. A similar problem was encountered by Fiat. When it started planning the new Fiat 500, it forecasted the demand of this niche model may not justify its investment costs. Therefore it needed a partner to share costs. At the time, Ford of Europe was hesitating on the replacement of its Ka because it could also cost too much money to develop than it could earn. Common interests brought the two European rivals together. They agreed on a joint venture to produce the 500 and Ka as twins.


| | |
| --- | --- |
| | The baby Ford has enough character to distinguish itself from Fiat... |

Calling it a joint venture may be a little misleading. In fact, Ford Ka is a "customer project" implemented by Fiat. It is basically a repackaged version of the 500. Production also takes place at Fiat's Tichy plant in Poland, alongside the 500 and Panda. In principle, the plant can produce at most 120,000 units of 500 and 120,000 units of Ka a year.

The Ka shares the same hard points position with the Fiat. Wheelbase is therefore the same 2300 mm, although it has longer front and rear overhangs. Mechanicals are also carried over from the Fiat, albeit with fewer choices of engines (only 1.2-liter 8V 69hp and 1.3 turbo diesel 75hp) and only one transmission (5-speed manual). There is no plan for a hot hatch model like Abarth, perhaps because Fiat wants to reserve the best for itself.


| | |
| --- | --- |
| | On looks and quality, Ka is by no means as desirable as 500. Contrast to this is dynamics... |

However, the baby Ford has enough character to distinguish itself from Fiat. This is because it was styled and tuned by Ford. Its exterior design is sporty and resembles the new Fiesta. Its interior, though sharing the same basic architecture with 500, has a very different design. While 500 sells premium packaging, Ka is satisfied to be cheap and basic, therefore you can see cheaper plastics and switch gears here. Predictably, both cars offer good front space and decent space for short adults at the back.

On looks and quality, Ka is by no means as desirable as 500. Nevertheless, its bespoke suspension tuning is better done. It uses a thicker anti-roll bar up front and adds an anti-roll bar at the rear. This allow better roll control such that the suspension dampers could be set 30 percent softer to improve ride quality. The electrical power steering is also retuned to the taste of Ford. As a result, the Ka rides, handles and steers better than its Fiat sister. That said, its handling is not as sharp and adjustable as the old Ka.

Verdict:




| | |
| --- | --- |
| Published on 14 Jul 2010 | All rights reserved. |
500 TwinAir

No matter exterior or interior, this FIAT 500 looks exactly the same as the existing car. It has the same quality and tasteful feel that separate the 500 from other small cars. On the move, it handles with the same tidiness and runs with mostly the same refinement. Below 2500 rpm, the engine spins just as smooth as a regular 4-cylinder engine, and the engine note is subdued. Squeeze more power from it, however, you will notice a different soundtrack – more like that of a motorcycle engine. Yes, because this is a 835cc twin-cylinder engine.


| | |
| --- | --- |
| | Below 2500 rpm, the engine spins just as smooth as a regular 4-cylinder engine... |

FIAT's TwinAir engine is one of the big news of automotive technology this year. It is a landmark statement of European Union's pursuit of green motoring and FIAT's leading status in this field. Most other car makers are downsizing engines in the easy way, say, from V6 to 4-cylinder turbo or from 2.0-liter to 1.4-liter turbo. Very few try to go one step further and think beyond the bread-and-butter 4-cylinder format. As we know Mercedes and BMW are working on 3-cylinder engines to replace their base fours, but to the guys at FIAT Powertrain, three is not good enough. They go straight to two-cylinder. Needless to say, the fewer cylinders the less frictional loss and thermal loss hence the higher energy efficiency can be attained.

You might remember FIAT had a good history of producing twin-cylinder engines for the old 500 and 126. They were chosen for low cost rather than any other reasons. The same cannot be said to the new engine. It is designed to deliver incredibly low emission and fuel consumption, so it packs a lot of advanced technology that other bread-and-butter engines cannot dream of, such as automatic start-stop, 4 valves per cylinder and Multiair electrohydraulic variable valve actuation. Three states of tune will be offered – 65hp, 85hp and 105hp, with the last two being turbocharged. The one making debut in the aforementioned FIAT 500 is the 85hp light-pressure turbo unit. Its output slots between the existing 1.2 8V (69hp) and 1.4 16V (100hp) four-cylinder, but it delivers a remarkable 107 pound-foot of torque, 10 lb-ft more than the 1.4. Moreover, that peak torque is available from only 1900 rpm (at the same rev, the 1.4 unit delivers only 85 lb-ft). This explain why FIAT claims the same 0-60 mph time despite of its 15hp disadvantage at higher rev.


| | |
| --- | --- |
| | Same real-world performance as the 1.4 16V but 30 percent greener |

On the road, the 500 TwinAir does not feel slower than 1.4 under normal driving. Instead, its stronger low-end grunt makes it feel a touch more lively around town. Turbo lag is all but non-existent thanks to the small turbine and mild charge. Refinement is surprisingly good. The first order vibration inherent to twin-cylinder format is satisfactorily cancelled by a balancer shaft located adjacent to the crankcase. Only at idle there is a little bit vibration like diesel engines. Noise insulation around the engine and the cabin of 500 effectively filters out the odd twin-cylinder note until you stretch the engine above 3000 rpm, thereafter the motorcycle note becomes more pronounced. It takes some getting used to. If you regularly drive the car on highway, the four-cylinder 1.4 will be a better choice.

If your route is normally bounded in urban area, the TwinAir will be more appealing. That appeal does not come from the price tag, because the technology-packed engine costs nearly the same as the 1.4. Instead, it comes from the 69 mpg combined consumption and 95g/km CO2 emission, i.e. 30 percent lower than the 1.4 ! Even compare with the much slower 1.2 8V, it is some 15 percent greener. While it is no cheaper to purchase, it guarantees lower tax and running costs, and by the way makes you feel less guilty for polluting the earth.
Verdict:




| | |
| --- | --- |
| Published on 26 Jul 2013 | All rights reserved. |
500e


Fiat boss Sergio Marchionne said his company builds the Fiat 500e electric car just to satisfy the ZEV requirement of California. Although Fiat does not fall into the scope (as it exports too few cars to California thus is not qualified to be "large and intermediate auto makers"), its subsidiary Chrysler does. Therefore the 500e is sold under Chrysler LLC. Being sold at $22,500 after the federal grant of $7500 and California rebate of $2500, it is not too expensive for a funky premium EV. However, Marchionne complained that he will lose $10,000 on every car sold. A cruel fact: EV technology is still too expensive to be competitive.

The 500e is easy to win hearts with its retro yet funky look. Thankfully, it doesn't differ much from the standard car, which is so pretty that you won't believe it is already 6 years old. The white lower front grille – with a large portion of the mesh sealed as the electrical system needs less cooling – is the only major difference. Minor ones include the new wheel design and extra aero kits that come mostly from the Abarth model. Further aided by a smooth underbody and smoother side mirrors, its drag coefficient drops from 0.33 to 0.311. This alone adds an extra range of 5 miles.

The whole electrical system is provided by Bosch. Its 24 kWh lithium-ion battery is relatively large for the class, resulting in a class-leading range of 87 miles (140 km). This pack weighs a massive 290 kg, but it is placed right at the floorpan level and between the side rails, lowering center of gravity considerably and improving front-to-rear weight distribution to 57:43 (versus the regular car's 64:36). On the downside, the battery reduces rear legroom considerably. Nevertheless, this is probably not a headache to most buyers, as the rear seat of the 500 is rarely used to hold human being anyway. If you want 4-seat accommodation, a Chevy Spark EV or Nissan Leaf would be better options.


The front wheels are driven by a 3-phase synchronous motor through a single-speed gearbox. With 111 horsepower and 147 pound-foot of torque from just over zero rpm, the 500e drives a lot like a turbo diesel except that it does the job in complete silence. It sprints from 0-60 mph in less than 9 seconds, a full second quicker than the regular 500 1.4 16V, yet the advantage is even stronger at 30 or 40 mph. However, it cannot match turbo diesel on highway, where its power fades out with speed and the speed limiter intervenes at 85 mph. After all, EVs are very much city cars.

Despite of the extra weight, the 500e drives very much like the conventional 500s. The effect of extra weight is offset by the optimum weight distribution and stiffer suspension. It remains a nimble car to steer and to place. Grip is reduced a little, partly blame to the low-rolling resistance tires, but should not be a problem for a car without sporting pretension. Ride quality is a little choppy on rough surfaces like the regular car, but the quiet motor, the 10-percent stiffer floorpan and enhanced sound deadening improve aural refinement a lot. Most successful is the brake feel. Bosch's system has the regenerative braking always present at speed over 8 mph, so there is no abrupt transition between regenerative and frictional braking. Overall, the car is at least as much fun to drive as the lesser 500. If anything, its extra punch makes it even more enjoyable to drive in city.

Taking into account the superior styling, image and interior, the 500e is clearly the most desirable EV on the market to date. From this point of view, its purchase price is by no means expensive. Just don't forget Fiat and US tax payers subsidize you $20K.

Verdict:




| | |
| --- | --- |
| Published on 12 Jun 2016 | All rights reserved. |
Abarth 595 and 695




Abarth 595 Competizione



Abarth is an unfamiliar brand outside Italy. For so long, Abarth had been closely associating with the classic Fiat 500. It converted the tiny Fiat to race cars with great success, most notably the Abarth 595 (1963) and 695 (1964), which were named after their engine displacement. So successful that Fiat simply acquired the company in 1971 and turned it to its motorsport division. It went on to win WRC titles with Abarth 124 Rally and Abarth 131, then Fiat decided it had enough success, withdrew from motorsport and shut down the division altogether, sadly – Abarth became the casualty of its own success!

The Abarth name was resurrected only a few years ago when Fiat created the hotter Grande Punto Abarth and 500 Abarth. Under the ever-changing strategy of Fiat Chrysler, it is now a standalone brand. It is not exactly a full car manufacturer like AMG, which recently earned the status by producing its own GT. FCA has yet to approve any dedicated Abarth models. All it wants the performance brand to do is to modify the mainstream Fiat cars into hotter variants, just like what Abarth used to in its golden years. Naturally, Fiat 500 is the very first choice for its basis.

The new Abarth line of 500-based models consists of 595, 595 Turismo and 595 Competizione. All of them are powered by the familiar 1.4 T-Jet turbo engine (not the MultiAir unit of the US-market 500 Abarth, as the twin-cam engine has more room for tuning), but they have different states of tune to produce 145 hp, 165 hp and 180 hp respectively. The first two apparently replaces the outgoing 500 Abarth and Abarth SS. What catches our attention is the hottest Competizione, because as suggested by its name, it really offers some racing ingredients, such as a mechanical LSD (optional), 305mm Brembo front brakes, sport exhaust, Sabelt carbon-fiber bucket seats and Koni FSD frequency selective front dampers. You can also trim the cabin with carbon-fiber inserts to look cool. However, with all these options ticked the car will end up at the same price point as a 350-hp Ford Focus RS or Volkswagen Golf R. Does the driving experience live up to expectation?

Of course not! First of all, the 595 Competizione is not that quick. Although it is pretty light at 1070 kg, 180 horsepower is really nothing these days (a Mini JCW has 231 hp). Moreover, its power delivery is not as responsive as the best small turbocharged engines simply because the T-Jet is an old design. It has more lag low down and feels more boosty in the mid-range. It is capable to do 0-60 mph in 6.4 seconds, whereas Golf R takes 4.9. Top speed is wildly claimed to be 143 mph, but the figures coming from this Italy group is not always credible. 180 horsepower, a large frontal area and not so sleek shape… the math just doesn't work out!





Abarth 695 Biposto



The 500's short wheelbase, tallness and narrow tracks mean the 595 Competizione has to ride on very stiff springs to counter body roll and pitch. Although the FSD dampers help, the ride is still too hard by any road car standards. The chassis is set to understeer moderately when approaching fast corners, something understandable as the short-wheelbase chassis is prone to oversteer abruptly when the rear wheels break lose. At slower pace, however, the car is very nimble and chuckable, thanks to its compact size, grippy tires and tight body control. The steering is generally accurate but delivers little feel. It is also mounted too upright, whereas the driving position is truck-like – both problems are inherited from the standard Fiat.

All these mean the 595 Competizione is not going to be as fun to drive as a Ford Fiesta ST or as well-rounded as Mini Cooper S. It looks and feels more special, but that doesn't outweigh its flaws and high price.

Similar comments can be said to the even racier Abarth 695 Biposto which was launched in early 2015. "Biposto" means 2 seats, implying the lack of rear seats. They are replaced with chassis-reinforcing tubular braces and a parcel net. The carbon-fiber racing seats have their 4-point harnesses attached to the braces. The interior is stripped of door panels, air-con and audio, too. Abarth quoted a dry weight of 997 kg, which should be a few dozen kilos lighter than the 595 Competizione with which it shares the LSD and Brembo brakes. In addition, the Biposto gets Akrapovic titanium exhaust, 18-inch wheels shod with 215/35 rubbers and Extreme Shox adjustable dampers. The engine gets a larger Garrett turbocharger and intercooler to add another 10 horsepower to 190. With a 0-60 mph time quoted as 5.6 seconds, this should be the fastest Fiat 500 of all. Nevertheless, it also comes with heavier turbo lag.

As expected, this "mini supercar" is even more expensive. Its starting price already exceeds the Golf R. With all options checked, including racing pack, carbon interior trims, aluminum bonnet and a dog-clutch racing gearbox, it tops out £50,000. That's Porsche 718 Cayman S money!

Charging more and pretending to be luxury goods, is this the future of fast small Fiats? I'm really puzzled.

Verdict:












500 1.2



2007

Front-engined, FWD

Steel monocoque
Mainly steel
3546 / 1627 / 1488 mm
2300 mm
Inline-4

1242 cc
SOHC 8 valves

-

-
69 hp
75 lbft
5-speed manual

F: strut
R: torsion-beam

-

175/65R14
865 kg

99 mph (c)

12.2 (est)

-

500 TwinAir



2010 (2014)

Front-engined, FWD

Steel monocoque
Mainly steel
3546 / 1627 / 1488 mm
2300 mm
Inline-2

875 cc
SOHC 8 valves, VVT+VVL

Turbo

-
85 hp (105 hp)

107 lbft (107 lbft)

5-speed manual

F: strut
R: torsion-beam

-

185/55R15
930 kg (940 kg)

108 mph (c) (117 mph (c))

10.3 (c) (9.4 (c))

-

500 1.4 16V



2007

Front-engined, FWD

Steel monocoque
Mainly steel
3546 / 1627 / 1488 mm
2300 mm
Inline-4

1368 cc
DOHC 16 valves

-

-
100 hp
97 lbft
6-speed manual

F: strut
R: torsion-beam

-

185/55R15
930 kg

113 mph (c)

10.3*

40.8*









Performance tested by: *Autocar










500 Abarth



2008

Front-engined, FWD

Steel monocoque
Mainly steel
3657 / 1627 / 1485 mm
2300 mm
Inline-4

1368 cc
DOHC 16 valves

Turbo

-
135 hp
152 lbft
5-speed manual

F: strut
R: torsion-beam

-

195/45R16
1035 kg

127 mph (c)

7.5 (c)

-

500 Abarth SS



2009

Front-engined, FWD

Steel monocoque
Mainly steel
3657 / 1627 / 1480 mm
2300 mm
Inline-4

1368 cc
DOHC 16 valves

Turbo

-
160 hp
170 lbft
5-speed manual

F: strut
R: torsion-beam

-

205/40R17
1035 kg

131 mph (c)

7.6* / 6.9**

20.7* / 19.8**


500 Abarth (US)



2012

Front-engined, FWD

Steel monocoque
Mainly steel
3657 / 1627 / 1485 mm
2300 mm
Inline-4

1368 cc
SOHC 16 valves, VVT+VVL

Turbo

-
160 hp
170 lbft
5-speed manual

F: strut
R: torsion-beam

-

205/40ZR17
1148 kg

129 mph (c)

6.9*** / 6.6**** / 6.7*****

20.1*** / 17.9**** / 18.7*****










Performance tested by: *Autocar, **Evo, ***C&D, ****R&T, *****MT










500e



2013

Front-engined, FWD

Steel monocoque
Mainly steel
3617 / 1627 / 1527 mm
2300 mm
Electric motor

-
-

-

-
111 hp
147 lbft
1-speed

F: strut
R: torsion-beam

-

185/55HR15
1340 kg

85 mph (limited)

8.4*

-

Abarth 695 Biposto



2015

Front-engined, FWD

Steel monocoque
Mainly steel
3657 / 1647 / 1485 mm
2300 mm
Inline-4

1368 cc
DOHC 16 valves

Turbo

-
190 hp
184 lbft
5-speed manual

F: strut
R: torsion-beam

Adjustable dampers

215/35R18
997 kg (dry)

143 mph (c)

5.6 (c)

-


Abarth 595 Competizione



2016

Front-engined, FWD

Steel monocoque
Mainly steel
3660 / 1627 / 1480 mm
2300 mm
Inline-4

1368 cc
DOHC 16 valves

Turbo

-
180 hp
184 lbft
5-speed manual

F: strut
R: torsion-beam

Adaptive dampers

205/40R17
1045 kg

143 mph (c)

6.4 (c)

-










Performance tested by: *C&D









General models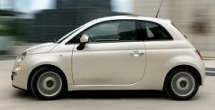 Abarth 595

Copyright© 1997-2016 by Mark Wan @ AutoZine