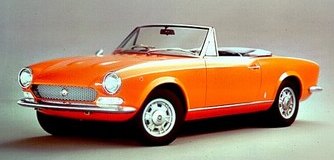 By the late 1960s, Fiat became the largest car maker in Europe and a formidable automotive empire. Its product range spanned from micro cars to large luxury saloons. It even offered as many as 4 lines of sports cars: 850 Spider, 124 Spider / Coupe, 2300 Coupe / 130 Coupe and Dino Spider / Coupe. Among them the 124 duo was the biggest sellers, with close to half a million units sold from 1966-1985.

The 124 Spider and Coupe were born from the platform of 124 Sedan but their looks couldn't be more different. The Spider was penned by Pininfarina and it was thought to be prettier than the Coupe, although it couldn't match the beauty of another Pininfarina design at the time, Alfa Romeo Duetto (Spider). Nevertheless, seeing them today the Coupe is more appealing to me. It might look like a folding tin, but its clean lines, simple shape and thin pillars are refreshing to our eyes. The original Coupe with "frog eyes" headlights were especially lovely. Later on its nose would be squared up, headlights doubled and the grilles got complicated.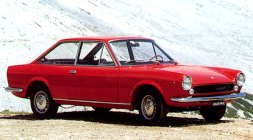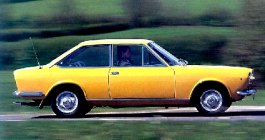 Unsurprisingly, both cars shared the same platform with the front-engined and rear-drive 124 Sedan, but their engines were upgraded to Fiat's new 90hp 1438cc twin-cam unit, gearbox upgraded to 5-speed (although a small portion of the early 124 Coupes employed 4-speed gearbox) and brakes upgraded to disc brakes all around. These features were more advanced than their contemporary rivals like MGB, Triumph TR4 and BMW 1600, if not the pricier Alfa Romeo Duetto and Giulia GTV. However, what made the 124 duo so successful was their killer prices, which were well below the level of Alfa Romeo and BMW and no more expensive than the outdated British sports cars. In addition to the high-quality finished cabin, the 124 duo was unquestionably a bargain.

The highlight of the cars was the twin-cam engine designed by ex-Ferrari engine expert Aurelio Lampredi. It was Fiat's first mass production twin-cam 4-cylinder engine and one of the firsts in the world (the others were Alfa Romeo's and Ford's twin-cam). Double overhead camshafts enabled the intake and exhaust valves to be located at different sides and angled towards each other, thus the combustion chambers could be shaped like "pent roofs", allowing air to cross flow from intake valves to exhaust valves quickly. As a result, DOHC engines rev higher and produce more power than SOHC or OHV engines. The early 1438cc Fiat twin-cam could rev to 7000 rpm partly thanks to its oversquare combustion chambers (i.e. 80mm bore and 71.5mm stroke). In 1969, the engine was stroked to 1608cc (80 x 80mm) and produced 110hp, a figure still impressive today. In 1972 it was enlarged again to 1756cc (84 x 79.2mm) and produced 118 horsepower. Most people regarded the 1.6 Spider and 1.8 Coupe as the best versions considering their power / handling combination. The Coupe retired in 1975, but the Spider continued to live for another 10 years thanks to its relatively lack of competition and its popularity in the US market. Its engine received the final enlargement to 1995cc in 1978 in order to cope with emission regulations, but it actually produced less power and therefore not exactly the ultimate engine for 124.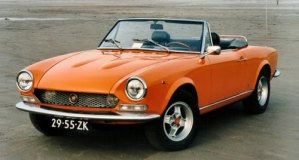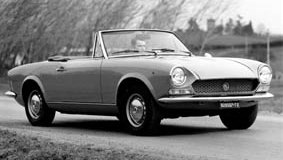 Thanks to the twin-cam engine, the 124 duo was considered fast in its days. Alfa Romeos were faster, of course, but within its price range there were nothing could threaten the Fiats. The 124 duo also handled quite well considering its non-independent live axle rear suspension. Apart from too much understeer at the limit, it was capable to handle and easy to drive. All controls – steering, clutch, throttle pedal and brake pedal – were lightweight and communicative. The 5-speed gearbox was slick to shift. The disc brakes stopped the car quickly. The ride was comfortable while body control was not bad. As driver's cars the Fiats weren't as good as Alfa Romeo Duetto and GTV, but they were better long distance cruisers nonetheless.

The coupe was a decent 4-seater as it shared the same wheelbase with the 124 Sedan. The Spider's wheelbase was 140mm shorter as it did not need the rear seats. There was plenty of space for 2 passengers in the Spider, plus a trunk big enough for a big suitcase, so it was very easy to live with. Moreover, its fabric roof could be opened and closed from the driver seat – a convenience unmatched by any other convertibles until Mazda MX-5. No wonder the 124 Spider could lived for almost 20 years !

Abarth 124 Rally

The lives of 124 Coupe and Spider were not as colorful as Alfa Romeo Giulia GTV because of its lack of motor sport involvement. However, in 1972 Fiat let its motorsport arm Abarth to produce a rally car based on 124 Spider to take on world rally championship. The result was three straight 2nd places in manufacturer championship from 1973-75.

The street version of the Abarth 124 Rally eliminated around 100kg by striping out the cabin and replacing the steel bonnet and trunk lid by items made of glass-fiber (they were painted in black to seek attention). The live axle and panhard rod rear suspension was replaced by independent MacPherson struts to improve roadholding on bumpy roads. The engine was tuned to 128hp. 0-60 mph improved to just above 8 seconds. A little over 1000 cars were produced to satisfy the homologation requirement of FIA.

Nevertheless, the Abarth 124 Rally was rather irrelevant to the rest of the range. Both 124 Spider and Coupe will be remembered for their great engines, easy going manner and bargain price instead of motorsport success.