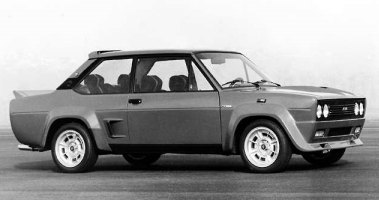 Fiat 131 was just another forgettable mid-size family car in automotive history, but in 1976 it gave birth to a world-beating rally car, 131 Abarth. This car won World Rally Championship 3 times in 4 years – 1977, 1978 and 1980. Fiat's newly acquired motorsport division, Abarth, was responsible for engineering the car. To homologate for the series, it needed to build 400 units of road going version. This resulted in the street car we are talking now.

The 131 Sedan might not be a good starting point for a high performance car. Its boxy body was designed for practicality, its small-capacity pushrod engines emphasized fuel economy, its non-independent rear suspension and 4-speed gearbox excelled only in cheapness. But it was Fiat's last and only rear-wheel-drive platform (if you exclude the outdated 124 Spider), and you know, RWD was a must for rallying before the age of 4WD. That's a good reason to select 131 as the basis for Fiat's next generation rally car.

Of course, a lot of modifications would be necessary. This started from the chassis. The rigid rear axle was replaced by a fully independent suspension with MacPherson struts to improve road holding regardless of bumps and body roll. The engine was replaced by the Lampredi-designed twin-cam unit, now displaced 1995cc and for the first time incorporated a 16-valve cylinder head. This raised its output to 140 horsepower at 6400 rpm. At that time, not many cars in the world had access to 4-valve technology. As I can remember, only Triumph Dolomite Sprint, Chevrolet Cosworth Vega and Lotus Esprit had that feature. The gearbox was upgraded to 5-speed. Of course, all-wheel disc brakes were employed.

However, the most obvious changes to us was the bodywork – with widened wheel arches, big air dam, roof and boot spoilers and extra intakes on the bonnet and the sides, 131 Abarth looked every bit a rally machine… perhaps even a war machine ! Bertone successfully turned the dull-looking 131 into a pulse-raising design. To save weight, all body panels except the roof and doors were made of glass-fiber while the side and rear windows were plexiglass. Bertone was responsible for assembling the body panels to the half finished car and then transferred back to Abarth for final assembly.

On the road, the 131 Abarth street version was not as uncompromising as its look suggested. In fact, its 16V engine was tractable at low rev and linear in its delivery. The ride was surprisingly civilized. After all, it was a rally car. The unassisted steering was quick and communicative. The car felt nimble in the twisty. Unusually for a rear-drive machine of its time, lift off the throttle in mid-corner could trigger oversteering. That said, get used to its character and treat it with respect, it could be great fun to drive.

Now looking back, the 131 Abarth was no where as spectacular as the later Group B specials or today's performance cars. The 980kg machine returned a power-to-weight ratio at 143hp per ton, less than a mass production Volkswagen Golf GTI today. It ran from rest to 60 mph in about 7.8 seconds. Top speed was only 118 mph, blame to the blocky shape. Even the racing version with 230 hp was not particular quick today. However, with a giant-killer look and a glorious racing history of 3 World Championships, who dare to say it don't worth remembering ?