Fiat 500 Nuova (1957)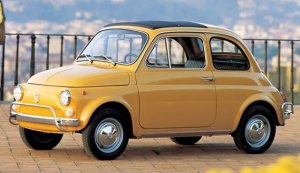 The rear-engined Fiat 600 revolutionized contemporary small car design and brought Fiat the biggest ever commercial success. But that was only the beginning. Just before 600 went on sale, Fiat's engineering maestro Dante Giacosa and his team started working on an even more ambitious project. Seeing the popularity of scooters in the early 1950s, Giacosa believed the time for personal mobility had come and the next wave would be 4-wheel motoring. He decided to build a car which would be even smaller, cheaper and more frugal than the 600 so that it could replace scooters as the personal transport that every Italian could afford. It didn't need to be as spacious as the 600, so it was designed to be a 2+2 seater. As a result, it became the direct successor of 500 Topolino thus was named as 500 Nuova (New).

Launched in 1957 and production ended in 1975, the new 500 was even more popular than 600, with nearly 3.9 million units sold. It became a symbol of Italian small cars as well as a fashion icon. Part of its success must came down to its cult look, which was very much like a cartoon car. At a time only General Motors had specialized car stylists, Giacosa drew the new 500 by himself. By chance or not, Giacosa designed a very lovely egg-shaped bodyshell because that shape used the least metal to achieve the required interior space.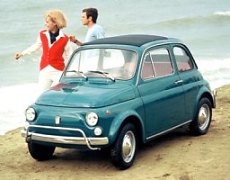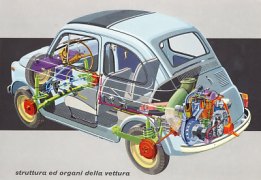 To save costs, the car was designed to be as small and as light as possible. By putting the engine and gearbox together at the rear and driving the rear wheels - something learned from the 600, space efficiency was optimized and the new 500 could be made very compact. It measured less than 3 meters long and 1.32 meters wide, some 8cm shorter and 8cm narrower than the Mini ! As it weighed only 470kg, a simple air-cooled inline 2-cylinder engine could do the job. It was cheap to build and easy to service. 479cc produced 13 horsepower and propelled the little car to 53 mph on highway. In later years, the engine was enlarged to 499cc and horsepower increased to 17.5-18hp.

Fiat 500 Nuova might be slow, but it was a good city - easy to slip into narrow streets, easy to park and reverse, nimble to handle and the fully independent suspensions (similar to 600's) dealt with broken pavement at ease. It gave millions of Italian the first taste of cars and is still the most beloved car in Italy today. If we have to name the most significant small car of all time, 500 Nuova will always be a strong contender alongside Mini.

Specifications
| | | |
| --- | --- | --- |
| Model | 500 | 500D |
| Year of production | 1955-60 | 1960-65 |
| No. produced | Total: 3,893,294 units | Total: 3,893,294 units |
| Size (L / W / H / WB) mm | 2970 / 1320 / 1325 / 1840 | 2970 / 1320 / 1325 / 1840 |
| Layout, Gearbox | Rear-engined, Rwd, 4M | Rear-engined, Rwd, 4M |
| Engine | Inline-2, ohv, 2v/cyl, air-cooled | Inline-2, ohv, 2v/cyl, air-cooled |
| Capacity | 479 cc | 499 cc |
| Power | 13 hp | 17.5 hp |
| Torque | N/A | N/A |
| Weight | 470 kg | 500 kg |
| Top speed | 53 mph | 59 mph |
| 0-60 mph | N/A | N/A |
---
Copyright© 1997-2009 by Mark Wan @
AutoZine