Combining huge performance, glorious racing history and extreme rarity, Shelby Daytona Coupe must be very desirable to car collectors. There are only 6 units in the world. The last time it changed hands, it cost the new buyer US$7.25 million, which is an all-time record for American vintages!
The Daytona Coupe lived in the same period as
Ferrari 250GTO
and
Aston Martin DB4 GT Zagato
. It raced against them in GT races and usually beat them. While the European cars were prestigious, impeccably built and artistically sculptured, the American car was designed purely to race. Its exterior had no styling to speak of. Its interior was as spartan as a race car should be. Fit and finish was appalling. Dimensions of body panels varied from one car to another because there were no blueprints at all. Carroll Shelby described it as the very last car designed out of experience rather than paper and calculation. That made it even more legendary.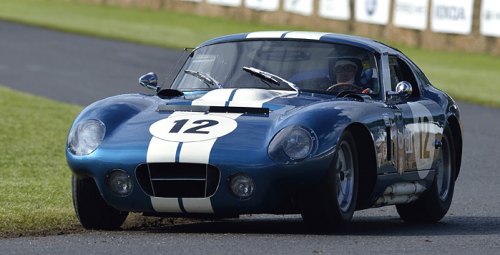 The Daytona Coupe can be described as an
AC Cobra
with different clothes. You might remember in 1963 Shelby mated the British roadster chassis to Ford 289 cid V8 to create a fearsome performance car. It won a lot of races in America, but when it landed on the high-speed tracks in Europe, it was hampered by its open cockpit and brick-like aerodynamics, usually running 20-30 mph slower than the slippery Ferrari GTO on long straights. Carroll Shelby was convinced that it needed a coupe body to take on FIA GT world championship. He commissioned a young designer called Pete Brock to design a new aluminum body around the Cobra chassis. Without experience in aerodynamics, Brock copied the shape of Ferrari (and probably some
Alfa Romeo TZ
), including its drag-reducing kamm tail and downforce-inducing ducktail spoiler. The car was never tested in wind tunnel, but luckily it worked! In the first test it achieved 183 mph at the end of straight, 20 mph faster than the Cobra.
As before, the chassis was constructed by AC in England and shipped to America for final assembly. It was an old-fashioned tubular ladder steel chassis, suspended at both axles by lower wishbones and transverse leaf springs that doubled as the upper links. Shelby reinforced the chassis by adding a triangular subframe between the rails. The first prototype had a body hand-beaten in America, while the 5 remaining bodies were subcontracted to Italian coachbuilder Gransport. The position of seats and instruments were altered to improve aerodynamics. Disc brakes were fitted at all corners, while fatter tires were adopted.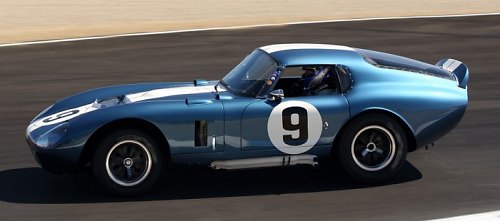 The 4.7-liter Ford 289 push-rod V8 could not match Ferrari's SOHC V12 or Aston Martin's twin-cam straight-six for sophistication, of course, but there was no replacement to its extra displacement – somehow, FIA allowed it to race against the 3-liter Ferrari and 3.7-liter Aston without any restrictions or weight penalty, something unimaginable today. Fitted with 4 larger Weber carbs, it produced even more power than the AC Cobra 289 – 385 hp and 341 lbft gross. Converted to the net power we use today, it would be around 325 hp and 315 lbft. That's significantly more than the GTO, which was rated at 300 hp and 216 lbft. Furthermore, the Shelby was still very light at less than 1100 kg, no wonder it was so quick. Car and Driver tested an old car in 1981, recorded 0-60 and 100 mph in an astonishing 4.4 seconds and 10.5 seconds, respectively. It could be even quicker if it was new. Top speed depended very much on the selection of final drive ratio. The short ratio that C&D tested was geared to only 142 mph at 7000 rpm redline, but the racing car normally geared to 190 mph at least, especially in Le Mans. This was the fastest road car in the world then, if you can call it a road car.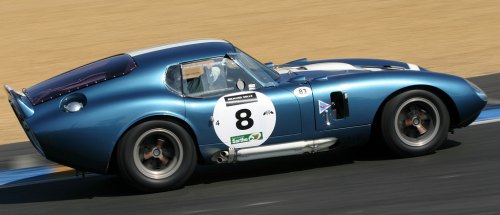 Nevertheless, the handling was not as good as Ferrari. Its ladder chassis was relatively soft and prone to twist and flex under cornering load, resulting in unpredictable understeer and oversteer. It also lacked the balance and composure of GTO. When it slid, it could be spectacular and difficult to correct. The less powerful brakes left something to be desired, too.
However, ultimately it was the Daytona Coupe that triumphed on race tracks. It debuted in the 1964 Daytona (which explained its name) and nearly won the race, just denied by a fire caught in pit. Then it stormed Sebring and Le Mans, beating the seas of GTO. If not Ferrari used politics to cancel the last round at Monza, it could have won the FIA GT championship that year. The emergence of Shelby cut the competition life of GTO short. Ferrari decided to withdraw its factory team from GT class and concentrated on the top prototype class in 1965. Consequently, Daytona Coupe swept the 1965 season easily, taking Daytona, Sebring, Monza, Nurburgring and won the GT championship. Ridiculously, that was also its last year of competition. Because Shelby was so successful, Ford hired it to run its struggling
GT40
program, thus the Daytona program came to an end. One car dies, one car rises. Considering what was coming, the death of Daytona Coupe was probably worthwhile.