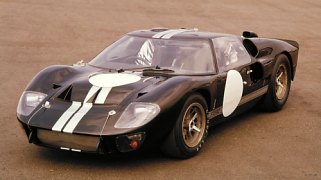 Mk II 427


Unquestionably, GT40 was the most exotic car ever produced by Ford. Combining super performance, advanced chassis, great looks and glorious racing records, it has an irreplaceable status in automotive history. Fans of motor sports especially remember its 4 straight Le Mans wins from 1966-1969 and the Daytona 24H victories in 1965-66, beating the then dominating Ferrari. No one would have thought Ford could do that.

Ridiculously, the birth of GT40 was triggered by Enzo Ferrari. In the early 1960s, Ferrari was in financial trouble and Henry Ford II was interested to buy the Italian company as a short-cut to enter GT racing. After a long negotiation, Enzo Ferrari eventually chose to sell his company to Fiat as the latter would give him plenty of freedom in management, even though Ford offered a higher price. This angered Henry Ford II and he determined to beat Ferrari on race tracks.



Mk I 289 (replica here)


However, Ford did not have the expertise to realize the project. That's why it formed a development team based in UK and employed Lola – the British racing car and engineering specialist – to develop a mid-engined chassis. The push-rod V8 engine came from Detroit, while American Carroll Shelby tuned the car and sorted out the reliability problems in the original Lola design. GT40 was therefore an Anglo-American joint-venture.

The GT40 was so named because: a) it was a GT race car; and b) its overall height was only 40 inches (note: actually 40.5 in) from ground to roof. It was the world's earliest mid-engined supercar and provided inspiration for the forthcoming Lamborghini Miura. The engine sat amid-ship longitudinally and connected to the rear transaxle. The chassis consisted of a steel monocoque for the cockpit section and tubular frame extensions front and rear to support the engine and suspensions, very advanced. Suspensions were A-arms (double wishbones) all round. Bodywork was made of glass-fiber to save weight. Although its shape was optimized for aerodynamics requirement in high speed circuits, it looked beautiful and timeless. No wonder 40 years later Ford could produce a modern version looking almost like a replica of the original !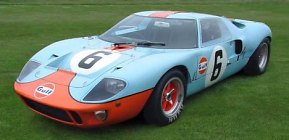 Mk I


The GT40 could be divided into 5 generations: GT40 (1964), Mk1 (1965), Mk2 (1965), Mk3 (1966) and Mk4 (1967). The original car was powered by Ford's 350hp 4.2-liter V8 coming from Lotus 29 Indy car. It was quite advanced, with all-alloy construction and dry sump, but it was fragile in endurance racing. Ditto the Colotti 4-speed transaxle it mated with. Therefore the combination was soon replaced by the Shelby-tuned Ford 4.7-liter (289 cu) V8 and 5-speed ZF transaxle. This became the Mk1. The Mk1 was a production car and usually referred to GT40P – where "P" stands for Production. Some 87 units were built for homologation. Among them 31 were road cars and 56 were race cars. The road cars got better trimmed cabin, softer suspensions, heavier flywheel, larger exhaust silencer and an engine detuned to 335hp at 6250 rpm. It was capable of 164 mph and 0-60 mph in a tested 5.3 seconds, faster than any Ferrari road cars of the time. The race car produced 380hp and good for 185 mph.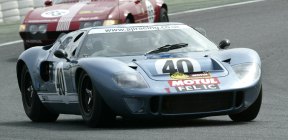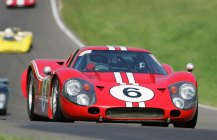 Mk I (left) and American-built Mk IV (right)


At the same time, Ford developed Mk2 to take on the top sport prototype category which didn't required any production cars. To beat the 4-liter V12 Ferrari, Ford put a 427 cubic inches (7.0 liters) push-rod V8 together with Ford's heavy duty 4-speed manual transaxle into the GT40. The engine and gearbox weighed some 400 kg ! And they put pressure on chassis balance and brakes. However, it produced a reliable 485 horsepower, enough to reach 213 mph in Le Mans' Mulsanne straight and destroy the lighter but more fragile Ferrari. As a result, Mk2 snapped up the first three places in Le Mans 1966 and brought Ford the first ever Le Mans win !

The second Le Mans win came the next year, this time by the Mk4. The Mk4 was developed and built in America and employed a completely new chassis made of lightweight aluminum honeycomb. It also looked very different from any previous GT40, although engine remained to be that 7-liter V8.

As the 7-liter GT40 dominated the GT racing scene, the sport governing body decided to change the rule to rule it out of competition. From 1968, one-off prototypes could no longer run an engine larger than 3 liters while production GT category must be less than 5 liters. As a result, Ford shifted its focus back to the 4.7-liter Mk1. It won the Le Mans in the next two years and completed a record of 4 consecutive wins. The last win was just 2 seconds ahead of Porsche 908 ! Apparently, it's time for the car to retire.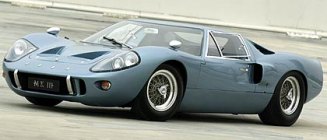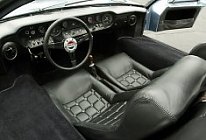 Road-going Mk III


From the outset, GT40 was designed to be a race car. Even the road-going version of Mk1 was not exactly a livable road car. The only version really designed for road use was the Mk3. Mechanically, it was like Mk1, with 4.7-liter V8 and ZF 5-speed gearbox. The engine was detuned slightly to 306 horsepower at 6000 rpm. The suspensions got softer while ground clearance increased to better suited road use. The tail was lengthened to increase luggage space. The cabin got better trimming, adjustable seats, hinged side windows and the gear stick relocated from the right door sill to the center. The latter not only eased entry and exit, but also allowed the Mk3 to be built in left hand drive form for American market. (All previous GT40 were right hookers). However, racing successes do not necessarily translate into commercial successes. Ford sold only 7 GT40 Mk3, blame to its uglier look and very high price. Moreover, a Lamborghini Miura with quad-cam V12 engine and Italian craftsmanship, not to mention a sexier look, was seen by many as the more desirable choice. Yes, Ford GT40 did beat Ferrari on race tracks, but it couldn't beat the Italian in the mind of customers.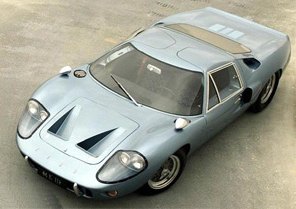 Mk III again