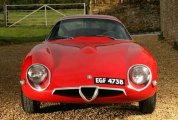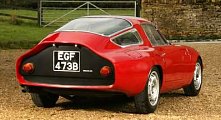 Giulia TZ was designed to be a racing car in first mind. From its Ferrari 250 GTO look-alike design, you might never guess that it was derived from the mechanicals of the Giulia !
The name TZ stands for "Tubolare Zagato", or "Tubular Zagato" in English. It implies two things: one, the car had a lightweight tubular frame chassis instead of the Giulia's unitary steel construction. Second, its bodywork was designed and built by Zagato.
The first TZ was born in 1963. Although it was based on various mechanical parts of Giulia, Alfa Romeo's racing arm Autodelta developed a tubular frame chassis specially for the car. It also incorporated a new independent rear suspensions and all-wheel disc brakes. Covering the chassis was Zagato's all-aluminum body. Apart from lightweight chassis and body, the TZ has its wheelbase shortened by 150 mm compare with Giulia coupe. In addition to the bare cabin, the whole car weighed just 660 kg.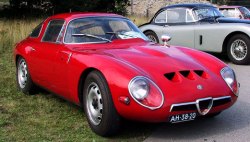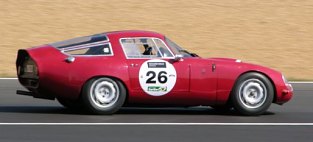 Thanks to the lowest weight, the Giulia-sourced 1570 cc twin-cam inline-4 had enough power to catch a lot of class wins in the following few years, including Le Mans, Sebring 24 hours and Nurburgring 1000km. In race trim, the engine produced some 160 horsepower. For road use it was detuned to 112 hp.
The body of TZ was very narrow and streamline to reduce aerodynamic drag. Interestingly, its styling was very close to Ferrari 250 GTO, probably because both of them were shaped according to the requirements of aerodynamics. People could be surprised that under its bonnet was not a V12 but a tiny four-cylinder engine. If there was ever a mini GTO, it must be this car.
Another thing the GTO and TZ had in common is rarity. Zagato produced only 112 first generation and 12 second generation TZ in total. Today they became one of the most valuable classic Alfas to car collectors.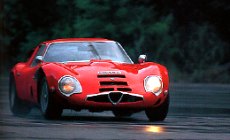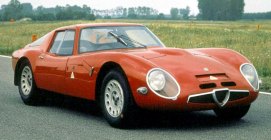 The second generation, TZ2, arrived in 1965. Again, the Zagato design resembled Ferrari GTO strongly. Compare to the first generation TZ, its body was made lower, wider and even sleeker. It was made of glass-fiber instead of aluminum to save further weight. This resulted in a kerb weight of only 620 kg.
Unlike the first generation, TZ2 was made in race trim only. Its engine featured dry sump lubrication to lower center of gravity and twin spark plugs to raise output to 170 hp. All these changes made it an even stronger force in motor racing. However, since 1966 Alfa Romeo concentrated its touring car racing program on Giulia GTA, thus stopped developing the TZ line.