Over the years, Ferrari produced countless of memorable sports cars and race cars. To name the greatest among them is not easy. However, the most versatile among them is definitely this one: the 250 series. 250 is a big family consisting of many derivatives, for example, the life-style 250GT California Spyder, the elegant grand tourer 250GT Lusso, the road/race dual-purpose 250GT LWB Tour de France and 250GT SWB Berlinetta, the fearsome GT racing ace 250GTO and 250TR (Testa Rossa). Not before or since a car could be so versatile !

Except the earliest ones, all 250 series cars were powered by a 2953 cc 60-deree sohc V12 designed by Gioacchino Colombo (it is therefore commonly called "Colombo V12"). Its V12 configuration and oversquare combustion chambers (73mm bore x 58.8mm stroke) ensured remarkable smoothness, revability and power. Following the traditional nomenclature of Ferrari, these cars were called "250GT" because each cylinder displaced 250cc. Other wordings in their names mean:

Berlinetta: Coupe
Spyder: Convertible
LWB: Long Wheelbase
SWB: Short Wheelbase
Lusso: Luxury

Apart from the V12, 250 series cars also shared a similar tubular ladder frame chassis, double-wishbone front suspensions and live rear axle. The rest could be very different. Even the same model could have a lot of bespoke features differing from one car to another. Besides, there were a lot of running changes made during their production life span. As a result, finding accurate specifications for each car is virtually impossible.

In total, Ferrari produced 1317 units of 250GT series road cars and 231 units of competition cars. They won countless of races: 9 Tour de France, 4 Le Mans 24H, 4 Mille Milles, 6 Monza, 5 Sebring 12H, 3 Paris 1000km, 2 Kyalami 9H, 4 Spa 500km and 4 World GT Championships.
250GT Berlinetta "Tour de France" (1955)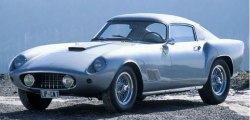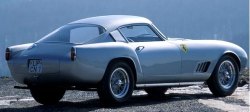 Although the 250 series started life in 1953, it had not acquired a classic status until the arrival of 250GT Berlinetta "Tour de France". The car was so nicknamed thanks to its famous domination of the Tour de France race. The 3300-mile marathon race combined circuit racing, hill climb, drag race and rally stages thus was the toughest test for speed and reliability. At that time, the versatile performance of 250GT Berlinetta was proved unmatched. It won the event in 1956 and then scored a dominating 1-2-3 next year. But that was only the beginning. The LWB Berlinetta would win the race for two more times and then left its successor SWB Berlinetta and GTO to take another 5 titles. Since then the 250 series became famous for being the world's best road-race car. Most of the 84 cars built were sold to drivers who used it as road car and race car simultaneously.

The TdF ran a 2600mm wheelbase which would be known as LWB later. Its tubular ladder frame chassis, live axle rear suspensions with leaf springs and drum brakes might not be state-of-the-art then (compare with the spaceframe chassis, swinging axle suspensions and disc brakes Mercedes 300SL Gullwing), but it was reliable and tidy to handle.

The Colombo 3.0-litre V12 in the TdF was tuned to deliver 230-240 horsepower, remarkable even by today's standard ! it was more powerful than its Mercedes rival and matched the 3.7-litre Aston Martin DB4. Torque, however, was rather weak, as you can imagine from its short stroke, but the Ferrari was also much lighter than DB4, therefore it could do 0-60 in 7 seconds and top 145 mph.

250GT California Spyder (1957)


While European was enjoying the road and track capability offered by 250GT Tour de France, America demanded more style and niche than outright performance. Ferrari's US distributors persuaded Enzo Ferrari to build an open version for sale in the US. This was 250GT California Spyder. Mechanically it was mostly the same, including the 240hp V12, but it got a bodywork designed and built by Scaglietti, which looked more elegant than the Berlinetta.

After building 49 Californias in LWB form (2600mm), Ferrari changed its chassis to the stiffer and more agile SWB version (2400mm) like the SWB Berlinetta. It also received disc brakes and a higher compression, 260hp engine. 54 SWB cars were made.

Despite of its niche appearance, the California Spyder was also used for motor racing. Ferrari built a lightweight Competizione version using aluminum bodywork and the 280hp version V12 from the SWB Berlinetta. Of course, on race tracks it could not match the success achieved by SWB Berlinetta. However, because of its beautiful design and rarity, today a California Spyder can cost up to US$2 million !

250GT SWB Berlinetta (1959)



I don't understand why so many people called it one of the most beautiful Ferraris. To me, the 250GT SWB Berlinetta looked dreadful, failing to match the really beautiful Ferraris emerging since the late 60s. However, from driver's point of view the SWB Berlinetta was definitely the best of its era. It was probably the last classic sports car suitable for road and track use simultaneously. From automotive historian's point of view, SWB Berlinetta signaled the end of a great era. Since then, road cars and race cars differentiated into two paths.

In the late 50s, the 250GT "Tour de France" started losing competitiveness in motor racing. Enzo Ferrari realized he need to improve the cornering agility of his cars. Therefore he shortened the wheelbase from 2600 mm to 2400 mm and created the Short Wheelbase (SWB) version of 250GT. The Pininfarina design looked more muscular (or even brutal) as a result. Most of the 165 cars built were completed with steel bodywork, but 75 units of which got aluminum body produced by Scaglietta to enhance track performance further.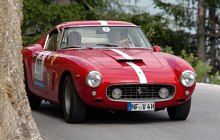 The SWB coupe was installed with the latest version of the Colombo 2953cc V12. Still with single camshaft per bank and 73 x 58.8 mm bore x stroke dimensions, the engine was heavily revised with new heads and block, intake and exhaust manifolds, distributors, coil valve springs, higher compression and larger Weber carburetors. The result was 280 horsepower at 7000 rpm in the most powerful form.

Benefited by the shorter chassis, the SWB weighed only 1050 kg, thus you can see it achieved very high power to weight ratio. Top speed was around 152 mph, while 0-60 mph could be done in 6.2 seconds. Both figures were the best of its days. As for stopping, the car was the first Ferrari to employ disc brakes. This improved its track performance significantly and it showed on race results: the car swept the first four places in the 1960 Le Mans 24 Hours and claimed the World GT championship next year, beating arch-rival Aston Martin DB4GT.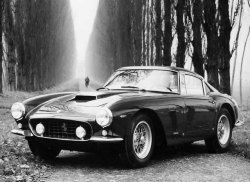 The SWB Berlinetta succeeded the best tradition of the 250GT series, that is, superb handling and high reliability. Its chassis was very well balanced, so powerslide in bends was its basic instinct. Most drivers drove it from home to race tracks, enjoyed a weekend of success and triumphed back home. Such versatile quality made it very attractive to classic car collectors and vintage racers.

The only weakness of the car was aerodynamics. This had never been a critical issue for previous 250GT cars, but as the SWB had lifted top speed to over 150 mph, aerodynamic lift became a problem on fast tracks. At high speed, the aerodynamic forces lifted the nose a bit and induced a moderate degree of understeer. That was why Ferrari did not rest on its laurel for long. In 1962, the SWB Berlinetta evolved into an even better car, 250 GTO.

250GTO (1962)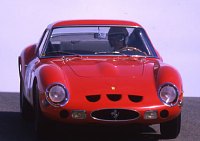 With little doubt, Ferrari 250GTO is the most desirable post-war collection today. In 1990, it set a world record auction price at US$10.7 million. Today this record is still yet to be matched by any other cars. Why is the GTO so desirable? Because it combines beautiful style, exotic performance, great racing history and rarity. Only 39 GTOs were made between 1962 and 64, and even fewer of them remain alive today after hundreds of great battles on race tracks.

No other Ferraris road-race cars could match the success of 250GTO on race tracks. Named "Gran Turismo Omologata", or Grand Tourer Homologated in English, its target couldn't be any clearer. While the 250 SWB Berlinetta was designed to be a road and race dual-purpose machine, the GTO set its sight firmly on race tracks – although it was still reasonably comfortable on regular roads. Based on the 250GT SWB Berlinetta, Ferrari kept the short wheelbase but changed much of the tubular steel frames bracing and suspension mounting joints to create extra stiffness. Suspension also was stiffened. As a result, it provided exceptional poise and balance on race tracks, although with some tradeoffs in ride comfort on public roads.




To compensate the extra weight due to the reinforcement, the GTO employed thinner steel tubes for its chassis frame, racing Plexiglass for side and rear windows and an almost stripped-out cockpit. However, the driving environment remained a masterpiece, thanks to a good-looking Nardi wooden steering wheel, chromed gauges and classic aluminum gated shifter. GTO was probably the last racing car with a desirable interior.

For power, GTO adopted the 3-litre Colombo V12 used in the racing 250TR but made some modifications, such as bigger valves, 9.5:1 compression and dry sump lubrication so that it would fit the lower bonnet. The high-revving V12 produced 300 horsepower at 7500 rpm, or 100 hp per litre ! If any engines did not develop between 296 and 302hp on dynamometers, they would be rebuilt. The V12 was not only powerful but also surprisingly tractable and linear in its power delivery. It mated with a new 5-speed gearbox, versus the SWB Berlinetta's 4-speeder.




Considering the GTO weighed just over 1 ton, such power should translate into astonishing performance - people talked about 160 mph top speed and 0-60 mph in the low 5-seconds. In fact, the performance depended on the choice of final drive ratios (there were 8 of them to choose from). Choose the lowest ratio as the Le Mans-spec GTO and it could top 176 mph at the Mulsanne straight. Choose the highest ratio and top speed became only 129 mph, but acceleration from 0-60 mph could be done in an eye-poping 4.9 seconds. Unfortunately, it seems that no one was given the chance to verify the actual performance until 20 years later – in 1982, Motor magazine finally did a test, recorded 147 mph and 0-60 mph in 5.9 seconds. That was remarkable for a 20-year-old vintage.

Nevertheless, the most extraordinary part of GTO was aerodynamics. At that time, wind tunnel was not available to motor industry. However, Ferrari's chief engineer Giotto Bizzarrini borrowed university's wind tunnel and spent a lot of time examining penetration, drag, lift and adhesion. Step by step, the GTO's body evolved into a slippery shape with a body-integrated rear spoiler, which was first ever used on a road car. Unlike other Ferraris, the GTO was not styled by Pininfarina or Scaglietti, but the engineers based on laws of physics !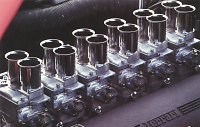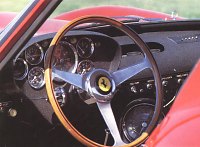 The work paid off on race tracks, as the car ran faster yet far more stable than the SWB Berlinetta. The GTO dominated nearly all events, most notably the 3 consecutive World GT Championships from 1962-64.

Some automotive historians regard 250 GTO as the world's first supercar. Some see it as the last front-engined sports car to dominate the motorsport world. Some said it was, and still is, the greatest Ferrari ever built. However, most agree it was the definitive Ferrari built by Enzo Ferrari, as it had all the ingredients he loved: front-engine, V12 and countless of race victories.

250GT Lusso Berlinetta (1962)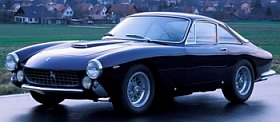 The emergence of GTO meant Ferrari started differentiating its li
nes of race cars and road cars. While the race car line earned fame for Ferrari, it was the road car line that earned money to support the motorsport activities. That's why Ferrari produced the road car 250GT Lusso Berlinetta in the same year as GTO. Some 351 Lussos were sold from 1962 to 64, thus it became the fastest selling Ferrari until then.

"Lusso" is the Italian word for "Luxury". It implied the car was the luxury version of the 250GT series. Basically, the chassis frame was similar to the GTO, but the V12 was moved forward to create more cabin space. Unlike the GTO, its bodywork was made of steel, although bonnet, doors and boot lid were aluminum. The car was quite heavy at 1310kg. In addition, its V12 was detuned to 250 horsepower, thus performance was no match with SWB Berlinetta and GTO of course. Top speed was estimated to be 145 mph while 0-60 mph too
k about 7 seconds.


Apparently, the Lusso was not renowned for performance. What it overshadowed other 250GT cars was beauty. Again designed by Pininfarina and built by Scaglietti, the Lusso's bodyshell had a sleek appearance and sexy curves that its sisters lacked. Many people regard it as the most beautiful Ferrari ever built because it had the elegant details of pre-mid-1960s classic era and the sexy visual appeal of post-mid-1960s exotic era.


The cockpit of Lusso was light and airy, thanks to large window area and very slim pillars. The dashboard was fully trimmed with beautiful leather. The Nardi wooden rim steering wheel, classic aluminum spherical gearstick and a leather-clad luggage area behind the seats looked delicious. However, the Lusso was not the most luxurious Ferrari at the time – that was the larger and more expensive Superamerica.