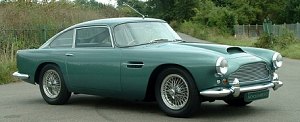 DB4 series is regarded by many people as the greatest Aston Martin of all. In its days, it was the English answer to Ferrari's GT cars. People admired its elegant styling and quality, its comfortable ride and high-speed cruising ability. In short, it was a very good long-distance grand tourer. On the other hand, its short-wheelbase version GT was a formidable force in motor racing, winning many races and eventually forcing Ferrari to develop 250 GTO. During its 5 years life, some 1100 cars were produced.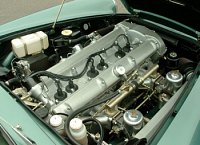 The DB4 was born in 1958 London Motor Show. It was styled by Italian design house Touring of Milan, no wonder its sleek profile differed somewhat from the subsequent Aston Martins' bulldog muscular shape. Mechanically, it was not as technological advanced as contemporary Ferraris, but the steel tubular frame chassis was enclosed with aluminum bodywork, and Aston's chief engineer Tadek Marek introduced the legendary twin-cam straight-6 engine in this car. Displacing 3670 cc, the engine could pump out 240 horsepower and especially strong bottom end torque, which was very useful to a luxurious grand tourer. Autocar magazine found it could top 141 mph and accelerate from 0 to 60 mph in 8.5 seconds. That's remarkable for a 2+2 grand tourer - Ferrari 250GT was only half a second quicker.

Compare with Ferrari, the DB4 preferred wide open roads than corners. It was never renowned for handling, because it was quite heavy and high on center of gravity. In return, the driver got a high-mounted seat for a commanding view. The cockpit was spacious and luxuriously decorated. The ride was comfortable because of soft suspension setting. In addition to the flexible straight-6, DB4 established a strong luxurious GT image for Aston Martin. Today AM cars still follow the path set by DB4.

DB4 GT


In 1959, Aston Martin introduced a short-wheelbase version of DB4 called DB4 GT. It was used to compete with Ferrari's new 250 SWB (also short wheelbase, of course) in GT racing. The DB4 GT was not only 13 cm shorter in wheelbase than the standard coupe, but it was some 120 kg lighter, thanks to thinner aluminum panels and deletion of the rear seats.

The straight-6 engine also received heavy modifications, such as twin-spark per cylinder, high-lift camshafts, raised compression and 3 Weber carburetors. As a result, maximum output raised to 302 horsepower. That's 22 horsepower more than its Ferrari rival could muster (although the Ferrari was lighter). Performance was therefore dramatically improved from the standard coupe. The DB4 GT could break 150 mph and took only 6.4 seconds for 0-60.

The muscular look of Aston Martin cars started take shape from the DB4 GT. Visually, its shorter wheelbase put more weight to the front. The rounder front flanks - now added with perspex headlamp covers - delivered a muscular feel, while the large bonnet air scoop added to a bulldog appeal.

Aston produced only 75 units of DB4 GT from 1959 to 1962, many of them enjoyed great success in motor racing. It eventually forced Ferrari to develop an even better car, 250 GTO.

DB4 GT Zagato


To car collectors, DB4GT Zagato is the most desirable Aston Martin of all. The first reason is rarity - from 1960-63, only 19 units were built. This made it the rarest Aston Martin until today. Second, many people regarded this car as the most beautifully styled Aston Martin, and probably the most beautiful design from Zagato. In 2005, a DB4GT Zagato was sold for US$2.7 million ! That's one of the most valuable classic cars today.

In the end of 1950s, the competition between Aston Martin and Ferrari in GT racing intensified. In order to get the leading position, both companies rushed out newer and more exotic version of their weapons. In the AM side, it was DB4 GT Zagato. The DB4 GT was already a competitive road racing GT. In the Zagato version, the emphasis was even lighter weight and more power, virtually pushing everything to the envelop.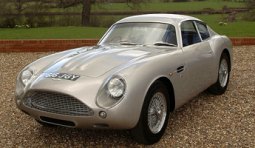 The bodywork of the car was designed by Zagato's young designer Ercole Spada. The chassis was sent from Newport Pagnell to Italy, where Zagato put its aluminum bodywork on, and then shipped back to UK for final assembly. This explain why the car was super-expensive. Nevertheless, Zagato's bodywork was even lighter than the DB4 GT because it used even thinner aluminum panels. Parts of the chassis was also converted from steel to aluminum to save weight. For the same reason, windows were converted from glass to perspex. Besides, all the creature comfort was deleted from the cabin, even the seats were lightweight items. It is difficult to say how much weight was saved in total, because none of the 19 cars built were exactly in the same specifications. However, the weight save is believed to be around 40 kg.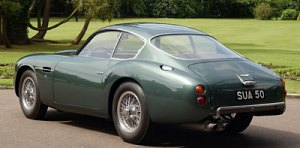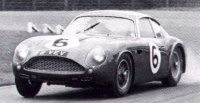 The 3670 cc straight-6 got a slight power increase to 314 hp, thanks to raising compression from 9.1 to 9.7:1. This mean the Zagato was slightly faster than the DB4 GT.

Unfortunately, the Zagato version actually got little racing success. It always lived under the shadow of Ferrari 250 GTO, a car having better chassis, lighter weight and better aerodynamics. In short, everything better than the Zagato. In fact, GTO also cost a deal more in auction - it set a world record of US$10.7 million in 1990.