Ferrari 599 GTB Fiorano

Debut: 2006
Maker: Ferrari
Predecessor: 575M Maranello

Front-engined Flagship Ferrari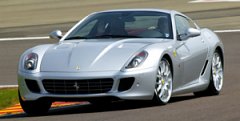 Ferrari's front-engined flagship model started life in 1968 in the form of 365GTB/4 Daytona. Today it is still regarded by many as the definitive Ferrari front-engined GT, thanks to an exotic design, ground-breaking performance (174mph and 0-60mph in 5.4sec) and good handling. The Daytona was superseded by the mid-engined Berlinetta Boxer in the mid-70s and then Testarossa in the mid-80s. Nevertheless, the mid-engined supercars sold by exotic image rather than real talents, as their rearward weight bias and high center of gravity (engine mounted onto the transmission) actually deteriorated handling.

In 1996, the flagship line returned to front-engined. 550 Maranello and its modified version 575M improved greatly on handling, cabin comfort and user friendliness. In the next 10 years they sold 5700 cars. But that was still less than the 8500 units Testarossa series recorded in its 11 years life. What happened?

Undoubtedly, the Maranello had its own weaknesses. First of all, it did not look very beautiful - a deadly sin for Ferrari. Secondly, its V12 engine was too civilized, playing only the sound of silence. Thirdly, it was neither powerful nor light enough to produce super performance justifying its top position in Ferrari's production model lineup. It was repeatedly embarrassed by the cheaper V8 line, 360 Modena and F430. The reputation was so bad that people started believing front-engined could not make the best Ferrari.


That was a misconception, of course. In fact, front-engined grand tourer was always the format preferred by Enzo Ferrari himself. He approved mid-engined layout only for race cars and the small-engined Dino because he believed the combination of powerful V12 and mid-engined could result in poor balance, oversteer hence disasters to his customers. (If not forced by Lamborghini Countach, he would not have approved the flawed BB)

Today, Maranello's engineers also believe front-engined layout can make the best Ferrari road car, beating even the high standard set by F430. If they succeed, they will have a car matching the classic status of Daytona. Yes, this car is 599GTB Fiorano.



New Born King



Although not as ground-breaking as Daytona, 599GTB is a much better looking car than 550 / 575M. It was designed by Pininfarina studio under the guidance of Ferrari design boss Frank Stephenson. The design theme follows 612 Scaglietti, but added more tension and aggression. The profile is an integration of sharp nose, flowing belt line and muscular shoulders. It brings back the emotion lost in 550 / 575M.



Highlight of the design are the "flying buttresses" C-pillars which stand freely away from the rear glass. They not only look special but also improve aerodynamic downforce, as they draw airflow towards the tiny tail spoiler. Cd is just 0.336, remarkable for a car generating 190kg downforce at very high speed. Credits must go to the big diffusers.

Enter the cabin through the conventionally hinged doors, you will find plenty of space, even more than in 575M. Likewise, the big, 320-litre boot can swallow a weekend's luggage or a couple of golf clubs. Space and visibility is no longer a thing you need to sacrifice in Ferrari. More worrying is the visual quality – is the carbon-fiber deco as good looking as leather and aluminum? is the analogue-LCD hybrid instrument panel as delicious as conventional one? and what about the Formula 1 / PlayStation-like multi-functional steering wheel? Like all recent Ferraris, this cabin lost the visual attractiveness of traditional Ferrari cabins. We miss the days when all Ferraris featured wooden steering wheel, chromed gauges and metal spherical gear knob.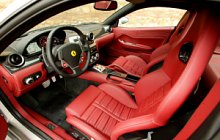 Anyway, the beauty of 599GTB is not from design, but from its engineering. Base on a shortened version of the 612's aluminum space frame chassis and a detuned version of the Enzo V12, you get the idea how it works… look at these figures first: 620 horsepower, or 105 horses more than its predecessor; Kerb weight 1690 kilograms, 40 kilos lighter. Its power-to-weight ratio will beat a Lamborghini Murcielago LP640.

Now the performance figures: 205mph-plus, zero to 62mph in 3.7 seconds, 0-124 mph in 11.0 seconds. Now it is comfortably faster than F430 and the new 911 Turbo, and should give the Lamborghini flagship a lot of hard time. However, the most mind-blowing fact is that it is now faster than the mighty F40 (that 478 horsepower, 1100kg carbon-fiber road racer). Ferrari said it laps Fiorano 5 seconds quicker !



Matured Technology



In the 599GTB, I have a feeling that various technologies have finally matured. The first one is the front-engined chassis. 550 / 575 Maranello showed that a front-engined machine could deliver fabulous handling, but it had not optimized the layout yet. People still preferred mid-engined layout for supercars because of superior rear-wheel traction (as more weight acted on the rear wheels) and responsive steering (as less weight over the front wheels). However, in the 599GTB Ferrari achieved a front-rear weight distribution of 47:53 (while 575M was 50:50). This was implemented by pushing the front axle forward and mounting the gearbox at the rear axle. The figure is almost optimum for the best handling, with traction, balance and security considered. If the engineers could shift more weight towards the rear, I guess they would still prefer the current setting.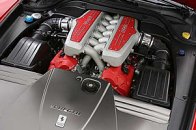 Apart from balance, the Scaglietti's all-aluminum body and chassis also benefits dynamics, for it is lighter yet stiffer. Its lightweight bodyshell and small diameter twin-plate clutch help achieving a center of gravity 20mm lower than 575M. As before, it rides on classic unequal-length double-wishbone suspensions. What's new is the introduction of Delphi's magnetorheological adaptive damping (similar to Chevrolet Corvette's Magnetic Ride Control, also by Delphi). It can infinitely alter damping stiffness by applying current to the magnetorheological medium. Braking is provided by either conventional cast-iron discs or Brembo carbon ceramic discs.

Another technology finally getting matured is the F1-Superfast gearbox. In automatic mode where it used to be jerky, now it shifts reasonably smooth. However, the most impressive is how fast it makes gearshifts in manual mode: only 100ms, versus 150ms in F430 and 250ms in 575M. It makes full-blown acceleration almost uninterrupted. Very exciting !

As for the V12 engine, we have little surprise. It shares the same 65˚ engine block, 6.0-litre capacity and 11.2:1 compression with Enzo's 660hp unit, as is the fully variable valve timing. But it employs a fixed intake system and steel connecting rods instead of titanium ones. Strangely, the engine is capable to spin to 8400rpm, 200rpm higher than Enzo. It produces 620 horsepower at 7600 rpm, 448 lbft of torque at 5600 rpm. From 3500rpm ninety percent of the maximum torque is available, so this engine is super powerful yet tractable.



On the Road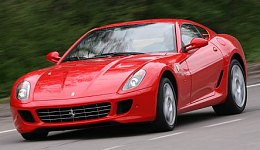 From the moment you start the engine, you will realize this is one of the few future classics you could encounter in your life. Like all the best Ferraris, it has a wonderful V12 engine which loves to rev, to sing and to deliver output in a linear, easy-going manner. Unlike Maranello, the 599 engine produces a marvelous soundtrack whose volume and urgency progress linearly according to rev.

With 620 horsepower on call from a flexible engine, acceleration is by all means sensational. We have no reason to doubt Ferrari's performance claim, especially in the presence of the effective launch control and the super-fast gearbox. In fact, its performance is clearly beyond the reach of F430, and closer to the level of Enzo. It will eat Mercedes SL65 AMG for breakfast. It won't fear McLaren SLR either.

The ride is firm but composed, thanks to the adaptive damping. However, most impressive is handling. Read this: it has better handling than F430 ! it has a body control superior than the mid-engined Ferrari. It corners flatly, thanks to the great chassis balance and long wheelbase. It steers so responsively and eagerly as if there were no mass at the nose. It has bags of grip and powerful braking (although brake pedal lacks initial bite). The steering occurs to be too light at first acquaintance but is actually full of feedback.

Whatever mid-engined supercars can do, so can the 599GTB. At the same time, it offers the confidence-inspiring driving manner and the packaging advantage (cabin space, luggage room and visibility) unavailable in mid-engined supercars. It can be a daily car driven to work. It can be a cross-continental express. It can be exploited on any kinds of roads. Its talent is far broader than Murcielago, Enzo, Carrera GT, SLR, Zonda, Veyron, Koenigsegg... Yes, Enzo Ferrari was right. The best Ferrari should be V12-powered and front-engined. If he see this from heaven, he would be proud of 599GTB.


The above report was last updated on 16 Jun 2006. All Rights Reserved.
599GTO

| | |
| --- | --- |
| | Designed for homologation or not, 599 GTO is a worthy successor to the original GTO. |

We love the "regular" 599GTB very much. To this date it is still the best driving and most rounded GT in the world, especially with HGTE handling pack. However, that doesn't stop the car from improving. Unquestionably, more power and less weight can only make the 599 even better. This thinking leads to the birth of 599 GTO.

Ferrari produced two series of GTO before, one was 250 GTO in 1962, another was 288 GTO in 1984. The name GTO stands for Gran Turismo Omologata, which means a grand tourer designed specially for racing homologation. That was how the first two GTOs were conceived. The same cannot be said to 599 GTO, which is designed to earn extra profit for Maranello rather than taking part in motor racing. However, this car becomes the hottest road-going Ferrari until the replacement of Enzo arrived. Its £300,000 price sounds not too expensive for a limited production run of 599 units, especially compared with the £340,000 first attempt of Toyota supercar, Lexus LF-A.

As expected, the 599 GTO is 50 ponies more powerful yet 85 kilos lighter than the standard car. This translates to a 14-percent improvement of power-to-weight ratio, which also beats Lamborghini Murcielago LP670-4 SV by 5 percent. Its aerodynamics have been tweaked to increase downforce without deteriorating drag. Its brakes, tires and suspensions were all enhanced. The result is higher performance, of course. 0-60 mph acceleration is shortened from 3.65 to 3.3 seconds. Top speed inches up to 208 mph. Most significant, it is claimed to lap Fiorano track in 1 min 24 sec, a second quicker than Enzo and 458 Italia, or two and a half ticks less than the standard 599 GTB !


| | |
| --- | --- |
| | Power-to-weight beats Lamborghini LP670-4 SV by 5 percent... |

Outside, the GTO looks sufficiently different from the GTB. Its more aggressive aerodynamic kits include deeper front spoilers and skirts, an additional wing at the front splitter and larger diffusers at the back. The bonnet has a more pronounced power bulge and additional ventilation holes. Above all, the most apparent change is the black greenhouse - it looks like fabricated in carbon-fiber, but it is actually metal painted in matt black.

The body shell of GTO is still largely made of aluminum, albeit in thinner gauge aluminum to trim weight. Other weight saving measures include thinner glass, lighter aero underbody, lighter transmission (-8kg), lighter Brembo CCM brakes (3kg lighter than original CCM brakes), lighter exhaust system (cuts 13kg by using hydroforming)... The cabin is another battleground of weight killing. A total of 33 kg is saved by using carbon-fiber-backed racing buckets, by replacing leather trim with suede and carbon-fiber, and by deleting carpets. Nevertheless, Ferrari has not changed its role as a grand tourer. Comfort items like sound insulation, air-conditioning, power windows and audio system are intact. GTO differs very much from Scuderia or Porsche RS in this respect.

The standard V12 engine is already a very powerful unit. It delivers as much as 103 horsepower per liter and is capable to spin to 8400 rpm redline. So how does Ferrari push its specific output beyond 110 hp per liter ? On paper, the GTO engine does not seem much different. Its displacement and compression ratio are unchanged at 5999 cc and 11.2:1 respectively. Its four camshafts are still served with variable cam phasing. Its intake manifolds are still fixed type. However, open the bonnet and you will see the red plenums are the same as those found on the experimental 599XX. In particular, they are interconnected by a resonance tube at the front end. This serves to enhance cylinder filling at high rev, explaining why the new V12 could deliver its peak power at sky-high 8250 rpm instead of the previous 7600 rpm.


| | | |
| --- | --- | --- |
| | | Intake system comes from 599XX |

The exhaust system is also simplified from 6-into-2-into-1 to 6-into-1, reducing back-pressure while making the exhaust note louder, the latter should silence those criticized the GTB as too civilized. Besides, Ferrari achieved a 12 percent reduction of internal friction, thanks to diamond-like carbon coating on tappets and microfinished cam lobes, among others. Windage in the crankcase is also reduced thanks to aero-friendly counterweights on crankshaft. As a result, the GTO can pump out 670 horsepower, overtaking the late Enzo supercar as the most powerful production Ferrari.

The 6-speed automated manual gearbox in GTO may be the last iteration of its kind - before dual-clutch gearbox taking over. It improves from the GTB unit in several ways. Firstly, its gearshift is quickened from 100ms to 60ms, matching that of Scuderia. Secondly, it allows multiple downshift by holding the shift paddle. Thirdly, its final drive is shortened by 6 percent to improve responsiveness across the range.

Handling is enhanced in various areas. The suspension gets new springs and stiffer rear anti-roll bar. Ride height is 20mm lower than GTB and 10mm lower than HGTE. Like 458 Italia, it adopts the second generation magnetorheological adaptive damping, which reacts faster, has lower internal friction thus deals better with high-frequency small bumps on the road. Also similar to its smaller brother, its steering rack is quickened by some 20 percent. The second generation Brembo carbon ceramic brakes are lighter and more consistent at the limit, thanks to the use of ceramic pad for the first time. The F1-Trac traction control, VDC stability control, ABS and adaptive damping have been integrated to work in harmony, enabling the GTO to flow in the twisty like Scuderia and Italia. However, the most important of all are probably the specially developed Michelin tires. The front rubbers have grown considerably from 245/35 to 285/30, which should reduce understeer and improve roadholding significantly. The rears have been widened slightly to 315/35. Unusually, its front tires have lower profile than the rear ones.



On the Road




| | |
| --- | --- |
| | The slight understeer of the old car gives way to endless neutrality... |

Just as our technical analysis implies, the GTO is absolutely marvelous to drive. In fact, its superiority over the standard GTB reminisces how the original 250GTO compared with 250GT SWB. At low speed, it is no less obedient as the GTB. The V12 pulls willingly at low rpm. The F1 gearbox shifts smoothly at Auto mode. The ride is no less comfortable on Italian country roads. Yet once you change the Manettino switch to Race mode and floor down the throttle, you will be amazed with its lightning gearchanges and the accompanying g-force. Thanks to the clever traction control, there is no wheel spin at all, yet the intervention of electronics is so seamless that you can hardly notice. Consequently, the acceleration is so linear and fuss-free that it can easily pass the ton at an Enzo-beating 6 seconds. Meanwhile, the cockpit is dominated by the frantic scream of the V12, which is so thrilling that you won't mind to listen all day.

The chassis dynamics is equally impressive. Compare with HGTE, it grips harder, it brakes stronger, it steers sharper. The slight understeer of the old car gives way to endless neutrality - unless you really do stupid things. Being a front-engined machine, it is not prone to oversteer either. As a result, the GTO flows through the twisty with amazing fluency and precision, hence unrivaled confidence. Admittedly, part of this confidence comes from the seamless intervention of stability and traction control. Of course, if you want to take full control, you can switch the Manettino to CST-Off. However, even so the GTO is still a great handler, because it has the best inherently balanced chassis on the supercar field.

The biggest achievement of GTO is perhaps its accessible performance. Many mid-engined supercars, such as Bugatti, Koenigsegg, Zonda or Lamborghini LP670-4 SV, are too wide and low for exploiting on public roads. They became more Autobahn express or Nurburgring specials. The GTO is different. It is relatively compact to drive fast on mountain roads. It has normal visibility, a natural driving position and proper creature comfort to be used as an everyday supercar. Simultaneously, it has the sharp handling and strong performance you would expect for a tier 1 supercar. This make it a worthy successor to the original GTO, although it is not exactly designed for racing homologation.


The above report was last updated on 21 May 2010. All Rights Reserved.
Specifications
General remarks
Layout
Chassis
Body
Length / width / height
Wheelbase
Engine
Capacity
Valve gears
Induction
Other engine features
Max power
Max torque
Transmission
Suspension layout

Suspension features
Tires


Kerb weight
Top speed
0-60 mph (sec)


0-100 mph (sec)

599GTB

Front-engined, RWD

Aluminum spaceframe

Aluminum
4665 / 1960 / 1335 mm
2750 mm
V12, 65-degree

5999 cc
DOHC 48 valves, DVVT

-
-
620 hp / 7600 rpm
448 lbft / 5600 rpm
6-speed automated manual

All double-wishbone

Adaptive damping
F: 245/40ZR19
R: 305/35ZR20
1690 kg (dry: 1580 kg)

205+ (c) / 206* / 208** mph
3.65 (c) / 3.4* / 3.4** / 3.2*** / 3.3****
6.8* / 7.0*** / 6.8****

599GTO

Front-engined, RWD

Aluminum spaceframe

Aluminum
4710 / 1962 / 1326 mm
2750 mm
V12, 65-degree

5999 cc
DOHC 48 valves, DVVT

-
-
670 hp / 8250 rpm
457 lbft / 6500 rpm
6-speed automated manual

All double-wishbone

Adaptive damping
F: 285/30ZR20
R: 315/35ZR20
1605 kg (dry: 1495 kg)

208+ (c) mph

3.3 (c)


-
Performance tested by: *Quattroruote, **AMS, ***R&T, ****C&D
Copyright© 1997-2010 by Mark Wan @
AutoZine