Sales figures

2018: 9,251 units
2017: 8,398 units
2016: 8,014 units
2015: 7,664 units
2014: 7,255 units
2013: 6,922 units
2012: 7,318 units
2011: 7,195 units
2010: 6,573 units
2009: 6,293 units
2008: 6,587 units
2007: 6,465 units
2006: 5,658 units
2005: 5,409 units
2004: 4,975 units
2003: 4,238 units
2001: 4,289 units
2000: 4,072 units
1999: 3,775 units
1998: 3,637 units

Brief History

Enzo Ferrari was born in 1898 in Modena. He received little formal education as he was forced to leave school after his father died. The young Ferrari dreamed of working as a race driver. This was fulfilled when he got hired by Alfa Romeo racing team as a test driver in 1920, then a formal race driver. However, having realized that his talent was more on organizing a team than driving, he concentrated on the team work, which saw him eventually promoted to the post of director of Alfa Romeo racing.

In 1929, Ferrari established his own team, Scuderia Ferrari, to prepare and race Alfa Romeo cars. As it usually achieved better results than the factory team, Alfa simply demised its own team and employed Ferrari as its official team in the 1930s. Race wins were numerous, including a heroic victory by Tazio Nuvolari against the powerful Mercedes-Benz and Auto Union in the 1935 Nurburgring Grand Prix. But overall the 1930s belonged to the government-backed German teams.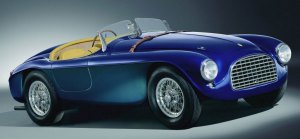 166MM (1949)



After WWII, Ferrari began building his own cars. The first car wearing the "Ferrari" badge was the 1947 Tipo 125. It was a racing car powered by a 1.5-liter V12 designed by Gioacchino Colombo. It started the company's tradition of using V12 engines (the favourite format of Enzo) and nonemclature by engine displacement per cylinder. Besides, the Colombo V12 would evolve and serve many more Ferraris in the next 40 years...

The 125 was followed by 166 (now 2 liters of displacement), which won Le Mans and Mille Miglia in 1949. Ferrari continued to dominate the world of sports car and GT racing in the next two decades with 250GT series (Tour de France, Testa Rossa, SWB and GTO) and prototype race cars (250P, 250LM, 330P 3/4 etc). Then he turned his attention to Formula One...



250GTO (1962)



Motor racing was the blood of Ferrari, but it cost a lot of money - and increasingly more. To fund his racing programs, Enzo also built road cars for his customers. To catch the wealthy USA market, Ferrari introduced the America and Superamerica series grand tourers with larger V12 engines designed by Aurelio Lampredi. They ran alongside the sporty, European-targetted 250GT and 275GTB series with Colombo V12. All Ferrari road cars were beautifully designed by Pininfarina, which became its long-term partner.



206 / 246GT Dino (1967)



All Ferrari road cars followed the front-engined V12 format set out by Enzo until the 1967 Dino 206GT. This car had a small quad-cam V6 mounted amidship. The engine was originally designed by Vittorio Jano for Formula 2 racing suggested by Alfredino, the son of Enzo. However, Alfredino died early from kidney disease. It took Enzo a few years to fully recover from sorrow. In the memory of his son, he put the V6 into a small production Ferrari 2-seater and badged it as "Dino". The new V6 line then evolved to the V8 line of 308 / 328 / 348 / F355 / 360 / F430 and still serves as the entry-level Ferrari sports car today.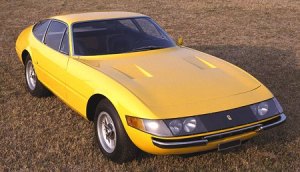 365GTB/4 Daytona (1969)



1960s saw the foundation of Lamborghini, which immediately became the strongest ever challenger to Ferrari. Lamborghini launched the world's first so-called "supercar", the mid-engined V12 Miura. It had spectacular looks as well as amazing speed (at least on paper). Fortunately, Ferrari responded with another masterpiece, the front-engined V12 "Daytona" 365GTB/4. It took back the title as the world's fastest car and saved Enzo from losing face. In the 70s, the rivalary between Ferrari and Lamborghini got intensed with the mid-engined supercars Berlinetta Boxer and Countach. The pressure on Maranello's road car division was not eased until its Saint'Agata rival got into financial trouble.



308GTB (1975)



Earlier, financial pressure also affected Ferrari. Enzo found it difficult to get the necessary money to finance his racing activities. To solve the problem, on the one hand he quit sports car and GT racing and concentrated all energy in F1, on the other hand he sought an outside investor. After turning down an offer from Ford, he sold 50 percent stakes of his company to local giant FIAT in 1969. Thereafter the road car division, practically managed by FIAT, concentrated on building road cars that customers really wanted, while Enzo himself continued to control the racing division until his death in 1988. After that, FIAT increased its stakes to 90%, while minority shares were held by his son, Piero Ferrari.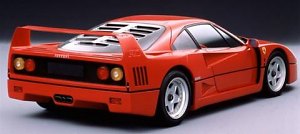 F40 (1987)



Apart from the production road cars, Ferrari added a line of limited edition supercars in the mid-1980s. This started with 288GTO and reached new height with F40, the last car unveiled by Enzo. F40 toppled the contemporary Porsche 959 to regained the title as the world's fastest car. It was also the most commercially successful supercar in history, with 1300 cars sold at sky-high price. Its sales record and fame would not be matched by the subsequent F50 and Enzo.


550 / 575M Maranello (1996)



Though still looked beautiful and ran fast in straight line, the Ferrari road cars in FIAT-era lost somewhat the build quality, reliability and drivability of those built in the Enzo-era. This was obvious in the BB, Testarossa and 348tb. In 1991, Luca di Montezemolo became the president of Ferrari. He reformed Maranello by improving its build quality and made its new cars (starting from 550 Maranello) user friendly again. Road car sales and profits improved drastically during the time of his leadership. With Michael Schumacher on board, the F1 team also regained its long-lost fame, winning 6 consecutive F1 championships from 1999-2004.

In order to raise capital, FIAT sold 10 percent stakes of Ferrari to the stock market in 2015 and transferred the remaining stakes to its shareholders. Since then Ferrari is no longer the subsidiary of FIAT. However, as the majority of its voting shares are still controlled by the Agnelli family and Piero Ferrari (son of Enzo), its close tie with FIAT remains unchanged.