Ferrari GTO was the world's fastest and most sophisticated supercar from 1984-1987. Although it was soon eclipsed by Porsche 959 and its successor Ferrari F40, its place in automotive history was guaranteed by the fact that it was the first of the series of high-tech limited production supercars emerging in the mid-1980s and eventually led to McLaren F1. Only 272 cars were produced to fulfill FIA's Group B regulation and satisfy the demand from Ferrari's loyal customers.

The official name of the car is GTO, which stands for Grand Turismo Omologata, or Grand Tourer Homologation in English. However, journalists and Ferrari's own people usually referred it as 288GTO in order to distinguish from the original GTO, 250GTO of 1962. The number represents 2.8 liters and 8 cylinders in the same way as contemporary 308 and 512.

With the word "Omologata", GTO was apparently designed to homologate for motor racing. FIA introduced Group B in 1982 to allow manufacturers building as few as 200 cars to qualify for the category. The Group B was most successful in rallying, but Ferrari and Porsche also saw its potential in GT racing. They started developing GTO and 959 respectively according to this regulation. Benefited by its formula one expertise and the lack of 959's fancy technologies, Ferrari GTO reached production first in 1984. It would have dominated Group B GT racing if not FIA cancelled the category after a series of fatal accidents happened in rallying.




You might think that must be a blow to Ferrari. Not actually. As GTO combined style, speed, technology and exclusivity like no others, Ferrari found no trouble of selling all the planned 200 cars (even at 50% higher price than Testarossa) and eventually ended up at 272 cars, including one order from its ex-F1 champion Niki Lauda. GTO established a strong business case for its successors to follow.

The car was designed by Pininfarina's design chief Leonardo Fioravanti (who else?) based on the beautiful shape of 308GTB Quattrovalvole. It got a wheelbase stretch of 110mm to accommodate a longitudinally mounted engine and pronounced fenders to house the wider tracks and wider tires for enhanced cornering prowess. The design was more muscular than 308GTB, losing some of its purity but that was absolutely necessary to deliver a message of super-performance. A body integrated rear spoiler and 3 ventilation holes behind each rear wheel provided visual links to the original 250GTO. They are functional and they look classic too. Critics saying it looked too similar to the entry-level Ferrari must be either ignorant or mad, because 308GTB was the most beautiful car ever came out from Pininfarina and probably the world. It would be crazy to differ just for the purpose of differing. This prove to be true when you compare the GTO with its successors: parking beside it, F40 looks more functional than artistic, F50 feels like a crap while Enzo looks like an ugly big bird. Only their father combined style and performance successfully in one package.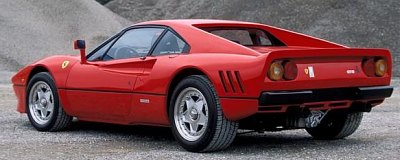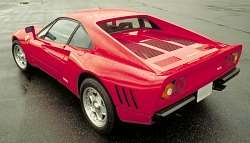 The GTO was engineered by Ferrari F1 designer Harvey Postlethwaite using many racing technologies. Despite of the similar look to 308GTB, it was virtually another car under the skin – only the side windows and some switch gears were shared. The chassis was still tubular space frame, but it was covered and strengthened by a bodywork made of aerospace materials like carbon-fiber, Kevlar, aluminum honeycomb and Nomex composites. This helped keeping the overall weight to 1160 kg, 500 kg less than the mass production Testarossa !

The twin-turbo V8 was another reason why this car so much lighter than Testarossa. It was based on 308GTB Quattrovalvole's 90-degree 32-valve V8 but converted to longitudinal mounting and fed by 2 small IHI turbochargers through intercoolers. Capacity was reduced slightly to 2855cc in order to comply with Group B regulation (which required turbocharged engines not to exceed 4000cc after multiplying by a factor of 1.4). Maximum boost of the turbochargers was a relatively light 0.8 bar. Engine management system came from Weber-Marelli, the same supplier to Ferrari F1 race cars. The engine produced 400 horsepower at 7000 rpm and 366 lbft of torque at 3800 rpm. That might be no more powerful than Testarossa or Lamborghini Countach QV, but for a 1160 kg machine it returned a power to weight ratio never seen before on a road car.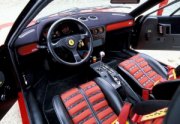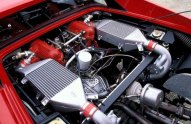 Maranello claimed it could top 190 mph and accelerate from 0 to 62 mph in 4.8 seconds. Unfortunately, perhaps due to its rarity, few magazines got the chance to verify that. Most people know R&T conducted a test in 1986 against Testarossa and Countach QV on an oval track (I have kept that issue of R&T, by the way) in which the GTO did 180 mph, 0-60 mph in 5.0 seconds and 0-100 mph in 11.0 seconds. That was just marginally quicker than its counterparts (Testarossa: 181mph, 5.3 sec and 12.2 sec; Countach: 173mph, 5.2 sec and 12.0 sec). Fewer people know another test conducted by Auto Motor und Sport in 1985, in which the GTO performed flawlessly according to claims - 188 mph, 0-62 in 4.8 seconds and 0-100 in 10.2 seconds. These data put it firmly on the top of supercar chart until the arrival of Porsche 959.

On the road, no contemporary supercars could match the GTO for handling. Thanks to the race-bred lightweight chassis and perfect weight distribution of 47:53, it was remarkably agile, well balanced and free of body roll. The 310mm diameter ventilated disc brakes were powerful for the weight they needed to haul. The 265/50VR16 tires look skinny nowadays, but they generated tremendous grip by contemporary standards. The clutch, gearshift and (unasisted) steering were heavy in action, just like any classic Ferraris. As Phil Hill commented in his R&T drive, "it has a high-bred feel about it, very near to racing car agility and feel". In tight bends it had a tendency towards understeer, but applying power could correct its angle. The power delivery was surprisingly progressive and predictable for a turbocharged engine, thanks to the small turbos. That made throttle steer easily controllable. Autocar's Steve Cropley agreed with Phil Hill. He added, "On open road, the grip was phenomenal. The car was delightfully stable but above all it was nimble". In contrast, Andrew Frankel was less impressed by the GTO in another Autocar review. "The 288GTO is not just arguably the most beautiful of all Ferraris, in my experience it is also the hardest to drive." However, he said that because he was comparing the GTO with its successors F40 and F50 some 20 years later.

Now looking back, the GTO maybe not as sensational to drive as F40 or as easy to handle as any of its successors. After all, cars are improving generations after generations. GTO was the first generation of the ultra-exclusive supercars. That was already an achievement.