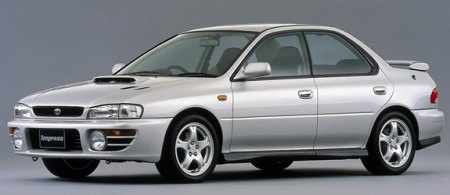 The early WRX
Whenever I mention Subaru, the images of the first generation Impreza WRX always flash in my mind. Undoubtedly, the first generation WRX was the symbol of Subaru as well as one of the iconic cars in the 1990s. Together with
Mitsubishi Lancer Evo
it took over
Lancia Delta Integrale
to be the definitive A-to-B cars in the world. On the one hand, it won World Rally Championship 3 times in a row from 1995 to 1997. On the other hand, it delighted road car drivers with equal measure as it was one of the fastest and most entertaining cars to drive in the real world regardless of price.
Unlike Mitsubishi, Subaru wanted the WRX to be a real profit maker rather than just a homologation special or an image booster. That's why the car was available in many forms, including sedan and wagon body, manual and automatic transmission and of course different levels of performance and price. As a result, the WRX series covered a wide range of audience thus its sales volume exceeded any other rivals by far.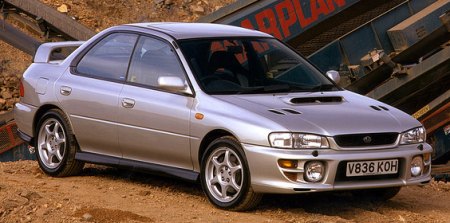 The late WRX
The WRX inherited some unusual features from the cooking Impreza. It had four frameless windows and hidden B-pillars to achieve a simple and uncluttered form. Its 4-cylinder boxer engine enabled low center of gravity and an unmistakable soundtrack. Moreover, the compact yet stiff body shell and all-strut suspensions provided an ideal basis for rally car. On the top of these, the WRX added an aluminum bonnet with vents and a central air scoop, the latter was used to feed the intercooler sitting atop the 2.0-liter 16-valve turbo engine. The original version offered 240 horsepower (Wagon had 220 hp), transferred to the permanent 4WD system which utilized viscous-coupling LSD for both center and rear differential. As the little car weighed only 1200 kg and had a relatively slippery shape, its performance was startling. It was good for about 150 mph and 0-60 in 5.5 seconds, considerably quicker than European rivals like Delta Integrale Evo and
Ford Escort RS Cosworth
. Apart from performance, it was generally praised for free-revving engine, flexible power delivery, excellent roadholding, beautiful balance and a highly tossable handling.
In the following years, its power gradually increased to the domestic limit of 280 hp, strengthening its reputation as a rocket pocket. Comparatively, less improvement was made to the rest of the car, because the responsibility of homologation fell on the hotter STi variants. Anyway, as an affordable 4-wheel-drive performance car the WRX remained unmatched during its whole life.
Evolution of WRX (sedan)




Year



Power

Torque

Weight


Improvement



1992

240 hp

224 lbft

1200 kg

1993: added Wagon body and 4-speed automatic.

1994

260 hp

228 lbft

1230 kg

Increased turbo boost from 0.8 to 0.87 bar, larger 16in wheels.

1996

280 hp

242 lbft

1250 kg

Heavily revised engine (MPI, molybdenum piston coating, new IHI turbo, 1.0 bar boost, revised cam timing and lift & larger incooler), larger brakes.
1997: rear axle adopted Suretrac torque-biasing LSD instead of viscous-coupling LSD

1998

280 hp
250 lbft

1270 kg

Revised engine (1.07 bar boost, revised cam timing and lift & new intake manifolds), inverted suspension struts.

---
Variants
Impreza Turbo (1994-2000)

Instead of WRX, the European market was offered with a detuned version called Impreza Turbo. 208 horsepower (215 hp later) still guaranteed a storming performance, actually good enough to shame Ford Escort RS Cosworth. Otherwise, the mechanical layout was the same as WRX, so was the driving pleasure. Being sold at under 20,000 pounds, the Impreza Turbo was really a giant killer. No wonder it was hugely popular in UK.

WRX Type RA (1992-93)

To act as the basis of rally car, Subaru introduced the Type RA version of WRX in late 1992. It majored on weight saving, deleting air-con, radio, power windows and most sound insulation to cut 30 kg. It also got a closer ratio gearbox and added water spray facility to the intercooler to improve cooling efficiency. By the way, RA stands for "Rally group A".

WRX STi (1994-2000)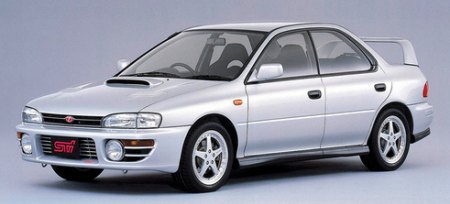 WRX STi Version I
Since 1994, the WRX series became a two-tier range. Sitting above the standard WRX was the STi model, which ran faster, corner harder and asked for more money. The STi badge represented the involvement of the special vehicle department, Subaru Technical International. While the standard WRX was produced in mass production way, STi models employed some special performance parts, such as forged pistons, larger intercooler with water spray, high-flow exhaust, larger brakes and larger rear spoiler. It usually got higher turbo boost to produce more power and torque, too.
WRX STi Version VI
To benefit the rallying campaign, the STi got updated every year, from Version I to Version VI in 1999 (see table below for details of evolution). Its power reached the voluntary limit of 280 hp as soon as Version III, but later versions were believed to have actual output exceeding 300 hp. Its straight line performance largely flatted out at Version IV in 1997, which was capable of 0-60 mph and 0-100 mph in 4.6 and 12.3 seconds, respectively. At the time European manufacturers had nothing to match the storming Subaru. A 321 hp
BMW E36 M3 Evo
would struggle to keep up with it below 100 mph, let alone in the twisty.
STi engine
Evolution of STi (sedan)



Version


Year



Power

Torque

Weight


Improvement



Ver I

1994

250 hp

228 lbft

1220 kg

Forged pistons, enhanced intercooler with water spray, carbon-fiber tower bar, larger rear spoiler.

Ver II

1995

275 hp

235 lbft

1240 kg

Increased boost from 0.8 to 0.93 bar

Ver III

1996

280 hp

253 lbft

1250 kg

Heavily revised engine (MPI, molybdenum piston coating, new IHI turbo, 1.07 bar boost, revised cam timing & lift, larger intercooler), larger brakes.

Ver IV

1997

280 hp
260 lbft

1250 kg

Revised turbine and intake valve lift; Rear axle adopted Suretrac torque-biasing LSD instead of viscous-coupling LSD.
Ver V

1998

280 hp
260 lbft
1270 kg

Revised engine (thinner piston rings, revised cam timing and lift, new intake manifolds), inverted suspension struts, ABS, larger rear spoiler.

Ver VI

1999

280 hp
260 lbft
1270 kg

Mostly cosmetic.

WRX STi Type RA (1994-2000)
Following the introduction of STi model, the rallying-oriented Type RA turned to be derived from STi. Again, it got a close-ratio gearbox and weight saving thanks to the deletion of many standard equipment. To improve handling further, it replaced the viscous-coupling center LSD with a driver-controlled center differential (DCCD), which employed a multi-plate clutch consisting of 6 discs to vary the degree of engagement. In this way, the driver could alter the front-to-rear torque split from 35:65 to 50:50 in 5 steps by rolling a switch. This made the car more adaptable to different kinds of surface, thus was a crucial factor to its victory in WRC. Besides, the rear axle's viscous-coupling gave way to a mechanical LSD, which was more responsive and effective.
WRX STi Type R (1997-2000)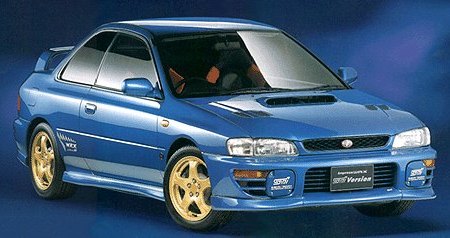 WRX STi Version IV Type R
1997 saw the introduction of STi Type R, which was the 2-door coupe version of STi Type RA. The 2-door body shell saved 10 kg and boosted rigidity a bit. It also got the RA's close-ratio gearbox, DCCD and mechanical rear LSD. Since then the coupe became the basis of rally car.
22B STi (1998)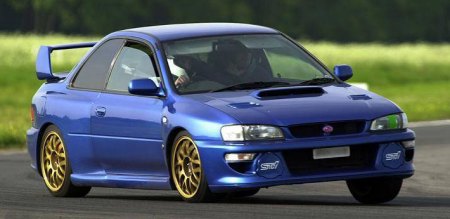 22B STi
This was easily the most radical derivative of all. Based on the 2-door STi Type R, Subaru widened its fenders to accommodate wider tracks (up 10 mm front and 40 mm rear) and 17-inch forged alloy wheels shod with much beefier 235/40R17 Pirelli P-Zero rubbers. The suspension got forged aluminum lower control arms, rose joints, inverted Bilstein dampers and Eibach springs for more precise body control. The taller rear wing generated more downforce, and its angle was adjustable. The boxer engine was bored out to 2212 cc (hence the name 22B). While the official output figure remained capped at 280 hp, it got 8 lbft more peak torque and, most important, a wider power band, faster throttle response and less turbo lag. Only 400 cars were built for the consumption of domestic market, plus another 24 for UK, Australia and Hong Kong. Now this is the most sought after Impreza.
P1 (1999-2000)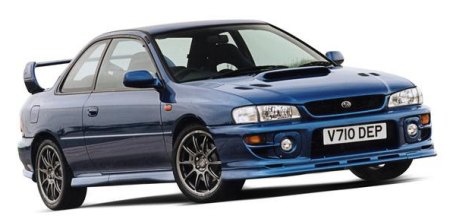 P1
The WRX STi was never officially imported to Europe. However, cars brought by grey import were popular in the UK. Seeing the market potential of selling 1000 cars there, Subaru UK accepted a proposal by tuner/engineering firm Prodrive to develop a European version based on the contemporary STi Version V. Prodrive was responsible for its development and application for European type approval. Nearly completed STi Version Vs were shipped to Subaru UK's distribution center where modifications were carried out. To comply with the more stringent EU emission standards, its ECU was rewritten while new catalytic converter was fitted. Fortunately, this reduced nether its output nor performance. The suspension got Eibach springs, revised dampers and 20 mm drop of ride height, while larger 17-inch wheels and slightly thinner tires were adopted. Road tests found the P1's ride quality was noticeably more supple on British B-roads. Of course, another advantage over the grey import was its full warranty.
WRX STi S201 (2000)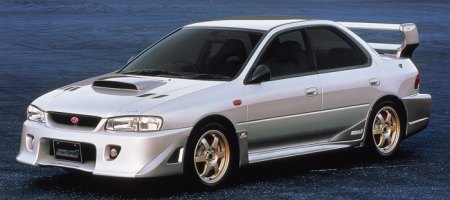 To farewell the first generation Impreza WRX series, Subaru launched a final special edition, S201, in 2000. Only 300 units were made to satisfy the hardcore drivers in Japan. Its massive aero kits were obviously designed to enhance downforce and drag, even at the price of aesthetic. The 2-liter engine was enhanced to 300 hp (while keeping 260 lbft of torque) thanks to large-diameter intake manifolds and exhaust. The suspensions got rose-joint links and dampers with adjustable ride height. Of course, DCCD and mechanical rear LSD were fitted.