BMW always claims itself making the "ultimate driving machines". In the past 2 decades, the ultimate of the ultimate, best of the best has been this one - M3. While the M5 takes care of performance and luxury at the same time, the smaller M3 represents the ultimate driving thrill that you can have in a 4-seater.

E30 (1986-1991)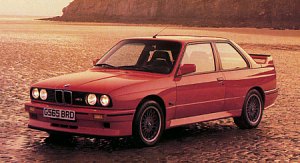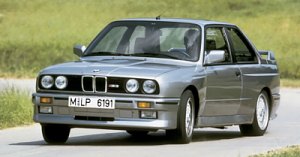 The original M3 was born for motor racing. After the unsuccessful M1 racing program, BMW shifted its focus to the new Group A category, which required manufacturers to build 5,000 cars for homologation and allowed relatively limited modifications. BMW chose the contemporary 3-series (E30) to realize it. Based on the 2-door 3-series body, it added massive aero kits including a big rear spoiler, and flared wheelarches to house wider tracks. As a result, the original M3 looked very sporty and purposeful, on the contrary to its understated successors.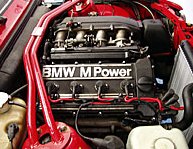 The heart of the car was, contrary to believe, not BMW's renowned 6-cylinder engine but a new straight-4 displacing 2302 cc and employing 4 valves per cylinder. BMW chose a 4-pot because of several reasons. Firstly, it could be made easily from the M1 engine (simply chopped off two cylinders). Secondly, it would be lightweight and compact, benefiting weight distribution. Thirdly, it could share a lot of know-how with the company's 1.5-litre 4-cylinder turbocharged engine using in Brabham F1 cars. If you remember, that engine powered Nelson Piquet to his third world championship title in 1983 and a total of 9 GP wins from 1982-86. It was also the most powerful engine in F1 history, capable of pumping out 1500 horsepower in qualifiying !
Interestingly, the M3 engine produced 1300 horsepower less than the F1 engine. In other words, 200 hp at 6750 rpm. That was a lot of horsepower for an engine so small, but it was not the most powerful of the class. For example, Ford Sierra RS Cosworth had 204 hp, while Porsche 944 Turbo topped 220 hp. 1980s was the era of turbocharging. BMW's resistance to turbocharging made M3 slower than some rivals in straight line acceleration. It would also suffered on racing tracks during the latter half of its competition life.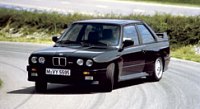 Nevertheless, the most powerful weapon of M3 was handling. It was lightweight, compact, remarkably agile and communicative. All controls were tuned to the delight of keen drivers - feelsome steering, good brake feel, pedals optimized for heel-and-toe and its gifted ability to powerslide… these qualities compensated the relative low on power and let M3 to beat more powerful rivals on tracks. On the road, it was also generally agreed as the most fun to drive M3 of all, because none of its successors could match its agility and intimate feel. The original M3 proved that power is not everything.
Racing success
M3 was the most winning touring car of 1980s. In its debut year in 1987, it won World Touring Car Championship (WTCC), European Touring Car Championship (ETCC), German Touring Car Championship (DTM) and Australian Touring Car Championship (ATCC) altogether.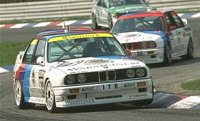 In 1988, facing the more powerful Ford Sierra RS500 (with almost 200 hp more !), M3 used its superior handling and reliability to fend off the challenge. It won ETCC (WTCC was cancelled already), British Touring Car Championship (BTCC) and Asia Pacific Touring Car Championship.
In 1989, ETCC was cancelled, but M3 still won the most important national championship of all, German DTM.
M3 continued to race globally for 3 more years. Although no big prize was won, it took Italian touring car championship in 1990 and BTCC again in 1991. However, the most impressive of its competition life was probably the 5 victories in Macau, the most challenging street circuit in the world. (By the way, the last victory of which was achieved by Hongkongese Charles Kwan in 1993) This proved its handling was beyond the reach of its rivals.
Evolution
As the prime purpose of M3 road car was to homologate for racing, its evolutions were also produced to improve the racing car. Group A required 5000 cars to be built for homologate, and the modifications from road cars to race cars were strictly controlled. However, after the 5000 cars were built, the rules allowed an evolution from the homologated cars, provided a further 500 cars of the evolved version were built. M3 Evo I, Evo II and Evo III were born under such circumstances.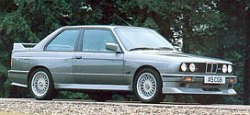 Left: Evolution II; Right: Sport Evolution (Evo III)
The Evolution I was introduced in 1987. It concentrated mainly on aerodynamic and cooling tweaks.

Evolution II of 1988 introduced an upgraded engine - thanks to raised compression (from 10.5 to 11.0:1), hotter cams, revised pistons and ECU, it pumped out 220 horsepower.

Evolution III was also called "M3 Sport Evolution". It has its engine enlarged to 2.5 litres, tailor-made to the new DTM and Italian Touring Car regulations. Power rose to 238 hp. Besides, the ride height was dropped by 10 mm at the front, the wheelarches were widened, the front and rear spoiler got adjustable lips. Bumpers and glass were lightened to cancel the weight gained on the engine. This was the ultimate E30 M3.

E36 (1992-1999)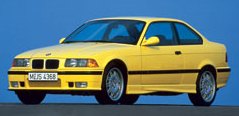 The second generation M3 was very different from the original car. They were simply designed out of different philosophies: while E30 was all about lightweight, agility and communication, E36 emphasized on power, grip and braking. Unfortunately, its 140mm longer wheelbase and the extra burden of 260 kg hampered the handling agility considerably, while the suspension setup promoted safe handling at the limit (understeer) rather than driver controllability (throttle steer). Its steering was no where as communicative as the original car. Its understated design lacked visual appeal. That's why many journalists still preferred E30.
However, the E36 offered astonishing power and performance for the money. The first generation's four-pot engine was replaced by a new straight-6 displacing a full 3 litres. It was derived from the M50 series engine serving 325i. By increasing capacity to 2990cc, adding Vanos variable intake valve timing and receiving hot tuning from the M division, max power was pushed to 286 hp at 7000 rpm. This figure equaled to that achieved by M635CSi nine years ago, but it took half a litre less capacity to realize, and it complied with stricter emission standards ! The new M-power also beat Honda NSX (270hp) to be the most powerful 3-litre engine in the world. When Autocar published its performance measurement - 0-60 mph took 5.4 seconds, 0-100 mph took 13.1 sec and 162 mph top speed (remark: BMW obviously forgot to install speed regulator on the car) - many of us were shocked ! Now who would need the very expensive, V12-powered 8-series?
American fans were not as lucky. As BMW wanted to sell more M3s in the USA, it shipped a cheaper version of the M3 with the engine detuned to 240 hp. Still, Car and Driver loved it very much and named it as 10 Best years after years.
Back to Europe, in 1995 the M3 got faster again. Its engine was stretched to 3201cc, accompanied with Double-Vanos (now controlled exhaust valves as well), it was almost half of the McLaren F1's V12. Max power reached 321 hp at 7400 rpm, which broke the magic 100hp/litre mark for the first time. It hooked up to a 6-speed gearbox to enhance performance further (SMG sequential gearbox was available later). The M3 Evo stormed from rest to 60 mph and 100 mph in 5.3 and 12.2 seconds respectively. To match the performance, it also provided first rate braking and tremendous grip.
Supercar performance combined with 4-seat accommodation, affordable price and German quality. This put M3 in a market place no one else had ever tried. Meanwhile, BMW broadened the M3 family with M3 4-door sedan and M3 Convertible. From 1992 to 1999, a total of 71,242 M3s were sold.
E46 (2000-2005)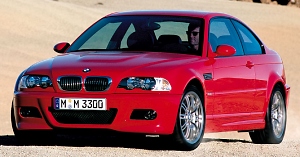 After the fast but somewhat disappointing E36, M3 bounced back in the new generation E46.
Viewing from outside, you can already tell it was more exciting than its predecessor. Based on the elegant body of E46 3-series coupe, the M3 added a number of aggressive details - eye-catching flared wheelarches, an aggressive front bumper which incorporated huge intakes and stylish air dams, louvered gills at both sides and a subtle power dome over the bonnet - a feature not easily imitated by fake M3s. The overall visual effect was civilized, prestige yet far more delicious than the old M3.
The 3.2-litre M-power was an evolution from the proven engine. Limited by its small engine block, BMW could only stretched the bore to 87.0mm (0.6mm up) while retaining the very long, 91mm stroke. This raised the capacity slightly to 3246 cc. However, extra efficiency was found by means of other modifications, such as the use of faster-processing MSS54 engine management system, slimmer pistons (which reduced friction), roller cam followers (also reduced friction), lighter crankshaft and con-rods and 40% reduction of exhaust backpressure. Besides, by improving water cooling to the cylinder head, compression ratio could be raised to 11.5:1. As a result, the new engine got even more revvy and efficient than its already remarkable predecessor. Now it redlined at 8000 rpm - unimaginable for a long-stroke engine ! At 7900 rpm, it generated 343 horsepower. At 4900 rpm, 269 lbft of torque was available. A specify power of 105.7 hp per litre and specific torque of 82.9 lbft per litre put it at the top of the world's production engines.
Many people rated it as the best engine in the world. Below 2000 rpm, it was as civilized and tractable as 330i. Above that, the M-power transformed into a supercar engine. It reacted to every prod of throttle instantly and sharply. Floored down the throttle, it spun quickly towards the horizon yet remained silky smooth all the time. In only 4.8 seconds, it pushed the M3 passed the 60 mph mark. 11.5 seconds, 100 mph was reached. That's significantly faster than E36. Almost matched 911 Carrera. And the noise? just as amazing. The six-cylinder pulses played wonderful music at the 4 chromed exhaust pipes. The higher it revved, the more intense its noise became. At 8,000 rpm, it was dramatic enough to make comparison with the mighty Ferrari 360 Modena, just quieter due to better sound insulation.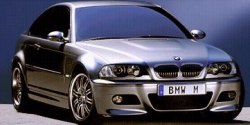 The chassis and suspensions worked brilliantly to support the wonderful engine. E46 M3 was benefited by the stiffer chassis and aluminum-intensive suspensions of the contemporary 3-series. Based on the 3-series coupe, it had its tracks widened by 40mm and ride height lowered by 15mm. Stiffer suspension setup and tighter bushings lifted its body control and handling precision, while lightweight aluminum suspensions and aluminum brake calipers reduced the tradeoff to ride quality to minimum. By employing aluminum bonnet, it achieved 49:51 front-to-rear balance. Moreover, the addition of Variable M-differential enhanced its cornering ability a lot. In case the inside rear wheel spun, it used multiplate clutch to partially lock that wheel so that more torque would be transferred to the outside wheel. This reduced understeer and sharpened the steering.
The E46 balanced very well in any corners at any speed. Gone was the old car's understeer, now the front wheels gripped hard on tarmac and resisted understeer very well. With a sudden prod of throttle, it could even be driven into power slide and held it there if the driver was aggressive enough. However, to overcome its traction and grip was a very difficult task. Corner after corner, higher and higher g-force, the M3 still executed the driver's command cleanly, went wherever he pointed to, especially the 911-rivalling brakes slashed speed so quickly before entering a corner.
Nevertheless, hardcore drivers might prefer the more entertaining chassis dynamics of the original M3. They might also criticized the E46's helm, though meaty and very accurate, did not deliver much feel. Admittedly, that's a common problem for most modern cars.
E46 M3 represented the best all-round coupe we could dream of during its time. Like its predecessor, it combined supercar performance, 4-people accommodation, everyday usability, superb build quality and affordable price. Now superb handling also entered the list. If there was only one car I could choose to own - even regardless of price, this probably would have been my choice.
M3 CSL
The label CSL - Coupe Sports Lightweight - was first used by 3.0 CSL in 1971. After 30 years, BMW reused this name on a car with a similar philosophy, M3 CSL. This car could be the most aggressively-tuned, most driver-focused BMW in more than 20 years. The conversion was so radical that its price was pushed up to the territory of Porsche 911. In fact, BMW openly claimed it targeted at 911 GT3 level of performance.
To German car makers, nothing could be a better indicator for real-world performance than running the car in Nurburgring. In 1999, Porsche 911 GT3 set a production car record of lapping the ring in 7min 56sec. Therefore the development team of M3 CSL set a target of breaking the 8min barrier. To implement this goal, they worked hard on 3 areas - 1) carried out a strict diet to reduce 110kg from the 1495kg kerb weight; 2) increased the top-end power of the already highly-tuned M-Power straight-six from 343hp to 360hp; 3) fine-tuned the suspensions, steering, braking, tires and aerodynamic to more aggressive state.
Concerning weight cut, BMW's engineers really made a lot of effort. Based on the M3's mass production monocoque chassis, it converted the front bumper, rear diffuser and the roof to carbon fiber (the latter saved 6kg and lowered center of gravity), boot lid to composite material, luggage floor to aluminum honeycomb sandwich. Rear glass became thinner. Lightweight wheels and special tires shaved 11kg. Inside, the cockpit ditched air-con and stereo to save 30kg. Glass-fiber bucket seats, carbon-fiber trim and the lack of side airbags also reduced weight.
Next step was to increase power. The M-power inline-6 received its final surgery in the CSL. It used a big carbon-fiber air box and larger diameter intake manifolds to increase air flow to the engine. Ditched the air-mass meter to reduce air resistance further and relied on a sophisticated engine management system to calculate the amount of air instead. More aggressive cam profiles to increase overlap between intake and exhaust phase. Smoother exhaust to reduce back-pressure. All these contributed to the 17 horsepower increment. With a specific output of 111hp per litre, only Ferrari's V8 could topple it.
Then the suspensions were lowered and stiffened a little. Larger, 345mm front brakes were employed. Semi-slick Michelin Pilot Sport Cup tires generated tremendous grip on dry surface (but not recommended on wet !) Steering ratio was tightened to sharpen response and feel. Outside, aggressive chin spoilers reduced front-end lift by half while a more pronounced boot lid spoiler had similar effect. The CSL was quite easy to distinguish from a regular M3, as its cleaner front bumper did not have any fog lamps but a circular air intake at one side. Besides, the carbon-fiber chin spoilers were also a signature of the CSL.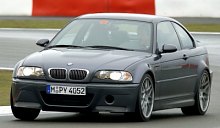 In straight line, M3 CSL was just marginally faster than the M3. Autocar found it was no quicker to 60 mph and just 0.6 sec quicker to 100 mph. However, the enhanced handling and semi-slick tires paid off on the track - Sport Auto magazine recorded 7min 50sec in Nurburgring. In other words, mission accomplished. M3 CSL became the fastest ever BMW road car.
Apart from lap time, the CSL felt very different from the regular M3 on the road. It handled much sharper and keener. No matter turn-in response, body control, cornering speed or braking, it made the regular M3 felt like a civilized grand tourer. On the down side, it rode very hard and transmitted more kickback from the road surface to the helm, just like 911 GT3. Besides, its steering, though became heavier and more accurate, did not deliver any more feel.
CSL was the most hard-edged M3 of all. However, it was not the greatest. For pure communication and fun, the original M3 was still unmatched. Moreover, the conversion from the regular M3 to CSL lost two of its major advantages - comfort and affordable price. Now competed directly with pure sports cars like Porsche 911 Carrera and Honda NSX-R, only 1400 people were convinced by the CSL.
E92 (2007-2013)
Normally we say competition improves the breed, but sometimes competition could also spoil the breed. The latter case happened on the E92 M3. At the time, German premium manufacturers had entered a war of power. Audi kick-started the use of V8 engine on its RS4, followed by Mercedes-AMG's C55 and later on the even more powerful C63. BMW was forced to respond with its first ever V8 M3. The 4.0-liter 90-degree V8 was basically an M5 V10 with two cylinders chopped off. It had goodies like an all-alloy construction with rigid bedplate, light alloy connecting rods, Bi-Vanos variable cam phasing, ion-current knock control system and 12.0:1 compression ratio (very high for a non-direct injection engine). Not only significantly more powerful than before at 420 horsepower, it was also higher revving, not giving up spinning until 8400 rpm. Moreover, BMW said the alloy V8 undercut its iron-block straight-six predecessor by 15 kilograms. From all objective measures it seemed to be superior, didn't it?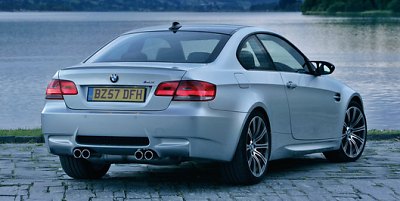 Unfortunately, the upgraded power demanded strengthening everything, from drivetrain to brakes, from suspensions to wheels and tires. Even though some extra weight was compensated by the use of carbon-fiber roof (like the last CSL) and composite fenders, the whole car still carried 85 kg more than the E46, and this hurt its agility a little. Thanks to the massive tires, it understeered more on turn-in and became more difficult to trigger power slide – although once it had started sliding it was progressive and controllable. The inadequate tuning was also to blame. Its steering delivered little feedback from the front tires, preventing the driver to push it as hard as possible. Its single-piston brake calipers tended to fade on extended hard use and hurt confidence. The Getrag 7-speed dual-clutch gearbox that came as option had some rough edges on its shift quality. Even the V8 engine was not at all acclaimed. Compared with AMG's big V8 it was too peaky and short of low-end torque. Compared with the old M-power straight-six its high-pitch exhaust note lacked a bit of character.
However, the biggest problem was probably its high price, which was a 20 percent rise from its predecessor. BMW optimistically forecasted to sell 100,000 cars over its entire lifecycle. In the end, only 65,000 were sold, fewer than both E46 and E36.
M3 GTS
Also missing the sales target was the track-oriented special, M3 GTS. The original plan was to build 150 cars, but it turned out to be only 135. That was not much of a surprise, because the car asked for an absurd £102,000 before tax. For the same money you could buy a well-specced 911 Turbo or a 911 GT3 RS with change.
The GTS had its V8 stroked to 4.4 liters, giving an extra 30 hp and 30 lbft of torque as well as a slightly flatter torque curve. Its compulsory M-DCT gearbox got closer ratios and faster shift pattern. 0-60 mph improved to 4.2 seconds and top speed was derestricted to 190 mph. At the same time it underwent a strict diet to lose 70 kg of fat. Weight was saved by ditching luxury equipment (air-con, audio and sound insulation), by using plexiglass windows, titanium exhaust and composite materials on some interior panels. Also helpful were the glassfiber-backed racing buckets and the lack of rear seat – the latter was ditched in favour of a semi-roll cage and fire extinguisher. Predictably, the suspension was lowered and stiffened for track use. Semi-slick Pirelli P-Zero Corsa rubbers offered massive dry grip while larger wheels housed upgraded brakes – they were finally a match to the straight line performance.
As a result, the GTS displayed sharper handling and keener response worthy of a track car. Nevertheless, it was neither as fast, as sharp nor as communicative as the mighty 911 GT3 RS. Its rock-hard ride also failed to cope with normal roads as well as the Porsche. No wonder it didn't sell well.