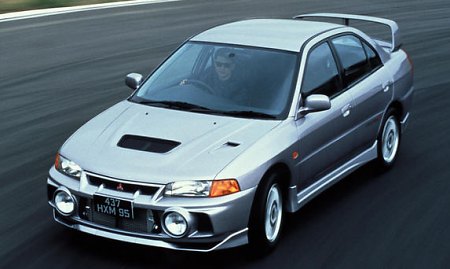 In my opinion, Group A WRC was the greatest ever invention by motorsport governing body FISA (later became FIA). To qualify for the category, manufacturers had to build at least 5000 road cars in similar specifications to the race cars. This created many of the world's best ever A-to-B road cars, for example, Lancia Delta Integrale, Ford Escort RS Cosworth, Toyota Celica GT4, Mitsubishi Lancer Evolution series and Subaru Impreza WRX series. Unlike the Group B cars preceding them, these cars were really road cars that you could enjoy driving every day, with perfectly acceptable comfort, build quality and practicality. That's why car lovers miss the Group A-era so much! I really wish WRC could revert to Group A spec.!

The early Lancer Evo was not as appealing as the established Lancia, Ford or Toyota, but Mitsubishi committed to its long-term development, introducing a new version every 18 months or so. By the late-1990s it became the most fearsome A-to-B road car on the planet. Eventually, 10 generations were launched in 20 years' time, making it the most popular road-going rally car ever.

Over the years, the Evo grew in size and gained sophistication gradually. Sometimes it took a larger step as it switched to a new generation Lancer platform – Evo I to III were derived from the 5th generation Lancer, Evo IV to VI from the 6th generation, Evo VII to IX from the 7th generation and Evo X was built on the 8th generation. Despite this, all bar the last one employed the evergreen 4G63 2.0 turbo engine whose history could be traced back to Lancer EX2000 Turbo in 1981. Due to the increased weight and the limitation to 2-liter capacity, its performance had been largely flat-out since Evo V, thus subsequent improvement was concentrated on handling and drivability.


The evolution of Evolution

| | | | | | | | | | |
| --- | --- | --- | --- | --- | --- | --- | --- | --- | --- |
| Model | Year | Length | Width | Height | Wheelbase | Weight | Power | Torque | Tyres |
| Evo I | 1992 | 4310 mm | 1695 mm | 1395 mm | 2500 mm | 1240 kg | 250 hp | 228 lbft | 195/55R15 |
| Evo II | 1994 | 4310 mm | 1695 mm | 1420 mm | 2510 mm | 1250 kg | 260 hp | 228 lbft | 205/55R16 |
| Evo III | 1995 | 4310 mm | 1695 mm | 1420 mm | 2510 mm | 1260 kg | 270 hp | 228 lbft | 205/55R16 |
| Evo IV | 1996 | 4330 mm | 1690 mm | 1415 mm | 2510 mm | 1350 kg | 280 hp | 261 lbft | 205/55R16 |
| Evo V | 1998 | 4350 mm | 1770 mm | 1415 mm | 2510 mm | 1360 kg | 280 hp | 275 lbft | 225/45R17 |
| Evo VI | 1999 | 4350 mm | 1770 mm | 1415 mm | 2510 mm | 1360 kg | 280 hp | 275 lbft | 225/45R17 |
| Evo VII | 2001 | 4455 mm | 1770 mm | 1450 mm | 2625 mm | 1400 kg | 280 hp | 282 lbft | 235/45R17 |
| Evo VIII | 2003 | 4490 mm | 1770 mm | 1450 mm | 2625 mm | 1410 kg | 280 hp | 289 lbft | 235/45R17 |
| Evo IX | 2005 | 4490 mm | 1770 mm | 1450 mm | 2625 mm | 1410 kg | 280 hp | 295 lbft | 235/45R17 |
| Evo X | 2007 | 4495 mm | 1810 mm | 1480 mm | 2650 mm | 1540 kg | 280/300 hp | 311 lbft | 245/45R18 |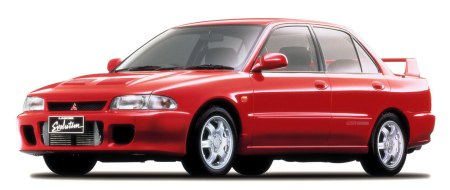 The earliest Lancer Evolution was launched in Oct 1992 as a limited production run of 5000 cars. Taking over Galant VR-4 as the company's rally car, it got that car's 4-wheel drive system with viscous-coupling center differential and 4G63 turbocharged 16-valve engine but enclosed in a smaller and lighter package. The engine was improved to produce even more power at 250 hp. In addition to an aluminum bonnet, close-ratio gearbox, uprated brakes, Recaro bucket seats and Momo steering wheel, the first generation was already a spectacular cannonball. Externally, it can be distinguished from the regular Lancer by its extra aero kit, a pronounced bonnet and larger air intakes.

Compare with the contemporary Lancia Delta Integrale Evo, the Mitsubishi was 110 kilograms lighter yet boosted 40 more horsepower. It was believed to be capable of sprinting from 0-60 mph in just over 5 seconds, which was nearly supercar performance in those days! What a pity its sales was restricted to Japan.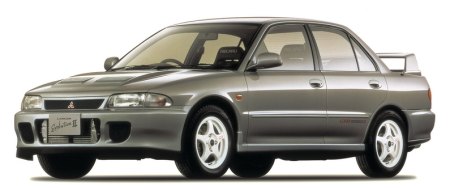 Evo II was launched in Jan 1994. Its production was again limited to 5000 cars. While it didn't look markedly different from the original, it adopted a number of modifications: the engine was tuned to 260 hp without affecting torque delivery; the chassis was stiffened by 30 percent; the suspensions were retuned to improve handling; wider tires and larger 16-inch wheels were adopted to enhance grip; an extra lip spoiler was added below the front bumper to improve aerodynamics. Besides, the viscous-coupling rear LSD on the old car was replaced with a mechanical type. Thanks to the improved handling, the Evo II finally brought Mitsubishi the first WRC victory in the 1995 Swedish rally.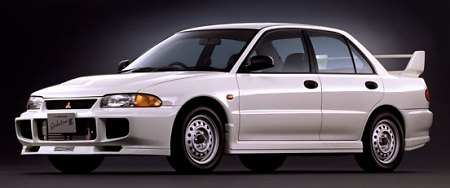 Evo III arrived in Feb 1995. Its engine was boosted to 270 hp at slightly higher rev, thanks to a new turbine, higher compression ratio and reduced exhaust back pressure. Moreover, its intercooler got water spray to keep high output lasting longer. Outside, its aerodynamic kits were overhauled, with deeper air dam and skirts and larger rear spoiler to cut aerodynamic lift, enlarged intakes to feed the radiators and brake ducts. These changes were proved effective in motor racing. The Evo III rally car took 5 WRC victories in 1996, bringing Tommi Makinen and Mitsubishi their first driver's title. More would come in the next few years...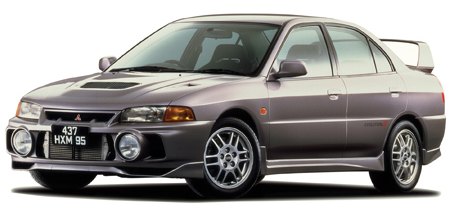 Evo IV from Aug 1996 was based on the body of new generation Lancer. Apart from the stronger chassis, a lot effort was made to the engine and drivetrain. Racing camshaft, lighter pistons, improved induction and exhaust yielded another 10 hp and more important, 33 lbft of torque. A twin-scroll turbo reduced exhaust interferences, improving low-end response and cutting turbo lag. 0-60 mph now dropped to 4.8 seconds. Larger brakes were adopted to match the increased performance. AYC Active Yaw Control made its debut on the Evo IV. It was actually an active rear differential, helping the car to regulate understeer and oversteer. Externally, this car looked almost a rally car with its monstrous-size intakes and large fog lamps, but people liked it! 9,000 cars were built and all sold quickly.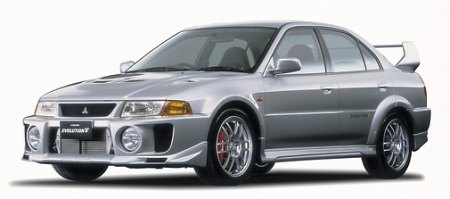 Debuted in Jan 1998, the Evo V was another big improvement. Its flared wheel arches accommodated wider tracks (up 40 and 35 mm front and rear, respectively) and larger 17-inch wheels shod with wider 225/45 tires. The suspension received optimized geometry, lightweight aluminum control arms and inverted dampers that lifted chassis rigidity. New brakes incorporated high-performance Brembo calipers. The AYC was further refined to reduce the understeer found on the previous generation. The new rear wing got an adjustable foil to alter downforce setting. All these significantly improved its handling.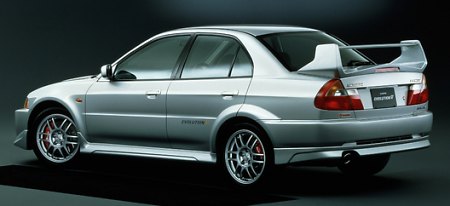 Meanwhile, the engine got a new turbocharger and improved intercooler, lifting maximum torque from 261 to 275 lbft. While peak power was still quoted at 280 hp, or the upper limit agreed by Japanese manufacturers, the actual figure was undoubtedly higher. Road test found the Evo V was capable of 0-60 and 0-100 mph in 4.7 and 12.3 seconds, respectively. That put it ahead of many expensive performance cars of the day, including BMW M3 E36, Skyline GT-R R33, Mitsubishi's own flagship GTO and even Honda NSX. When the road got rougher and twistier, the Evo was even probably the fastest car in the world. Only the contemporary Subaru Impreza WRX STi Version IV could rival it.