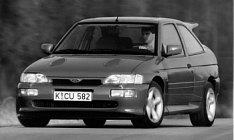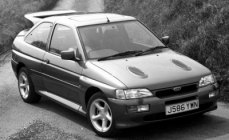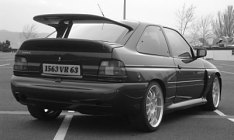 After winning world touring car championships with the Sierra-based RS500, Ford turned its attention to world rally championship. It had all the ingredients necessary for victories - a Ferguson 4-wheel drive system and a Cosworth 2-liter 16-valve turbocharged engine were already running in Sierra Sapphire Cosworth 4x4. Now all it needed to succeed was a smaller and stiffer body shell that rallying asked for. Escort was the obvious choice.

Calling it an Escort is somewhat misleading. Although it looked like a derivative of Escort, under the skin most things had changed. Instead of the original transverse engine and front-wheel drive, it employed Sierra Sapphire RS Cosworth's longitudinal engine and 4WD system, as well as the same gearbox and suspensions. The chassis of Escort was extensively modified to provide double rigidity and wider tracks. The body shell got pronounced fenders and aggressive aero kits like the original Sierra RS Cosworth, in particular, a massive rear wing mounted highly and a pair of hot air vents over the bonnet. Although the Escort was more angular and compact, it had strong family resemblance with the original Cossie.

When the YB series 16-valve turbo engine first appeared in the Sierra Cosworth in 1986, it was the most advanced production car engine in the world. Now the time was 1992 and the world had changed a lot. Lancia Delta Integrale had a similar engine. Toyota Celica GT4 had an even more powerful one. Besides, Subaru Impreza WRX and Mitsubshi's Lancer Evolution I were going to join in the year end. Ford lost the advantage. 227 horsepower and 0-60 mph in 6.2 seconds were no longer impressive figures. As for top speed, the poor drag coefficient at 0.38 resulted in only 138 mph. Well, at least its aero kits produced positive downforce.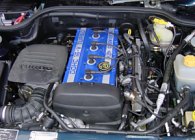 More problematic was the drivability. For homologation purpose, Ford chose a big turbocharger, Garrett T35, i.e., the same as RS200's. No wonder it generated serious turbo lag like RS200. This became the biggest weakness of the Cossie and stopped it from winning hearts like the legendary Lancia Delta Integrale. The situation had not changed until 1994, when a smaller T25 turbocharger was fitted along with a new Ford EEC-IV engine management system (replacing the original Weber-Marelli). Peak horsepower dropped by 3hp, but turbo lag greatly reduced and drivability improved. However, by then its Japanese rivals had elevated to another level again.

On the road, Escort RS Cosworth never disappointed in the way it attack corners. Its chassis had excellent grip, traction and poise. The rear-biased torque split (34:66 front to rear) of the Ferguson setup allowed the driver to power slide its tail in corners, which delivered more fun than the 4-wheel drift that most 50:50 4WD machines do.

However, being a rally car its career was not very successful. In 6 years time it won only 10 rounds of World Rally Championship (8 in Group A era and 2 in WRC) and never crowned driver's or manufacturer's Champion.