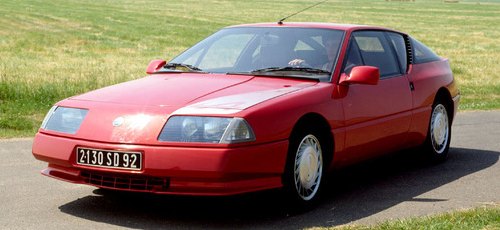 Many years ago a pearl-white Renault Alpine GTA V6 Turbo used to park on my way to school. Everyday when I passed by I couldn't help staring at its unique yet beautiful shape, enjoying every curve and nice detail. The Alpine was shaped like an exotic supercar, but it was capable of seating four, something truly unique in the world of grand tourers. It had performance to match a Porsche 944 Turbo, which meant very good. It had a rear-mounted six-cylinder engine like a 911, but its handling was easier to manage. There was nothing quite like it in the automotive world. Because of such a special character, it became my favourite car of all time.
The GTA was the first Alpine officially badged as Renault following the latter's acquisition of Alpine in 1974. While production remained at the Dieppe factory, it was developed in-house by Renault, benefiting from the giant manufacturer's R&D power and build quality standards.
It goes without saying that the GTA evolved from its predecessor
A310
. Central to its concept was a box-sectioned steel backbone chassis suspended by all double-wishbone suspensions and enclosed with a glass-fiber body. However, unlike its predecessor, it got far more matured. The glass-fiber body panels were now bonded to the chassis for increased strength and reduced NVH while keeping the car light at less than 1200 kg. Build quality was a day-and-night difference from the notorious A310, finally getting the praises of motoring journalists. The new body was far sleeker, achieving the lowest drag coefficient among all performance cars of its days, i.e. 0.28 for the normally aspirated version or 0.30 for the Turbo. This helped it to liberate top speed to match more powerful rivals.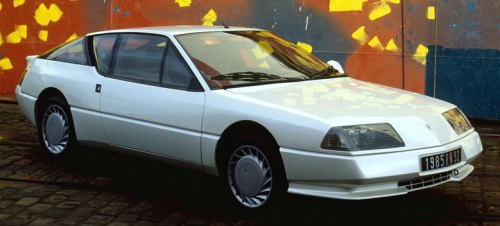 While rear view remained at a premium like A310, the GTA improved rear-quarter visibility by making its triangulated C-pillars transparent. In addition to the frameless glass tailgate, a glassy greenhouse was formed, leading to a modern appearance.
Inside, sense of occasion might be hurt by adopting switch gears from the mass production Renault 25, but the finishing was good, the seats were comfortable and the interior felt really spacious for a GT. More so than the A310, the rear seats here could accommodate adults for an hour of so without too much discomfort, thanks to a 70 mm stretch of wheelbase. The cabin also got wider to provide plenty of elbow room. Rear headroom was excellent because of the flat roofline, something can't be said to most other front-engined 2+2s. Boot space was also improved as the spare tire had been moved from the front compartment to the rear, sitting beside the engine under a heat-insulation cover.

Hanging at the tail was a 90-degree SOHC alloy "PRV" V6 coming from Renault 25. In normally aspirated form it displaced 2849 cc, produced 160 hp and 166 lbft of torque. While it was not remarkably powerful, the car weighed only 1150 kg thus it was capable to top 140 mph and sprint from rest to 60 mph in 7.5 seconds, which was competitive with a Porsche 944. Sadly, the 2.8-liter engine was neither very smooth nor inspiring to listen, so a better bet was the short-stroke 2.5-liter turbo. It produced 200 horsepower and 214 lbft of torque to enable a true 150 mph top speed and 0-60 mph in 6.3 seconds. That was right in the territory of 944 Turbo, which was sold at a considerably higher price. There was some turbo lag, as in virtually all turbocharged cars of that era, but the Renault engine was strong enough from 2500 rpm upward, when it attained full boost, so its mid-range acceleration was excellent.

Compared with contemporary 911 Carrera, or to lesser extent 944 Turbo, the GTA V6 Turbo was easier to drive. Its clutch was lighter. Its gearchange was smoother than the Porsche's. Its steering was unassisted yet nicely weighted, and not excessively heavy at parking speed, thanks to the fact that only 37 percent of the vehicle weight acted on the front wheels. The steering was also quick and responsive, satisfying the desire of keen drivers. On the roll, the car's slippery shape generated precious little wind noise, while engine noise was no more than a distant growl due to its long distance from the driver seat. Only the road noise resulted from the massive, 255/45VR16 rear tires hampered the excellent rolling refinement. At speed, the Alpine showed good straight line stability so that it was relaxed to cruise on highway. In addition to a remarkably supple ride – another big bonus against the Porsches, it was certainly a better companion to travel long distances.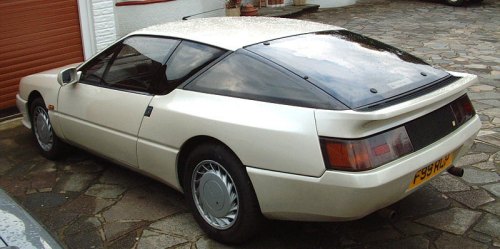 Driven on public roads, the GTA's cornering prowess was rarely exceeded, thanks to its strong rear grip and tight body control. Use it as a track tool, however, it would not be as obedient. A mild initial understeer would be followed by tail slide once the turbo kicked in mid-corner, just like a good old 911 Turbo (though to a lesser extent). At the limit its handling was edgy, requiring a progressive throttle to tame. However, it must be said that to unsettle its tail you have to push it really hard, so hard that few people would do on public roads.
Perhaps that was what separated the French car from Porsches. While Porsches were set up to feel great when being driven at maximum effort, the Alpine sacrificed the last 10 percent to make itself easier to drive and live with in the remaining 90 percent of the time.
Despite this, the GTA remained a niche in the market and fewer than 6500 units found buyers from 1985 to 1991. Had it been available to the huge USA market, its sales could have been better. Ridiculously, it was originally engineered to comply with US Federal safety and emission standards, but the export plan was scrapped when Renault sold AMC-Jeep to Chrysler, as the latter would not like to see the GTA to compete with its own Maserati-built TC coupe. Besides, the rise of Japanese coupes since the late 1980s also stole its sales.
Few changes were made to the GTA during its 6 years lifespan. In 1990, it was updated to "Le Mans" spec., with restyled headlamps, flared fenders, bigger wheels and wider tires, but the latter led to heavier understeer, and its power output dropped to 185 hp due to the fitment of catalytic converter. As Japanese motors got increasingly more powerful, an upgrade was desperately needed...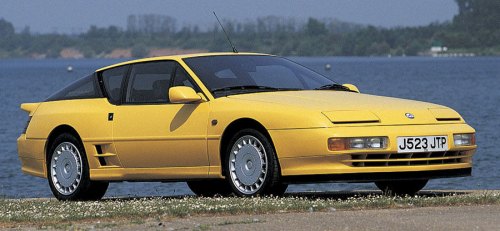 That upgrade finally came in late 1991. The new A610 was claimed to be 80 percent new, but it was a heavy revision from the old car rather than a complete makeover like that from A110 to A310 or from A310 to GTA. For the sake of difference, Renault restyled its nose with a pair of pop-up headlamps and a chunky bumper. This unfortunately damaged the pure lines of the old car. The same went for the new side intakes, which were necessitated by a more powerful engine.
The PRV V6 got a 10 mm longer stroke to increase capacity to 2975 cc. Higher turbo boost pressure and the addition of intercooler lifted its output to 250 hp and 258 lbft. Its torque curve was virtually flat, with at least 250 lbft from 2000 rpm to 5200 rpm. This enhanced flexibility and in-gear acceleration a lot. Top speed now easily exceeded 160 mph, while 0-60 mph dipped under 6 seconds. Its performance matched new rivals like Nissan 300ZX twin-turbo and Mazda RX-7 Mk3.
The chassis was reinforced and suspensions were retuned. Weight distribution improved from 37:63 to 43:57 thanks to moving the spare tire, battery and ABS pump to the nose. This increased load to the front wheels, thus it switched to a new speed-sensitive power steering. Narrower rear tires were used to reduce the understeer that hampered the previous Le Mans.
Dynamics-wise, the last Alpine was also the best. Its engine had noticeably less turbo lag thus its power delivery became smoother and more responsive. The gearshift remained light and accurate. Traction, grip, roll resistance and ride comfort remained its strengths. The steering might lose a little bit feel compared with the GTA's, but its handling became less nervous at the limit. The balance was impressive. Its nose still felt light and responsive to steer, but now the tail had less tendency towards sharp breakaway. Its handling was sure-footed, and the benign understeer was not easy to be overruled unless on a race track.
In an 8-cars contest conducted by Performance Car, the A610 took the crown by beating all oppositions, including great rivals like
Lotus Esprit
,
Porsche 968
,
Mazda RX-7
,
Nissan 300ZX
and Venturi 260. Likewise, Fast Lane compared it with 944 Turbo SE and 300ZX and concluded it was the best of the bunch. Meanwhile, CAR magazine declared it a victory over Esprit and Venturi. Surprisingly, this little-known French GT won almost every contest it encountered in the early 1990s.
So why didn't it sell? With a total production of only 818 cars, the A610 was far less successful than the reputation it got in enthusiast circles. To this day, its failure is still a mystery to me. Perhaps it is this unfortunately fate that makes the Alpine all the more adorable. It was one of the great unsung heroes in automotive history.