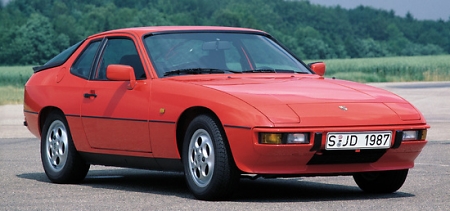 Launched in 1976, 924 was designed to be an entry-level Porsche, sitting under the 911 and replacing the controversial 914. Like the latter, initially there were doubts about its "Porscheness" because it employed a lot of components from Volkswagen/Audi, and this was not helped by the fact that it was produced at Audi's Neckarsulm factory near Stuttgart. However, the 924 blew away those doubts by a performance and handling worthy of the Porsche badge. In addition to continuous improvement in Porsche' fashion, it eventually became a commercial success, accounting for 60 percent of the company's sales, letting Porsche to overcome its mid-life crisis and achieving financial stability.
The 924 might not be the greatest sports car of its time, but it was certainly the most influential production coupe in the 1970s and '80s. Its emphasis on elegant engineering inspired many rivals. No other cars in its segment were so well made and tuned. None quite matched its completeness as a fun-to-drive and practical coupe. It was this car that accelerated the transformation of Japanese coupes from cheap metal to high-quality machines. Its styling was also imitated by rivals. If you look at Mazda RX-7, Mitsubishi Starion, Toyota Supra, Chevrolet Corvette and Dodge Laser, you will find strong traces of its shape and features, most notably the sleek front end and the distinctive wraparound glass rear window.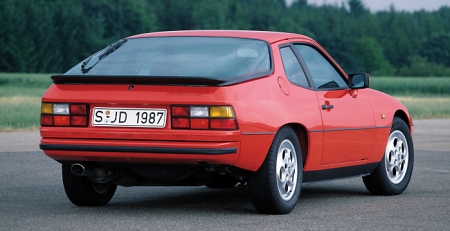 Ridiculously, the 924 was originally developed to be a Volkswagen-Audi coupe rather than a Porsche – although Porsche did think of the possibility of selling its own version. At the time Volkswagen did not really have its own R&D department and it contracted most of its car development to Porsche. As the four-cylinder VW-Porsche 914 was phasing out in the mid-1970s, it commissioned Porsche to develop a successor. To use as many Volkswagen components as possible to keep production cost down, Porsche decided to adopt conventional front-engined, rear-wheel-drive and 2+2 seating layout. For the power source it chose the new Audi 2-liter fuel-injected straight-four, which was tuned to develop a remarkable 125 hp. It was slanted 40 degrees to one side to keep the bonnet low. Suspension parts came from the combination of VW Golf and Beetle, although the layout of MacPherson struts and semi-trailing arms looked as if taken from 911. Golf also donated the rack-and-pinion steering, instrument gauges and many interior parts. Most exclusive was the Porsche-developed rear transaxle gearbox, which shifted weight to the rear axle and achieved a 50:50 weight distribution for the benefit of handling. The idea was not exactly new – Ferrari used it on 275GTB a decade ago, and most recently the frozen 928 project had a similar transaxle – but for a mass production coupe it was the first application. This would prove to be a significant contribution to the 924's great handling. Finally, all the mechanicals were wrapped within a sleek and good-looking bodyshell. Its aerodynamic drag coefficient was 0.36, excellent for its days.
When development was nearly finished, Volkswagen decided to cancel the project as it feared new oil crisis could hamper the sales of sports cars. It sold the production right to Porsche for US$60 million, a decision for which it would be regret forever. Consequently, the car became a Porsche and 924 became its official name.
When it went on sale, the 924 did suffer from an image problem as it deviated from the traditions of Porsche – not only it lacked a boxer engine but its engine was water-cooled and installed at the "wrong side". Its mass-production interior parts also revealed its Volkswagen roots to the dislike of Porsche hardcores. On the flip side, it was reasonably priced. No Porsche could be described as cheap, but the 924 was the closest thing to affordable. It cost a slight premium over Japanese and British coupes, yet it offered superior dynamics, style and German build quality – just listen to the thunk of its doors and you will know. Well, it must be noted that the early cars were not quite perfect. It was troubled by rust problems, a 4-speed gearbox and a somewhat nervous handling caused by roll-induced steer and strong lift-off oversteer. By 1978, all these problems had been sorted out. It had the best anti-rust treatment in the industry, a good 5-speed gearbox and a vice-free handling. Performance was competitive for its class, if not too striking, with 126 mph top speed and 0-60 mph done in just over 9 seconds. Motoring journalists praised its high-speed cruising ability as well as its stable cornering. Its steering was accurate, light and quick, and as feelsome as 911's. Its chassis displayed excellent poise and precision in corners, making it felt a thoroughbred sports car. At the limit, it ran into mild understeer to ensure a stable back end, so it was safer and easier to drive than the 911. Braking was superior to rivals, too, despite of rear drums. On the downside, noise suppression was poor. Running on rough roads, a lot of tire roar and suspension noises could be heard in the cabin.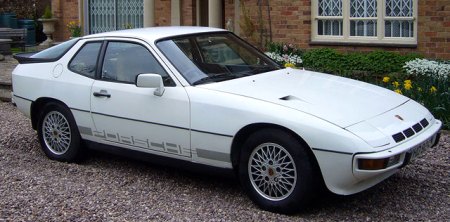 Continuous development improved the breed and turned 924 into a popular model. In 1979, Porsche introduced 924 Turbo to silence those criticizing the original car slow. On the outside, this car could be distinguished by extra cooling intakes opened at the nose and a NACA duct on the bonnet. Under the bonnet, a KKK turbocharger pumped its output to 170 hp, accompanied with a far superior peak torque of 181 lbft. This resulted in 142 mph top speed and 6.9 seconds for 0-60 mph sprint as measured by Autocar, good enough to embarrass the contemporary 911 SC! Nevertheless, the 924 Turbo suffered from quite a lot of turbo lag (though no worse than other turbo cars of its period) thus its handling was more challenging.
An even faster model, 924 Carrera GT, was built in 1981. It was a limited production run of 400 cars, designed to homologate for motor racing. The 2-liter turbo got an intercooler, higher compression and other modifications, liberating 210 hp and 203 lbft of torque. 0-60 was shortened to 6.5 seconds and top speed was about 150 mph. A more pronounced cooling duct topped the bonnet, while flared front fenders and (aftermarket-looking) add-on rear fenders accommodated wider tracks and tires. Many modified 924s copied the styling tweaks of this car.
The 924 was succeeded by 944 in 1981, but it was not dead yet. It survived in the form of 924S, fitted with the base 944's 2.5-liter engine to ensure Porsche had a reasonably cheap model to compete with the popular Japanese coupes. By the time it finally retired in 1988, some 152,000 units had been built. This not only overwhelmed the 914 but also earned good profit for Porsche.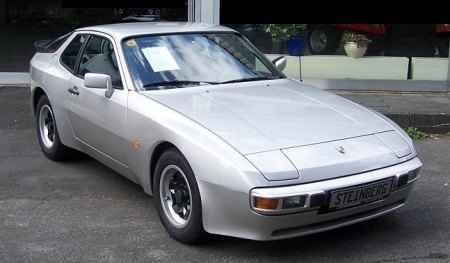 Endless evolutions kept 356 and 911 evergreen. The 924 series was the same. In late 1981, it evolved to 944. The new car looked more muscular than its predecessor thanks to pronounced fenders – unlike the afterthought items on 924 Carrera GT, they were integrated smoothly and beautifully into the body shell – which afforded the wider tracks and beefier tires. Again, these pronounced fenders would be copied by its Japanese imitators soon. Besides, reshaped air dam and skirts made it looking more contemporary. The rest of the body shell was carried over from the old car, including the same glasses, head and tail lights.
However, the most important upgrade should be the engine. People had long been criticizing the 924 for employing an Audi engine and therefore said it was not a real Porsche. This time around Weissach developed its own engine for the 944. It was essentially half of the 928's V8, with all-aluminum construction (head, block and pistons) to save weight and advanced Bosch DME engine management system for more efficient and cleaner combustion. The oversquare combustion chambers with 100 mm bore and 78.9 mm stroke amounted to a total displacement of 2479 cc, unusually large for a four-cylinder engine. To deal with the second-order vibration commonly seen on large four-pot engines, it introduced a pair of Lancester counter-rotating balancer shafts, licensed by patent owner Mitsubishi. I remember Porsche advertized a lot about this feature, saying it provided the smoothness of a six-cylinder engine. It needed so, because some Japanese rivals ran 6-cylinder engines.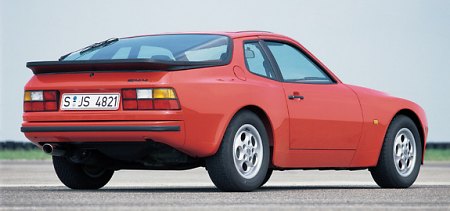 The Zuffenhausen-built engine produced 163 horsepower, so straight line performance got a sizable improvement to 137 mph and 0-60 mph in 7.4 seconds in the first road test by Autocar (later cars got slower, blamed to increased weight and taller gearing used). On the other hand, the already fine handling was enhanced further by retuned suspension, wider rubbers and all-round disc brakes from the 924 Turbo. No wonder it became a hit in the US market. Now doubts about its identity had all but disappeared.
The sales rise was further fueled by the addition of 944 Turbo in 1985 and 944S a year later. The Turbo version had the 2.5-liter engine upgraded with a KKK turbocharger, intercooler, forged pistons and improved cooling. Bosch Motoronic management system included boost control to regulate turbo boost pressure according to rev. Maximum output increased to 220 hp, accompanied with 243 lbft of torque to overshadow even the 911 Carrera. Needless to say, performance was startling – 6 seconds flat was enough to take it from rest to 60, and top speed was well beyond the claimed 152 mph. The latter was undoubtedly helped by the smoother nose and underbody panels that dropped its drag coefficient to 0.33 from the standard 0.35. Although the 944 Turbo was not cheap, it offered really giant-killing performance. Coupling to its nicer handling, it was a more sensible alternative to 911 Turbo.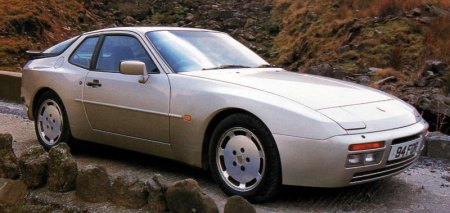 944 Turbo
Standing between the base 944 and 944 Turbo was 944S. Its naturally-aspirated engine was enhanced with a twin-cam 16-valve head – Porsche finally had something to answer BMW M-division and the increasingly high-tech Japanese rivals! Its 190 hp output brought better performance than the 944, but without the turbo lag and thirst of the 944 Turbo. Nevertheless, living in a narrow gap it was not a popular choice.

In many ways the trio of 944 retained the pros and cons of the original 924: beautiful chassis balance, excellent steering, adjustable manner at the limit, strong braking, remarkable build quality, cramped rear seats and poor noise suppression. What it improved over its predecessor were performance, engine flexiblity and cornering prowess. At a time when the Japanese had yet to produce comparable machines, the Porsche prospered. 1986 was its best year, when it helped Porsche to register a record 30,000 units of sales in the US market – this record would not be broken until 2004!

Unfortunately, since then the combination of rising Deutschmark and fast-rising Japanese coupes tipped the balance towards the latter. The 944 series became too expensive to be competitive with the Japanese coupes, which became increasingly advanced, powerful, stylish and high-quality. As a result, Porsche' US sales dropped to 16,000 units in 1988. To stop the slide, the 944 was updated again.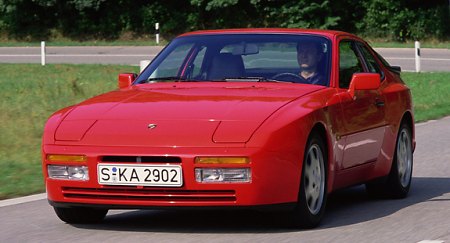 944 S2
All three models were updated to Series 2 in 1988. The base 944 had its engine enlarged to 2.7 liters (while still ran only 8 valves). Power increased by merely 2 ponies, but 15 lbft more torque guaranteed faster acceleration and better flexibility. 944 Turbo became 944 Turbo S, or Turbo SE for UK market. Its engine remained 2.5-liter, but a larger turbo boosted horsepower to 250. However, the big news was the new 944 S2, whose 16-valve engine was bored and stroked to a full 3.0 liters, making it the largest four-cylinder engine in series production. Its output increased to 211 hp, and performance was remarkably close to the Turbo S. Most motoring journalists preferred the S2 to contemporary rivals like Corvette C4, Mazda RX-7 Turbo II, Toyota Supra Turbo and Nissan 300ZX Z32 for its more flexible power delivery and better handling, though high prices again limited its success.
That said, with 171,000 units sold in 10 years, the 944 series was still the most successful Porsche up to that moment.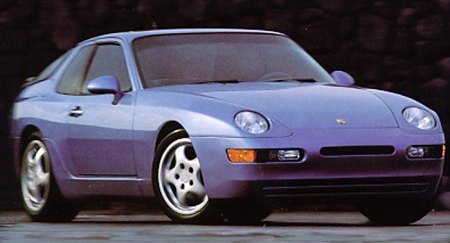 As rising costs shrank sales volume significantly, Porsche no longer needed three derivatives of its entry-level model, so they were combined to a single model, 968, in 1992. For the same reason, it no longer needed to build the car at the Neckarsulm plant, so production returned to Zuffenhausen alongside the 911 and 928. That made sense as the new car would share more components with 928, such as the exposed round pop-up headlamps. Thanks to those headlamps and a smooth nose, it looked like the 928 when viewing from the front.
Under the bonnet was 944 S2's 3-litre four-pot engine, now added with a kind of variable valve timing called "Variocam". Three different sets of valve timing were included to serve different engine speeds: below 1,500 rpm minimum valve overlapping improved torque and refinement; from 1,500 to 5,500 rpm medium overlapping was used. Above 5,500 rpm the largest overlapping helped raising rpm as well as top end power. In addition to higher compression ratio, lighter pistons and modified intake/exhaust, maximum power jumped from 211 to 240 hp and torque increased from 207 to 225 lbft, a record for any production 3-litre normally-aspirated engines. That was the last glorious moment of the big four-banger. As for transmission, now a 6-speed gearbox replaced the long-serving 5-speeder, while optional 4-speed Tiptronic was carried over from 911.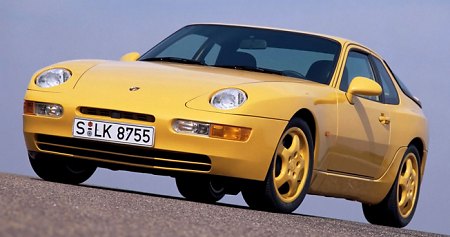 968 CS
Although Porsche claimed 80 percent of components had been changed, the 968 retained much the same chassis and suspensions from the last 944 Turbo. Therefore it cornered just as beautifully as before. CAR magazine pitched it against its stiffest rival at the time, Mazda RX-7 Mk3 (also born in 1992), and left impressed with its superior balance, delicate steering response and controllable at-the-limit behaviour. That was a respectable achievement for a 16-year-old breed riding on semi-trailing arm suspensions. Performance was slightly improved over 944 S2, with 0-60 mph ranging from 5.6 to 6.2 seconds depending on which road test you read, but it could no longer hold a candle to those 300 hp Japanese GTs like Toyota Supra.
More worrying was its high price. At nearly £37,000, the 968 was overpriced even with its solid build quality from Zuffenhausen considered. Therefore a cheaper striped-out model was introduced next year to boost sales. 968 Club Sport (CS) discarded most luxury equipment, such as air-con, power windows, electric door mirrors, central locking and premium Hi-Fi. It also got a pair of lightweight Recaro buckets instead of powered leather seats, and the rear seat was removed. The result was a price reduced to just under £30,000 and a weight saving of 50 kg. Besides, it got stiffer and 20mm lower suspensions and wider, 255/40ZR17 rear rubbers to enhance handling. Enthusiastic drivers were delighted with its sharper response and higher cornering prowess. It was the best driving Porsche for some years. Autocar named it as Britain's best handling car for two years in a row from 1993 to 1994, beating strong rivals like Honda NSX and Lotus Esprit.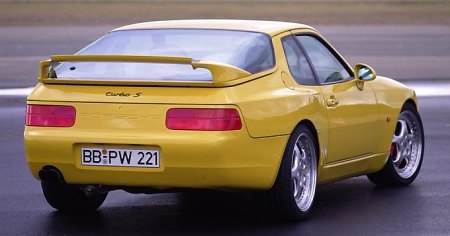 However, the CS was not exactly the ultimate 968. In 1994, Porsche's motorsport department at Weissach developed a limited edition called 968 Turbo S. Its engine was derived from the previous 944 Turbo Cup race car, with a robust 8-valve head mating to the 3-liter block of 968. A large KKK turbo and huge intercooler produced up to 1 bar of boost, resulting in 305 horsepower and 369 pound-foot of torque. This translated to a top speed of 175 mph and 0-60 mph well under 5 seconds! The car got weight saving measures like the CS, plus even stiffer suspensions, 911 Turbo brakes and massive 18-inch magnesium wheels shod with 235/40ZR18 front and 265/30ZR18 rear tires. Weissach originally planned to sell between 50 and 100 cars, but eventually only 16 were built (including 2 prototypes), blame to a price that equalled to two and a half times of 968 CS!
That was also the last shine of the 924 / 944 / 968 series. Production finally came to the end in 1995 as Porsche was preparing to launch Boxster as its successor. Overall, more than 335,000 units of the four-cylinder family were produced, ranked second to the air-cooled 911 in the history of Porsche.