A310 signaled a change of direction for Alpine. Previous Alpines, most notably the famed
A110
, were pure sports and race cars, thus they were tiresome or even punishing to drive for long distances. Perhaps envying the high-volume sales of Porsche, Alpine determined to design the new generation car as a grand tourer. It should offer a lot more space, comfort, practicality as well as a more upmarket look. Because of the vast differences, the A310 was not exactly a direct successor to the A110. Both cars would be built in parallel in the following 6 years to suit different kinds of customers.
The A310 retained the classic features of Alpine, i.e. glass-fiber body shell, steel backbone chassis, all-independent suspensions and a rear-mounted Renault-sourced powertrain. However, it was made considerably larger than A110, being half a meter longer, 70 mm wider and weighing 200 more kilograms. A 170-mm stretch of wheelbase allowed it to add a pair of rear seats to accommodate children or average adults for a short ride – something not even a Porsche 911 could match. Having said that, the Alpine was still remarkably compact by the standard of GTs. Only a rear-engined car could manage to extract so much interior space from an exterior so compact!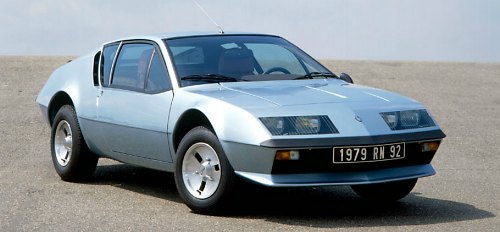 Exterior design was as much space-age as the A110 was classic. Its aggressive wedge shape was clearly inspired by contemporary Italian exotics like De Tomaso Mangusta or Ferrari Daytona, which should be a first for this price segment. Meanwhile, the spectacular full-width headlamps, consisting of six fixed lamps and plexiglass shield, was purely French revolution because it was pioneered by Citroen SM a year ago. Sadly, it would be replaced by a more conventional design soon after. The tail didn't look as good though. There were prominent C-pillars to kill rear-quarter visibility, whereas the fast-angle plexiglass rear window made rear view difficult.
Inside, the car did the GT thing pretty well. Its front seats were mounted right to the floor as in a supercar (due to that low roof), but the seats themselves were comfortable. Access to the cabin was easy. Space up front was excellent except for those very tall. The rear seats were larger than most other 2+2, as Motor magazine described it "sufficient to accommodate average-size adults for a few miles", at least to the average-size adults of its days. Electric windows was equipped as standard, while luxury items like heated windscreen was offered on option list. On the downside, there was no luggage space left at the front as it was occupied by spare tire and fuel tank (like A110). That means the car could either carry 4 people sans luggage or 2 people plus their luggage at the rear seats.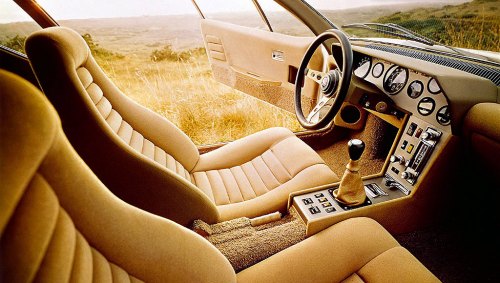 Naturally, the backbone chassis was redesigned to be stronger than the one on A110. There were few Renault components left, only the rack-and-pinion steering, ventilated disc brakes and upper control arms of the double-wishbone front suspensions came from the Renault parts bin. The rear suspensions switched to bespoke double-wishbone items to improve camber control and tame oversteer. Up front, the nose contained a radiator, whose coolant flowed to the engine via pipes running inside the tubular backbone.
Located between the rear wheels was again a longitudinal inline-4 engine. Alpine originally hoped to be benefited from the new "PRV" V6 program jointly developed by Renault, Peugeot and Volvo, but since that program was delayed, it had to settle with existing Renault four-pot. Derived from the 1565 cc Renault 12 Gordini engine, it was bored out by 1 mm to displace 1605 cc. A single camshaft operating pushrods seemed old-fashioned compared with the twin-cam engines of Lotus, Fiat or Alfa, but the Renault engine had lightweight alloy head and block, which was crucial to make the A310 less tail-heavy. Furthermore, it was modified with larger valves, faster cams, 10.25:1 compression and a pair of Weber twin-choke carburetors. The result was a remarkable 125 hp – even after 40 years later, a Renault Sport Twingo RS could extract merely 8 more horses from the same capacity, one can see how highly tuned the A310 engine was.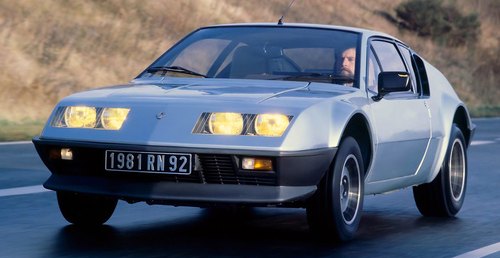 While 125 hp sounds not a lot to a GT, it was made to the best use by the A310, whose kerb weight was only 900 kg and whose aerodynamic shape was polished in wind tunnel. Road test proved it capable to reach 130 mph and sprint from rest to 60 mph in just over 8 seconds. It wasn't as quick as the lighter A110, of course, but no worse than a Porsche 911T. Performance aside, contemporary road tests praised the car for outstanding refinement. The engine was tractable in traffic despite of that high state of tune, and it ran smoothly. Noise level was surprisingly low, no matter from engine, road or wind. Its ride was "extremely comfortable", described Autosport. Meanwhile, it also did the sports car thing very well. There was lots of grip and little body roll through corners. Its maneuvering remained neutral until very high speed. Even if its high limit was exceeded, it didn't slide as much as A110, thanks to that sophisticated rear suspension. Compared with 911, it felt better mannered and less tail-happy. The steering setup was well judged. Not too heavy, but responsive, direct and have good self-centering. Any weakness? The long linkage between the gearbox and the gear lever means vague gearshift, and the rear-biased weight inevitably resulted in poor high-speed stability.
More troublesome were quality issues. The early cars were not built to high quality standards expected by GT customers, because Alpine had yet to mastermind that skill in the transition from A110. That hurt its image thus only 2340 cars were sold in the first 5 years.

1976 finally came the 2664 c.c. PRV engine. This 90-degree SOHC V6 was neither as smooth nor as musical as the best V6 engines, but its 150 hp output lifted performance to 138 mph and 0-60 mph in 7.4 seconds, finally justifying the looks and price of A310. Compared with the previous four-cylinder model, the V6 biased more towards the GT side, and its handling was set to more understeer to deal with its poorer weight distribution (worsened from 40:60 to 33:67). Even so, it was far more popular than the four-cylinder, capturing 9,276 units of sales until production ended in 1984. The A310 is therefore the best selling model in the 40 years history of Alpine.