French sports car specialist Alpine was founded by racing driver Jean Redele in 1955. From the outset it was closely associated with local giant Renault, using the latter's powertrains and running gears as the basis of its sports cars. In 1962, Alpine created its most successful model, A110. Through continuous development, this car became a fearsome weapon in rallying. Its notable achievement included winning the world rally championships in 1971 and 1973, and sweeping the first three places in the most prestigious event, the Monte Carlo rally, in 1971.

The A110 was rear-engined, just like all other Alpines ever made – including the earlier A106 and A108 and the later A310, GTA and A610. Some called it the French Porsche as a result, but the similarity was not for the sake of image. Remember, mid-engined sports cars would not become popular until at least the late 1960s (see Ferrari Dino and Lotus Europa). At the time the A110 was designed, rear-engined layout was still considered to be the best solution for sports cars and race cars. It enabled a rear-biased weight distribution to improve traction. It lightened the front axle for the benefit of responsive yet light steering. Not to mention it generated less headache for heat and noise insulation behind the occupants. Moreover, in the case of A110, rear-engined was necessary because it was derived from the mechanicals of Renault R8, itself also a rear-engined car.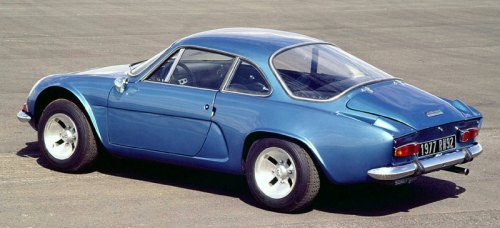 The A110 was enclosed with a streamline body shell penned by Italian design house Michelotti. This shell was made of glass-fiber to save weight, something probably learned from Colin Chapman. Interestingly, the car also employed a lightweight backbone chassis similar to that of Lotus Elan, which debuted in the same year. The Alpine had a rigid tubular steel backbone linking between the front and rear frames. Chassis flex was not a problem as the wheelbase was only 2100 mm long, and the small engine was not powerful enough to cause trouble. The car was incredibly compact, measuring only 3.65 meters long, 1.55 meters wide and 1.13 meters tall. This made it very light and agile. Weight was typically quoted at less than 700 kg, depending on which engine fitted. Suspension was provided in the form of double-wishbones up front and swing axles at the back, although the rear also switched to double-wishbone type late in its life to tame oversteer. All-round disc brakes and 5-speed gearbox were classy features of the time.
A dozen of engines had ever been put under its rear bonnet. All were derived from Renault pushrod four-cylinder engines. The earliest one displaced only 1 liter and produced merely 44 hp. Inevitably, it was soon replaced with larger and hotter tuned engines, including the 1300S engine with 110 hp and 1600S engine with 125 hp. These outputs sound incredible for their engine sizes, but not unrealistic because of their race-bred tuning. Coupling to the flyweight chassis, the A110 was incredibly quick to accelerate. Road tests found the 1300S and 1600S took only 7.5 and 6.9 seconds respectively to go from zero to 60 mph. It sounds impressive even today!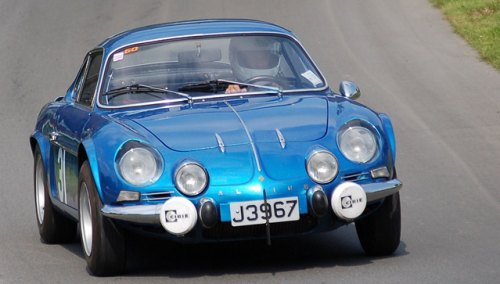 Its top speed could exceed 130 mph in the fastest versions, but like many rear-engined machines, its high-speed stability was quite poor, easily affected by road irregularities and side winds. In contrast, corners were where it felt at home. The little Alpine offered remarkable traction and roadholding by the standards of its time. Heavy negative camber kept its rear wheels planted to the road in corner. Yes, it would oversteer when exceeded limit, but not as spectacular as you might think for a rear-engined sports car. All it needed was a quick counter-steer to take it back on course. If its handling was not so good, it would not have won so many rally races.

What it failed to match Porsche was practicality. The Alpine was small, so its cabin was cramped for any six-footers (a typical Frenchmen might be acceptable). To enter the cabin through the small doors required special technique. Ditto how to put your feet into the smallest foot well ever been found on a road car. Although the ride was quite supple, the cabin was very noisy, blame to the lack of sound insulation and the fact that the glass-fiber body shell reflected and amplified the engine noise. Practicality was also hampered by the lack of luggage space – as the front boot was fully occupied by the fuel tank and spare tire, the only luggage area was the small bench behind the seats. No one would use the Alpine as an everyday car or for weekend cross-country trips.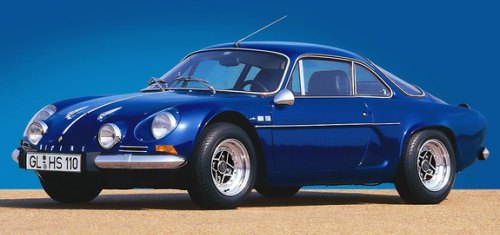 It is hard to tell how many A110 were built because neither Alpine nor its later owner Renault provided official figures on that. Some old books quoted 8203 units. Some said 7500 units built in France (at the Dieppe factory) plus unspecified numbers built under license in Spain, Mexico, Brazil and Bulgaria. Some said 7176 units built in France plus 1566 units in Spain and a few hundreds from other places. No matter which one is correct, the total should be fewer than 10,000 units.