Apart from the original Porsche 911, I think no other sports cars deserved the title "evergreen sports car" as well as Lotus Esprit. Production of Esprit ran from 1976 to 2004, lasted for an incredible 28 years. Moreover, it rarely showed its age as continuous development kept it updated and competitive. Apart from long life, Esprit was also the most significant Lotus because it lifted the British company to the same league of Ferrari and Porsche, washing away its previous kit-car image.
Having experimented mid-engined technology with Europa, Colin Chapman determined to take a more ambitious approach. The target was clearly to build a rival to Porsche 911 and Ferrari Dino, but it should beat both in handling and at the same time deliver a stunning message in the same way as contemporary supercars like Lamborghini Countach, Maserati Bora or De Tomaso Pantera. To achieve the latter goal, Giorgetto Giugiaro was called to submit a proposal. The on-form Italian design maestro did not disappoint Chapman. He created a sensational design that combined Countach-style wedge profile with simple lines and perfect proportion. It looked every bit like a supercar.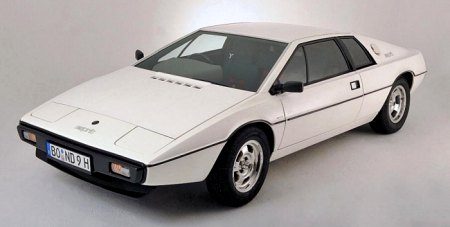 Esprit S1
Unfortunately, the supercar look was not backed up by the engine. Lotus originally planned to offer two engines, i.e. an entry-level straight-four and a flagship V8. However, due to financial reasons the V8 did not materialize (until 20 years later), leaving the sole powerplant to be the four-pot engine. The 1973cc unit, designed and built by Lotus itself, was truly state of the art. It had all-alloy construction, twin-cam and 4 valves per cylinder to produce some 160 horsepower, remarkable for its size. Nevertheless, compared with the 3-liter V8 or six-cylinder engines of Ferrari 308GTB (255hp), Lamborghini Urraco P300 (265hp) and Porsche 911 Carrera 3.0 (200hp), it was way less powerful, let alone De Tomaso Pantera with its 350hp American V8. The four-cylinder engine would be the achilles' heel of Esprit for many more years.

But two things saved the game. First, the Esprit weighed less than 1 ton. Colin Chapman's trademark backbone chassis and glass-fiber body shell, as well as the small engine helped the car undercutting its rivals by 200-300 kg. This mean Esprit was pretty accelerative until its lightweight advantage gave way to aerodynamic drag at higher speed. With a 0-60 mph time ranging from 7.5 to the low 8-seconds range, it still failed to match its more powerful rivals, so it took the second thing to save the game - a lower price tag. The original Esprit was priced at £8,000, £2,000 to £5,000 less than its rivals. This justified for its performance loss.

Esprit S1


Like all other Lotuses, Esprit had first class handling thanks to its lightweight and excellent chassis balance. Its chassis was wide and low built. Its lightweight engine was mounted longitudinally behind the cockpit and in front of the 5-speed transaxle (which came from Citroen SM). To lower center of gravity, the engine inclined to the left by 45 degrees. It was mounted on a tubular rear subframe together with the rear suspensions which consisted of semi-trailing arms and lower transverse links. Up front, double wishbones provided optimum wheel control. Relatively soft springs brought excellent ride in the tradition of Lotus. Traction, roadholding and braking were all superb. The unassisted steering was quick and precise, if not as sensitive as Elan's. The same went for handling, which induced more understeer than previous Lotuses. In return, you get a more forgiving behaviour at the limit.
Esprit was not very good at being an everyday transport. Its lowness implied a relatively cramped cabin and its floor-mounted seats were difficult to get into. Its fast angle windscreen might look spectacular outside, but it also resulted in poor visibility and serious light reflection. On the run, refinement was hampered by excessive wind noise and engine boom. Luggage space was in short supply as the front was occupied by the spare wheel, leaving a small boot behind the engine. Moreover, Lotus' build quality was some way behind its German and Italian rivals. Many of these flaws would never be sorted out. Like many supercars of the 1970s and early 1980s, Lotus Esprit was not easy to live with.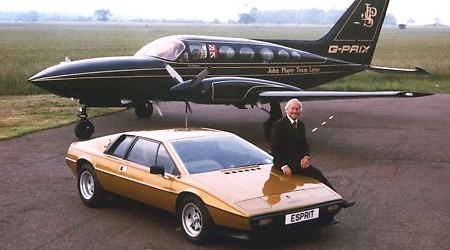 The original Esprit Series 1 (S1) lasted for only 2 years. In 1978, it was refined to S2. Modifications majored on improving aerodynamics and engine cooling, which could be seen from its wraparound air dam up front and the air intakes behind the side windows respectively. Coefficient of drag was reduced from 0.376 to 0.36. Other modifications included new instruments, seats, alloy wheels and taillights. As the engine remained unchanged and the refinement gained weight, S2 was actually slightly slower than S1.
Series 3 and Esprit Turbo (1981)

In the last model year of Series 2 (1980), Lotus introduced significant changes to its engines. The 1973 cc engine was enlarged to 2174 cc. Peak power remained unchanged at 160hp, but maximum torque increased from 140 to 160 lb-ft and this improved its acceleration a little. Meanwhile, a special edition called Essex Turbo introduced turbocharging to the Esprit, lifting output to 210hp and 200 lb-ft.
Next year, the 2.2-liter naturally aspirated engine and 2.2-liter turbocharged engine became standard on the Series 3 cars. Externally, S3 was a big departure from S2. It had aggressive aerodynamic kits all round to remind us the golden years of 1980s (the "Turbo Esprit" graphics also helped). Larger 15-inch alloy wheels replaced the original 14-inch items, and the rear ones were wrapped with much wider (235 vs 205mm) rubbers to enhance grip. Underneath the skin, the chassis was fully galvanized to resist rust, the rear suspensions were strengthened to cope with increased power and the engine mount was upgraded to reduce NVH.
The turbocharged engine finally gave Esprit the performance, if not image, it needed to compete with Ferrari and Porsche. It was capable of accelerating from 0-60 mph in less than 6 seconds and to 100 mph within 16 seconds, quicker than Ferrari 308GTB and Porsche 911SC. Top speed hit 152 mph when Lotus tested the car at Nardo high-speed test track in Italy. Its inflated price also reflected this improvement.
Unlike contemporary turbocharged cars, Esprit Turbo had a good driving manner. It produced plenty of bottom-end torque and its power delivery was progressive, allowing the driver to exploit its superb handling and ride. In terms of image or aural excitement, the four-cylinder turbo engine was no match with rivals' V8 or 6-cylinder boxer, of course. However, its new found performance and superior chassis were already sufficient for British motoring press to declare it a class winner.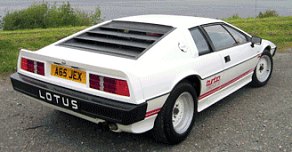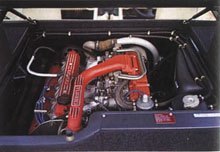 The short-lived HC Turbo was introduced at the last model year of S3. HC stands for High Compression, which implied the turbocharged engine's compression ratio was lifted from 7.5:1 to 8.0:1. Other improvements to the engine included forged aluminum pistons, Nikasil cylinder liner, revised camshafts and valves and a smaller yet higher boosting Garrett T3 turbocharger. These mods boosted 5 horsepower and 20 lb-ft of torque, leading to slightly improved performance and better drivability. Otherwise the car was almost identical to previous Esprit Turbo.
Esprit X180 (1987)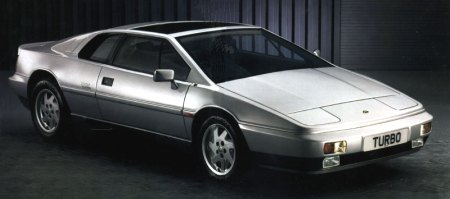 11 years had passed since its birth, Esprit received its biggest revamp in 1987. Strangely, the new version did not use the S4 label. It was simply called Esprit or Esprit Turbo. In order to distinguish it from previous versions, insiders referred to its project code, X180.

X180 was designed in-house by Peter Stevens, who would go on to style Elan M100, Jaguar XJR-15 and McLaren F1. While it retained the hard points and general proportion of the original Giugiaro design, it was made rounder, smoother and thoroughly modern. To me, it was easily the best looking Esprit of all, and one of the best looking sports cars of its time. The new clothes not only lowered aerodynamic drag to 0.335, but it also appeared high quality and tight fit, thanks to a new glass-fiber molding process called VARI (vacuum-assisted resin injection). VARI resulted in tight tolerances and even thickness. In addition to some Kevlar inserts at roof and pillars, the new body shell contributed to higher chassis rigidity, hence better handling and higher refinement.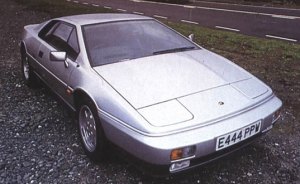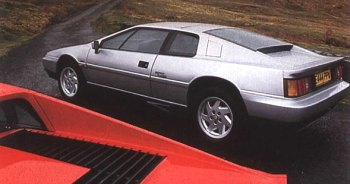 Mechanically, the X180 did not differ a lot from the previous HC. Its 2.2 turbocharged engine produced the same 215hp and 220 lb-ft despite of a more durable water-cooled turbocharger (but still without intercooler). A naturally aspirated version with 173hp continued to be offered alongside the turbo, although it was a less popular choice. The biggest change was found at the transaxle gearbox, which was sourced from the new Renault Alpine GTA. This brought improved shift quality as well as a slightly taller gearing. The Renault transaxle gave no place for the previous in-board rear brakes, so the X180 switched to conventional out-board disc brakes. Other improvements majored on reducing noise level and improving cabin comfort. The cabin got a welcomed 20 mm extra headroom, 15 mm more legroom and a 25 mm wider foot well.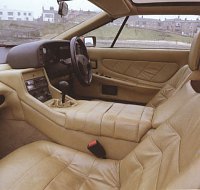 Theoretically, the heavier X180 should be slower than previous one. However, the revised gearing actually benefited 0-60 mph sprint, whereas acceleration at higher speed was benefited from the reduced drag. As a result, it was actually faster than the old car. Autocar magazine found it capable of a true 150 mph top speed, accelerate from rest to 60 and 100 mph in 5.4 and 13.3 seconds respectively. This put it ahead of Ferrari 328GTB and Porsche 911 Carrera 3.2. Best of all, the £30,000 price it asked was much lower than its rivals. No wonder X180 was a commercial hit. It set Esprit's highest sales record in 1988, with more than 1,000 cars leaving the Hethel factory. This would never be matched again.
Esprit Turbo SE (1989)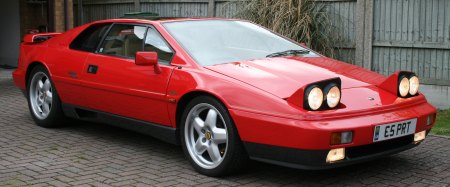 In 1989, Lotus introduced Esprit Turbo SE as the flagship model of the Esprit range which until then comprised of 215hp Esprit Turbo and 173hp Esprit. At £42,500, the SE was really expensive - £12,000 more than the regular Turbo. However, this premium also lifted its performance to another level. Thanks to an air-to-liquid intercooler that Lotus called "Chargecooler", its engine got supply of cooler, denser air from the Garrett TB03 turbo. The result was 264 horsepower, 163 mph top speed and 0-60 mph in 4.7 seconds. Externally, the SE distinguished from lesser models by a rear spoiler, larger wheels and wider tires. Inside, fully leather trimmed cabin and walnut dashboard tried to bring a classier image. However, at this price level the uninspiring noise of the four-cylinder engine became increasingly difficult to justify, even though handling and ride was still world-class.

In pure driving terms, no other Esprits could match Sport 300. Lotus launched the Sport 300 in 1993 as a limited production run of 50 cars. It was practically the road-going version of X180R race car that had just won America's SCCA championship, no wonder it had the sharpest handling of all Esprits. The Sport 300 was 80kg lighter than contemporary Esprit S4 thanks to a lighter composite bodywork and a striped-out cabin. The latter sacrificed air-conditioning, audio system and much of the sound insulation, replaced leather trim with alcantara and employed lightweight racing bucket seats. Meanwhile, the backbone chassis was strengthened in various places, including extra bracings in engine compartment.
The engine was again the familiar 2.2-liter Chargecooler turbo, but a revised turbocharger, hand-polished intake ports, larger inlet valves and recalibrated engine management system squeezed out a record 302 horsepower. On the down side, the power delivery became peakier, demanding 3500 rpm to get into the power band. Use the power band wisely, the Sport 300 could be incredibly quick. Its top speed approached 170 mph and its 0-60 mph was claimed to take only 4.6 seconds.
Straight line performance did not take S300 to the peak of the Esprit history. Instead, it was its handling. The combination of its lightweight treatment, stiffer chassis, reworked suspensions (with stiffer springs, dampers, bushings and revised geometry) and much wider rubbers (245/45Z16 front and 315/35ZR17 rear, which necessitated those wheel arche extensions) resulted in the best handling among all Esprits. It was praised for tremendous roadholding, rock-steady body control, accurate steering and progressive power slide at the limit. Above all, its sharp turn-in and extraordinary sense of agility set it apart from other road-going Esprits.
Its weaknesses? Harder ride, poor rear visibility (due to the large rear spoiler), noisy, engine boom at 100 mph, uninspiring 4-cylinder sound and a price tag some 40 percent higher than the regular S4.
Entering 1990s, the X180 generation Esprit turbo and SE started losing momentum as newer rivals emerged, e.g. Porsche 964 Carrera / Turbo, Ferrari 348tb and Honda NSX. Sales declined to the level of 300 cars per year and it would never quite recover. In 1993, both cars were replaced by a single model, S4.
The S4 introduced a facelift by Julian Thompson. Its new bumper and side skirts incorporated some rakish intakes as an attempt to follow contemporary stylng trend, although whether it looked prettier than the Peter Stevens design is questionable. The rear spoiler was moved higher above the flying buttresses to take advantage of air flow. The larger, 17-inch alloy wheels and low profile tires look more modern.

S4
Engine remained unchanged from the SE, so did its performance. However, the chassis was fine tuned with revised suspension geometry, a generally stiffer setup and the first ever power steering system on Esprit. This reduced understeer and sharpened chassis response a little. On the downside, its ride quality was no longer exceptional.
In 1995, the car evolved again to S4S. This time its engine and chassis were benefited from various modifications found on the Sport 300. The 2.2 turbo engine was practically the same as S300's, with the exception of using a smaller turbocharger to improve low-end response. As a result, its power band began from 2500 rpm instead of 3500 rpm, greatly enhancing tractability. The trade-off was a slightly lower peak power at 285 hp.

S4S
Being a production car, the S4S was not benefited from the weight saving measures of Sport 300, but it did employ the latter's extra bracings in engine compartment to increase chassis rigidity. The suspension tuning was closer to S300 than S4, with stiffer springs and slightly softer dampers. Wheels and tires were enlarged again. Externally, S4S differed from S4 by reverting to the tail-mounted rear spoiler of S300.
S4S remained arguably the best handling high-end sports car on the market, even compared against the very best Ferrari F355 and Porsche 993. It had the best steering, the best balance and the best body control among its rivals. At the limit, its handling was amazingly friendly, responding to your abuse with progressive oversteering. However, the achilles' heel was again the outdated powertrain. The four-pot engine remained coarse and ugly sounding at rev. The Renault 5-speeder did not help with its wide ratios and slow gearchange. This explain why the Esprit often came lowly in comparision tests.
Externally, the 1996 Esprit looked almost identical to last year's S4S. However, the biggest news lay under the engine lid - a twin-turbo V8 ! After exactly 20 years, Esprit finally realized the V8 it originally planned ! It was the result of a £5.5 million investment. Obviously, Lotus wanted to sell this engine also to other car makers. Eventually, however, only a handful engines were sold to AC for the still-born ACe and small-scale production Cobra 212S/C. The majority went to the Esprit.
The 3506cc twin-turbo 32-valve V8 was renowned for compact size and lightweight. With all-alloy construction, it added only 50 kg to the car. It was also shorter than the outgoing 2.2-liter turbo, so it actually freed up space for the luggage compartment locating behind it. Theoretically, it was capable of producing more than 500 horsepower. Unfortunately, the ancient Renault gearbox had a torque capacity of 400Nm (295 lb-ft), so Lotus had to detune the V8 to 350hp and 295 lb-ft. A maximum boost pressure of just 0.5 bar and the lack of intercooler showed how easy it got to that state of tune. Sadly, having spent so much money on the V8, Lotus could not afford a new gearbox.
Still, the V8 Esprit could sprint from rest to 60 in only 4.2 seconds and 100 mph in just over 10 seconds, putting it ahead of Ferrari F355, if not Porsche 993 Turbo. Not so good was the subjective feel. Ridiculously, the V8 had a flat plane crankshaft design (to save weight) and this made it sing very much like a four-cylinder engine ! Lotus seemed to forget why people always prefer a V8 to a straight-four. Apart from uninspiring sound, its power delivery was equally uninspiring. Compare with Porsche Turbo its power was too linear to the extent of boring, and throttle response was pretty slow beside a Ferrari V8. Lotus' first V8 was not a memorable one, neither was the first eight-cylinder Esprit.
Esprit GT3 (1996)

Esprit V8 might be the headline in 1996, but the cheaper GT3 was actually a better driver's car. It was a lightweight special in the same mold of Porsche's Clubsport. By ditching cabin equipment (sound deadening, air-con, HiFi, airbags and normal seats) and those emission / safety devices for US compliance (as it was not destined to America), plus reverting to a 2.0-liter four-cylinder turbo engine, the GT3 undercut its V8 sibling by as much as 140 kilograms, lowering its kerb weight to 1240 kg. The 1973 cc engine was not a development of the original Esprit engine, of course, but a downsized version of the chargecooled 2.2 engine originally destined to Italian market (where engines exceeding 2000cc were taxed heavily). In fact, the GT3 was created to clear the unsold stocks of the Italian version engine. This explain why its production stopped after only 196 units were built.

The 2-liter engine produced 240hp and 216 lb-ft, enough to register 160 mph and 0-60 mph in 4.8 seconds. 0-100 mph was equally impressive at 12.5 seconds. Considering the GT3 was sold at £40,000, compared with the £60,000 V8, it was quite a performance bargain.

Three things made the GT3 more lovable than the V8: first, it looked cleaner and prettier than its big brother, thanks to a small rear spoiler and narrower tires which demanded no bolt-on wheel arch extensions. Second, its reduced weight resulted in sharper handling and better balance. Third, its ride was more supple than the stiff-legged V8. What a pity the car was short lived.



By the time GT3 went out of production in 1999, V8 became the only Esprit available. This would remain unchanged until its extinction in 2004.
V8 had three variants, i.e. SE, GT and Sport 350. The first two differed very little from the standard car. The Sport 350 was the only one worth mentioning. In terms of performance, it was the ultimate Esprit. Power came from the same 350hp V8. Chassis was tuned to be extremely aggressive, with track-oriented stiff suspension setting, wider rear rubbers, lighter alloy wheels, stronger AP brakes and striped-out interior. Exterior was distinguishable by a big carbon-fiber rear spoiler mounted on aluminum brackets. As it carried 80 kg less than the V8, acceleration was superior. On public road, however, its ride was very hard and noisy. After all, the Sport 350 was designed primarily for track use.
On Feb 20, 2004, the last Esprit V8 finally left the Hethel factory, ending the 28-year-long history of Esprit. A total of 10,675 Esprits were built.