Porsche 911 (997) Turbo

Debut: 2006
Maker: Porsche
Predecessor: 996 Turbo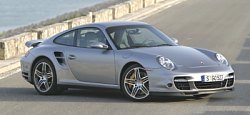 30 years after the launch of the first 911 Turbo, the Turbo is still a senior core member of the 911 family. Throughout the years, 911 Turbo evolved from 3.0 to 3.6 litres, single turbo to twin-turbo, from mechanical wastegate to electronic boost control, from 260 horsepower to 420 horsepower, rear-drive to all-wheel-drive…. Watching the evolution of this car just like studying the history of automotive technology. Today, the 996 Turbo is an astonishingly quick and refined sports car. Many people say it is close to perfect. What can be improved? The answer from Weissach is: even more power and even more refinement.

Before introducing the 997 Turbo, let us talk about the market positioning of this car. Priced at £100,000 in the UK market, the Turbo rivals Ferrari F430 (£120,000) and Lambo Gallardo (£120,000), although luxury grand tourers like Aston Martin DB9 (£110,000), BMW M6 (£80,000) and Mercedes SL55 / 65 AMG (£100,000 / £150,000) may also present threats. Besides, there is internal competition from 911 GT3 (£80,000) and GT2 (est £130,000). However, both the GT3 and GT2 are lightweight road and track dual-purpose sports cars aimed at very hardcore drivers, while the Turbo is a pure road car for daily use. It has more luxury features and sound-deadening than both, not to mention the all-weather security from its 4WD system.



997 Generation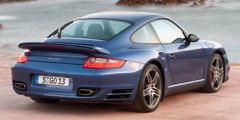 As in the case for Carrera, the 997 Turbo is a small evolution from 996 Turbo, unlike the mutation from 993 to 996. Outside, the most obvious change is the return to traditional round headlamps. Then you can see it has many ventilation holes enlarged for better cooling, while the bi-plane electric rear spoiler has been widened. As a result, aerodynamic lift has been reduced slightly while drag coefficient remains unchanged at 0.31.

The 997's steel monocoque chassis is believed to be slightly stiffer than the last generation. It also gains 22mm in width to enhance cornering prowess. The suspensions get electronic adaptive damping like the Carrera. The brakes have been enlarged from 330mm to 350mm all round, with 6-pot front and 4-pot rear calipers. As before, ceramic composite brakes are optional (they cost some £6,000 !). Another major improvement is the 4WD system. Previously it employed a passive viscous coupling to send torque to the front wheels when the rear wheels slip. Now it is replaced by an electronic-controlled multi-plate clutch. This mean the PTM (Porsche Traction Management) program can redistribute power between the front and rear axle at any time to correct undesirable under / oversteer.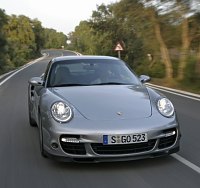 These enhancements inevitably add weight. Although Porsche compensates with the use of aluminum doors, the new Turbo still got an extra 45 kilograms, taking the kerb weight to 1585 kg. That is 135 kg heavier than the all-aluminum Ferrari F430, but still comfortably lighter than other grand tourers like BMW M6 and Aston Martin DB9.

Every time Porsche allowed weight increase must accompany with even more gain in power. The 997 Turbo is no exception. Although its 24-valve water-cooled boxer engine keeps capacity unchanged at 3600cc (we predicted it to grow to 3.8 litres), as is the Variocam-Plus variable valve timing and lift system, it gets a pair of new variable geometry turbochargers developed by BorgWarner (which acquired KKK in 1998). It is said to be the world's first VTG turbo for petrol engines, whose exhaust gas is much hotter than diesel engines thus requires specially-developed, heating-resisting vanes. The variable exhaust vane geometry makes better use of the exhaust flow regardless of rpm, thus improve turbo response at low rev and increase power at high rev.

As a result, the 3.6-litre twin-turbo engine pumps out 480 horsepower at 6000 rpm, 60 horses up from the 996 Turbo, or just 3 horses shy of the outgoing GT2. The new engine is also much more torquey and flexible. It produces 457 lbft from 1950-5000 rpm, versus the old car's 413 lbft / 2700-4600 rpm. If this is not enough, an optional Sport program offers a 10-second overboost of 0.2 bar, taking the max torque to 501 lbft for strong overtaking.

With the stronger engine, the new Turbo can run to 193mph (up from 190mph), accelerate from 0-60mph in 3.8 seconds (down from 4.1 sec) and 0-124mph in 12.8 seconds (down from 14.5 sec). Quite unbelievably, Porsche claims the car equipped with 6-speed Tiptronic S automatic transmission is even quicker – 0-60mph in 3.6 sec and 0-124mph in 12.2 sec. This is because the computers of the gearbox and VTG turbochargers can communicate with each other to optimize acceleration.



On the Road




The beauty of 911 Turbo is the combination of astonishing speed and handling with an easily livable manner. It satisfies the definition of super sports cars and grand tourers simultaneously. Apart from the recent Ferrari 599GTB, I can't think of any other cars have such achievement.

The 997 Turbo is very fast, no question. There are not many cars on this planet can do 0-60mph in 3.8 seconds and 0-100mph under 9 seconds. Ferrari F430 can. Lamborghini Gallardo cannot. Even the mighty 959 supercar is eclipsed by it, although you might ask why the Turbo took 20 years of development to do so.

Porsche's twin-turbo flat-six is very different from its rivals' naturally-aspirated V8 or V10. It sounds subdued, even too quiet for a sports car. But it generates massive torque from very low rpm and carry on until 6000rpm. The wide power band means you don't need to rev it to deliver performance. The VTG turbochargers have virtually no lag. The boxer engine runs smoothly. It does not appear to have any temper, just work quietly and efficiently to push the car forward. No doubt it is a German product.

Handling can be summarized in a few words: massive grip, fool-proof traction, first-class braking, excellent body control and composure. For sure, 911 Turbo is not a lightweight, but it hides its weight very well. Its compact size is a strong card in narrow twisties. Its strong brakes are confidence inspiring, as is the accurate and meaty steering. Rearward weight bias seems totally irrelevant to its excellent dynamic balance, thanks to the 40 years of experience of tuning its suspensions, tires and traction system. Yes, its handling is not as sharp as GT3, but its cornering prowess is equally high and definitely more secured, thanks to the clever 4-wheel-drive system. On wet surfaces or roads you are not familiar with, the Turbo is always the best companion to go with.



On the other hand, the 911 Turbo is also a very comfortable grand tourer. Its PASM adaptive suspensions has the choice of comfort mode and sport mode to suit different purposes. In comfort mode, ride compliance can shame many high-performance grand tourers such as BMW M6 and Aston DB9.

Then there is a spacious cabin, the luxury features (power seats and windows, climate control, sound and navigation system, leather upholstery) and plenty of luggage space (in case you fold down the dog seats). The Turbo is a comfortable long-distance GT.

That said, there is something missing in the car – emotion. Compare to Ferrari F430 or Lamborghini Gallardo, the Porsche turbocharged flat-6 is too civilized in the way it sings and the way it responds to throttle input. It is therefore less inspiring to drive. Ditto the 4WD handling, which is probably too safe. Remove some understeer and add some more feel to the steering will bring more excitement. But then you know Porsche has already got such car – GT3. As we always know, for pure driving pleasure there is no replacement to a naturally aspirated engine and rear-wheel drive.


The above report was last updated on 22 Jun 2006. All Rights Reserved.
911 GT2

| | |
| --- | --- |
| | More power and less weight distinguish GT2 from Turbo... |

Since its introduction in 1995, GT2 has been at the top of the 911 family tree. Its philosophy is simple: derived from 911 Turbo, but with more power and less weight. In other words, GT2 is a stripped-out version of the Turbo, so lean that even the fool-proof 4-wheel-drive system has to be deleted. The first generation GT2 was based on the air-cooled 993 and provided 430 horsepower out of 1290 kilograms of kerb weight. It was so named because it was designed to compete in FIA GT2 category. People got excited about its speed as well as its sharper handling, so it set a successful formula for the following generations. The second generation, 996-based GT2 arrived in 2001 with 462 horsepower and 1440 kg (upgraded to 483 hp since 2003). Unfortunately, it wasn't so good to drive because the setting was too soft and too understeer-biased.

Having learned the lesson, things should get better in the third incarnation, 997 GT2. Again, it has more power than the Turbo. While the engine is still that 3.6-liter flat-six with variable geometry twin-turbo, it employs a ram-air intake at the rear spoiler, a lower back-pressure exhaust and, take note, a new expansion-type intake manifolds. What is the latter ? Its theory is simple: increases the turbo boost by 0.2 bar --> the compressed air gets hotter --> use a larger intercooler to cool down the air --> the air is expanded back to normal boost pressure in the intake manifolds --> due to the expansion, the intake air flow cools down and gets denser, improving volumetric efficiency. As a result, the GT2 engine pumps out 530 horsepower or 50 horses more than the Turbo. Its maximum torque increases by 44 lb-ft to 501 lb-ft. This is the first time a 911 exceeded 500 horsepower, also the first time its top speed exceeded 200 mph, or exactly at 204 mph. Remarkably, the expansion type intake actually improves fuel economy from the old car's 21.8 mpg to 22.6 mpg. Do more, drink less, this is the way our cars should point to.

The new GT2 also worked harder to cut weight. Reverting to rear-wheel-drive saves it around 50 kg. Standard PCCB ceramic brakes save anther 20 kg. Switching to titanium exhaust system saves 9 kg. Then there are the usual leaner interior, lightweight carbon-fiber bucket seats, the deletion of rear seats, a glass-fiber engine lid and a lighter rear spoiler. Combining them results in 145 kilograms of loss compared with the Turbo (for reference, the last generation GT2 lost only 100 kg). At 1440 kg, it is only 45 kg more than the normally-aspirated GT3, while engine power overwhelms it by 115 hp. As everybody expected, the GT2 is easily the fastest 911 in history. Although the loss of 4-wheel-drive traction doesn't benefit initial acceleration, it is still claimed to do 0-60 mph in 3.6 seconds. However, more telling is 7.4 seconds to reach 100 mph, which put it comfortably ahead of Ferrari 430 Scuderia, Lamborghini Gallardo Superleggera, Dodge Viper and Ford GT, although the pricier Ferrari 599 GTB is quicker still.


| | |
| --- | --- |
| | Performance-wise, nothing else in the Porsche family compares to this car, but for driving excitement, its lesser brother GT3 has an upper hand... |

To tame the power, Porsche fitted it with 325/30ZR19 rear tires - the widest tires ever appeared in a 911. Moreover, the GT2 is finally available with traction control and PSM stability control like the Turbo. PASM adaptive damping is also a first for the GT2. The suspension is fully adjustable for ride height, camber and caster. The ceramic brakes come directly from GT3, with 380 mm and 350 mm discs front and rear respectively. Outside, extra air dam, skirts and a fixed double-plane rear spoiler generate more downforce, although drag coefficient inevitably goes up from 0.31 to 0.32.

Porsche wants to make the new GT2 a faster version of the GT3. On the road, it is mostly successful. Walter Rohrl, the company's famous test driver, lapped Nurburgring Nordschleife in 7 min 32 seconds, 15 seconds quicker than the GT3, 14 seconds less than the last GT2 and actually ties with the mighty Carrera GT !! The sensation of speed comes from the powerful engine as well as a good handling. Unlike the old car, the new GT2 no longer understeers too much. Thanks to the safety net provided by traction control and stability control, Porsche could afford a neutral chassis tuning without worrying of disasters. As a result, the car feels better balanced and more eager to attack corners. Turn-in is sharp and the steering is full of feel. As you would expect, body control and braking are both first rate in the top 911 model. What you might not expected is a superb ride when the adaptive damping is in comfort mode. This mean you can exploit its performance more of the time and on a variety kinds of roads.

Does it have any weaknesses ? Not many, but there are still some. Firstly, the loss of 4WD makes the driving experience less confidence-inspiring than the Turbo. Although the subtle electronic aids are good enough to handle the worst situations, they are still no replacement to all-wheel traction. Advanced drivers always want to disable electronic aids and take full control by themselves. If they switch off the traction control and stability control in the new GT2, they will need to be very cautious not to let its power overrun the chassis, because that will be very difficult to rescue. After all, five hundred pound-foot of torque going through the rear wheels is no kidding.

Another problem of the GT2 is throttle response. Even this turbocharged engine is virtually free of turbo lag, it still can't match a good normally aspirated engine for instantaneous throttle response and therefore the ability to finely adjust the cornering attitude with throttle and steering. For this reason, keen drivers will always prefer GT3 to this car.

This lead to our final question: is the £131,000 GT2 worth so much money compare with the £80,000 GT3 and £98,000 Turbo ? The answer is simple. If you want a luxurious and versatile fast car, you had better to choose the Turbo. If you want the ultimate driving excitement, then GT3 must be the first choice. However, if all you need is the ultimate performance, especially in straight line, then nothing else come close to the GT2.


The above report was last updated on 14 Oct 2007. All Rights Reserved.
911 Turbo 3.8

| | |
| --- | --- |
| | Having seriously challenged by GT-R and knocked down by R8 V10, it's time for Porsche to strike back... |

No cars could fulfill the role of sports car and grand tourer simultaneously as well as the outgoing 997 Turbo. On the one hand it delivered big performance and entertaining handling to shine in junior supercar league, on the other hand it offered the refinement, creature comfort and easy-going manner to serve as a daily transport. However, in the later part of its life, its unique status had been seriously challenging by Nissan GT-R, whose price tag and Nurburgring lap time raised the eyebrows of Porsche. Later on, Audi gave it an even heavier blow with R8 V10, which we described as "unquestionably better than 911 Turbo as an everyday supercar". Now 997 Turbo is due for a mid-life update. It is time to strike back the oppositions.

From its exterior, you can hardly tell what changes have been made. Good eyes may spot the slightly altered taillights, LED running lamps, door mirrors and exhaust pipes, but none of them are significant changes. The shape, frontal area and aerodynamic efficiency remain unchanged. However, underneath the skin there are many significant modifications that make the second generation 997 Turbo faster, greener and easier to handle again...


| | |
| --- | --- |
| | 3.8 engine is stronger yet friendlier and more frugal... |

Most notably is the new flat-six engine, now enlarged to 3.8 liters and has its fuel system upgraded to direct injection like the naturally aspirated Carrera S. Its block is now treated with Alusil instead of Nikasil, and is casted in a single piece instead of the previous two in order to cut weight and increase rigidity. Goodies like Variocam Plus and the unique variable geometry twin-turbo remain. Intake manifold has been upgraded to expansion type like GT2 to lower air temperature thus improve volumetric efficiency. The cooling effect of direct fuel injection allows a higher, 9.8:1 compression ratio instead of the previous 9.0:1, improving power output as well as low-end response. In addition to the 200 cc extra capacity, Porsche is able to dial back the turbocharging boost pressure from 1.0 bar to 0.8 bar while still manages to lift output by 20 horsepower to 500 hp flat. Maximum torque increases from 457 to 479 pound-foot, achieved across the same wide band running from 1950 to 5000 rpm. The 10-second overboost pressure is also reduced by 0.2 bar to a maximum 1.0 bar, yet the resultant max torque is lifted from 501 to 516 lb-ft. Brilliant. Moreover, such progress is accompanied with other benefits, such as an 18 percent reduction of fuel consumption, a 12 kg reduction of engine weight and much improved tractability.

We never complained about turbo lag in the outgoing 997 Turbo. In fact, considering its high specific output, the VTG twin-turbo did a great job to minimize turbo lag. However, in the new car, the lack of turbo lag is even more impressive. The engine responds almost instantly once you prod the throttle pedal. It feels like a big naturally aspirated V8, just with a more subdued tone and an even stronger bottom-end torque.


| | |
| --- | --- |
| | In 0-100 mph spring, Turbo can knock a full second from Nissan GT-R... |

Supporting this refined manner is the new 7-speed PDK gearbox (6-speed manual remains standard equipment) which comes from the Carrera models. 6 close ratios plus a long overdrive 7th explain why it could achieve a considerable reduction in EU fuel consumption figure without displeasing keen drivers. Most important, the butter-smooth transition from one ratio to another brought by the double-clutch setup is so fast, so delicious. Hardcore drivers might still insist the manual gearbox, but considering the superior acceleration of the PDK car, and its exclusive launch control, there is no objective reason to choose the manual box anymore. Especially now Porsche finally offers shift paddles to the PDK as an option, which is far more intuitive to use than the standard buttons.

An optimized new 997 Turbo equipped with PDK and Sport Chrono pack - which includes overboost and launch control - can sprint from rest to 60 mph in an astonishing 3.2 seconds. That is exactly the same time the mighty McLaren F1 recorded in its famous Autocar run 15 years ago ! Undoubtedly, modern gearbox and electronics give a strong helping hand, but when you look at the 0-100 mph figure, you will see the new Turbo is really a junior supercar. A Nissan GT-R using its clutch-damaging launch control can complete 0-100 mph in no better than 8 seconds. The new 997 Turbo can easily knock a full second from that ! And you know, at that speed, one second translates to a distance of 140 feet ! In terms of straight line performance, the new Porsche flagship is finally elevated into the league of Ferrari 458 Italia and Lamborghini Gallardo LP560-4, comfortably leaving GT-R and Audi R8 V10 behind. Even the new Mercedes SLS AMG can hardly match its straight line acceleration. Yes, at the top end its 194 mph terminal velocity might be slightly lower than most rivals, but how many occasions the driver would see that speed on public roads ?


| | |
| --- | --- |
| | You still use "slow in, fast out" approach to drive through corners, but now you will notice a new found agility and predictability... |

To Porsche, the most important is real world performance. This car laps Nurburgring in 7 min 39 sec, ten full seconds faster than the outgoing car. Part of the reduction is down to its improved handling. While basics are the same, Porsche retuned its suspensions, PASM adaptive damping and the active center differential to smoothen the transition from understeer to oversteer in corners. New PTV (Porsche Torque Vectoring) supplements the rear limited slip differential. It is not a real torque vectoring active differential, but a cleverer version of electronic stability control. When it predicts the car to understeer in maneuver, it applies soft braking to the inside rear wheel, thus driving more power to the outside wheel and therefore counter understeer. The theory is the same as ESP, but modern electronics / sensors / software enables the PTV to work earlier, more effectively and less abruptly than traditional stability control. So good that the drivers can hardly notice its intervention.

Weight optimization is another area worth tackling. As mentioned before, Porsche cut the engine weight by 12 kg, which helps easing its tail-heavy dynamic. Brilliantly, despite of all the enhanced performance, the whole car is now 15 kg lighter than the old car when equipped with manual gearbox. With PDK, it is 25kg lighter than the outgoing 5-speed Tiptronic. Besides weight, how to control the weight is also crucial. The new Turbo employs an electronic-controlled adaptive engine mount from GT3. In cornering, it stiffens the engine mount, reducing engine movement within the bodyshell hence limiting weight transfer.

All these modifications make its handling tidier and friendlier. You still use "slow in, fast out" approach to drive the 911 Turbo through corners, but now you will notice a new found agility in the initial cornering phase thanks to the reduced understeer. Mid-corner, its chassis starts running into oversteer, but the transition is now more progressive, more predictable. The instantaneous throttle response brought by the new engine now assists you to adjust the driving line more easily. In short, the new car is easier to drive in attack mode.

That said, with rear-engined layout, the 911 Turbo will never feel as well balanced or drama-free as a well sorted front-mid-engined machine like Ferrari 599 or Mercedes SLS. Though much improved, its tail still swings this side and that side when it attacks the twisty. However, this is exactly part of its unique character - a character that countless of people adore. In fact, skilled drivers will never find the Turbo difficult to control. Its superior 4-wheel traction provides the security most rivals lack. Its supple ride, spacious cabin and compact size make it a perfect supercar for day-to-day driving. While some are sexier and some are more exciting to drive, no one else has yet to match its all-round completeness.


The above report was last updated on 19 Nov 2009. All Rights Reserved.
911 Turbo S

| | |
| --- | --- |
| | The Turbo is already a very fast car. Still, we don't mind a small increment of performance. |

Whenever you see the launch of Turbo S, you know it signals the end of an era. In January 1998, Porsche produced the farewell version of the last air-cooled 993. It was basically a Turbo tuned to deliver the highest horsepower. In 2005, 996 iteration bowed out on high with another Turbo S. Now, as 997 is cruising to sunset, it also produces a Turbo S.

Cosmetically, the Turbo S is nearly identical to the regular Turbo. The only things distinguish it are its single-nut forged alloy wheels (in eye-catching black) and its badge at the tail. Mechanically, the changes are also subtle. The chassis and suspension tuning are identical to the base car, although it gets all the go-faster equipment as standard, such as PDK gearbox (with gearshift paddles), Sport Chrono pack (with launch control), brake-actuated PTV torque vectoring and adaptive engine mount. You can have these features in the Turbo too, but adding them will practically push its price to the same level as Turbo S.

The biggest difference is, of course, a higher boosted engine. Horsepower increases from 500 to 530, while maximum torque becomes a steady 516 lb-ft without resorting to overboost. To achieve this, Porsche enlarged the compressor wheels of its VTG turbochargers, lifting maximum boost pressure from the previous 0.8 bar (or 1.0 bar overboost) to 1.2 bar. Meanwhile, intercoolers, intake valve timing and engine management mapping have also been revised.

On paper, the Turbo S adds only 2 mph to the top speed and improves 0-60 mph acceleration by only one tenth of a second. However, don't forget the standard Turbo is already a very fast car. Any small increment of performance can only make your wide-opening eyes open even wider. Tell me how many production cars can do 0-60 in merely 3.1 seconds ? especially with that sort of consistency and repeatability ?

On the road, the Turbo S feels much the same as the Turbo for regular driving. There is hardly any loss of tractability at low speed. Once you rev the boxer engine beyond 4500 rpm, it starts feeling stronger. There is greater eagerness for rev. The power band tails out 500 rpm or so later than the Turbo. Meanwhile, the engine produces a louder intake and exhaust note, reminding you the higher tuned engine.

For sure, this car is better than the Turbo if you can afford the 15 percent premium. However, its advantage over that car is probably too subtle. History says we had better to save the money and wait for the next generation 911 Turbo, which will undoubtedly raise the bar again.


The above report was last updated on 14 May 2010. All Rights Reserved.
911 GT2 RS

| | |
| --- | --- |
| | The King of Nurburgring strikes back ! |

Although GT2 has been around since 1995 (when 911 was still air-cooled), it has never received RS treatment. It didn't need to, because GT2 has always been the "super 911", the Nurburgring lap record holder with a best time of 7 minutes 32 seconds. Why bother with the idea of an RS version when the GT2 did the job so well ?

However, when Nissan GT-R and Chevrolet Corvette ZR1 broke its lap record in 2008, Porsche found itself in an embarrassing position. No matter judging from price, pedigree or nationality, the German super sports car had no reasons to fall behind its foreign competitors on its backyard track. Initially it doubted the test method of its rival, then it calmed down, returned to the drawing board and started working on an even faster car based on the GT2 blueprint. To make sure the new car will win convincingly, it applied all tricks it knows and built it without cost concern. The result is GT2 RS, a production limited to 500 cars, each priced at £164,000 or 25 percent dearer than the GT2.

As a result, this RS conversion is more radical than any RS preceding it. Traditionally, we expect an RS to boost 20 horsepower and has its weight trimmed by 20 kilograms or so. Not this one. Its engine pumps out a whooping 90 more horsepower than the GT2. In other words, maximum output is 620 hp, making it the most powerful Porsche road car ever, even eclipsing the 612 hp Carrera GT supercar. Simultaneously, its kerb weight has been reduced by as much as 70 kilograms to a remarkable 1370 kg - that is exactly the same as the naturally aspirated GT3 RS.


| | |
| --- | --- |
| | More powerful than Carrera GT supercar yet no heavier than GT3 RS |

Needless to say, all the weight saving measures found on GT3 RS have been adopted. For example, it ditched the rear seats for a racing roll cage (which also helps chassis rigidity). It employs racing-style polycarbonate side and rear windows and lightweight single-bolt wheels. In the cabin, air-con, audio, sat nav, cup holders and sound insulation have been ditched in favour of lightness (though most buyers will opt for leaving these equipment). Also like GT3 RS, it employs striped-out doors whose grab handles are replaced with simple fabric pulls.

Moreover, the GT2 RS is equipped with carbon-fiber bucket seats and lithium battery as standard – which are optional on GT3 RS – each contributes to 10 kg saving. Besides, its black bonnet and various spoilers are made of carbon-fiber. These explain why the car could match GT3 RS on scale despite of its heavier engine.

Surprisingly, despite of the considerably higher output, the motor is still the old generation 3.6-liter unit based on GT2 rather than the direct-injected 3.8 found on the new 911 Turbo. That is not necessarily bad, as it is a well-proven motor. In the latest version, it features new turbochargers with higher boost (up from 1.4 to 1.6 bar), larger intercoolers and new thermoplastic intake manifolds to produce more power, while stronger connecting rods are used to cope with the increased stress. Other existing technologies remain, such as VarioCam Plus, expansion manifolds and VTG turbos. Maximum torque inches up from 501 to 516 lb-ft, but this does not reflect the real difference. Read the torque curve, you will see a mountain with a large part of its peak chopped flat. It implies the limiting factor is actually the transmission. Most important, the max torque now sustains until 5500 rpm, up a full 1000 rpm. By the time the engine runs out of steam at 6750 rpm, there is still 475 lb-ft of torque on offer. In other words, the new engine is much stronger at high rev.


| | | |
| --- | --- | --- |
| | | Lightweight treatment is evident in cabin |

Purists will be happy to know the RS keeps rear-wheel drive and 6-speed manual gearbox. However, the car is by no means raw, because it still offers PSM stability control, PASM adaptive damping and ceramic brakes as standard.

The specifications of its chassis owes more to the GT3 RS than GT2. They share the same tracks, suspension geometry, tire sizes and chassis reinforcement, but there are detailed differences. For example, the suspension control arms are rigidly connected to chassis via rose-joints rather than rubber bushings as in the case of GT3 RS so that it keeps geometry more precise and feedback more direct. The Michelin Pilot Sport Cup tires have different compound and construction to take on different performance level. Compare with the GT2, progress is even more obvious from its 12 mm wider front track and 5 mm lower ride height, which aids stability, and 10 mm wider front tires, which improves grip and cuts understeer. Aerodynamic is also improved. Thanks to lower ride height, more pronounced air dam and a 10mm taller lip on rear spoiler, the GT2 RS produces more downforce than ever.

Lacking all-wheel drive and PDK gearbox, the GT2 RS will not be the fastest 911 to go from 0 to 60 mph. It takes 3.4 seconds to do so, two-tenths quicker than GT2 but slower than the four-wheel drive Turbo and Turbo S. It does have the highest top speed at 205 mph, though just marginally higher than GT2. However, the most important to Porsche is claiming back the Nurburgring Nordschleife record, now

7 min 18 sec

.


| | |
| --- | --- |
| | Say goodbye to understeer, thanks to new found front-end grip. |



On the Road



At first, the GT2 RS appears to be slightly tamed. Its engine is rather quiet and civilized. There is far less induction noise than the naturally aspirated GT3 RS, so it does not sound as thrilling. And yes, being a turbocharged engine its throttle response is never as sharp as that of the GT3 RS.

These aside, the engine is almost flawless. Powerful ? unquestionably. Laggy ? no way. The variable geometry turbos magically keep such a highly boosted engine smooth and responsive, so good that you can forget how much thrust running at the back and fully trust the chassis. Similarly, the clever suspension tuning makes you feel confidence inspiring. It is firm but supple enough. Actually, it rides no worse than a 911 Carrera fitted with Sport suspensions. This is a car you can use happily every day.

Like a Bugatti, lightning speed is easily achievable with this Porsche, although you do need to make gearshift yourself. On paper, it might look no faster than lesser turbocharged 911s, but in the real world, rolling start acceleration is much stronger, simply on a different league. Attack a fast bend, you will be amazed with its new found cornering limit – there is immense grip from the Michelin Cups and enough downforce to stick the car on the tarmac, even at 1.5 g ! Most important, there is finally sufficient front-end grip to match the rear one, so it does not understeer like the GT2. This make the car feels much sharper and more capable.


| | |
| --- | --- |
| | The fact that it beats everyone else in Nurburgring yet satisfies the role as an everyday transport is already a great achievement. |

Ultimately, the car is not as engaging to drive as GT3 RS, as its tremendous, non-linear torque delivery leaves little mid-corner adjustability to the driver. Some may prefer the naturally aspirated car as a result. Some may dislike the GT2 RS for lacking the exotic factor – looks, noise and breed – comparing with Ferraris and Lamborghinis. However, the fact that the Porsche beats everyone else in Nurburgring yet satisfies the role as an everyday transport is already a great achievement. It proves that when it comes to pure performance and functions, few could match Zuffenhausen.


The above report was last updated on 11 Aug 2010. All Rights Reserved.
Specifications
General remarks
Layout
Chassis
Body
Length / width / height
Wheelbase
Engine
Capacity
Valve gears


Induction


Other engine features
Max power
Max torque


Transmission
Suspension layout


Suspension features
Tires


Kerb weight
Top speed
0-60 mph (sec)
0-100 mph (sec)

911 Turbo 3.6

Rear-engined, 4WD

Steel monocoque
Mainly steel, some aluminum

4450 / 1852 / 1300 mm
2350 mm
Flat-6
3600 cc
DOHC 24 valves, DVVT+VVL
(Variocam Plus)

VTG twin-turbo


-
480 hp / 6000 rpm
457 lbft / 1950-5000 rpm
(501 lbft overboost)

6-speed manual
F: strut
R: multi-link

Adaptive damping
F: 235/35ZR19
R: 305/30ZR19

1585 kg

193 mph (c)
3.8 (c) / 3.6* / 3.4**
8.0* / 8.0**

911 Turbo 3.6 Tiptronic

Rear-engined, 4WD

Steel monocoque
Mainly steel, some aluminum

4450 / 1852 / 1300 mm
2350 mm
Flat-6
3600 cc
DOHC 24 valves, DVVT+VVL
(Variocam Plus)

VTG twin-turbo


-
480 hp / 6000 rpm
457 lbft / 1950-5000 rpm
(501 lbft overboost)

6-speed automatic
F: strut
R: multi-link

Adaptive damping
F: 235/35ZR19
R: 305/30ZR19

1620 kg

193 mph (c)
3.6 (c) / 3.3** / 3.4***
8.3** / 7.8***

911 GT2

Rear-engined, RWD

Steel monocoque
Mainly steel, some aluminum

4450 / 1852 / 1300 mm
2350 mm
Flat-6
3600 cc
DOHC 24 valves, DVVT+VVL
(Variocam Plus)

VTG twin-turbo, expansion induction

-
530 hp / 6500 rpm
501 lbft / 2200-4500 rpm


6-speed manual
F: strut
R: multi-link

Adaptive damping
F: 235/35ZR19
R: 325/30ZR19

1440 kg

204 mph (c)
3.6 (c) / 3.4** / 3.4****
7.4 (c) / 7.7** / 7.3****










General remarks
Layout
Chassis
Body
Length / width / height
Wheelbase
Engine
Capacity
Valve gears


Induction


Other engine features
Max power
Max torque


Transmission
Suspension layout


Suspension features
Tires


Kerb weight
Top speed
0-60 mph (sec)
0-100 mph (sec)

911 Turbo 3.8 PDK

Rear-engined, 4WD

Steel monocoque
Mainly steel, some aluminum

4450 / 1852 / 1300 mm
2350 mm
Flat-6
3800 cc
DOHC 24 valves, DVVT+VVL
(Variocam Plus)

VTG twin-turbo, expansion induction

DI
500 hp / 6000 rpm
479 lbft / 1950-5000 rpm
(overboost 516 lbft)

7-speed twin-clutch
F: strut
R: multi-link

Adaptive damping
F: 235/35ZR19
R: 305/30ZR19

1595 kg

194 mph (c)
3.2 (c) / 2.9***

7.4 (c) / 6.8***


911 Turbo S

Rear-engined, 4WD

Steel monocoque
Mainly steel, some aluminum

4450 / 1852 / 1300 mm
2350 mm
Flat-6
3800 cc
DOHC 24 valves, DVVT+VVL
(Variocam Plus)

VTG twin-turbo, expansion induction

DI
530 hp / 6250-6750 rpm
516 lbft / 2100-4250 rpm


7-speed twin-clutch
F: strut
R: multi-link

Adaptive damping
F: 235/35ZR19
R: 305/30ZR19

1585 kg

196 mph (c)
3.1 (c) / 2.8** / 2.7*** / 2.7****

7.1 (c) / 6.7** / 6.4*** / 6.6****


911 GT2 RS

Rear-engined, RWD

Steel monocoque
Steel, carbon-fiber

4469 / 1852 / 1285 mm
2350 mm
Flat-6
3600 cc
DOHC 24 valves, DVVT+VVL
(Variocam Plus)

VTG twin-turbo, expansion induction

-
620 hp / 6500 rpm
516 lbft / 2250-5500 rpm


6-speed manual
F: strut
R: multi-link

Adaptive damping
F: 245/35ZR19
R: 325/30ZR19

1370 kg

205 mph (c)
3.4 (c) / 3.3***

6.8 (c) / 6.6***










Performance tested by: *Autocar, **R&T, ***C&D, ****MT
Copyright© 1997-2009 by Mark Wan @
AutoZine