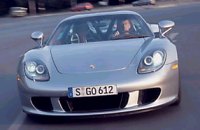 16 years since the birth of the ground-breaking 959, Porsche hasn't produced any supercars. You may argue that the '97 and '98 911 GT1 were supercars, but they were actually road-legal race cars designed to satisfy FIA's homologation requirements, hence never the successors to 959. Being a fan of 959, I was upset. While Ferrari kept rolling out the successors to 288GTO - F40, F50 and then Enzo, Porsche CEO Wendelin Wiedeking ignored the supercar segment completely and even withdrew from sports car racing. Instead, he poured money into the Cayenne SUV. I was puzzled. Yes, Mr. Wiedeking is undoubtedly a great businessman and a saviour to Porsche, but his business mind doesn't understand the core value of Porsche. I am sure Ferry Porsche would not have agreed with him if he were still alive.

Ridiculously, today we can have the Carrera GT not because Mr. Wiederking woke up, but because of the past effort by the now-defunct sports car racing team. In the late 90s, the last year before Porsche withdrew from sports car racing, it developed a contender for Le Mans. This car had carbon-fiber chassis and was powered by a normally aspirated 5.5-litre V10. Unfortunately, the change of Le Mans regulations and the lack of support from Mr. Wiederking finally sent the project to grave. However, Mr. Businessman didn't want to waste the money spent into the project, thus he asked his engineers to develop the Le Mans car into a road car and showed it in the 2000 Paris motor show. No promise for production was made until Jan 2002, when Porsche received more than 1000 advanced orders and by then it was sure to make money. After all, Carrera GT is just another business decision by Mr. Wiederking.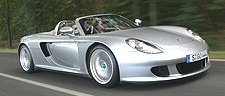 Each Carrera GT is priced at £330,000 - 15% dearer than Pagani Zonda but 25% cheaper than Ferrari Enzo. Considering the Ferrari supercar has a limited production run of 349 cars while Zonda is even rarer, the Carrera GT does not represent very good value for money - Porsche is likely to build 1500 cars in 3 years, which is a massive number for supercars. And funny, it is built in neither Weissach nor Zuffenhausen, but the newer Leipzig plant where the Cayenne SUV is produced !

Fortunately, Carrera GT is not another road-legal race car like 911 GT1. Despite of its racing root, Porsche re-engineered it extensively to suit everyday use. One of the examples is the chassis: the original Le Mans car had its engine bolted directly onto the carbon fiber tub (F50's drivers should know how bad the vibration is). The Carrera GT mounts its engine and rear suspensions via hydraulic mount to a cage-like carbon-fiber subframe in order to isolate noise and vibration from the cockpit. This is the world's first carbon-fiber subframe, lighter than rival's alloy subframe.

Unlike Ferrari and Pagani, Porsche's new supercar employs a V10 engine. It is not only shorter than a V12 (thus benefit weight distribution) but also lighter - 214kg compares with Ferrari Enzo's 225kg. However, the most significant advantage to Carrera GT is that its V10 is mounted very low in the chassis, thanks to a new ceramic clutch (PCCC, or Porsche Carbon Ceramic Clutch). The toughness of ceramic material allows the clutch to be made much smaller in diameter yet can handle tremendous of torque. With a small diameter clutch, the engine crankshaft can be positioned very close to the floor. This lower the center of gravity considerably.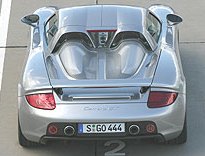 The V10 engine is a development from the racing unit. Main modifications include stroking out from 5.5 to 5.7 litres to improve torque output and extra strengthening to achieve higher reliability. Strangely, the V10 has an incline angle of 68° instead of the supposedly smoothest 72°. Its firing is uneven, alternating between 68 and 76°, but this is hardly perceivable. Porsche chose 68° because a decade ago a research by its racing department found this is the best compromise between breathing efficiency and smoothness.

The 5733cc unit is made of aluminum alloy. Nikasil cylinder liners ensure minimum friction generated between bores and pistons. The pistons themselves are made of aluminum while connecting rods are titanium. This allow the engine to rev freely to 8400rpm. As for breathing, the cylinder heads have conventional 4 valves per cylinder. Intake valve timing is continuously variable, but exhaust timing is fixed and there is no such things like variable intake manifolds or exhaust, unlike Ferrari Enzo's V12.

The combustion chambers run at a super-high 12.0:1 compression ratio. Moreover, their oversquare design, with 98mm bore and 76mm stroke, favours rev and power. At 8,000rpm, the Porsche V10 delivers 612 horsepower (DIN), which translate to an impressive 106.8 hp / litre. In contrast, maximum torque of 435 pound-foot is probably the lowest figure among supercars, partly due to the small capacity, partly due to the oversquare combustion chambers.

Despite of the lightness of the V10, the full carbon-fiber chassis, the ceramic clutch, the aluminum double wishbone suspensions, the ceramic brakes and magnesium wheels, Carrera GT is not at all lightweight. Porsche claims a kerb weight of 1380kg, or 15kg above the more powerful Ferrari Enzo. More unfortunately, when Autocar tested the car earlier this year, it tipped the scale at 1472kg. As a result, the magazine took 3.7 seconds to launch the car from zero to 60mph and 7.4 seconds to 100mph, both are identical to Pagani Zonda thus some way behind Ferrari Enzo (which took 3.3 sec and 6.6 sec respectively according to Road & Track).

As for top speed, Carrera GT is by no means a challenger to McLaren's record. Its downforce-enhanced drag coefficient of 0.396 won't enable it to run much beyond the claimed 205mph top speed - with a tailwind, Porsche's test driver once recorded 208mph. So, this is neither the fastest car on earth nor the strongest accelerating one.

However, it is definitely the best handling supercar currently available. No one will doubt the tuning technique of Porsche's engineers and test drivers (especially Walter Rohrl). Even given a fundamentally flawed design like 911, they could work miracles, let alone the beautifully engineered Carrera GT. This car is very wide, low and has a long wheelbase to enable remarkable stability. Further helped by a compact and low-mounted engine and a transverse gearbox, it achieves low center of gravity and low polar moment of inertia like no others. All technical specifications point to a first class handling. The only question is: does it deliver that on road?

On the Road

From styling point of view the Carrera GT is rather disappointing - it looks too ordinary, lack of an exotic appearance that defined supercars. The lines are too soft and the details are no more aggressive than a 911 GT3. Beside a Pagani it stands no chance of winning car lover's heart.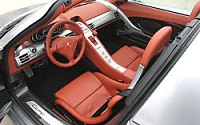 The targa-top cockpit is tight fit but ergonomics is excellent, especially the high-mounted gear knob. The carbon fiber tub is exposed to remind you its price tag but the rest of the cabin is not very classy - although plastics are better quality than 911 and Boxster, the design is unadventurous. Again, it feels plain compare with Pagani Zonda.

Start the engine, engage the clutch and you will probably stall the engine. The ceramic clutch might be strong, but it is difficult to engage smoothly, like an ON-OFF switch, requiring practice and skill. Once you overcome this obstacle and start rolling the car, you will fall in love with the V10. Not only makes exciting noise, the engine is so free revving and so smooth that it feels more like a racing engine, even more so than Lamborghini's V10. The power delivery is linear, without the explosiveness of some rivals thus performance is easily accessible.

Carrera GT employs a conventional 6-speed manual gearbox. You shift gears through the oddball wooden gear knob mounted high on the center console, Civic Type R-style. As the travel from steering wheel to gear knob is greatly shortened, shift becomes quicker and easier. Moreover, the shift mechanism is short and slick thus is a pleasure to use.


As the engine and transmission are obedient, you will love exploiting the potential of the chassis, which is remarkably stable and well balanced. This car is better tied down to ground than Ferrari Enzo - more stable and more neutral. It also contains its power better - in the Ferrari you'll always feel the engine overwhelm the chassis so that the ASR traction control intervene frequently; in the Porsche you feel a right balance between power and handling. It is therefore capable to corner faster than the Ferrari. Walter Rohrl even claims the car can beat Enzo in Nurburgring despite of its poorer power to weight ratio. So far the best he did is 7min 36sec.

The Carrera GT's chassis is not free of flaws however: it hates low speed. The first problem is the steering, which feels numb and slow at low speed, refusing to self center as well. As speed rises, steering feel and response improves gradually and eventually communicates with the driver in a way Ferrari Enzo can never dream of. The second problem is low-speed ride, which is fidgety on B-roads. Clearly, the chassis setup is optimized for higher speed. This characteristic is on the contrary to Pagani Zonda, which feels more lovely in regular driving than on racing tracks.

Undeniably, Porsche Carrera GT is the most driver-oriented supercar currently available. It is not the fastest, but it encourages you to drive it quicker and then reward you with better feel and higher precision. What it lacks is an exotic image - it looks like a big Boxster rather than an edge-cutting supercar; its cabin feels ordinary; to many people its V10 is a psychological disadvantage against its V12 rivals; to performance seekers it can't match Ferrari Enzo; to car collectors it is too mass producing; to the fans of 959 it is not ground-breaking enough. A fine supercar it definitely is, I doubt what status it will get in automotive history books. Time will tell.