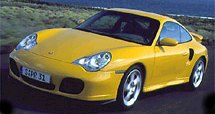 After 365 sleepless nights, the turbo experts in Porsche once again show the proudest smile in their faces. My God ! a full year without a 911 turbo was too much to bear for Weissach. During that period, Ferrari 360 stormed the world and made the R&D guys in Weissach hopelessly embarrassed, may be plus a little bit jealous. Which car used to be the world's fastest production car ? if "production car" is defined as those annual production exceeding 1,000 units, then the answer must be 911 turbo. It's the flagship model for Porsche. The fastest, the most accelerative Porsche that money can always buy. What money cannot buy is 959, 911 GT1 ...

Contrary to many believe, the latest 911 turbo is not exactly the sportiest 911 currently on offer. That title is more likely belongs to the normally aspirated 911 GT3. Hard to believe ? although the turbo is undoubtedly faster in straight line, it carries a massive 190 kg more than the GT3, thus deteriorating cornering performance. Porsche claims the GT3 set a Nurburgring lap record at 7 min 56 sec, but it keeps tight lips about the new turbo, therefore it's not so hard to believe.

Harder to believe is the misunderstanding of most car enthusiasts. Since the first turbo appeared in 1975, 911 turbo was never the ultimate driver's car in the 911 family. It was never gifted the strictest weight control and optimised handling as Club Sport or RS, or even GT2, therefore never provided the best handling experience. Instead, it fulfilled the wishes of majority car lovers for providing supercar performance in an accessible manner unmatched by Lamborghini or Ferrari.

Technical insight

The latest turbo is the first one based on the 996 platform and the sixth generation 911 turbo*. Weighing 1540 kg, it is not renowned for weight control. Compare with the previous generation turbo which appeared in 1994, it is 33 kg heavier. Compare with the normally aspirated Carrera and GT3, it is 220 kg and 190 kg heavier respectively. Tiptronic model could add a few dozens more kilogram.

The extra weight comes from the pumped up engine, intercoolers, extra radiators, 4-wheel-drive system, wider body work (some 65mm wider than little brothers), upgraded clutch, brakes, wheels etc., and of course, a full list of standard equipment that is even more generous than a Carrera.

Uncover the rear engine lid, you'll see a complex engine with a lot of pipes interconnected. The water-cooled flat six is based on the Carrera's unit, but is actually more closely related to the one used by the now-discarded 911GT1. Alternatively, you may say that is also a GT3 engine plus turbo work and minus those expensive titanium connecting rods. Displacing a full 3.6 litres, it levels with the air-cooled 993 turbo. However, the 993 breathed through 2 valves per cylinder, unlike the new turbo which has a pair of modern dohc heads with 4 valves per cylinder.

So you think a lot more power is generated ? not really. Back in 1994, the standard 993 turbo produced a maximum 408 hp. The last 993 turbo, that is, a special edition called "Turbo S" which appeared in late 1997, was able to punch out 443 hp in European form. The latest 911 turbo manages "just" 420 hp. In terms of torque, its peak 413 lbft is not too impressive either, just fractionally more than the '94 turbo's 398 lbft but no where near the Turbo S's 431 lbft. What's wrong with Porsche ? is that (again) the marketing strategy reserve the potential for creating an even sportier version, say, GT2 ? Very likely. Considering the maximum boost pressure is just 0.8 bar, compare with the 993 turbo's 0.94 bar, there is substantial potential for further development. By the way, I've heard about a 450 hp GT2 to be unveiled in October's Frankfurt motor show.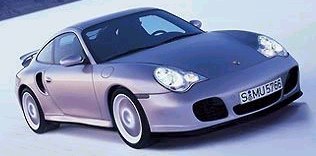 One thing is sure: the new engine is more responsive and more free from turbo lag, thanks to the lower boost pressure which enables compression ratio to be raised from 8.0:1 to 9.4:1. I've never seen so high ratio for a turbocharged engine.
If you are looking for any new technology. It must be the Variocam Plus. The original Variocam is a phase-shifting variable valve timing acting on intake valves. The "Plus" now adds variable lift as well via variable hydraulic tappets. Together with Toyota Celica, it is the first road car featuring phase-shifting VVT and varaible valve lift simultaneously . However, Porsche's VVT is just a discrete system offering 2 sets of different timing, in other words, Variocam Plus is not as clever as Celica's VVTL-i.
The variable lift is also a discrete, 2-stage design. Accompany with the VVT, the Variocam Plus offers 3 different settings across the whole rev range - low speed: slow timing plus high lift to achieve good throttle response; mid rev under low load: fast timing plus low lift to reduce fuel consumption and emission; High rev: fast timing plus high lift to maximise output. It could be seen that the new system was designed to cope with the EU3 emission regulation, to be effective next year, while retaining power.
When a rear-engined car has 420 horsepower on tap, 4-wheel-drive must be mandatory. Therefore, the 911 turbo has Carrera 4's system accompany with PSM stability control. The viscous-coupling center LSD varies torque distribution to front wheels from 5% to 40% according to needs. For more information please read my Carrera 4 report.
How quick is the new turbo ? Porsche is claiming 190 mph top speed and 0-62 mph in 4.2 sec. As usual, the latter is too conservative. I believe 3.8 sec for 0-60 is more likely to the 6-speed manual car. The 5-speed Tiptronic S, which is first seen in a 911 turbo, might take another 0.5 sec because of its automatic-based nature. Official figures said 0-100 takes 10.6 seconds, compare with manual's 9.2 sec. Not a bit slow, but an automatic seems hardly matching a performance car with such status.
The most accelerative car also needs the most powerful brake to stop it. Like Ferrari 360M, the Porsche flagship employs 330mm ventilated discs all round, each of them is cross-drilled and clamped by an aluminium monobloc caliper with 4 pistons. You can hardly find more powerful brakes in any other production cars. However, later this year Porsche will even introduce the famous ceramic disc brakes to the 911 turbo as an option. It is extremely resistant to temperature, thus virtually fade free, and offers life-time durability. The improved pad also improves brake feel.

On the road

It's unmistakably a Nine-eleven. The real question is: is it unmistakably a Nine-eleven turbo ? I'm quite negative about that. Have you seen a 911 turbo with a rear track so narrow ? 65 mm wider than a Carrera couldn't satisfy the turbo traditionalists. You must remember how the 930 turbo looks - its rear wheel arches were so exaggerate that simply looked like an aftermarket add-on ! people liked the signature black paint at the leading edge of the rear arches too, that's a Turbo ! In fact, the new car is no narrower than any previous turbo, just that the wider 996 body makes the rear track looks less exaggerate.
The second problem is the new rear spoiler. Some magazines still calls it "whale tail".... excuse me, have you ever seen a whale ? it's so much smaller than before to the extent that looks more like the "duck tail" which first appeared in the famous RS 2.7 of 1973. The disappearance of whale tail devoid the new car from any image of the old turbo, but functionally speaking it is far superior. Instead of a single big piece, it is now a two piece item with reduced area. The secondary plane raises once the speed exceeds 75 mph and drops down once below 20 mph. That helps achieving high down force at high speed without causing too much drag at low speed. Wing down, Cd is an impressive 0.31, compare with Carrera's 0.30; Wing up, it becomes 0.34, acceptable rather than remarkable.
In many ways, the turbo is less beautiful than the GT3. Firstly, the new organic-shaped headlamps look a little bit odd. Secondly, the 3 huge black holes at the front bumper, which draw cooling air to individual radiators (crucial to the 420hp engine), is oddly shaped such that not integrating very well into the smooth body shell and actually ruin the harmonic beauty of 996. They also deliver a brutal image. In contrast, the simple GT3 looks pure and definitive. Lastly, the side scoops, which feed the intercoolers, at the trailing edge of the doors are also an obstacle to eyes. Here, beauty goes after functions. In fact, Ferrari 360M has all these ventilation holes, but Pininfarina's treatment is far more stylish yet without sacrificing functions.
The cockpit is 90% familiar to those who've seen any 996. There's a bit improvement in material and trimming, but overall remains unchanged - styling is modern rather than classical, sense of occasion is all but exist. Objectively speaking, it works well and has plenty of room, more than the previous 993. As usual, driving position and seats are first class. Head room and visibility are also second to none. Rear seats are forgettable, but remember, no one else in this performance level offer rear seats. After all, rear seats are the only useful luggage space because the front is occupied by the radiators and 4WD's front differential.
In fact, the front end is so overcrowded that the fuel tank has to be reduced from Carrera's 71.5 litres to 64 litres, which limits the thirsty turbo's range between fill up.
Start the water-cooled flat six, surprisingly, it sounds civilised. Instead of the unique roar of Porsche's boxer, there's a refiner, BMW-like noise generated. After the slightest turbo lag, the engine push from 1,800 rpm linearly to 2,600 rpm. From there, the turbocharged engine comes into real colour. The small parallel turbos work eagerly all the way to push the rev up to 6,600 rpm red line. Because power delivery is so much more linear than any previous 911 turbo, there's no scare of explosive power suddenly occurs. At the lower end of the spectrum, it copes well with city traffic. At push, it pumps out the maximum 413 lbft of torque from 2700 to 4600 rpm, then the car is really lightning quick. The best is the effortless style it displays - keeps going at above 170 mph or even 180 mph, in Autobahn of course, is just a regular business without sweat.
Only one car can challenge its status as the most accessible performance car, Ferrari 360 Modena. Undoutedly, the turbocharged Porsche is decisively quick in acceleration, and it feels so. However, 911 turbo feels a little bit floaty at high speed, as witnessed by CAR magazine. Porsche claims the rear spoiler generate 9 kg down force at top speed 190 mph. Ferrari claims the ground effect diffuser at the tail of 360M, plus others, produces 180kg down force at 180 mph. No wonder 911 turbo can be easily upset by the irregularities on road surface (could be significant at high speed) and cross winds.
The power delivery manner is very different for turbo and GT3. The former is dominated by torque thus choice of gear is not all that important. The GT3 is dominated by rev - it can rev up to 7,800 rpm, some 1,050 rpm higher than the turbo, therefore it needs the expensive titanium connecting rods. In terms of power, given enough rev, the GT3 is not too far behind the turbo - 360 hp versus 420 hp, thanks to the con-rod, larger valves and higher state of tune. It's more fun to drive, and more pleasant to the ears.
Handling of the new turbo is equally as competent as performance. The massive 295/30ZR18 rear tyres provides unlimited grip that the fool-prove 4-wheel-drive (with PSM stability control) cannot easily exceed. No matter how hard the car corners, it remains composed, without sudden lost of rear end. The 4WD just send the right amount of torque towards to the front wheels to prevent too much sliding. The clutch is light and progressive. Braking is powerful. Steering is precise and direct, with good feel. If anything could be improved, steering could be a bit lighter, just like 360M, and the chassis could be less biased towards understeer, although there is just a slight amount.
Ride is a bit firm (what else could be expected?) but ride quality is still excellent for such a high performance car.
In short, Porsche has created a highly complete new turbo. It is lightning quick, handles brilliantly yet comfortable and effortless to drive quickly. Ultimately, it's not as exciting to look at or as inspiring to drive as Ferrari 360 Modena or to some extent, the 911 GT3. It's an engineer's car rather than artist's car.
* First generation: Type 930 3.0 turbo (1975); 2nd gen: Type 930 3.3 turbo (1978); 3rd gen: Type 964 3.3 turbo (1991); 4th gen: Type 964 3.6 turbo (1992); 5th gen: Type 993 3.6 turbo (1994). For more info see The Complete Story of 911.