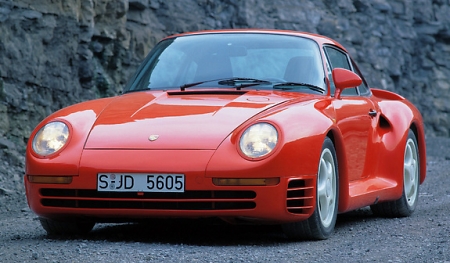 Supercars have to cause sensation for the purpose of existence.
Lamborghini Miura
shocked the world with its beauty and mid-engined V12 layout;
Countach
raised the game further with its space-age shape and claimed 200 mph performance; Then came Ferrari
Boxer
and
Testarossa
. Together with the evergreen Countach they defined the supercars of the 1970s and 1980s, ones that as uncompromising as they were quick. Cramped cabin, poor visibility, hefty controls, extra-wide body and difficult handling seemed to be the inevitable attributes of supercars. Yes, those were the supercars that we dreamed days and nights in our childhood.
Things started getting more rational since the 1984 Ferrari
288GTO
. Built to Group B spec, the limited production Ferrari redefined the term "supercar". It took advantage of aerospace materials like Kevlar and aluminum honeycomb, and lightweight turbocharged engine to enhance real-world performance, agility and feel. We called the GTO a race car for public roads. It started a new supercar era that favoured even higher level of technology, lower volume production and absurd prices.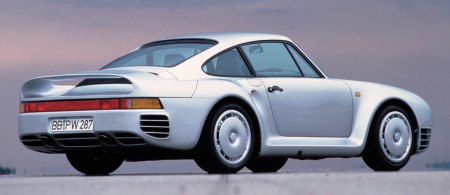 But the GTO was not the definitive supercar of its time. It had to be Porsche 959. While the Ferrari produced 400 horsepower, the "super 911" topped it by another 50 ponies. While the Ferrari was capable of reaching 188 mph, the Porsche lifted the bar to an unprecedented 197 mph. While the GTO accelerated from zero to sixty just under 5 seconds, the 959 finished the same sprint in a mind-blowing 3.6 seconds – yes, more than a full second quicker than any other supercars of the time! It was simply in a league of its own.

However, performance was not the sole reason for its fame. The Porsche 959 was and still is remembered as the most technological advanced car ever built by mankind. The technologies it packed were far broader and more advanced than the cars of its time, such as sequential twin-turbo, a 4WD system with driver adjustable torque split, suspensions with variable damping and ride height adjustment, exotic body materials and advanced aerodynamics. Many of them would be popularized to mass production in the next 20 years. Such a level of superiority was unequalled before and after – not even the mighty McLaren F1 or Bugatti Veyron could be mentioned in the same breath I would say. It was simply a showcase of technology.

Development of the car started in 1981. Originally it was supposed to be a test bed for the next generation technologies slated to future road models, in particular the 4WD system for the next generation 911. Coinciding with the introduction of FISA Group B category, Porsche decided to turn the project into a limited production run of 200 cars so that it could take part in GT racing. The first prototype, called simply "Gruppe B", was shown in the 1983 Frankfurt motor show and excited the crowds, but it took longer time to migrate to running prototypes and pre-production cars, blamed to the difficulties of developing the sophisticated 4WD system as well as Porsche' insistence to perfectize the car before reaching customer hands. Finally, the first production car was delivered to Wolfgang Porsche, the youngest son of Ferry, in April 1987.

In 2 years time, Porsche produced nearly 300 units of customer cars. Each had to pay for DM420,000, USD225,000 or £145,000, i.e. double the price of Lamborghini Countach QV or Ferrari Testarossa! Even so, it was still a bargain because the actual cost was likely to exceed twice its price. Some believed Porsche poured in excess of US$100 million into the project. Admittedly, part of the investment could be recouped in the future 911s.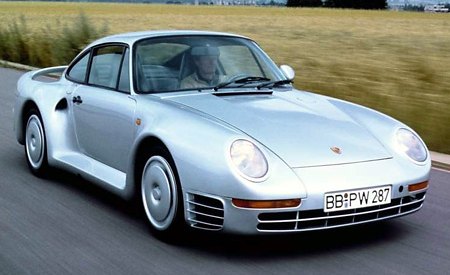 An interesting observation: while Ferrari GTO shared much of its exterior styling and interior with the production 308GTB, Porsche 959 had a similar relationship with the production 911. This is not difficult to understand, as it would be too costly to develop bespoke parts for such a low volume model. The 959 shared not only the windows and much of the interior with contemporary 911 but also much the same steel monocoque chassis and rear-engined layout. This dictated its hard points hence the general shape, explaining why it looked more like a "super 911" than a truly exotic supercar. Never mind, Porsche had never preferred exotic looks. The 911 genes suited its evolutionary styling approach while offering everyday practicality that Italian supercars could never dream of, let it be cabin space, luggage space, seating comfort, ease of entry or outward visibility. Nevertheless, the 959 did look more advanced than its lesser brother. Faster headlamps (which previewed 993) and a smoothly integrated front bumper/air dam with louvered vents (which cooled radiators) delivered a sleeker and more sophisticated appeal. The much widened front and rear fenders were bridged smoothly by extended sills. At the back, a spectacular hoop rear wing, full-width taillights and again a smooth bumper with louvered vents made it look like an aerodynamic champion. Yes, it was shaped largely in wind tunnel. A flat undertray made of Kevlar and glass-fiber contributed further to its slickness. Its drag coefficient was measured to be 0.31, far lower than contemporary supercars (e.g. Countach, GTO and Testarossa were 0.42, 0.38 and 0.36 respectively) and this explained why the car could reach nearly 200 mph. Meanwhile, aerodynamic lift was zero front and rear, so its low drag was not achieved at the expense of high-speed stability. As far as road cars were concerned, Porsche 959 set a new standard for aerodynamics.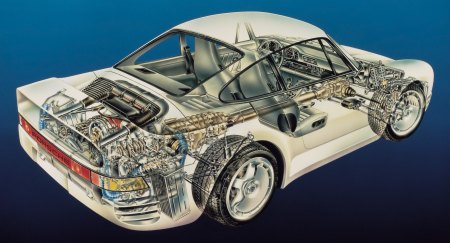 Outside the monocoque chassis, most of the body shell was made of glass-fiber reinforced Kevlar to save weight. The doors and front boot lid were made of aluminum, while the nose/front bumper was constructed with Polyurethane plastic, which was cheap to repair.
The double-wishbone suspension at each corner had two dampers, one with electrically actuated valves to enable 3 levels of stiffness to be chosen, another was connected to the engine-driven hydraulic system to enable variable ride height. The driver could select among 12 cm, 15 cm and 18 cm ground clearance depending on road surface, but computer would automatically lower the ride height to the middle setting at above 50 mph and to the lowest position at above 100 mph to enhance stability and reduce drag. Brake system was as good as available – four-piston aluminum calipers with ventilated discs measuring 322 mm front and 308 mm rear, plus four-channel ABS. The 17-inch alloy wheels were shod with relatively skinny (235/45 front and 255/40 rear) rubbers supplied by either Bridgestone or Dunlop.
Most special was the 4-wheel-drive system called PSK (Porsche-Steuer Kupplung). It was the first ever system that allowed the driver to select different front-to-rear torque split under normal running conditions. This could be 20:80 for hard acceleration (to take advantage of weight transfer hence better traction at the rear wheels), 40:60 for regular driving (to match the weight distribution) or 50:50 for optimum traction on slippery surfaces. It utilized a multi-plate clutch and a slight speed difference between front and rear driveshaft to implement the variable torque split. With this high-tech 4WD, the 959 was able to set standing start records as well as to deliver all-weather handling that preceding supercars could not dream of.


The 2849 c.c. flat-six shared virtually nothing with the 911, because it was derived from the racing unit that powered the 956 and 962 Group C racers. Unlike contemporary 911 engines, its cylinder head was water-cooled (while the block remained air-cooled) because the excessive heat generated by turbocharging demanded enhanced cooling. The basic structure was anything predictable: aluminum alloy heads and block, forged aluminum pistons, titanium connecting rods, oversquared combustion chambers (95 mm x 67 mm), 2 camshafts each bank driving 4 valves per cylinder, dry sump lubrication... its operation was managed by Bosch's latest version of Motronic management system.

As in the 956/962 engines, it got a pair of small KKK turbochargers accompanied with intercoolers. However, they were arranged to operate sequentially for the benefit of responsiveness. Below 4,000 rpm, all exhaust gas was fed to one turbo to spool it up more quickly. Above 4,200 rpm, both turbos worked simultaneously to provide full boost up to 0.9 bar. Peak output was 450 hp at 6500 rpm and max torque was 369 lbft at 5500 rpm. This was transferred to a new 6-speed gearbox Porsche developed together with Borg-Warner.


The various sophisticated technologies reflected on the scale. Although the manufacturer quoted a kerb weight of 1450 kg, road testers found the actual figure was closer to 1630 kg with a full tank of fuel. This meant a lightweight version was necessary. Porsche responded with 959 Sport. In contrast to the regular 959 Comfort, this car cut 100 kg by deleting air-con, power windows, central locking, rear seats, passenger side door mirror and the variable damping and ride height feature of the suspension. The electric leather front seats were also replaced with lighter manually adjusted buckets. Only 8 customers opted for this model, while the rest preferred the fully equipped Comfort. Later on, Porsche built a batch of 29 Sport models for the USA market. They had a roll cage installed in order to pretend to be race cars and exempted from type approval.

Despite of excessive weight, the 959 still amazed with its performance. German magazine Auto Motor und Sport measured 197 mph top speed and 0-60 mph of 3.6 seconds (or more precisely 0-100 km/h in 3.7 sec) on the Sport model. 0-100 mph sprint was found to be equally jaw-dropping 8.3 seconds. These numbers would be well publicized. Car and Driver missed the latter figure by half a second, but it matched AMS on 0-60. As for 959 Comfort, AMS recorded 4 seconds flat to 60 mph, 9.5 seconds to 100 mph and a terminal velocity of 195 mph. It was comfortably faster than Ferrari GTO, if not quite the later F40.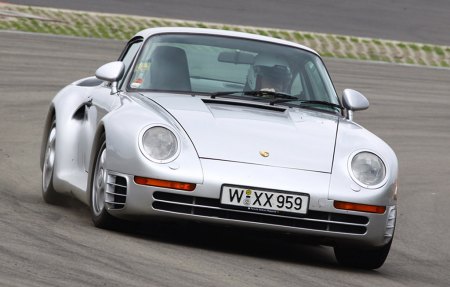 Yes, the F40 could be described as the Porsche beater. It was 28-horsepower stronger yet weighing 300 kg less. It had lower center of gravity, better weight distribution, a more racing-inspired chassis and suspensions as well as massively wider rubbers, so it won every close encounter with the 959 on track testing. The Porsche simply accelerated slower – its standing start advantage was rendered useless on track testing – and stormed through corners slower, blame to inferior grip, poise and downforce. Surprisingly, its flat-six did not feel as strong either. Although the first turbo started operating from as low as 2500 rpm, the boost it provided was rather modest, thus the car felt no more potent than a 911. It would take 4500 rpm for the second turbo to get into full operation, by then the car surged forward suddenly as if afterburner was fired. This meant the 959 had to be driven with care. It demanded your concentration to guard against a rush of power at corner exit, which could push its weighty tail wide. In contrast, the F40's parallel twin-turbo provided mind-blowing acceleration from 3500 rpm, so its power was more accessible in real-world driving situations. Sequential turbo or not, the 959 felt a bit old-school turbo. On the road, its tail heaviness also led to some spectacular pitch and dive over undulations. It is fair to say the 959 was a more capable 911 Turbo in terms of handling.

However, it is undeniable that with the clever 4-wheel-drive system, adjustable suspension and ABS the 959 was the first ever all-weather supercar. When the road got wet or snowy, this car could be driven at a pace that Ferrari drivers would not dare to follow. Moreover, with a practical cabin its everyday usability was just as good as a regular 911. These attributes made its spectacular performance and high-tech contents all the more impressive.