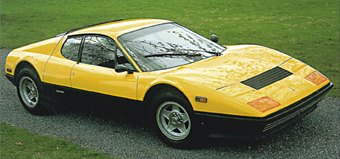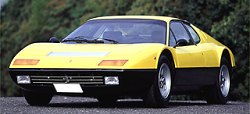 365GT4/BB


Ferrari's first generation mid-engined sports car was Dino 206GT / 246GT. It was an excellent driver's car, but too small and too slow to be called exotic. During the whole 1970s and 1980s, the world went mad about mid-engined supercars. No matter how great the Daytona was, it did not have an exotic image to match with the contemporary Lamborghini Miura. In 1971, Maserati entered the battlefield with Bora, a mid-engined grand tourer. In the same year Lamborghini stunned the world by displaying the prototype Countach in Geneva motor show. Apparently, Ferrari had to do something quickly to defend its sports car empire. The result was Berlinetta Boxer, or short-write "BB".

The BB was born in 1973 in the form of 365GT4/BB, a nomenclature meaning 365cc per cylinder (or 4390cc in total), grand tourismo, 4 camshafts and Berlinetta (coupe) Boxer. Like Daytona, it was designed by Pininfarina's Leonardo Fioravanti. It looked very beautiful and exotic but without the wildness of Lamborghini. This was perfectly suitable for Ferrari and everybody loved it immediately. The car was built in tubular steel monocoque with mostly steel skin and aluminum doors / bonnet / engine lid. Kerb weight was around 1500 kg.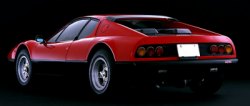 365GT4/BB


The word Boxer refers to its horizontally opposed 12 cylinders engine. In fact, it was not a real boxer engine. Each crankpin was shared with 2 adjacent pistons, so it was actually a 180° V12 ! this design allowed it to share pistons and con-rods with Daytona. It also explained why the engine displaced the same capacity as Daytona's V12.

Automotive engineers prefer boxer engines because of their low center of gravity. Unfortunately, to package the big 12-cylinder boxer into the middle engine compartment, Ferrari decided to put it above the gearbox to save space. As a result, it actually had higher center of gravity than conventional V12 engines. No wonder it was never competed successfully in motor racing. Ferrari's contemporary F1 car 312T also employed flat-12 engine, but it had the gearbox mounted behind the engine.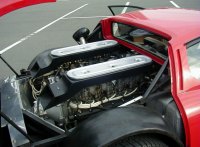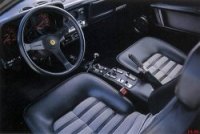 Left: 365GT4/BB engine; Right: 512BB cockpit


The 4.4 engine produced 360 hp (Ferrari originally claimed 380 hp), just sufficient to push the car to level with Daytona's 174 mph top speed. However, Ferrari followed Lamborghini's strategy to overrate its performance, claiming it could top 188 mph. While many people really believed that simply because of its exotic look, in reality the BB was no quicker than Daytona, or even slower in acceleration. This must blame to the relatively weak torque it produced.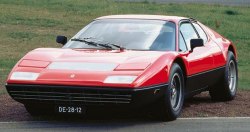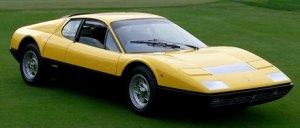 512BB


During the following years, the 4.4 engine was losing horsepower because of emission control. Therefore in 1976 Ferrari enlarged it to a full 5 liters and renamed the car to 512BB – now the new nomenclature means 5 liters, 12 cylinders, Berlinetta Boxer. The ever tightening emission control still robbed it another 20hp, but torque was increased by a welcomed 30 lbft, and the max power occurred at 6800 rpm instead of 7750 rpm. The new engine was more tractable in normal use. It also delivered slightly faster acceleration, although top speed became ever more disappointing. Ferrari still claimed it could top 188 mph, about 20 mph higher than the actual figure. Admittedly, the situation at Lamborghini was even worse – Countach LP400S was capable of around 160 mph, but the company claimed 200 mph !!

Entering the 80s, Ferrari replaced its 6 Webber carburetors with Bosch K-jetronic mechanical fuel injection. Power and performance remained unchanged. The car was renamed to 512BBi. Among the 2300 Berlinetta Boxers built, some 387 units were the early 365, 929 were 512BB and 1007 were 512BBi. Therefore most people refer the car to 512BB.




512BB


So, how did it drive on road ? in many ways the BB was a regress from Daytona. Mid-engined layout not only did not bring it superior handling, but made it tail-heavy and tail-happy. In corners you can feel the mass and the high center of gravity at the back. Therefore driving it requires patience. Once you overstep its limit, it will turn from understeer to oversteer. On the positive side, you will find the power delivery of the boxer engine is smooth and linear. It makes great noise too, at least for the pre-fuel-injection cars. The steering transmits plenty of feel. Not so good are the weak brakes and hard ride. Still, BB is easier to live with than Lamborghini Countach. Its cabin is spacious and easy to get in and out. Visibility is good by supercar standard. Reliability record is also better than Lambo and Maserati. While it was not exactly an all-time great, the Berlinetta Boxer still has a place in automotive history because of its great look and mid-engine layout.