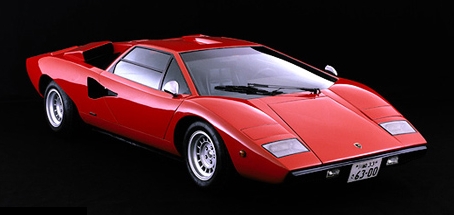 Countach was the "King of Supercars" in the 1970s and '80s.
The Italian word Countach is not easy to be translated straightly into English. It is an expression of wonder, approximately "Wow ! Look at that !". This was exactly how people reacted when they saw the new Lamborghini Countach prototype in 1971 Geneva motor show. Its name tell us all: Lamborghini wanted to build the most spectacular supercar ever made, one would be far more advanced than its time, one would bring even bigger impact than Miura did, one would become the dreamcar of every schoolboy in the following many years…
Having tasted first success with Miura, Bertone's chief designer Marcello Gandini drew an even more imaginative and radical design for the new Lamborghini supercar. Its appearance could be described as space-age. Never before a production car looked as sharp as a wedge, with a monospace body, a windscreen so fast, spectacular-looking "scissors doors" (another brilliant gimmick since "gullwings"), sky-facing side windows, a sharp yet flowing waist line, a purposeful recessed engine lid and a tail that looked as if coming from a spaceship !

LP400 had the purest lines

The bodywork was made of aluminum alloy bonded on a lightweight tubular spaceframe chassis designed by Paolo Stanzani, now succeeded Giampaolo Dallara as chief engineer. Again suspensions were all-round double-wishbones, with ventilated disc brakes as stoppers. Engine was originally planned to be a 5-liter V12 good for 440hp, but overheating and reliability problems halted the development and forced Lamborghini to settle on its proven Bizzarrini-designed 3929cc V12, which was in its 10th year of service but still very competitive. To avoid blocking the already precious rearward vision, the carburetors were reverted to horizontal mounting. This reduced horsepower from the last Miura's 385hp to 375hp at 8000 rpm, assuming you believe its claims. The engine was mounted longitudinally (unlike Miura) but unusually the gearbox and clutch located in front of the engine, i.e. inside the wide transmission tunnel. Power transferred back to the rear wheels by a driveshaft running inside the dry engine sump. This arrangement had two advantages: 1. improved front-rear weight distribution hence handling. 2. Shortened gear linkage thus made gearchange more precise.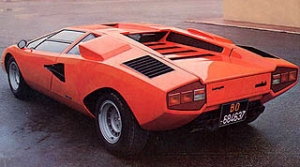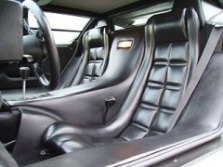 Uncompromising character: cramped cabin and poor visibility
Lamborghini claimed 300km/h (186 mph) top speed for the first Countach LP400. However, like engine power, the top speed was deliberately overrated to overwhelm Ferrari Daytona. Its actual performance was around 170 mph, with 0-60 mph taking 5.6 seconds, very close to but still slower than the front-engined Daytona. Nevertheless, the wild looks of Lamborghini successfully deceived most people, leading them to believe it was the fastest car in the world.
Evolution
LP400S (1979-82)

In 1979, the Countach was upgraded to LP400S. It introduced Pirelli's new P7 low-profile tires, with 345/35VR15 at the rear, it provided tremendous traction and grip yet without hurting ride quality. The wider tires called for massive wheelarch extensions (made of glass-fiber) which also enhanced its looks, trading some purity of LP400 for aggression. Another popular visual enhancement was the optional V-shape rear wing, which improved high speed stability but reduced top speed by at least 10 mph. The engine was unchanged at all, although Lamborghini now rerated it at a more realistic 353 horsepower. Higher drag meant LP400S was the slowest Countach. Fortunately, the contemporary Ferrari 512BB also suffered from performance degradation due to emission control.
LP500S (1982-85)
In 1982, the V12 was enlarged to 4754cc, hence a new designation LP500. Tougher emission standard called for reducing compression ratio from 10.5:1 to 9.2:1. Still, the larger engine produced 375 hp and 302 lbft of torque to restore the performance of LP400, despite of additional weight. Other areas were basically unchanged from the previous car.
QV (or 5000QV) (1985-88)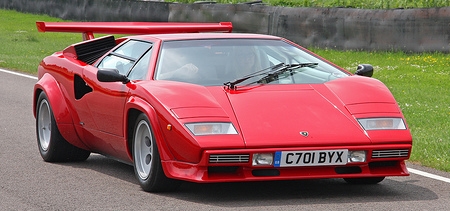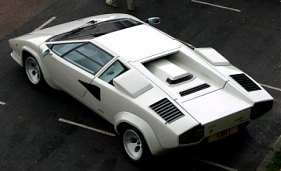 In my opinion, the best Countach was the QV (Quattrovalvole) from 1985-88. It had the V12 upgraded to 5167cc and 4 valves per cylinder. The Weber carburetors were converted to vertically mounted to smoothen breathing. As a result, output surged to a real 455 hp (420 hp for American version which employed fuel injection) and 369 lb-ft of torque. Weight gain was mostly offset by the Kelvar front boot lid and engine lid. New Pirelli P7R tires improved grip again. Road tests found the QV had a top speed exceeding 180 mph and 0-60 mph consistently below 5 seconds. That placed it at the top of contemporary supercars again. If not the Countach had a drag coefficient as high as 0.42, it could have probably reached 200 mph !
Anniversary edition (1988-90)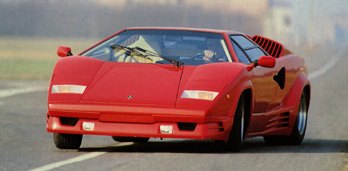 The final Countach was the 25 Anniversary edition, made until 1990. Mechanically it was mostly unchanged from the QV. It sorted a couple of old problems though – engine and brake overheating was sorted by new body panels which had more ventilation holes; the unfriendly cockpit gained electric adjustable seats and power windows, thanks to the guidance of new owner Chrysler. The extra weight was compensated by using carbon-fiber bumpers and skirts. By the way, the Anniversary edition was designed by Horacio Pagani before he established his own sports car company. However, I have strong reservation for his taste here.
* * * *

The Countach was not all about spectacular looks and performance. Its handling was also highly praised by road testers (at least since LP400S) – precise steering, excellent traction and grip, rock-steady body control and superb balance. Compare with most other contemporary supercars, no matter Ferrari Boxer / Testarossa, Aston Martin Vantage or Porsche 911 Turbo, the Countach had better handling. Its rear end was much more tied down, unlike those rivals which could easily oversteer when provoked. Only the Group B lightweight supercars that appeared in the final moment of its life could better than it.
Its friendly handling might be a surprise to many, but this is not to say its controls were friendly too. Far from it. The Countach was notorious for heavy controls, no matter steering, clutch, gearchange or brakes. It was also infamous for a cramped cabin, noisy environment (although the engine noise was marvelous) and poor visibility. It had never intended to be a grand tourer. However, it was this uncompromising character that defined the supercars in the 1970s and 1980s. Today, whenever we talk about supercars of those decades, Countach is always the first to come into mind.