A quarter of a century has passed since the birth of W124-series Mercedes E-class, yet every time we see it on the road it looks incredibly fresh to eyes. For sure, the timeless design by Bruno Sacco plays a major role in its evergreen status, but more important, the W124 was probably the best engineered car ever made. It was developed when Mercedes was still putting engineering – instead of financial – targets in first priority. Lengthy development and extensive testing process made it nearly flawless. It was so durable and reliable that most production cars still exist today. Provided proper maintenance, they can easily look like new cars !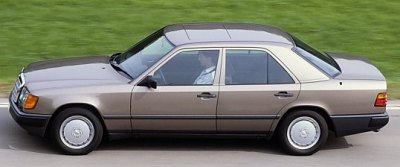 When it was born in 1984, W124 was quite a technical progress from the outgoing W123. The whole car was lighter yet stiffer and roomier. It was thoroughly reshaped according to the laws of aerodynamics so that coefficient of drag was down to 0.29 (for models with narrowest tires). That matched the standard set by Audi 100. Amazingly, Mercedes managed that without compromising a unique style. This style fitted neatly between W201 (190) and W126 (S-class), completing a family trio. Rounded shoulders, subtly curved surfaces around the fenders, clear-cut boot and trapezoidal boot lid delivered a solid and refined impression. The same goes for the interior, a classical example of minimalist design and impeccable build quality.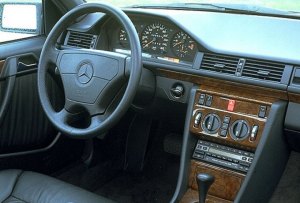 The underpinning of the mid-size Mercedes was very similar to that of the smaller 190. It shared the latter's struts front and sub-frame-mounted multi-link rear suspensions so to deliver fine handling and ride. Stuttgart's traditional recirculating-ball steering might be a little slow and vague, but it contributed to an effortless driving together with 4-speed automatic gearbox. 300E provided a 188hp single-cam 3-liter straight-six, which was creamy smooth and eager to rev. Hydraulic engine mounts enhanced running refinement further. Thanks to the low drag, performance was good, i.e. 140 mph flat out on Autobahn and sub-8 seconds 0-60 mph. The latter was every bit believable as Autocar magazine timed 8.4 sec on a damp track. American version was a little slower due to detuned engine and catalytic converter. If you want refinement, avoid the 4-cylinder 230E.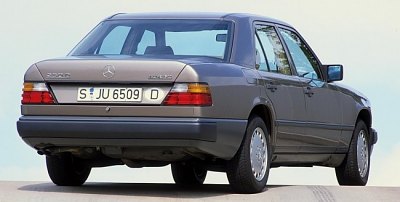 As the car was so well engineered from the outset, it needed few running changes during its long (11 years) life. Estate (TE) and Coupe (CE) models were added in 1985 and 1987 respectively. 1992 came DOHC 4-valve engines and a 4-wheel-drive system dubbed "4matic". Next year, the E-class received a minor facelift and had its models renamed to "Exxx".
Since BMW 5-series E34 arrived in 1988, the E-class was no longer the favourite of the motoring writers. However, it continued to win in sales race as well as the test of time. Today, the owners of W124 must be proud that they made the right choice, for their cars not only outlasted the competition but are also set to attain classic status.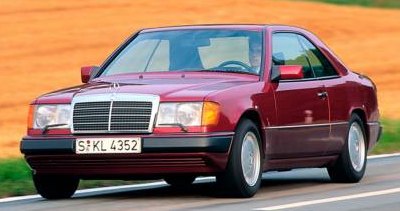 The 300CE / 230CE coupe was introduced in 1987 as a long overdue successor to the outgoing W123 coupe. It shared most mechanicals with the E-class saloon, though its wheelbase was shortened by 85 mm and its roof lowered by 36 mm. Slighty faster windscreen and rear window delivered a sleeker shape. In the tradition of Mercedes coupes, its side windows were frameless and B-pillars were obvious for their absence. This was a true 4-seater, with rear seats roomier than most other coupes, if not the company's flagship
SEC
.
Due to the necessary chassis reinforcement compensating the loss of B-pillars, the coupe was slightly heavier than the saloon. However, road tests found its performance was no worse, and perfectly adequate for its duty. Later 300CE-24 should give better performance from its 231hp 24-valve engine. Nevertheless, the CE was more about high-speed refinement than back-road handling. Its steering was a little slow and suspension a little stiff for that usage. Its strength was again comfort, build quality and style. Demanding drivers had better to turn to
BMW 635CSi
.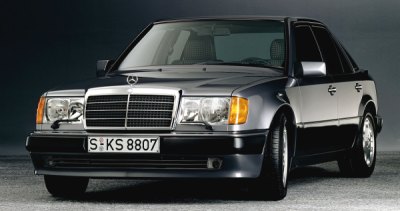 500E was a joint project between Mercedes and Porsche. Envying the success of
BMW M5
, Mercedes wanted to produce a high-performance version of E-class as a spiritual successor to the original 300SEL 6.3. However, its Sindelfingen plant was running full and considered not suitable for low-volume production. Meanwhile, Porsche was desperately seeking external contracts to relieve its own financial problems (which sustained until the launch of Boxster). It ended up Porsche helped Mercedes to develop the super E-class and assembled the car at its Zuffenhausen plant, in the assembly area left by 959. In 1990, the first 500E rolled off the line.
As implied by its name, 500E was powered by the 5-liter 32-valve V8 from
500SL
. Its remarkable output of 326 horsepower was kept, but maximum torque was boosted from 332 to 354 lb-ft thanks to longer intake manifolds and Bosch LH-jetronic injection (which replaced the semi-electronic KE-jetronic). The 4-speed auto gearbox, larger brakes and some suspension bits also came from 500SL. Compared with 300E, the chassis of 500E got wider tracks, lower suspensions, wider tires and stiffer dampers. Mercedes' hydropneumatic rear suspension provided self leveling function.
Despite of the 1700 kg kerb weight, 500E was capable of 0-60 mph in just over 6 seconds. Top speed was regulated to 155 mph. It was as fast as contemporary BMW M5 3.5 (if not the 3.8 that arrived in 1992), but its performance was achieved in a much more effortless manner, thanks to that tremendous bottom-end torque (some 260 lb-ft from just 1,000 rpm !) and self-shifting gearbox. Moreover, Porsche's expertise in chassis tuning improved its steering, damping and braking a lot, narrowing the gap from BMW. Ultimately, M5 was still more agile and more involving to drive, but the 500E had set a high standard for the subsequent AMG E-class models to follow.