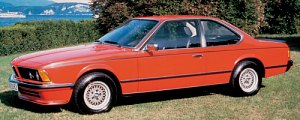 After 3.0CS, BMW brought us another excellent coupe in the latter half of 1970s, the 6-Series. Handsome, luxury and well-built characterized the 6-Series. Although it was not as performance oriented as its predecessor (except the M version), it did enjoy some success in racing circuits, winning European Touring Car Championship in 1981, 83 and 86. On the road, it went competitively against Porsche 928 and Jaguar XJS, both will be featured in our classic car archives too.

The 6-Series started life in 1976 as BMW's flagship coupe. Unlike the CS, it was a larger 2+2 coupe. The rear seats were big enough to carry teenagers or shorter adults, while the boot was huge by coupe standard. The interior was stylish (thanks to driver-oriented console) and high-quality. Excellent ergonomics and visibility made it a good daily car.

Another big difference from the CS was crash worthiness. From the beginning, BMW designed it to pass all foreseeable safety regulations in the United States. A lot of work was done to the monocoque chassis to make it stiff, crumple properly in collision and rollover safely. This inevitably brought a couple of side effects: more weight and thicker pillars. However, BMW's French design chief Paul Bracq did a great job to hide its bulkiness. It looked half sporty and half civilized, very elegant and graceful. The 6-Series was probably the best design during the angular era of BMW.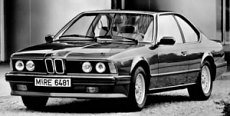 Mechanically, the big coupe shared most of its underpinnings with the contemporary E12 5-series and the bigger engines from 7-series. This meant MacPherson strut and semi-trailing arm suspensions, and a range of inline-6 engines. At launch, the car was available in the form of 630CS and 633CSi. The former was powered by the old carburetor 3.0 engine from 3.0CS, but detuned to 185 horsepower due to stricter emission requirements. So let's forget it and focus on 633CSi, whose fuel-injected 3210cc inline-6 produced 200 horsepower. Although the car was still slower than the outgoing 3.0CSi (due to increased weight), in the era when everybody was hampered by tightening emission and safety regulations, the 633CSi was still satisfyingly quick.

During its 13 years life, the 6-Series deviated into various models:

630CSi

: a fuel injected and detuned (176hp) version of 630CS for export to USA only.

628CSi

: an entry level model for Europe. With less equipment and 184hp 2.8 engine.

635CSi

: enlarging the engine to 3.5 litres created the most popular model of the range, 635CSi. So popular that few people remember the original 630CS and 633CSi today. The 3453 cc inline-6 was derived from the Motorsport unit of 3.0CSL, though with conventional sohc and 2 valves per cylinder. It had unusually large bore (93.4mm) and relatively short-stroke (84mm) to give 635CSi strong potential for racing, which eventually took 3 touring car championships. The road car produced 218 horsepower, enough to propel it from 0 to 60 mph in 7.4 seconds and reach 142 mph.
In 1982, the 6-Series underwent a mid-life makeover. The chassis received new suspensions from the new E28 5-series. 635CSi's engine was replaced by a smaller bore, longer stroke unit with 3430 cc to solve the durability problem started surfacing in its predecessor. Although rated power and torque remained unchanged, magazines found the new motor delivered slower performance.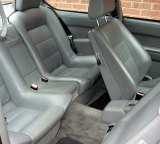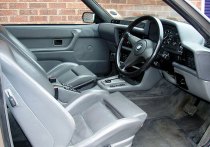 The 635CSi soldiered on until 1989. When it went into history, 86,219 units of 6-Series in various models were produced. That was quite successful for a luxurious coupe. The 6-Series was replaced with 8-Series, which was V12-powered but seriously overweight and overpriced. It failed to repeat the success of the 6-Series.

The 6-Series was renowned for combining the civility of Mercedes and the sporting character of Porsche. It ran fast enough, steered accurately and cornered with little drama. Its ride hit a great balance between sport and comfort. Its engine ran as smooth as a turbine. Its steering was especially worth praising, being feelsome, precise and well-geared. Very few cars at the time could deliver such a great steering, even fewer in today. However, the most impressive was perhaps its overall refinement, high-quality and versatility. Cars in the 70s usually had too much rough edges, BMW 6-series was one of the few exceptions.

M635CSi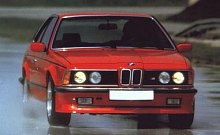 When BMW launched the M1 supercar in 1979, some people were guessing the Motorsport-developed 24-valve 3.5-litre straight-6, codenamed M88, could make appearance in the 6-Series as well. This finally came true in late 1983 with the launch of M635CSi. By doing so, not only the 457 wealthy owners of M1 could enjoy the marvelous engine, but also another 5855 people who purchased the flagship 6-Series (and later joined by the 2180 owners of M5, by the way).

Naturally, the M635CSi was cheaper than the super-expensive M1, but it still cost the money of a 911 Turbo or a Ferrari Mondial. However, you could not find an alternative to the M635CSi. No one else could deliver the same 4-seat accommodation, luxury, quality, reliability and performance simultaneously. In the mid-80s, 156 mph top speed, 6.1 seconds from 0-60 mph and 15.6 sec from 0-100 mph was only available to a few top sports cars in the world. For instance, Lamborghini Countach LP500 was just marginally quicker, let alone a luxurious 4-seater coupe ! This was not possible without the M1 engine.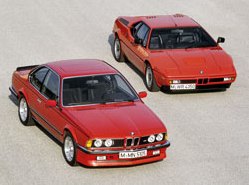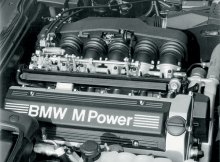 The M88/3 engine had some differences to the M88/1 used by M1. Firstly, it sacrificed the racing-style dry sump lubrication for a more easily serviceable wet sump. This raised the center of gravity, so BMW tilted the engine for 30 degrees as compensation. On the other hand, the M635CSi engine used the latest electronic fuel injection and higher, 10.5:1 compression which were not possible a few years back. This raised its output from the M1's 277 to 286 horsepower, torque from 239 to 251 lbft. (For USA market, the engine delivered 256 hp / 242 lbft after fitting catalyst. The car was named M6 instead)

Compare with regular 635CSi, the M635CSi got stiffer springs and anti-roll bars, 10 mm lower ride height, Bilstein gas-filled dampers, wider rubbers, eye-catching BBS alloy wheels, a close ratio 5-speed gearbox and larger ventilated disc brakes.

When Autocar magazine tested it in 1984, it was impressed by the engine very much - tractable from low rev, spectacular punch at high rev. Coupled to a progressive throttle, the car delivered thrilling performance easily.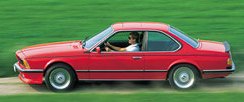 M635CSi had its steering set heavier than the standard car to inspire driver confidence. Besides, good feel, high accuracy and eager turn-in made it an excellent steering. The car displayed good stability in corners, and its retuned semi-trailing arm suspensions had less tendency to tail-out. However, like many of its kind, ovesteering on the wet could be difficult to catch. This mean the driver should respect the car and avoid doing silly things in wrong conditions.

Concerning ride quality, the retuned suspensions resulted in a stiff ride. It was especially joggly on low speed irregularities. The steering was also more sensitive to the change of camber on the road. Overall speaking, M635CSi was no longer impressive for rolling comfort and refinement when compare with, say, Jaguar XJS. It became a more serious sporting machine, although it continued to excel for offering 4-people accommodation, quality and reliability.

Originally not designed to take on so much power, M635CSi might not be the best M car. However, it opened the way for the forthcoming M5 and M3. This is perhaps its greatest achievement.