Until the 1960s, 2-seat roadsters were considered to be lightweight sports cars. When Mercedes-Benz produced the first 300SL roadster in the mid-1950s, it was also designed with the same principle in mind, otherwise the car would not have kept the name SL, which stands for Sport Light. Somehow, the concept changed gradually in the following years. The SL line became a comfort-biased luxury roadster. Although performance and handling could not match the open-top Ferraris and Porsches, it found even bigger sales success thanks to the fact that wealthy motorists prefer high build quality, civilized driving manner and everyday usability more than anything else. As a result, the SL became a symbol of luxury roadsters.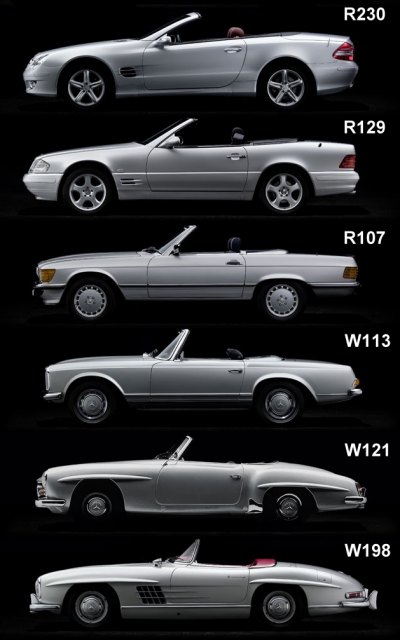 Evolution of SL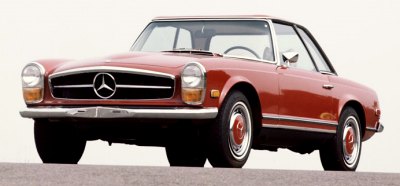 We do not count the earlier 190SL (1955-63) into this classic car archive because its four-banger engine was seriously underpowered, whereas its technology and style were similar to but thoroughly eclipsed by the landmark 300SL. This mean with the presence of 300SL it is meaningless to talk about it.

To me, the "real" SL started from the W113-series 230SL of 1963. This car really pushed style, comfort and refinement to a new era. Bye-bye to the round, 1950s design of 190SL and welcome to an angular theme with clean lines, large windows and a unique concave detachable hardtop. Paul Bracq made this car look more timeless than most other cars born in the same period. Today, we find this car more beautiful than all its successors.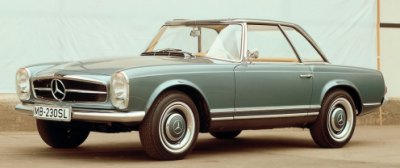 Like all Mercedes of the time, the 230SL was expensive to purchase. In return, it delivered remarkable build quality, solidity and a leather-trimmed cabin. Its compact body offered surprising amount of cabin space, a useful boot and extra luggage space behind the seats. Road manner biased towards the comfort side. As Road & Track reported then, the 230SL displayed pronounced roll in corner as a result of its soft springs, but it had excellent damping and delivered an impression of great chassis rigidity over bumps. Gearshift of the 4-speed manual gearbox was found to be excellent, but most impressive was the steering, which was described to be light, quick, accurate and smooth.

The W113 was developed from the components of Mercedes 220 sedan. These include its all-independent suspensions (double-wishbones up front and low-pivot swing axle at the rear) and powertrain. The smooth and flexible running 2.3-liter SOHC straight-six was bored out from the 220's unit, and further enhanced by a new injection pump and injectors. About half of the gasoline was injected into the combustion chambers directly to cool the pistons, so it was actually a direct-injection engine. Output was raised to 150hp DIN or 170hp SAE gross as a result. The 230SL could top 124 mph and accelerate from 0-60 mph under 10 seconds. It would not challenge Ferraris or Jaguar E-type, but still it managed high-speed cruising very well.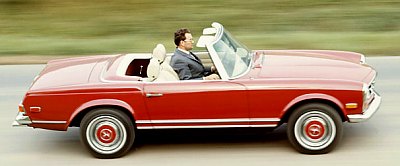 Later on, the engine was enlarged to 2.5-liter and then 2.8-liter, producing 250SL and 280SL respectively. The 2.8 engine generated 20hp more than the original car. However, since the majority of customers chose a 4-speed fluid-coupling automatic gearbox, they did not find significant change to performance. After nearly 50,000 cars built, the series retired in 1971.

Don't know why, I have problems with this SL since the very beginning. When I was still a schoolboy, I loved watching Ferraris, Porsches, Jaguars or simply any beautiful European cars, but this Mercedes luxury roadsters just did not gel with me. In my eyes, its proportion was ill-conceived, possessing neither the simplicity of the old car nor the sexy lines of Italian roadsters, say, Alfa Romeo Spider or Ferrari 308GTS. Even the slightly strange-looking Jaguar XJS was easier to appreciate. Admittedly, when I first watched the R107 SL, it was already more than 10 years old… Still, I don't understand why people keep saying it was a beautiful car or a timeless design. You can make your own judgment.

Anyway, history tells us R107 is the longest running Mercedes of all, having survived for 18 years (from 1971 to 1989). As a result, it was also the best selling SL, having sold 300,000 units. For this reason, it is still the definitive Mercedes SL in many people's mind.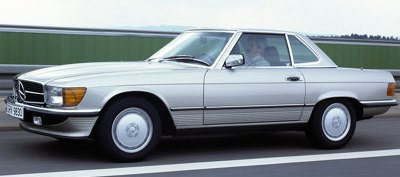 Compare with the old car, R107 had grown larger and a lot heavier. The weight gain was primarily due to improved crash protection (thanks to a stronger chassis and strengthened windscreen pillars), more luxurious trimming and the adoption of V8 engines for the first time. 350SL was powered by the company's new iron-block 3.5-liter SOHC V8 with 200hp on tap. However, blame to the weight and the standard-fitted 4-speed automatic gearbox, its performance was mediocre, topping 126 mph and taking 9.3 seconds to accelerate from zero to sixty. In America, tighter emission regulations drove Mercedes to equipment its US exports with 4.5-liter V8 instead. Even so, it was slower than the European car.

Throughout the years, a variety of engines were available to the SL, producing 280SL (185hp DIN), 300SL (188hp DIN), 350SL (200hp DIN), 380SL (218hp DIN or 155hp SAE), 420SL (218hp DIN), 450SL (225hp DIN or 190hp SAE), 500SL (245hp DIN) and 560SL (227hp SAE). However, only 500SL and 560SL were capable of doing 0-60 in less than 8 seconds. The R107 was never a performance car. It was more about comfort and ease of driving.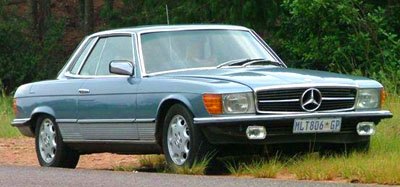 Three body styles were offered: roadster, detachable hardtop and fixed hardtop coupe. They were pictured above in the same sequence. The fixed hardtop coupe was called SLC (e.g. 380SLC). Among the 300,000 units of R107 sold, some 63,000 were the SLC. Suppose to fill the position left by S-class coupe, it had the SL's short wheelbase stretched by a massive 360 mm to accommodate rear seats. Nevertheless, the resultant look was compromised, and the sales result show that it was not a success. It was axed in 1981 when the W126 SEC coupe arrived.

Now looking back, I think the popularity of R107 was not down to any technical or styling achievement, but because the market had few alternatives. In fact, Jaguar XJS convertible was its only direct rival, others like Porsche 911 Cabriolet and Ferrari Mondial cabriolet were clearly more sport-oriented. To those doubting the build quality and reliability of Jaguar, choosing the Mercedes SL was no-brainer.

When the R129-series 500SL was launched in 1989, it caused a lot of sensation to me. Compare to the aging R107, it was virtually a revolution. Its new exterior design was handsome and futuristic. Cd dropped to merely 0.31 with hardtop on. The chassis got even stiffer and safer. It featured the world's first pop-up rollover protection bar, which rose above the occupants within 0.3 second. Its roomier cabin employed a fully automatic soft top and electric adjustable everything with memory. Its chassis rode on all-new suspensions, with modern multi-link setup replacing outdated semi-trailing arms for better control. Electronically adaptive damping and ASR traction control added further sophistication.

The engine range was overhauled. All engines bar the entry-level 300SL got 4-valve and intake variable valve timing technology. As a result, power and performance took a big leap. 300SL-24 had its 3-liter straight-six enhanced to 231 horsepower, giving the heavyweight machine decent performance. However, headline model must be the new 500SL, whose 5-liter V8 now produced a Porsche 911 Turbo-beating 326hp. This let Autocar to time a remarkable 0-60 mph sprint in 5.9 seconds and a top speed of 157 mph, if the 155 mph regulator was not very accurate. For the first time, the Mercedes SL was capable of challenging Porsche for straight line performance.

In corners, the SL was not as good as Porsche. Although it had good chassis balance, communicative steering and strong brakes, its excessive size and near 2 tons of weight prevented it from challenging real sports cars. There is still a line drawn between a luxury grand tourer and a lightweight sports car. However, as Autocar described, being an open-top GT the 500SL was close to flawless. It was the world's greatest convertible.

In 1992, Mercedes 6.0-liter V12 (408hp) joined the range and created the new flagship 600SL. However, due to extra weight the car was no faster than 500SL. Its higher price and running costs means 500SL was still the pick of the range.


In 1993, all models were renamed according to the new corporate nomenclature. In the late 1990s, the 4-valve V6 and V8 were replaced with new generation 3-valve family for cleaner emission. Performance barely suffered. The R129 remained in production until 2001. It was not as long-living as its predecessor, but it was more competitive throughout its life and remained the world's best luxury roadster until its last day.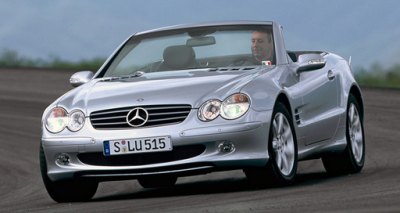 History repeated again when the new R230 SL-class was launched in 2001. It thrilled the world with quantum leaps in style, technology and luxury. On the outside, its body shape was polished to be smoother, sleeker and more stylish, while drag coefficient dropped further to 0.29. Inside, the new interior replaced blandness with curves and added all kinds of creature comfort rich buyers could dream of, including seats with massaging and cooling functions. However, the biggest news must be the SLK-style retractable metal roof, which took a record 16 seconds to open or close. With the roof up, the cabin was impressively refined. Meanwhile, a 20 percent boost to structural rigidity ensured the chassis to feel rock-solid even with the roof opened. You think it must be heavier? On the contrary, the R230 undercut its predecessor by 45 kg, thanks to the use of aluminum skins (bonnet, front fenders, doors, roof and boot lid), magnesium inner door panels and more high-strength steel in its construction.

Similar progress can be seen in its mechanical design. A new 4-link front suspension replaced the old MacPherson struts to improve front-end grip and agility. Faster ratio rack-and-pinion steering replaced the old recirculating-ball to give more precision and directness. A new brake-by-wire system applied different brake pressure to individual wheels to optimize the performance of ESP. New Active Body Control (ABC) automatically firmed up the suspension on individual wheels to limit body roll in corner. Consequently, the R230 achieved sports-car-like handling and S-class-like ride comfort simultaneously.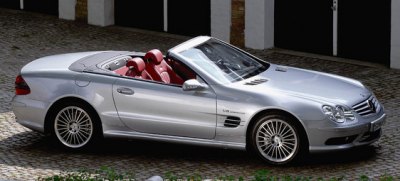 SL55 AMG
Performance was not as good as Porsche though. SL350 was powered by a 245 hp 3.7-liter 3-valve V6. SL500 carried over the 5-liter 3-valve V8 from the old car. While 306 horsepower looked good in isolation, coupling to the 1770 kg roadster its performance was more about adequate than impressive. Never mind, as performance chasers could now opt for the new SL55 AMG. (Note: Mercedes had acquired controlling stakes in AMG and started integrating AMG models into its production range) It employed a mega 5.5-liter V8 with an IHI supercharger, producing 500 hp (476 hp was claimed initially) and an astonishing 516 lbft of torque. This enabled 0-60 mph to be done in only 4.7 seconds, and let Auto Motor und Sport to clock an incredible 202 mph on Nardo test track, although production car was regulated to 155 mph. Suddenly, it became a rival to Ferrari 550 Maranello!

As the standard car's chassis was already stiff enough and its ABC suspension was very versatile, SL55 AMG needed few modifications, such as stronger brakes and a stiffer rear subframe to handle the extra load. It was a popular choice to rich buyers who wanted to taste supercar performance without sacrificing comfort or demanding advanced driving skills.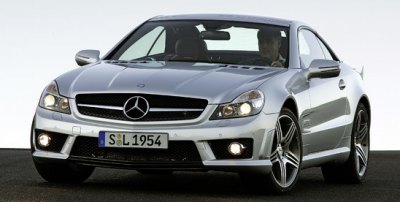 SL63 AMG
In 2004, SL65 AMG was added to the top of the tree. Its twin-turbo 6.0 V12 produced even more power and torque at 612 hp and 738 lbft respectively. American magazines were able to time sub-4 seconds for 0-60 sprint and just over 8 seconds for 0-100 mph. In other words, faster than Ferrari 575 Maranello. However, it price was also set as high as the Ferrari, while its handling, burdened by the heavyweight engine, was nowhere as good as the Ferrari, or to less extent the cheaper SL55 AMG. It would remained a minority choice in the following years.

In 2006, the 3-valve modular V6/V8 family was finally replaced with a new 4-valve family – 272 hp 3.5-liter V6 and 388 hp 5.5-liter V8.

Even more things changed in 2008. First of all, the whole SL range received a massive facelift including new headlamp design and a wide front grille mirroring R129. Secondly, it got variable ratio steering to sharpen response without altering cruising refinement. Thirdly, the 3.5-liter V6 was enhanced to 316 hp. Lastly but not least, the SL55 AMG was replaced with SL63 AMG. Its 525 hp 6.2-liter naturally aspirated V8, codenamed M156, had a very different character, trading the tremendous bottom-end torque with a linear delivery, stronger top end and more delicious noise. It was hardly faster than the old car, but the linear power let the driver to exploit its chassis more easily. Besides, its new 7-speed MCT automatic gearbox, which had conventional torque converter replaced with a multi-plate clutch, enabled faster gearshifts.

SL65 AMG Black series
To ensure the R230 to bow out on a high, AMG introduced the last and its fastest ever model in late 2008. The SL65 AMG Black series was radically different from lesser SL65, as can be seen from its looks. Its carbon-fiber body covered massively wider tracks and incorporated an aggressive aero package. The V12 was boosted to 670 hp by a pair of larger turbochargers. Moreover, 250 kg was slashed by ditching the retractable roof mechanism, replaced with an aluminum roll cage (which also added strength) and a fixed carbon-fiber roof. The cabin got lightweight carbon-fiber bucket seats, but otherwise all luxury features were kept. The Active Body Control was replaced with conventional springs and dampers, but the latter were fully adjustable like race cars. Faster steering, uprated brakes, massive tires and faster gearshift pattern completed the mods. This car would have been capable of topping 220 mph were it not regulated to 199 mph. Its straight line acceleration was equally awesome. Unfortunately, in real-world driving it was hampered by a series of problems: turbo lag, slow gearbox, strong understeer, harsh ride, excessive width…

Perhaps it went a step too far. The R230 SL, like any of its predecessors, worked best as a relaxing luxury roadster. Focus on its roots and it would be very difficult to beat.