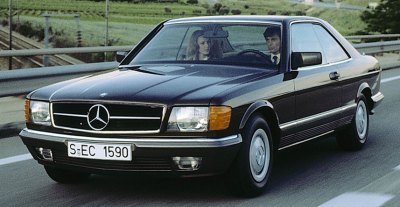 The SEC is the most beautiful Mercedes coupe I have ever seen. Even after 30 years it still catches my heart every time seen on the road. Like all good Mercedes designs, it delivers a strong sense of quality and solidity. Its wide front grille with a prominent three-pointed star logo has real presence. On the other hand, it introduced some Italian flavors by means of subtly flowing waist lines and C-pillars, frameless windows and the lack of B-pillars. It is this blend of Germanic quality and Italian artistry made the design so attractive, and so unique among Mercedes-Benz coupes.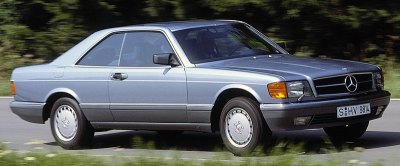 The SEC is the coupe version of W126 S-class, which is probably the best S-class of all time. It inherited the W126's solid build quality, bullet-proof reliability, tasteful and roomy interior. All these factors should make it a future classic. In terms of technology, it was rather conservative. Semi-trailing arms suspension was not exactly state of the art. Ditto the single-cam V8s, which had been detuned for fuel economy under the so-called "new energy concept". The original 380SEC and 500SEC generated only 204hp and 231hp respectively, so they could not keep up with the smaller, lighter and six-cylinder-only BMW 635CSi on the road. Never mind, what 500SEC - if not the entry-level 380SEC - excelled was effortless performance, thanks to its 300 pound-foot of torque and standard-fitted 4-speed automatic transmission.
In 1985, the flexible performance became even stronger with the introduction of 560SEC. Its 300-horsepower V8 enabled a true 155 mph top speed, while acceleration from zero to sixty took no more than 7 seconds. It was probably the most comfortable way to travel across country. Even at 140 mph, you can talk in normal voice or listen to music without disturbing by wind or road noise. The high-speed refinement and stability were hardly matched by other cars at the time, let alone one that offering space for four big guys.
Despite of its high price, 560SEC immediately became the best selling model of the range, outselling 500SEC and 420SEC (which replaced 380SEC) by considerable margin. By the time the SEC retired in 1991, some 74,000 cars had been sold, 40 percent of which were 560SEC. Its successors, the W140 S-class coupe and C215 CL-class, might provided more technology, but they would not do high-speed cruising much better than the SEC. Moreover, neither of them could match the old car for looks. This make the SEC so memorable to us.