Today, sports sedans are common sights on the road. Since the success of BMW M5, all premium car makers must have at least one or two high-performance versions of their production sedans. Half a century ago, the automotive world was very different. High performance was considered to be an exclusive right to sports cars and grand tourers. 4-door sedans could only concentrate on offering comfort and luxury.
Jaguar broke this tradition in 1959 with its MkII sedan, which was capable of 125 mph and 0-60 in 8.5 seconds, very good performance then. However, in the next 2 decades few tried to develop further in this direction. The only exceptions were
Maserati Quattroporte
and two special editions of Mercedes-Benz S-class, 300SEL 6.3 and 450SEL 6.9. As we had already talked about the Maserati, now let us turn to the fast Mercedes.
300SEL 6.3 (1968)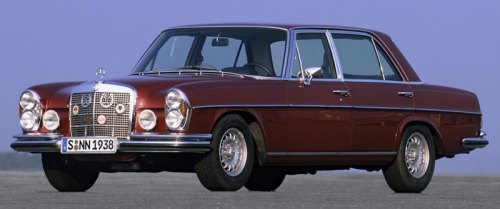 300SEL 6.3 is regarded as the first so-called "Q-car", i.e. wolf in sheep's clothing high-performance sedan. Externally, it is nearly indistinguishable from the regular
W109 S-class
models. Find the right stretch of road, however, it could easily stun the drivers of Porsche 911s with its speed - 0-60 mph in 7 seconds and 135 mph flat out. For comparison, the regular 300SEL topped no more than 120 mph and took 11 seconds to go from 0-60. Equally stunning was its price - twice that of the regular car !
Conversion from the regular W109 300SEL to 6.3 was pretty straightforward: transplanted the M100 6.3-liter V8 from the
600 series
limousine, reinforced the chassis, fitted ventilated disc brakes and wider high-speed tires. It retained the self-leveling air suspensions of 300SEL for the benefit of ride and high-speed stability. The V8 produced 250 horsepower (DIN net) and an astonishing 369 pound-foot of torque, making the Mercedes like American muscle cars. The factory claimed 0-62 mph (100km/h) in merely 6.5 seconds, which was difficult to repeat as its 205/70VR14 rubbers struggled to translate the huge torque into motion.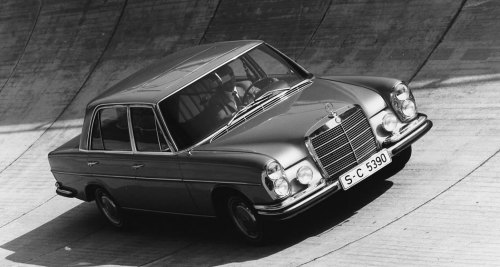 However, the driving experience was very different from American muscle cars. Remember, this car was based on Mercedes' range-topping series production sedan, sharing not only its high standard of build quality, creature comfort but also its dynamic fineness. The Mercedes-built 4-speed automatic made the driving easy, and its fluid coupling (instead of torque converter) delivered fast response. The power steering was quick, communicative yet light. The handling, ride and brakes were far superior than American muscle cars. No wonder Road & Track called it "the greatest sedan in the world". Motor Trend said it was "the safest, fastest and most comfortable 4-door sedan made today". Autocar was equally enthusiastic, praising it for "magnificent performance, excellent automatic transmission. Good handling, ride and comfort. A superb 5-seater Grand Tourer."
Production ran for 5 years from 1968, during which more than 6500 cars were sold. 300SEL 6.3 was therefore an unexpected success. Originally, it was only a pet project of an engineer working in its racing division. Management saw the prototype performed so well and approved for production. In 1971, AMG converted it to race car and got second place in Spa 24 hours, an amazing result considering its heavyweight iron-block V8 must be a nightmare to tame.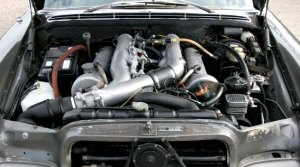 The biggest influence of this car is that it set the formula for subsequent fast Mercedes AMG cars: big and torquey V8, high quality and comfort, automatic transmission for ease of driving and wolf in sheep's clothing exterior.
450SEL 6.9 (1975)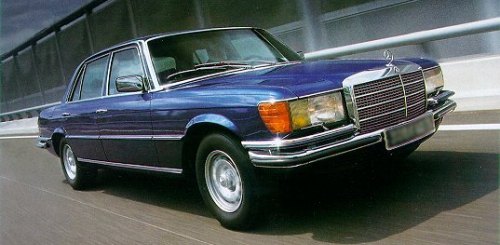 Following the introduction of the new generation
S-class W116 series
, Mercedes also updated its performance model to 450SEL 6.9. As indicated by its name, the M100 V8 engine was bored out to 6.9 liters. In addition to the new Bosch K-jetronic mechanical fuel injection and other detailed modifications, its output was lifted to 286 hp and 405 lb-ft, up 15 and 10 percent respectively. Besides, the V8 was converted to dry-sump lubrication in order to fit under the lower bonnet of W116. This also lowered its center of gravity thus improved its handling.
Like the regular 450SEL, transmission switched to the new Mercedes 3-speed automatic with torque converter. It seemed to be a counter-progress, but with so much torque there was hardly any needs for more gears. Moreover, the new tranny seemed to be smoother and no less responsive than the old 4-speed unit with fluid coupler, so motoring journalists were delighted with it. Compared with the old car, the final drive ratio was lowered from 2.85:1 to 2.65:1, biasing towards top speed and cruising refinement.
Thanks to higher power, revised gearing ratio and a lower drag body, the 6.9 was found to be capable of topping 145 mph by Auto Motor und Sport magazine. This put it at the top of performance sedan chart again. However, the W116-based machine gained nearly 200 kg on its kerb weight due to its larger bodyshell, improved safety, extra comfort features and new suspensions, so it took slightly longer time to accelerate from 0-60. The most commonly quoted figure is 7.4 seconds. Still, the fast Mercedes was faster than other high-performance 4-door sedans in the late 1970s, such as
Aston Martin Lagonda
and
Maserati Quattroporte
.
The previous 300SEL 6.3 was fitted with self-leveling air suspensions. Since the W116 S-class had abandoned this feature for conventional steel springs, 450SEL 6.9 had to employ a dedicated new hydro-pneumatic suspension. It utilized chambers filling with fluid and pressurized gas to provide both springing and damping, and by pumping in or out the fluid it could vary ride height. Its theory was similar to Citroen DS' Hydro-pneumatic suspension, but in Mercedes' tune it was firmed up to provide steady body control in the first place. As a result, 450SEL 6.9 was renowned for good handling that belied its size and weight. This came at a slight price of low-speed ride, which was not as smooth as
Jaguar XJ12
(Daimler Double Six). The Mercedes was also praised for excellent power steering, strong braking and outstanding high-speed stability. The solid and refined manner it traveled Autobahn at 130 mph was unrivaled.
Following the demise of W116, Mercedes stopped producing high-performance sedans for a while. In the 1990s, it switched focus to the mid-size E-class, producing 500E (by Porsche), E50 AMG, E55 AMG... High-performance edition would return to S-class in the new millennium with S55 AMG and S65 AMG. By the time they were no longer as exclusive in the market as 300SEL 6.3 and 450SEL 6.9.