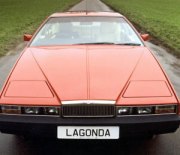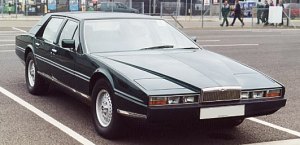 The name Lagonda was originally the name of another car maker. David Brown bought it in 1948 and merged with Aston Martin to form Aston Martin Lagonda - the name we call the company today. Initially, the Lagonda nameplate was either used as the 4-door saloon version of Aston Martin's car or simply put on the shelve. In the mid-70s, a new Lagonda was finally born. It surprised many of us by its extraordinary design, technology and power. At a time when Bentley was regarded as the standard of performance luxurious saloons, Aston Martin's design chief William Towns stunned the world by introducing a wedge-shape, aggressive and futuristic styling to the Lagonda saloon. Its was as striking as the contemporary Lamborghini Countach. Never before we had seen a saloon like this.



The surprise was not limited to exterior styling, but also the cabin. The Lagonda experimented LED digital instrument displays, touch sensitive buttons and memory electric seats. Those were the most sophisticated technologies then, not just by the traditionally conservative standard of Aston Martin, but by the forefront of automotive industry. In later years, it even got three color TV displays in the cabin and a computer verbal warning / message system available in 4 different languages ! The rest of the cabin was more predictable, which means thoroughly trimmed with leather and wood. Due to the combination of low roof and long engine bay, the Lagonda cabin accommodated four people only, and you can't expect as much room as in a conventional luxurious saloon.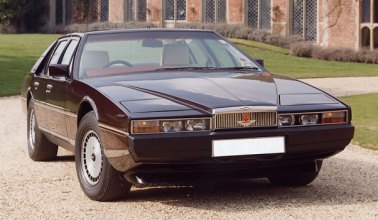 Lagonda was built on the a chassis converted from the V8 grand tourer and employed the same 5.3-litre V8. In most time of its life, the V8 pumped out around 300 horsepower and 320 lbft of torque. Because the car weighed over 2 tons and employed a 3-speed automatic gearbox, it could top only 145 mph and finish 0-60 mph acceleration in 8 seconds or so. That put it behind the contemporary Bentley Turbo R.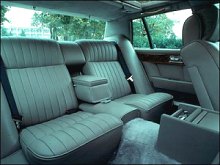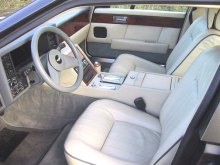 The Lagonda made debut in 1976 motor show, but the first production car was not delivered until 1978. Because of very high price - it was more expensive than the contemporary Bentley - Aston built only 1 Lagonda per week. That took 12 years to finished 645 cars. During those years, Lagonda received various modifications: in 1986, the V8 got fuel injection instead of Weber carburettors to restore the power lost in emission compliance; In 1987, the car received a facelift which smoothened the edges and deleted the pop-up headlamps. Besides, there were some special versions offered, such as a long-wheelbase version with color TV and wine cabinet at the back. Only the richest people could afford the Lagonda. That's why about 30 percent of the production went to the richest oil producing Middle East.