XJ6 Series I


This car was probably the most significant model in the history of Jaguar. For 20 years since its launch, XJ6 had been the core production model of Browns Lane. Even after its demise in 1987, its style and format continued to evolve and live in its successors until today. No other models had greater impact to the fortune of Jaguar.

The XJ6 was born to replace the various Jaguar saloons then, such as Mk II, S-type and 420. It was the last car styled by Sir William Lyons himself. It combined the classical features of previous Jaguar saloons with a sleeker, more modern shape. Lyons described it as his best design of all – and don't forget this man had the beautiful SS, XK120 and Mk II in his C.V. !

Mechanically, the car was derived from the 420G saloon preceding it. Goodies like the 4.2-liter XK6 engine (rated at 245hp gross), double-wishbone front suspensions and independent rear suspensions (with transverse tubular link, longitudinal radius arms and twin-coil springs / dampers) were taken from shelf. However, care was taken to improve its refinement. For example, the engine was mounted on a subframe which was attached to the monocoque body via rubber bushings. The glass was laminated to insulate noise. Even cars of today would be proud to have these features, let alone one from the late 1960s !



XJ6 Series I


Mated to a 3-speed automatic gearbox, the XJ6 provided adequate rather than astonishing performance. According to Autocar's test, it ran from 0-60 mph in 10 seconds and eventually reached 120 mph. The later manual gearbox improved that to 8.8 seconds and 124 mph. Nevertheless, such performance was competitive against German saloons then.

The best part of XJ6 was its ride and handling, for it set new standards for luxury saloons. Autocar praised its roadholding, steering and in particular an uncanny smooth and quiet ride. Its driving comfort and refinement surpassed that of Rolls-Royce or Mercedes 600, which cost multiple price. In the end, the British magazine thought it would be still the best luxury car in the world even if Jaguar were to double its price !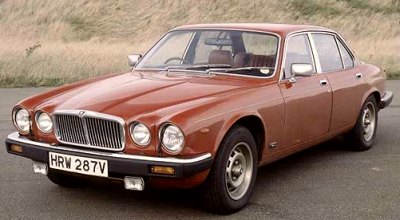 XJ6 Series III
From 1972, customers could obtain even higher refinement and smoothness by choosing the range-topping XJ12 or equivalent Daimler Double Six, which employed the E-type's 5.3-liter V12 engine. Initially rated at 253 horsepower (now DIN net value) and 302 lb-ft of torque, it was capable to complete 0-60 mph in 8 seconds and top over 140 mph. While it cost more, it still represented great value for money. The V12 model would eventually last 5 more years than the six-cylinder model because the new generation XJ (codenamed XJ40) could not accept the V12.

Throughout its long life Jaguar XJ6 underwent facelift twice. The original Series I can be distinguished with a large front grille. Series 2 from 1973 got a shorter grille and a higher bumper to meet US safety regulations. Series 3 from 1979 was probably the most beautiful of them, as it was perfectised by, surprisingly, Pininfarina. The Italian design house smoothened its profile and slimmed up its front and rear end a little. Surprisingly, this car needed only subtle changes to keep it competitive in the market place.

Nevertheless, the XJ6 did not achieve the success it deserved. Like most other British cars at the time, it was troubled by rust and invariable quality, blame to the approach British Leyland – the new state-owned superpower holding Jaguar as well as Rover etc. – took on quality and the lack of morale in its workforce. Otherwise Jaguar could have matched Mercedes in sales chart. Still, 400,000 cars sold in 20 years was a record for Jaguar.