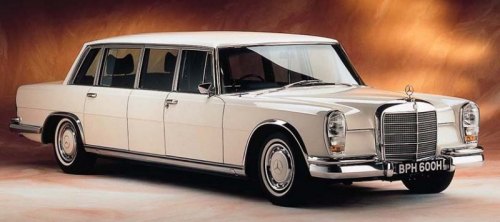 The Mercedes 600 series launched in 1963 was something like today's Maybach. It sat above the S-class as the company's flagship luxury model. Built mostly by hands in traditional way, only 2190 cars were sold to very rich customers. Even more expensive and exclusive was the long-wheelbase model, 600 Pullman. 487 cars were built, many were snapped by emperors, presidents, statesmen, super-riches and Hollywood super stars. Measuring 6.2 meters long and weighing in excess of 2.6 tons, it was the world's largest and most luxurious limousine since Bugatti T41 Royale.

The Pullman was available in three versions: 4-door, 6-door and Landaulet. The latter has a convertible roof above the rear passengers, perfect for the Pope and presidents to attend public showing. Naturally, luxury is focused on the rear seats, so the middle row consists of a pair of small seats, forward-facing in the 6-door version or rearward-facing in others. Between the middle seats there is a wood-trimmed wine cabinet and an independent air conditioning for the rear passengers. If the boss and his lady prefer to have private conversation, they may press a button to raise the partition glass between the driver and the passenger compartment. As the glass is powered by hydraulic, its movement is near silent.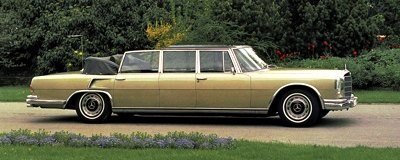 Many more luxury features are powered by the same hydraulic system, such as the rear seat's longitudinal and recline adjustment, the automatic doors and trunk lid closing, the power windows and sunroof. Not just the rear passengers, the driver is also served with power adjustable seat and steering wheel.

The conservative exterior was designed by Paul Bracq and Bruno Sacco. Its front has strong family resemblance with contemporary S-class, which looks elegant in close inspection. Thereafter its body becomes boxy, and its excessive length is simply impossible to be handsome. Underneath the huge steel body shell is a dedicated platform (W100) and V8 engine (M100) designed specially for the car. Suspensions are similar to the S-class, i.e. double-wishbones up front and low-pivot swing axles at the back. However, it gets adjustable air springs at all corners to vary ride height (can be raised by 20mm on rough roads) and level the load at the rear axle. Moreover, its shock absorbers are adjustable for 3 stiffness levels from the dashboard. This guarantees a smooth ride and simultaneously excellent high-speed stability. Power-assisted steering and all-wheel disc brakes make it handier than it appears to be.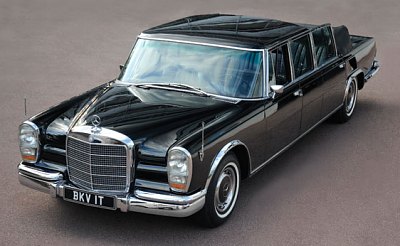 The 6.3-liter SOHC V8 was the largest engine Mercedes ever produced until then. It runs a large, 103mm bore (vs 95mm stroke) and again Bosch mechanical fuel injection. Output was conservatively rated at 250hp (DIN net) or 300hp (SAE gross), accompanied with tremendous torque at any rev. Power goes to the rear wheels through Mercedes' 4-speed automatic gearbox and limited slip differential. This V8 would provide storming performance in the later 300SEL 6.3, but carrying so much weight in the 600 Pullman, the best it could manage is 0-60 mph in just under 10 seconds and 124 mph flat out on Autobahn. Still, it is faster than such a large car has any right to be.

The 600 Pullman remained at the top of Mercedes' model tree until 1981. Thereafter, Mercedes did not have any cars as luxurious and exclusive until the arrival of Maybach in the next millennium.