Chevrolet Corvette

Debut: 2004
Maker: General Motors
Predecessor: Chevrolet Corvette C5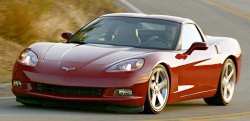 50 years and 5 generations passed, Corvette is still the definitive American sports car, the dream car of every American schoolboy. The emergence of Viper and Ford GT have nothing to do with its legendary status. It remains to be American's only mass production sports car (while Viper and Ford GT are not), keeps selling at a rate of 30,000 units a year, without any sign of decline. This evergreen status is only matched by another car across the Atlantic: Porsche 911.

When the fifth generation Corvette (or C5) ended its life in 2004, it was still very competitive. If you remember, C5 was a clean sheet design and a major advancement over C4. Its advanced chassis was 4.5 times stiffer than the car it replaced and simultaneously being lightweight (just 1465kg) and well balanced (51:49 front to rear). Its LS1 V8 was all-alloy and produced 350 horsepower, remarkable for a push-rod engine. The 405hp Z06 even won the admiration from European car journalists, a thing haven't happened since the days of Sting Ray. So what can C6 improve on it?

C6 - the sixth generation Corvette

Compare with C5, the new C6 Corvette is more evolutionary than revolutionary. Because the fundamental is so right, C6 does not need any major modifications. Improvement concentrates on making it a little smaller and nimbler to handle, a little more powerful and a little easier to live with.



Its styling continues the evolution from the C4 and C5, preserving the same sexy profile. The body shape becomes a little more muscular and aggressive in the attempt to resemble Sting Ray, but the biggest change is at the nose, where the pop-up headlamps are replaced with fixed units.

In order to match Porsche in handling, GM deliberately reduced the size of the C6. Compare with C5, it is 2.5cm narrower and 13cm shorter, though wheelbase grows by 3cm, reducing front and rear overhangs further. The body is still made of glass-fiber-reinforced plastics (like all its predecessors). Its drag coefficient is reduced slightly from 0.29 to 0.28, while aerodynamic lift is also reduced.

The C6 chassis follows the technology used by C5. This is a backbone-type chassis with hydroformed steel rails and a floorboard made of balsa wood and fiberglass sandwich to obtain high rigidity and lightweight. The all-alloy engine is mounted up front, the transaxle 6-speed gearbox is mounted at the rear, with a strong aluminum torque tube linking between them. Front and rear weight distribution remains unchanged at 51:49. Besides, the car successfully kept its kerb weight at 1470kg.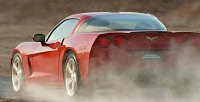 There is no big change in the suspensions either, although none of the components are carried over. The C6 still rides on cast aluminum unequal-length A-arms with leaf springs at each corner. However, suspension travel is increased to improve ride comfort. Besides, bigger wheels, wider tires and bigger brakes are employed.

You can opt for 3 different suspension settings - the standard, the sportier Z51 package and the Magnetic Ride Control (See my Cadillac XLR report for explanation to MRC). The Z51 package is the default choice for demanding drivers. It also includes a close ratio gearbox and stronger brakes.

More powerful LS2 engine



Throughout the years Corvette persisted in using push-rod V8s, even though technology fans like me doubted the future of such engines. Overhead-valve V8s may never match the efficiency of dohc V8s, but they are relatively simple, cheap and lightweight. In the C5, GM successfully made its LS1 V8 so compact and lightweight, while raised its revvabiilty and efficiency significantly.

Back in 1984, the C4's 5.7-litre V8 pumped out only 230 horsepower. 13 years later, the same displacement produced 345 horsepower in the C5. Z06 even raised the horsepower count to 405, all achieved without any increase of displacement. For the same period, Porsche 911 Carrera had its power raised from 231hp to 300hp only, even though it switched from air cool to water cool, 2 valves to 4 valves per cylinder along with an additional 200cc. One can see how far GM's push-rod V8s had progressed.

For C6, GM once again raised the efficiency of it push-rod V8, from 61 to 67 hp / litre, taking the horsepower count to 400. At the same time, its weight is trimmed by 7kg. Combined fuel consumption is improved to 22.6 mpg, remarkable for the performance it delivers.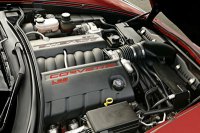 The new LS2 V8 is based on GM's Gen IV small-block family. It is also a development from the previous LS1. Bored out to 6.0 litres, accompany with higher compression ratio (up from 10.1:1 to 10.9:1), enhanced intake and exhaust breathing and revised cam timing and lift, its redline is stretched from 6000rpm to 6500rpm, taking max output to 400 horsepower @ 6000rpm and max torque to 400 lbft @ 4400rpm.

Four hundred horsepower enables the Vette to storm from rest to 60 mph in 4.5 seconds and top 186 mph. It has entered the league of 911 Turbo and Ferrari 360 ! yet this is just the standard Corvette costing around US$50,000 ! in fact, the Vette's direct competitor should be Porsche Boxster S and Chrysler Crossfire SRT-6, both cannot match Corvette in performance.

Easier to live with

The C5's biggest critic was its lack of refinement. Like traditional American muscle cars, its build quality was rather poor, cockpit looked cheap, ride too stiff, controls too truck-like, had too much road noise... in the past, GM saw these glitches as part of its "American character" - who cares? now in the attempt to be a world-class player, C6 starts tackling these problems.

The fiberglass body is now made with better quality. The styling of interior is bit dull but still an improvement over the C5. It employs much better quality plastics, though no match with European products. What it shines is the amount of passenger room. The C5 was already generous in this area, but the C6 adds more headroom by raising the roof and more foot room by pushing the V8 a couple of inches forward (thanks to the lighter engine, this didn't deteriorate weight distribution). Sound insulation is also improved.

The 6-speed Tremec gearbox received a shorter gear lever and its throw travel is reduced to make gearshift quicker and cleaner. The new clutch requires a lot less pedal effort. The aforementioned longer travel suspensions enable smoother ride.

On the Road

Most motor journalists praised the C6's new cabin - frankly speaking, this mainly reflected how poor the old car was. The Vette is a pure sports car. Its driver sits low in the cabin, watching through the steeply raked windscreen towards the long bonnet and the pronounced flanks. This view is exciting. Push the starter button and the mega V8 excites you even more. As rev rise, deep rumble turns into musical vocal. You can't help thinking the America is the promised land for car enthusiasts...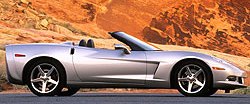 On open and smooth motorway, few cars can beat the Vette. Its large capacity V8 produces tons of torque. You don't need to wind up the engine like Ferrari 360, just a small press on the throttle pedal will translate into instant acceleration, pushing your neck on the headrest. You can't help admiring the Detroit V8...

But not the Tremec 6-speed manual gearbox. Despite of short throw, the gearshift is as stiff and as sticky as before. It is a big let down to the otherwise sensational motorway performance, because the Vette is so powerful, so stable and so grippy. It also rides noticeably smoother and quieter than its predecessor, taking refinement closer to European standard.

On backroads, the Vette is less good. Despite of the reduced length and width, you can still feel its size. There is not lack of front-end grip, but with more mass up front than the rear, the Vette feels no where as agile as the rear-engined 911 (Car and Driver, Road & Track and Automobile magazine tested the C6 against 911 Carrera / Carrera S, all of them came to the same conclusion). Drive it through a series of tight bends, the C6 never display the same precision and sharpness of 911. Push it into corners, it is more difficult to place accurately on the desired line, and easier to slide its tail. It seems that the big motor up front is ruining the dynamic balance. 51:49 might be pretty good for a front-engined Grand Tourer, but a perfect sports car needs to be rear-biased, especially when the driving wheels are at the rear, isn't it?

However, the biggest disappointment is at the steering wheel - though precise and nicely weighted, the steering is totally lifeless, lack of any communication from the front wheels. Blame to the Magnasteer power steering. Like many other electrically assisted power steering systems, Magnasteer eliminates the mechanical feedback from the front wheels and leads to an artificial feel. It may be acceptable to a family hatch, but equipping it in the America's best sports car is simply an unforgivable mistake.

That's why I cannot recommend this car yet. Before GM get its steering and gearbox right, the C6 is not yet a world-class sports car. C6 has kick started the migration to the world standard, but it is just the beginning. I hope it can keep moving in this direction while keeping the best of its American element alive, then maybe one day we can see C7 giving 911 a real fight...
The above report was last updated on 16 Jan 2005. All Rights Reserved.
History of Corvette

Chevrolet Corvette is the longest surviving sports car in the world, even surpassing Porsche 911 by a decade. The first Corvette was born in 1953 as a civilized roadster, powered by a 150hp inline-6 and ran a 2-speed transmission only. Because of the lack of performance, sales were poor and GM once wanted to terminate it. However, in 1955 a reform by Zora Arkus-Duntoz (who became the engineering chief and "Grandfather of Corvette" since then) introduced V8 power to the Corvette and saved it. Sales picked up steadily as more modifications were introduced. In its last years annual sales finally surpassed the 10,000 units mark.

Arkus-Duntoz worked on the second generation Corvette and introduced it in 1963. Nicknamed "Sting Ray", the C2 defined the character of all its successor - powerful, stylish and muscular - and is now considered as the most classical Corvette of all. Its 5.3-litre "small-block" V8 was already powerful, but fans were more fascinated with its "big block" V8 displacing 7 litres and producing up to 430 horsepower (rated as "gross power" then, or about 350hp by today's "net power" expression). C2 established a successful foundation for the forthcoming generations. It recorded 20,000 to 30,000 unit sales every year.

C3 arrived in 1968 and served on until 1982. It established a modern styling that still influence today's Corvette. Growing in size and weight, it continued seeking power from big block V8s until 1975, when oil crisis and smog control killed these monster engines. Returned to small block V8s and hit by emission regulations, horsepower dropped significantly. The Vette no longer shone in performance. However, C3 still recorded an all time sales record of 54,000 units in 1979.

After soldiering on for 14 years, C3 was finally replaced by C4 in 1984. The fourth generation Corvette refined the styling of its predecessor, tamed the muscular lines to deliver a sophisticated image. People loved its new look immediately. However, the C4's 5.7-litre small block V8 produced just 230hp, giving it little advantage over Porsche 944 and new Japanese rivals like 300ZX and Supra, while chassis was always its weakness. Sales declined gradually back to the 20,000 units mark. GM tried to negate this trend by introducing ZR-1 (with a Lotus-designed dohc 32-valve V8) and upgrading the standard V8 to 300hp (LT1) and then 330hp (LT4), but not very successful.

Obviously, at that point Corvette needed a complete redesign. The C5 born in 1997 was a clean sheet design, although its styling evolved from its predecessor. It adopted an advanced chassis construction which was 4.5 times stiffer than C4. The new LS1 5.7-litre V8 was still a push-rod design, but it improved on revvability and efficiency to produce a respectable 345hp. Moreover, it switched to aluminum block to save 40kg from the front axle, in addition to the move of transmission to the rear axle, the chassis balanced so much better than any previous Corvettes. The C5 also underwent a diet to reduce kerb weight. As GM took engineering seriously this time, Corvette finally matched its European rivals in handling while exceeding them in performance and undercutting them in price. Sales rose back to the 30,000 units level.
The above report was last updated on 15 Jan 2005. All Rights Reserved.
Corvette Z06

Lamborghini Gallardo and BMW M6, what do they have in common? the answer is a 500 horsepower, high-tech V10 engine. The 1710 kg M6 takes less than 8 minutes to lap Nurburgring. The 1520 kg Gallardo even did that in 7 min 52 sec. You might think that very fast? look at the American Corvette Z06: its possesses the same 500 horsepower, but weighs just 1427 kg. It recorded 7 min 42.99 sec in Nurburgring, making it the third fastest production car ever recorded there (the first two places are, unsurprisingly, Porsche Carrera GT, at 7 min 32 sec, and 996 GT2, at 7 min 42 sec). Hard to believe.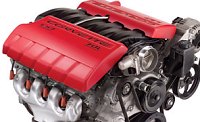 Harder to believe is that kind of power and performance comes from the latest generation of GM's 40-year-old, push-rod V8. Codenamed LS7, it displaces 7011cc or 427 cubic inches and therefore brings back the memory of the muscle car era. However, GM said it is still an extension of its "small block" V8, although its block is enlarged from the standard Corvette's 6.0 LS2 engine. Based on the LS2, it received a larger bore (104.8mm vs 101.6mm) and longer stroke (101.6mm vs 92mm). Despite of the increased stroke, the LS7 is capable of revving up to 7000rpm, actually higher than the 6-litre engine. This must thanks to the use of lightweight moving parts such as titanium connecting rods, pushrods and intake valves. Breathing is also enhanced by larger valves, higher valve lift, higher volume intake and exhaust system. Forged pistons and crankshaft are employed to handle the internal stress of the 11.0:1 compression engine.

The LS7 pumps out 505 horsepower at 6300 rpm and 470 lbft of torque at 4800 rpm, the latter is some 100 lbft more than that of the M6 and Gallardo ! moreover, at least 400 lbft is available from 2400 to 6400 rpm - this is a true Detroit muscle.

The Z06's power-to-weight ratio is on a par with Ford GT and eclipses Ferrari F430. GM claims 0-60 mph can be done in 3.7 seconds, partly thanks to the fact that 1st gear is all it needs to reach that speed. Car And Driver magazine recorded 7.9 sec at 100 mph, the same as the figure it recorded for F430. As for top speed, GM itself recorded 198 mph when it took the Z06 to Volkswagen's Ehra-Lessien test track in Germany. All these facts and figures pointed to a real supercar performance, yet the Z06 costs just US$66,000 at home and £59,000 in UK ! that's the same price as a basic 911 Carrera or less than half the price of Ford GT and F430 !


Part of the reason of its astonishing pace is the C6R racing program - Chevrolet was developing the race car side by side, benefiting the Z06 program. This is also how Porsche improved its road-going 911. The racing engineers knew weight is the enemy of sports cars, so they worked hard to trim weight. They converted the steel chassis frames into aluminum, the engine cradle and roof frames into magnesium, the floorboard and front fenders into carbon fiber. The result is 43 kg reduced from the standard Corvette yet improved chassis torsional rigidity by 15 percent. Besides, to balance the heavier engine, the battery is moved to the trunk. It therefore kept the 51:49 front to rear weight distribution unchanged.

The legs are also enhanced. Stiffer suspensions ride on wider tires (275/35 front and 325/30 rear). Wheels size remain unchanged because they are already capable to house larger brakes - the front consists of 355mm diameter discs and 6-pot calipers, the rear is 340mm and 4-pot. As for the body, there are only minor changes, for example, a deeper lip spoiler, wider wheelarches (the Z06 is 76 mm wider than the standard Corvette) and, most apparently, an extra nose intake to cool the mega V8.



On the Road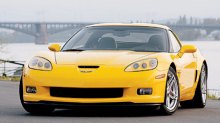 The last generation Z06 was the only American sports car I admired. The new Z06 lifts the game higher. Think about it, for the price of a base 911 Carrera, you can have a car matching any supercars in speed. That's not only in straight line, not only in racing circuits, but also any roads, anywhere. To American, this is like a dream come true.

The mega V8 is wonderful. Like any large capacity American V8, it is ultra-torquey and tractable at low rev. Deep deep rumble sounds very Detroit. Passing 3500 rpm, its roar turns loud and raw, increasingly like a racing car engine. The tremendous acceleration press you on the deep bucket seat. Having passed 60 mph, shift to second and you will notice the shifter is as stiff and heavy as the standard Corvette. Luckily, the mountains of torque means in normal driving you can reduce the number of gearshifts to minimum.

Turn into the first corner, the Z06 displays sharp turn-in, rock steady body control and tremendous grip. The supercar-sized rubbers allowed Car And Driver to record 0.98 g and GM claims 1.04 g is possible. The steering tendency is close to neutral. Step the throttle in corners, it could turn into power slide in a progressive way, so the chassis balance is excellent.

In twisty roads, the Z06 is less good. Despite of its accurate body control and high cornering limit, it gives its drivers less confidence than a European sports car, say, 911 Carrera S or F430, or even the American Ford GT. Part of the reason is the very wide body. Another reason is the numb steering feel, which is an area it needed to improve from the standard Corvette but unfortunately it didn't. The chassis setup may also take a blame - when the Z06 rides over sharp bumps in mid-corners, its steering kickbacks and it sideways a bit rather than absorb the bump and keep the chassis tie down. The same would not happen in a well sorted European sports car.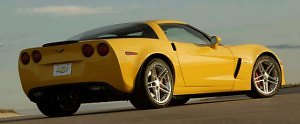 On poor surface, the Z06 rides harsher than a 911 Carrera S but you can still live with it in daily basis. Less happy is the annoying noise from various sources - because it got rid of most sound deadening materials to save weight, there is a lot of tire noise and gear noise leaked into the cabin. Therefore it is not a very good companion for long distance journey. Refinement of the powertrain is unremarkable too. Although you won't expect the big-capacity push-rod V8 to spin as smooth as an European engine, you can hardly forgive the annoying rattle from the gear shifter. The same goes for the low quality cockpit - it is almost unchanged from the standard Corvette. When you pay for 911 price, you may expect higher quality.

You can see the two personalities of Corvette Z06: in terms of performance, it is right in the league of European supercars. In terms of refinement and quality, it remains an American muscle car. It seems that most money was put to the engine and weight reduction. Some people would regard that as unbalanced. Some don't care. The most important is from now on we have an option to enjoy supercar performance at an affordable price. Well done GM.
The above report was last updated on 4 Oct 2005. All Rights Reserved.
Corvette 6.2

The so-called 2008 Corvette went on sale in the third quarter of 2007. It is the first major upgrade of the C6 since its birth 3 years ago. Improvements to the car focus on three areas: engine, steering and gearshift. In the engine compartment, a new 6.2-liter LS3 V8 engine replaces the outgoing 6.0-liter LS2 engine. With a slightly larger bore, capacity increases to 6162 cc. Although compression ratio scales back from 10.9 to 10.7:1, it is compensated with larger valves, higher lift cams, higher flow intake and fuel injectors. The result is 430 horsepower at 5900 rpm, versus the previous 400 hp at 6000 rpm. Max torque increases from 400 lb-ft to 424 lb-ft. Besides, an optional variable back-pressure exhaust (like the one in Z06) can be chosen to release another 6 horsepower and 4 lb-ft.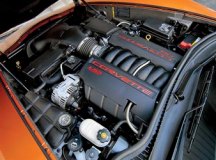 Well, the LS3 answers a question nobody asked. Corvette has never been short of power and performance. In fact, it is not easy to feel the extra power and performance unless you drive it on race tracks. Road testers from Car and Driver and Motor Trend measured 4.0 to 4.1 seconds from 0-60 mph on a test car provided by GM, but as usual we suspect the press car was specially tuned or chosen to deliver better acceleration than your average Corvette. Without improving traction, the improvement to 0-60 should be very limited. Anyway, what you will notice is a raucous exhaust note once the variable exhaust system opened its high-flow valve. The better sound quality is definitely more satisfying.


Instead of engine, a more useful improvement is steering feel. You might remember we criticized the old car for lifeless steering. It prevented the driver from pushing the Vette right to the limit on twisty roads. That's why Corvette always shine in race tracks (where the driver can get familiar with every bend after practice) but outrun by Porsche 911 in real world. In the 2008 model, GM did two modifications to the variable assisted rack and pinion steering. First, the rack is made with tighter tolerance. Rigid roller bearings replace elastic bushings to hold the rack. Second, the electrical assistance is recalibrated such that the assistance builds up linearly rather than abruptly. Now the steering feels lighter and more natural. It still lacks the tactile feel of Porsche, but it is a big improvement from the old car and finally it can be driven hard in the twisties with confidence.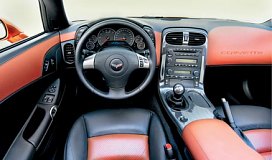 The notorious Tremec 6-speed manual gearbox has also been improved with lighter gearshift. However, the improvement here is not as big as the steering. It still feels very American indeed. Those opt for the paddle-shift 6-speed automatic transmission will find faster gearshift, claimed to lose only 0.1 seconds for 0-60 mph compare with the manual.

We have never been a fan of the Corvette's cheap interior. GM this time offers a premium package including an expensive-looking stitched leather trim. Unfortunately the package is expensive and it did nothing to upgrade the cheap plastics and switchgears. The Vette is still a practical and user-friendly sports car, however. For this price you can't find another sports car offering such high level of performance, handling and everyday practicality. It still has a few rough edges, but without rough edges it won't be a real American sports car. All strengths and flaws are part of its unique character. And you wouldn't like it to become just another European car, would you ?
The above report was last updated on 1 Sep 2007. All Rights Reserved.
Corvette ZR1

| | |
| --- | --- |
| | ZR1 - No other labels could represent a classier status in the history of Corvette... |

Why did GM chose the name "ZR1" for its new flagship Corvette ? There is no official answer. However, scan through the history of Corvette and the dozens of labels it ever used, ZR1 is definitely the best choice. GM used it only once before, in the 1990 Corvette ZR-1 (note that there was a hyphen then). It was by far the most powerful, the most sophisticated and the most expensive Corvette then. While a regular Corvette had a ohv 5.7-liter V8 with 250 horsepower, the ZR-1 was powered by a brand-new, Lotus built 5.7-liter DOHC 32-valve V8 good for 375 horsepower. It also featured electronic adaptive dampers and a ZF 6-speed gearbox. Price was double of the regular Vette. No other labels could represent a classier status in the history of Corvette.

Fast forward to 2008, the new ZR1 costs US$120,000 when decently optioned, compare to US$50,000 of the base Corvette. This time its engine is built domestically in Detroit, but with an additional supercharger it produces 638 horsepower instead of the stock 436 hp. Its claimed performance is equally astonishing – 205 mph top speed and 0-60 mph in 3.4 seconds. Moreover, its bodyshell employs a lot of expensive carbon-fiber to keep weight down and justify its high price, which is even higher than a Porsche 911 Turbo in Europe. Ferrari F430 and Lamborghini Gallardo LP560-4 are also in its sight on the price list. Is GM crazy ?

Yes, I do think it is somewhat crazy. Those who are willing to pay for a 911 Turbo, Ferrari or Lambo must laugh about the build quality of this super Corvette. Its cabin, not much different from the regular Vette, is a joke for a US$40,000 sports car, let alone 3 times that amount of money. Poor plastics and cheap switch gears aside, you won't appreciate its look and its unsupportive seats, the latter simply fail to keep the driver in place during hard cornering ! These faults are hardly forgivable by the target customers of this class – except the most patriotic American car lovers perhaps.


| | |
| --- | --- |
| | Its price is even higher than a Porsche 911 Turbo in Europe. Ferrari F430 and Lamborghini Gallardo LP560-4 are also in its sight on the price list. Is GM crazy ? |

The exterior look is also quite disappointing. ZR1 does not depart a lot from the standard car or Z06, although there are subtle differences such as the extended lip spoiler, rear spoiler and sills, larger side air vents and more aggressive wheels. The only significant visual upgrade is a carbon-fiber bonnet with a pronounced power dome on which a clear Lexan window is opened. However, if you look through the window, you will see a toy-like engine cover (think "Transformer"), which is of course not as desirable as the beautiful Ferrari or Lamborghini engines. In fact, the see-through window actually cheapens the looks.

Predictably, the new LS9 supercharged V8 takes the center stage. It is built on the 6162cc LS3 of the regular Corvette – not base on the 7-liter LS7 of Z06 because its thinner wall thickness would not withstand the higher stress – but upgraded with forged crankshaft, titanium connecting rods, titanium intake valves and sodium-filled hollow exhaust valves like the high-revving LS7. In addition, it has forged aluminum pistons instead of cast ones. The compression ratio and cam timing are less aggressive than the Z06 engine because of the presence of supercharger, which sits inside the V-valley and toppled by a compact air-to-liquid twin-intercooler. The whole package is more compact than expected.

The roots-type supercharger comes from Eaton – who else makes better superchargers than it ? Unlike conventional superchargers, its rotors have 4 lobes instead of 3 to improve supercharging efficiency. Tighter tolerance also ensures less air leakage. At 0.72 bar full boost, this supercharger consumes 80 horsepower from the engine, compare with 120 horsepower of conventional 3-lobe superchargers. Overall, the LS9 V8 generates 638 horsepower at 6500 rpm and 604 lb-ft of torque at 3800 rpm, which put the ZR1 among the most powerful cars in the world regardless of price. Its 6600 rpm redline sounds modest compare with those 8000-plus rpm Ferraris and Lamborghinis, but with at least 544 lb-ft of torque from 2600 to 6000 rpm, who needs so high rev ?




| | |
| --- | --- |
| | ...you will see a toy-like engine cover (think "Transformer")... |

Inevitably, the supercharged engine puts more weight to the nose. Chevy partly compensated that with a carbon-fiber bonnet and front fenders. Still, weight distribution worsens from 50:50 in the Z06 to 52:48. Talking about weight, the ZR1 did pretty well to limit its kerb weight to 1520 kg, some 90 kg more than Z06 but lighter than most supercars with similar power. For example, the 620 hp Ferrari 599GTB weighs some 1690 kg, the 640hp Lamborghini Murcielago LP640 weighs 1755 kg and the 670hp Mercedes SL65 Black weighs 1795 kg. Apart from the aforementioned bonnet and fenders, carbon-fiber is also used for its roof panel, rollover bar (B-pillar), lip spoiler and side sills. Besides, it employs lightweight Brembo carbon-ceramic brakes as standard. The front brakes employ 6-piston calipers and 394 mm discs; The rear employ 4-pot calipers and 380 mm discs. Believe or not, they come from Ferrari FXX and Enzo respectively !

The chassis of ZR1 is fundamentally the same as the Z06. Its suspension employs softer springs and dampers but thicker anti-roll bars. Magnetic Selective Ride Control has been added as standard. The steering is improved by quicker ratio (reduced from 2.78 to 2.54) and a mechanical variable ratio rack. Tires are upgraded to Michelin PS2 (as in many European supercars) measuring 285/30ZR19 up front and 335/25ZR20 at the rear. The gearbox is a strengthened version of the existing Tremec 6-speed manual, whose gear ratios have been revised to give top speed at 6th.

Having gone through all technical details, now the biggest question in your mind must be: can ZR1 match or exceed European supercars on the road ?


| | |
| --- | --- |
| | A smooth launch is very difficult to achieve because the rear end is so light... |



On the Road



The ZR1 looks every bit a traditional American muscle car in acceleration test. It produces a lot of wheelspin scream and smoke before gaining traction. A smooth launch is very difficult to achieve because the rear end is so light (48% of 1520 kg), the engine produces tremendous torque from low rpm and the lack of any electronic launch control, unlike its rivals. Even as grippy as the 335/20ZR20 Michelin Pilot Sport 2, they fail to contain the strong torque in the first 2 gears. This is why American magazines took a lot of attempts before matching the official claim of 3.4 seconds for 0-60 mph, and this already excluded the time taken for rolling off the first foot.

Up to 100 mph, the ZR1 is still slower than Ferrari 599GTB. However, this has more to do with its slower (manual) gearchange compare with Ferrari's Superfast F1 gearbox. The shift quality is better than any Tremec 6-speeders ought to be, but you still won't call it slick. We can't help feeling sorry that it does not offer a more advanced double-clutch or automated manual box like its rivals, because that would have quicken its gearshift and enhance the acceleration experience a lot.

That said, the raw power of this super Corvette is never in doubt. Once overcome the initial wheelspin, it could easily beat Nissan GT-R, Porsche 911 Turbo and even GT2 in straight line up to any speed. Its engine noise combines traditional American V8 bass with a high-pitch supercharger whine. Once the exhaust bypass valves open at 3000 rpm, the noise gets intense and there comes another shove of power. In short, it delivers aural thrills accompany with speed.


| | |
| --- | --- |
| | The beauty of those Michelin is that they lose grip progressively at the limit, thus its handling is far more reassuring than Z06... |

On racing track, the chassis feels much better sorted than the Z06. The magnetic adaptive damping smoothes out the surface harshness that troubled Z06, making it a surprisingly livable car. Its steering delivers higher accuracy, less kickback and slightly more feel than other Corvettes, although you won't confuse it with the helms of Porsche or Ferrari. The Michelin rubbers are stickier than the Goodyear employed by Z06. However, ZR1 has enough torque to break its traction. This, coupling to the fact that the car is not as well balanced as Ferrari 599 or Nissan GT-R, requires more driving skill and self control to keep it tidy in the twisty. Nevertheless, the beauty of those Michelin is that they lose grip progressively at the limit, thus its handling is far more predictable than Z06. It also allows the driver to play throttle steer pretty easily in fast bends. In addition to the great stopping power of ceramic brakes, no wonder Jan Magnussen could set a new Nurburgring lap record at 7:22.4, some 10 seconds faster than Porsche 911 GT2 !

However, victories in Nurburgring are not necessarily translatable to real world, especially in the hands of a non-professional driver. On an unfamiliar mountain road, where the surface is full of unpredictable irregularities and the corners get tight, you need a better balanced and grippier chassis than raw power. In this way, Nissan GT-R, Porsche 911 or Ferrari 599 GTB will be better companions than the Vette.

Thanks to its long gearing and calm suspensions, the ZR1 is a decent cruiser on highway. Nevertheless, up the pace to Autobahn speed will reveal its lack of aerodynamic consideration – the car gets unstable and the wind noise annoyingly loud. Of course, you will aware the creaks and rattles of its composite body panels and plastic interior bits. This car lacks the solidity and precision feel of its European and Japanese counterparts.

Overall, the flagship Corvette still impresses us for its speed and reasonably well-tamed manner. It is not as versatile as a GT-R or 911 Turbo, but that's not important, as there are always some car enthusiasts want something special. In my opinion, the biggest obstacle to its success is its mass production appeal, poor quality and high price. I am hard to imagine those who could afford a 911 Turbo or even a small Lamborghini would prefer this one. GM plans to produce 1800 units a year from now to 2012. It's not easy to achieve even without considering the recent economy crisis.
The above report was last updated on 27 Nov 2008. All Rights Reserved.