Being the America's only homegrown high performance sports car (until the arrival of Dodge Viper), Chevrolet Corvette has been the dream car of every American boy. Its icon status in the States surpasses that of the Porsche 911 in Europe. Through the years, it used strong performance and American-style radical design to defend against the European and Japanese invasion. American lost its leading status in luxury cars and family cars long ago, but Corvette keeps the last pride of American auto industry. Even today it is still highly admired by car enthusiasts all over the world.

C1 (1953-62)
The original Corvette in 1953
In the early 1950s General Motors was already the largest company in the world. Its wide range of products covered all segments in the US market, except one: sports car. Seeing the success of Jaguar XK120 in the USA, GM decided to develop its own sports car. That became the first generation Corvette.

Following the formula of Jaguar, the first Corvette was a front-engined 2-seat roadster powered by a straight-6 engine. However, to reduce cost, most mechanicals came from the mass production Chevrolet sedans, such as the non-independent rear suspension, the steering, engine and transmission. They were housed in a glass-fiber body as GM thought steel stamping toolings would be too expensive for a low volume sports car.

Predictably, the mass production mechanicals mean the first Corvette was hardly sporty in the way it ran and cornered. GM called its 150hp 3.9-liter ohv straight-6 engine as "Blue Flame", but it was no fireball actually. 0-60 mph took 11 seconds and top speed was merely 107 mph. For comparison, Jaguar XK120 took 9.9 seconds and reached 120 mph. Part of the blame must go to the transmission. Astonishingly, GM did not offer a manual gearbox for its first ever sports car. Only a 2-speed automatic transmission was available.

The combination of poor dynamics, poor build quality and plain styling resulted in the lack of sales success. In the first 3 years, only 4,640 Corvettes were sold. GM once wanted to terminate the car, but the great success of Ford Thunderbird changed its mind. The market demand was there, now what GM needed was to improve its styling, build quality and performance.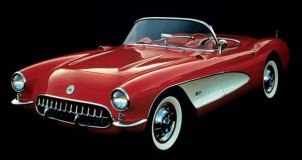 The successful 1956 facelift
The fate of Corvette started changing in 1955, when engineer Zora Arkus-Duntov (a Soviet Union immigrant) installed GM's new small-block V8 into the Vette. The 265 cubic inch (4.3 liters) engine raised output to 195 hp. Brilliantly, it was also lighter than the straight-6, along with a lower center of gravity to improve handling a little. Another improvement was a 3-speed manual gearbox. Next year even came a 4-speeder as option.

The V8 converted Corvette into a performance car. In the following years, under the leadership of Duntov - he would later be known as "The Father of Corvette" - the Corvette got more and more powerful V8s and introduced various optional V8s with sportier carburetters, camshafts, compression etc. Customers could choose from various states of tune according to their desire and budget. For example, in model year 1957 a total of five 283cu (4.6 liters) was available: 220hp, 245hp, 250hp, 270hp and 283hp. The 283hp engine was especially a milestone as it used mechanical fuel injection and 10.5:1 compression to achieve one horsepower per cubic inch of displacement, the first time in a production American car.

Equally influential to the fate of Corvette was the facelift in 1956, which became more elegant and better built. The combination of new look and V8 engines raised sales gradually in the following years. Annual sales exceeded 10,000 units in 1960 and peaked at 14,531 units in 1962, the last year of C1. It laid a solid foundation for the second generation.

C2 (1963-67)
1966 Corvette 427 Convertible
To most fans of Corvette, the second generation Corvette, nicknamed "Sting Ray", was the most desirable among all generations. Not only it was short-lived (only 5 years), but it took styling and performance to new height. Its adventurous and provoking appearance was penned by America-born Japanese Larry Shinoda under the direction of Bill Mitchell. Beautiful might not be the right word to describe it, but it introduced a radical and uncompromising character that best suited to the American sports car. Design highlights include roll-up headlamps, strong flanks, cosmetic bonnet vents and split rear windows. The latter blocked rearward view so badly that it didn't survive into the second model year.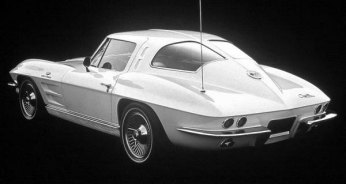 Split rear window was a trademark of 1966 Vette. Ditched next year.
The C2 was wholly engineered under Zora Arkus-Duntov. In order to match European sports cars for handling, he shortened the wheelbase, designed a stronger ladder frame chassis and an independent rear suspension for the new Corvette. Brilliantly, the rear suspension employed a single leaf spring mounted transversely across both wheels. This was a good compromise among function, weight and costs. As a result, the Sting Ray handled much better than the old car. British magazines Motor and Autocar praised it for good handling and superb performance, although they were not impressed by its refinement and wet road handling.

The C2 was powered by the same 327cu (5.4 liters) small block V8 from the last C1. At the beginning, there were four states of tune for choose: 250hp, 300hp, 340hp and 360hp, the latter ran a very high 11.25:1 compression and mechanical fuel injection. Of course, all these figures were gross power (measured without any engine accessories) as American car manufacturers would not switch to use net power rating until 1972. The net value of the 360hp engine was approximately 270hp, comparable to the contemporary Jaguar E-type 3.8, but it offered more torque. Motor magazine found it could accelerate from 0-60 mph in 6.2 seconds, quicker than the Jaguar. Admittedly, Corvettes were usually installed with high final drive ratio to favour acceleration over top speed.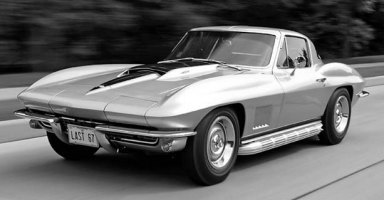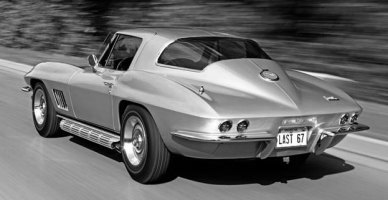 1967 Corvette 427
However, even more performance came in year 1965 and '66, when Duntov put big-block V8s into the Sting Ray. The 427cu (7 liters) V8 developed 425 horsepower, enabling Car and Driver to time 0-60 mph in 5.4 seconds and 0-100 mph in an astonishing 10.6 seconds. That was the world's second fastest accelerating car then, just behind AC Cobra 427. Today the 427 C2 is the most sought after Corvette, although its extra weight over the front axle resulted in inferior handling than the 327 Corvette.

Also worth mentioning was the 427 Corvette powered by the L88 engine. This engine was designed for racing purpose, thus it was an extremely expensive option and only 20 units were sold. It featured aluminum cylinder heads and intake manifolds, a super-high 12.5:1 compression and a Holley high-flow four-barrel carburettor. GM claimed it produced the same horsepower as the regular 427 engine, but the actual output was around 560 horsepower !! Unfortunately no magazines properly tested the car.

The Sting Ray was proved to be hugely popular. Sales exceeded 20,000 units every year during its life. Nevertheless, the team of Zora Arkus-Duntov did not rest on its laurel. In 1968, the third generation Corvette was launched.

C3 (1968-82)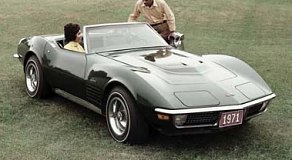 1968 (left) and 1971 (right) model
Strangely, by figures the third generation Corvette was by far the most successful - 15 years life, 542,861 units produced in total and a new annual sales record at 53,807 units set in 1979. However, automotive historians and classic car fans would tell you it was far from the greatest Corvette.

The C3 was designed entirely by Larry Shinoda. This time he gave the car a coke bottle shape, with pronounced fenders and very long engine compartment. To certain extent it defined the shape of the following C4 and C5, but the dramatic shape was probably too flamboyant - the C4 would tone it down for better visual effect. It also lacked the elegant details of its predecessors.

One of the main problems of the C3 was that it grew bigger outside but its cabin got more cramped simultaneously. In the mechanical side, it lacked any major developments. The chassis and suspensions were adapted from the C2, so was the small block and big block V8s. As the weight was up, performance suffered a little.

1981 Corvette
Since the early 1970s, we saw its power was eaten gradually by stricter emission regulations (the change to SAE net power rating in 1972 also dropped its claimed output significantly). By the mid-1970s, its power dropped to the level of 165-190hp, just half of its peak years. Of course, big-block engines were no more in the years of emission control and energy crisis. The only engine became a 350cu (5.7 liters) V8. Long life was not necessarily a good thing to C3, as it would be remembered as a declining generation.

C4 (1984-96)

The clock stopped for 15 years during the life of C3. By the early 1980s, the Vette looked old-fashioned and technologically outdated. Now a new class standard was set by Porsche 944. Japanese sports cars like Nissan 300ZX and Mazda RX-7 Mk2 were also in the pipeline to invade the US market. As a result, C4 took the mission of modernization and put the Corvette nameplate back to the forefront.

In many ways, the C4 was a big improvement from its predecessor. Its exterior design was an evolution from the old car but looked far more harmony and beautiful. This shape was designed with aerodynamics in mind, which is evident from the 0.34 drag coefficient. Its wrap-around rear screen was copied from Porsche 924 (which ridiculously was copied again by Toyota Supra), but the Vette's overall shape was sleeker and better proportioned. The colored bumpers integrated flawlessly with the body. The roof changed from T-bar to Targa design in oder to offer more open feeling. To compensate for the loss of chassis integrity, the sills were raised and reinforced. Inside, the cabin became wider and far roomier. The dashboard got digital instruments, which was fashionable then. The new Vette was also the first GM car to adopt ABS anti-lock braking.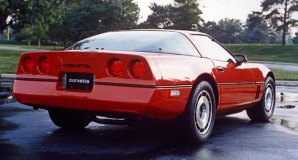 1984 Corvette
As usual, the body was made of glass-fiber, but the chassis, steering and tires were completely new. Front suspensions remained double-wishbones type, while the rear end received a new 5-link design for better control. By converting some chassis and suspension parts to aluminum and the transverse leaf spring to glass-fiber, the C4 was 50 kg lighter than the late C3.

In the first model year, the engine was carried over from the last C3, i.e. a 205 horsepower 350cu small-block V8. That was not enough, of course. Fortunately, next year it received Bosch electronic fuel injection to boost output to 230 hp. By then it was capable to top 150 mph and go from 0-60 mph in 6 seconds flat, matching the benchmark Porsche 944 Turbo.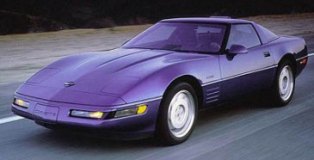 The facelifted 1991 Corvette
But comparing with Porsche, the Vette was still too big and bulky to handle. It also lacked the chassis finesses of its European counterparts. In particular, the stiff suspensions returned harsh ride and the glass-fiber body squeaked and rattled heavily on uneven surfaces. These shortcomings were never rectified during its life.

Performance, however, was improved in later years. Bearing in mind that the 5.7-liter engine produced just 40 horsepower per liter, there was plenty of room for improvement. Without altering the engine size, power increased to 240hp in 1987, 245hp in 1988 and 250hp in 1989. Then a much improved engine called LT1 raised the output to a full 300 horsepower by means of improved breathing and cooling. It also came with a new ZF 6-speed gearbox. In the final model year, Chevrolet introduced an even more powerful LT4 engine, with horsepower boosted to 330.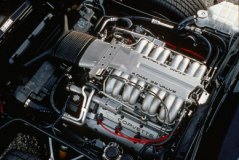 However, the ultimate fourth generation Corvette was not the LT4 but the ZR-1 launched back in 1990. To create the ultimate Corvette, GM asked Lotus Engineering to develop an all-aluminum DOHC 32-valve V8. It displaced the same 5733cc as the regular small block, but it was a completely new design with its own cylinder heads and block. The world-class engine produced 375 hp initially and 405 hp later on, capable to push the car from rest to 60 mph in less than five seconds and offered a top speed just shy of 180 mph. These figures matched contemporary supercars like Ferrari 512TR. No wonder it got the nickname "King of the Hill". The ZR-1 also got electronic adjustable damping, ZF 6-speed manual gearbox and wider tires. Externally, it differed little from the regular Corvette, only a slightly restyled air dam, a convex tail, square taillights and new wheels. As it cost twice the price of the regular Corvette, sales volume was much lower than the regular car, especially since the 300hp LT1 arrived. In 6 years time, less than 7,000 people bought the ZR-1.

No matter the regular car or ZR-1, the C4 was never short of performance. However, as time went by its chassis dynamics and refinement could no longer stand the attack from Porsche and newer rivals like the 1989 Nissan 300ZX, 1992 Mazda RX-7 Mk3 and 1993 Toyota Supra. After 12 years of service, it's time to retire.

C5 (1997-2004)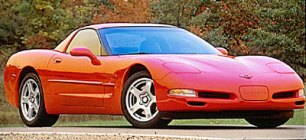 During the 3 decades covered by C3 and C4, American car lovers were taught to overlook the handling and refinement shortcomings of Corvette and only focus on its exciting looks and strong performance. However, that would not help making the American sports car world-beating. In the end, General Motors finally realized it had to invest heavily into the fifth generation Corvette and develop it from clean sheets. As a result, C5 got an all-new chassis, engine and drivetrain simultaneously.

Much of the blame on C4's poor ride and refinement was due to its soft chassis, so engineers went back to the drawing board to design a new chassis that was 4.5 times stiffer. It employed a rigid floorpan made of balsa wood and composite sandwich, supplemented by strong side rails made from advanced hydroformed process (i.e. a technique using fluid pressure to shape a metal tube, with the advantage of uniform thickness hence higher rigidity to weight ratio). This resulted in immense strength yet the door sills could be lowered by 100 mm to ease passenger access. To improve ride quality and handling, the wheelbase was stretched by 210 mm while the width increased by 25 mm. Brilliantly, despite of these improvements, the development team still managed to reduce its weight by 36 kg, thanks to the use of more lightweight materials such as aluminum suspension arms, magnesium roof rail and an all-aluminum V8.

The LS1 engine was also a clean sheet design. The 5665 cc unit still employed old-fashioned push-rods operating 2 valves per cylinder, but it was made more efficient, producing 345 horsepower while retaining the strong torque. Modern management system and electronic throttles were adopted to clean emission and made possible for the adoption of traction control and stability control. The LS1 was more compact than the previous small block. Its aluminum block and thermoplastic intake manifolds made it some 40 kg lighter, contributing to better weight distribution.


A key improvement to chassis dynamics was the switch to transaxle. In other words, the 6-speed gearbox was moved from the front to the rear axle. This improved front to rear weight distribution to 51:49, which was near perfect. It also solved an old problem - the driver no longer needed to tolerate with a cramped footwell. The transaxle and the engine was connected rigidly by a 5-inch diameter torque tube. Suspensions were classic unequal-length double A-arms at all corners, again sprung by glass-fiber transverse leaf springs. Thanks to the much stronger chassis, engineers could softened the suspensions to improve ride quality yet maintain good control.

Externally, the C5 was an evolution from the C4. It became more flowing and more dynamic, returning a class-leading drag coefficient at 0.29. The glass-fiber body might lack the visual quality of steel, but it was part of the genes of Corvette since the very beginning and it helped the car to achieve lower weight than any main rivals.

In terms of performance per dollar, few cars could beat the C5. It was capable of 172 mph, 0-60 mph in around 5 seconds (early road tests found faster times, but they were never repeatable) and 100 mph in 11.5 seconds. That was considerably faster than Porsche Boxster S. Some TVR might be faster, but they were just too raw to be real competitors. However, what really surprised was the good combination of handling and ride it displayed. Never before in history the Corvette had been so good to drive yet so easy to live with. Ultimately, it could not match the Porsche for precision and road feel, but its superior power and performance and affordable price convinced many customers to the Chevrolet side. Yearly sales consistently stayed at the level of 30,000-plus units. Most important, the Vette finally regained the respect it lost since the C2.

Despite the success of C5, some people still criticized it for being softer than European sports cars like Porsche and Lotus. Therefore in year 2000 GM produced a hotter version called Z06 to satisfy them. Its LS6 engine received improved breathing, higher compression and faster cams to release 385 horsepower at higher rev (405hp from 2002). At the same time, the chassis was beefed up with stiffer suspensions, grippier tires and brake cooling ducts. The Z06 was available only in the form of Corvette Hardtop to take advantage of its slightly stiffer and lighter chassis. Even so, it employed titanium exhaust and a thinner windscreen to eliminate another 16 kg.

Z06 set new standards for dynamics. It was the first Corvette capable to run from rest to 100 mph in 10 seconds, matching many contemporary supercars costing several times more. Most important, handling became much sharper and more capable, while the trade-off in ride quality was minimal. It was probably the first Corvette that even hardcore European drivers would be pleased to own.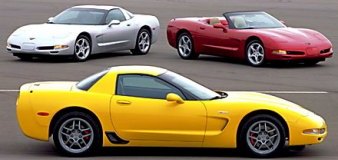 The trio: Corvette Z06 (front), regular Targa and Convertible.
C6 (2004-2013)
Compared with C5, C6 was more evolutionary than revolutionary. Styling was carried over with the slightest revision. It was slightly shorter and narrower yet the wheelbase grew by 30 mm, reducing front and rear overhangs. Both aerodynamic drag (0.28) and lift were reduced slightly.
The chassis was largely unchanged from the old car. This means a backbone type chassis with hydroformed steel rails and a floorboard made of balsa wood and fiberglass sandwich. An aluminum torque tube linked between the engine and the rear-mounted transaxle. Suspensions continued to be A-arms all corners accompanied with plastic leaf springs, though increased suspension travel improved ride comfort. Further comfort could be achieved by opting for the new Magnetic Ride Control, whose magnetorheological adaptive dampers adjusted stiffness continuously to suit different surfaces and driving styles.
The cockpit was given more head and legroom by raising the roof and pushing the V8 a couple of inches forward. Build quality of the interior and the glass-fiber body panels were improved, though they were still left behind by the standards of European sports cars by a large margin.

The new LS2 V8 was a development from the last LS1. Displacement increased to a full 6 liters. In additional to a higher compression ratio and enhanced breathing, its output was lifted to 400 hp, while redline extended by 500 rpm to 6500 rpm. 0-60 mph dropped to 4.5 seconds, and top speed touched the magic 300 km/h (186 mph). 3 years later, the V8 was bored out again to 6.2 liters (now called LS3) and released another 30 horsepower. It also took the opportunity to sort out the steering, which used to feel imprecise and lifeless.
Nevertheless, the C6 couldn't quite keep up with the progress of the world. This, in addition to the economic recession triggered by credit crunch, explained why it sold fewer cars than the C5 even though it lived for 2 years longer.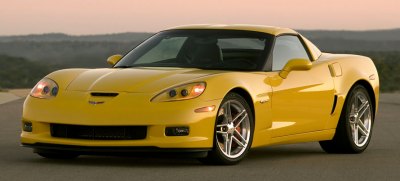 The most shocking thing about the new Z06 was its Nurburgring lap time of 7 min 42.99 sec. That's 9 seconds quicker than a Lamborghini Gallardo and just less than a second shy of Porsche 996 GT2. This car was developed alongside the C6R racing program thus was benefited from many racing technologies. While the regular Corvette chassis was made of steel frames, the Z06 converted most of them to aluminum and replaced the engine cradle and roof frames with magnesium items. The result was 15 percent increase of rigidity and a kerb weight reduced by 43 kg. The bodywork was widened to house the massive rubbers, which were accompanied with big brakes and stiff suspensions.
The LS7 V8 was a new development. It displaced a massive 7 liters, but ridiculously GM still called it a "small block". Titanium con-rods, pushrods and intake valves, forged pistons and crankshaft as well as a racy 11.0:1 compression ratio stretched its maximum rev to 7000 rpm (a miracle for a pushrod V8), resulting in an astonishing 505 horsepower and 470 pound-foot of torque. 0-60 mph dipped under 4 seconds and the ton was reached in 8-point-something. As for top speed, GM saw 198 mph on Volkswagen's Ehra-Lessien test track. Such a supercar performance cost you just the same money as a base 911 Carrera. Wasn't it a bargain?
Despite that, the super Vette still lacked the handling finesse of its European rivals (or the mighty Nissan GT-R). It was criticized for a numb steering and a handling easily hampered by mid-corner bumps, not to mention the stiff ride, noisy interior and the general perception of lack of quality. It was a very track-oriented hardcore machine.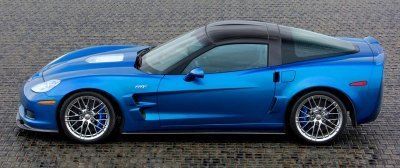 Contrasting the Z06 was the reborn ZR1 (note that it lost the hyphen between ZR and 1). It was tuned to be more comfortable to drive on road, yet if you pushed it in Nurburgring it could slash 10 seconds from the time of Z06! Other jaw-dropping performance figures include 205 mph top speed, 3.4 seconds for 0-60 and 7.5 seconds to 100 mph. It goes without saying it became the fastest Vette, no, actually the fastest American car ever, eclipsing Ford GT.
The heart of this car was a supercharged 6.2 V8, derived from the regular car's LS3 but renamed to LS9. An Eaton TVS supercharger sat inside its V-valley together with an integral intercooler. This lifted its horsepower to 638 and max torque to 604 lbft. At least 544 lbft was available from 2600 to 6000 rpm. Naturally, the mega engine added weight and worsened weight distribution a bit, but part of the extra mass was offset by the use of carbon-fiber bonnet, front fenders, roof and B-pillar. The same Brembo carbon-ceramic brakes from Ferrari Enzo shaved weight and eliminated brake fade.
The chassis was basically the same as Z06, but it softened the suspensions and added magnetorheological dampers, resulting in an agreeable ride without losing body control. The massive Michelin PS2 tires not only generated strong grip but also broke away progressively at the limit of adhesion, so its handling was far more reassuring than the Z06. While the car still lacked the chassis rigidity, refinement and build quality of its overseas rivals, it was livable enough for daily use, while the supercharged V8 gave it a massive advantage in performance. Unfortunately, its high price – at US$120,000 or 2.4 times of the base Corvette – was difficult to swallow considering its bloodline and standard of finish. That was why only 4,684 cars were sold in its 5-years lifespan, fewer than the average 1800 cars a year GM expected from the outset.