Corvette Z06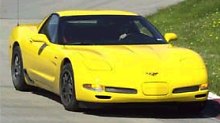 Z06, what a cool name. Chevrolet Corvette used this name for the first time in 1963, representing a hotter, race-ready Sting Ray. Today, the Corvette Z06 is reborn in a more user-friendly form, not as racy as Mustang Cobra R but it is easily the hottest Corvette since the ZR1. Compare with the standard Corvette, it gets 35 extra horsepower yet weighs less, further with improved suspensions, tyres etc. to complete an exciting package.

Z06 isn't a response to Cobra R or Viper GTS. The former is too race-track bias and has to sacrifice a lot of comfort and style as a result. The Viper remains to be the King of American sports cars, but it is too expensive for most car lovers. In contrast, Corvette Z06 retains most of the good elements of the standard Corvette, such as comfort and keen price, offering it a clear advantage in sales number.

However, horsepower and torque still matter most to the American, so do 0-60 and quarter mile time. While the Corvette has no hope to match the 8-litre V10-powered Viper, it must beat the Mustang Cobra R, which costs 10% more than the Vette. Thankfully, the LS1 all-alloy V8 is relatively new and has a lot of potential for development (its specific output is just 61 hp per litre, you know, Callaway has already improved that to 78 hp / litre or a total of 440 horsepower). Therefore it doesn't need a magic to get extra punch. What it needs are higher flow intake manifolds, new cam profiles with faster timing and higher lift, increase of compression ratio from 10.0:1 to 10.5:1 and improved air flow inside the block to reduce piston back-pressure. These modifications raise the red line from 6,200 to 6,600 rpm, enhance peak power and torque to 385 hp / 6,000 rpm and 385 lbft / 4,800 rpm respectively. For your information, the standard Corvette has also been improved to 350 hp and 375 lbft recently, thanks to a similar intake manifold and revised timing to camshaft.

Compare with Cobra R, Z06's engine - now calls LS6 - has exactly the same peak power and torque, although the longer stroke of Cobra R enables more bottom-end torque. However, the LS6's aluminium block has decisive weight advantage over the Cobra R's cast-iron one. That translate to a front-to-rear weight distribution of 53:47 against 56.5:43.5.

Being the hottest Corvette, the Z06 is only available in the form of Hardtop, which is slightly lighter yet stiffer than the Targa. Even so, an extra 16 kg has been ditched from the standard Hardtop, thanks to thinner windscreen, lighter tyres and an exhaust made largely of Titanium (the first road car using this).

Despite of more power and less weight, Chevy still revised the gear ratios of the Getrag 6-speeder to enhance acceleration. Chevrolet's official press release said the car is capable to reach 60 mph in 4 seconds flat, but their figures are usually too optimistic. Motor Trend timed 4.53 seconds, which is nearly half a second quicker than the standard Corvette they timed. Launch in a normal grip road, I believe 4.6 seconds is more realistic. 0-100 mph just marginally fails to qualify for the "Sub-10-sec Club".
Suspensions have received thicker anti-roll bars, stiffer springs, plus revised camber settings. The tyres grow in size - the front from 245/45ZR17 to 265/40ZR17, the rear from 275/40ZR18 to 295/35ZR18, all are Goodyear's new Eagle F1 SC, with improved pattern, stiffer side wall and reduced weight. Brakes haven't changed, but an odd-looking air intake is added to just in front of each rear wheel, which enhance rear brake cooling by 10%.
You might expect the car to be electric fast, but bearing in mind that the standard Corvette is ALREADY very quick, and the Z06 is just 10% more powerful and 2.6% more torquey, it doesn't feel too much more punchy than the standard car. In fact, if not push the LS6 to high rev, it won't deliver more torque than the LS1, although the noise generated is always more sporty at any rev, thanks to the new exhaust and intake manifolds.
Handling, on the other hand, has been improved. Body control is just rock steady, balance and poise is superb, although ride quality suffers a little bit on uneven surfaces. Steering is very neutral. Strong grip from the new tyres raises cornering limit to new height - how many supercars can manage 1g lateral acceleration? It can be driven incredibably hard. At the safety side, the second generation Active Handling Chassis Control System (GM's version of ESP stability control, developed by subsidiary Delphi) acts as the safety net without ruining driving pleasure. Its new software has improved the smoothness of intervention to the extent that many drivers can hardly notice. Of course, maximum lap time must be recorded with the electronic control switched off.
Any flaws ? yes, as usual, the Corvette doesn't has a steering feel to match Viper or any Porsche. The 6-speed gearbox doesn't shift as good too. It requires effort and decisive actions. That's all.
The Z06 Corvette pushes performance envelop to new level with minimal trade-off in comfort. It is far more easier to drive than Viper and Cobra R. In terms of agility and control, Porsche Boxster S is still the master, but the Z06 will leave it bite the dust. So, is Z06 the last word of affordable sports cars ? not yet. Skyline GT-R is nearly as quick while handles better, feels sharper, agile and have all controls setting up precisely. Z06 might be the best from the USA, but not world-beating yet.