Ford Focus (Europe)

Debut: 2004
Maker: Ford
Predecessor: Focus Mk1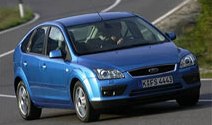 In the automotive world, we always believe cars are improving generation after generation. But there were also some great cars which were so exceptional that their successors failed to match their excellence. The previous BMW 5-Series was such a car. In many people's eyes it is better than today's 5-Series - better design, better steering and better ride. Advancer technology is not necessarily a winning formula. Instead, the decisive factor is the quality and vision of its product planner, chief engineer and chief designer. If newer generation guys do not have the quality and vision of their predecessors, they could create worse cars even though they are equipped with the latest technologies.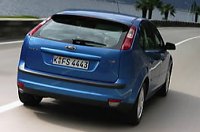 Ford Focus is facing the same crisis. 7 years ago the first generation Focus was created by a good chief engineer called Richard Parry Jones. He developed a new kind of independent rear suspension named "Control-Blade Suspension", which gave the Focus unrivalled level of ride and handling. Not just million miles better than Escort but also beat the contemporary class leader Peugeot 306. At that time, Ford's design was also in its most prosperous period - a revolutionary design theme called "New Edge" was created, experimented in Puma, matured in Cougar and reached its peak in the Focus. It mixed and matched sharp lines with smooth body profile perfectly, offering a volume interior without sacrificing a striking, sporty look. History proved its success - it sold 4 million cars in the following 6 years; it was the first ever car winning European Car of the Year award and North American Car of the Year award simultaneously; it topped AutoZine's rating in its class for 5 consecutive years !

All these success made the second generation Focus harder to follow. But more decisively, today's European Ford is no longer the company it was 7 years ago. Although Richard Parry Jones is still at Ford, he was promoted to oversee the global operation a few years ago. Another important car guy, Ford Europe boss Martin Leach was ousted by the company 2 years ago. Worse still, since J. Mays joined Ford as new design chief, he dumped the "New Edge" design theme and returned to the conservative side. Suddenly, all things went wrong at Ford. The new Focus was born under such environment.

Second generation Focus - better or worse?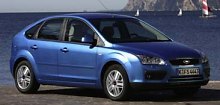 From the exterior design, you can immediately realize how wrong Ford's design goes. Yes, the new Focus actually looks uglier than the old Focus ! in place of the dynamic shape, it has switched to an angular, boxy and bulky shape. Its high waist line delivers a cumbersome feel, while the straight fastback joints the tail at an unpleasing angle. Focus is no longer a beautiful car.

Inside, you won't praise its dashboard design either, because it lacks creativity. But undoubtedly the fit and finish, the quality of plastics and the solidity of build are vastly improved from the old car. There is a sense of expensiveness like Volkswagen group's products, not just felt through the high quality build but also the effective noise insulation. Thicker glass, double-sealed doors etc. reduced cabin noise by 20%.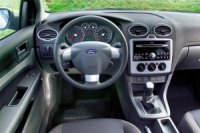 The new Focus is built on the C1 platform shared with Ford C-Max, Mazda 3 and Volvo S40 / V50. This platform continues to ride on the old Focus's MacPherson strut front suspensions and Control-Blade multi-link rear suspensions. The biggest change is the size of the chassis - it grows 190mm longer, 140mm wider and 17mm taller, while the wheelbase is stretched by 25mm. It is almost half a class larger than the first generation Focus !

Some of the extra space is spent to the larger crumple zone up front (as you can see the new Focus has a much longer front overhang), the remaining benefits cabin space and luggage room. It offers 40mm more shoulder room, 8mm more rear legroom and slightly more headroom as well. Besides, the cab-forward design also enhances the sense of spaciousness, if not really contribute to passenger comfort. The old Focus was never lack of space, but the new one takes spaciousness to another level, enabling a 6'3" person sitting behind another 6'3" person without complaint. Few family hatches can do that.

Apart from space and size, the new platform has a number a tiny improvements. First of all, its chassis gains 10% torsional rigidity. Secondly, revised front and rear subframes offer better NVH isolation. Thirdly, it employs a sophisticated electro-hydraulic power steering instead of the outgoing hydraulic system to eliminate kickback. This makes the steering feels more refined and comfortable most of the time, but unfortunately, as in Mazda 3, it also eliminates the last 5% feel when you attack corners. The old Focus was renowned for offering uncanny steering feel. The new one is no longer that great. Yes, it is still quick, precise and nicely weighted, still communicate better than those pure electrical systems used in Golf, Civic, Megane etc. But not BMW 1-Series. Now you know why BMW never buy the idea of electrical or electro-hydraulic steering. It either stays with conventional hydraulic steering or its own Active steering (whose theory is different).


Steering aside, the new Focus handles as good as the old one. A wider track and stiffer structure compensates the higher center of gravity and weight penalty (it is around 100 kg heavier than the old car). The Control-Blade rear suspension is a form of multi-link suspension. Compare with most rivals' semi-independent torsion-beam suspensions, its higher degree of freedom offers better bump absorption. On the other hand, the superior geometry of multi-link setup maintains the wheels perpendicular to the road surface better. This enhance cornering grip, stability and predictability, especially on uneven surfaces.

Compare with Volkswagen Golf V, which switched to multi-link rear suspensions in the wake of the success of Focus Mk1, the Focus handles slightly better but rides slightly firmer. Its steering is more neutral and more communicative, while the chassis display higher roll resistance. But the overall advantage is very narrow.

The new Focus is very heavy indeed, about 60-80kg more than the equivalent Golf. That requires stronger engines to pull it. Ford offers 4 petrol and 2 diesel engines. These engines are generally smoother and quieter than Volkswagen's FSI and pump-injection engines. And they are mated with slick gearboxes to deliver refined performance. However, the least powerful 80hp 1.4 and 100hp 1.6 are painfully slow. Leaving only the 115hp 1.6 VVT (which employs variable valve timing on both camshafts), 146hp 2.0 (which comes from Mondeo), 110hp 1.6TDCi and 136hp 2.0TDCi to be acceptable choices. But none of them can deliver spirited performance.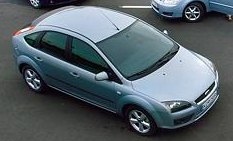 That leaves something to be desired. Ford talked about a new Focus RS and Focus Cosworth, but for a company changing its mind so frequently, who can guarantee that those plans won't be scrapped? remember, the guy who gave us the previous Focus RS was fired 2 years ago.

Back to our question: is the new Focus better than the original? although it takes a backward step in styling, steering and performance, the new Focus gains space, quality, comfort and refinement, while handling and ride are much the same as before. Overall speaking, it is still a better car.

But don't expect the new Focus to repeat the success of its predecessor. It didn't get this year's European COTY award. It won't have the chance to win North American COTY award either, because it won't be sold there - Ford said it is too expensive for the USA market, so they will continue to sell the old Focus there. Not bad to the American customers. At least they can enjoy a prettier, faster and better steer Focus.

* Control-Blade suspension: a new kind of rear suspension pioneered by the first generation Ford Focus. It is a low-cost derivative of multi-link suspension. Unlike conventional multi-link, there is a wide, pressed steel trailing arm with cum hub carrier does the job of two longitudinal locating rods, also takes the place of an expensive cast knuckle. This allow the suspension to offer the same level of body control at a lower production cost.


The above report was last updated on 24 Jan 2005. All Rights Reserved.
Facelift 2007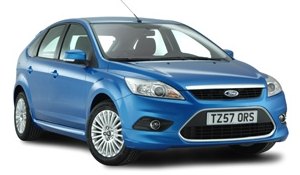 In late 2007 the dull-looking Focus finally received a facelift it desperately needed. Martin Smith's team injected the so-called "kinetic" design theme first seen in S-Max, so it gets a Mondeo-style trapezoidal front grille, a slightly sleeker bonnet and headlamps design. All body panels except the roof and side glass have been replaced, so the car becomes a little bit handsomer - with the emphasis on "a little bit". You still won't compare it with Opel Astra.

Inside the cabin is mostly unchanged. Although a little more soft plastics are employed, the problem still lies on the outdated design of dashboard and console. Very disappointing.

In the mechanical side there is virtually no changes apart from a new twin-clutch 6-speed gearbox from Getrag. Although the Focus still has the best chassis in the class, it doesn't have the best engines. While Volkswagen group is promoting downsized turbocharged engines to reduce emission tax and fuel costs, Ford still relies on old 1.6 and 2.0 petrol engines or the PSA-supplied 2.0 turbo diesel. Perhaps it should work harder on new engine technologies together with Mazda.

So despite of the facelift, Focus still fails to steal our hearts from Volkswagen Golf.
The above report was last updated on 15 Feb 2008. All Rights Reserved.
Focus ST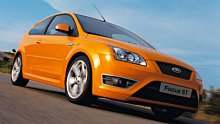 At Ford, promises worth nothing. This company changes plans, decisions and executives from day to day. Sometime ago they promised us a new Focus RS and a 4-wheel-drive, 300 horsepower RS Cosworth. But now these plans have been scrapped. The only hot Focus we will get is Focus ST.
The ST label is positioned below the RS label in the performance chart of European Ford. In the last generation Focus, the ST170 ran a 170 horsepower normally aspirated 2-litre engine and a six-speed gearbox. Its well balanced chassis, sweet controls and engaging handling won the love of car enthusiasts. In contrast, the RS was tuned so sharp that only hardcore drivers would appreciate. It was a lot faster than the ST, running a 215 hp 2.0 turbo engine, still drove through the front wheels but a limited slip differential helped putting its power to the road more effectively. I think most car enthusiasts will miss both cars, because they will find the new ST is no where as exciting.
First of all, the new Focus ST is no where as good looking as its predecessor. Aggressive? yes. Beautiful? no. Even with aggressive bumpers, spoilers, 18-inch alloy wheels and 225/40 tires, the fundamental dullness of the new Focus is still apparent. It is better inside the cabin, where two things catch the eyes most: a pair of Recaro bucket seats and a turbo boost gauge. The Recaro is mounted low enough to please enthusiastic drivers. Its heavily bolstered shape is also very supportive. The turbo boost gauge is mounted above the center console and angled towards the driver. However, for a low-pressure turbocharged engine, such device seems to be a gimmick.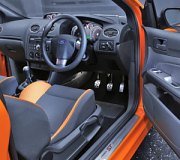 Yes, the low pressure turbocharged engine actually comes intact from Volvo S40 T5 (remember, both cars share the same platform, so all engines are transplantable). It is a 5-cylinder engine displacing 2521 cc. Compare with the four-cylinder engines most rivals used, the Volvo 5-pot sounds more charismatic (a character of 5-pot engines) but it emphasis on torque rather than rev. The combination of large capacity, variable valve timing and a small turbocharger results in a rich and flat torque curve. Some 236 lbft are produced from as low as 1600 rpm all the way to 4000 rpm.
Such a broad spread of torque is unusual to a hot hatch. The advantage is accessible performance, but the disadvantage is that it suits the character of a premium sedan like Volvo rather than an exciting hot hatch. We would prefer to trade some of the low down torque for an explosive top end output and high-revving character. The 5-pot engine isn't short of power, but 225 horsepower at 6000 rpm is no more than Renault Sport Megane and less than Opel Astra OPC (240hp), which is rather disappointing considering its larger engine.
Ford could have boosted up its turbocharger and replaced the internals to squeeze out more power. Alternatively, it could simply take the 300 hp version of the engine from Volvo S60R. But the re-engineering could be costly. Moreover, more power would require an upgraded drivetrain to cope with, such as Volvo's Haldex 4WD system, or at least a limited slip differential like the previous Focus RS. Unfortunately, Ford didn't want to spend money in this way. It insisted ST is not RS and it should be priced affordably, so LSD and 4WD are ruled out.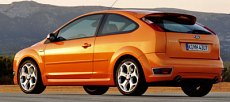 Admittedly, 6.5 seconds to 60 mph is way quicker than the old ST170 and not much slower than the old RS. The problem lies in its relaxed manner. The flat torque and the slightly long-throw, balky 6-speed gearbox (again comes from Volvo S40 T5) do not encourage you to push it harder. It is therefore rather boring to drive.
The same manner can be found in its handling. Burdened by the 5-pot engine, the ST feels quite nose-heavy. In tight corners, it feels no where as keen to steer as the old fast Focus. Nor it can match its arch-rival Opel Astra OPC, which is sharper and more exciting to drive. The Focus isn't short of grip or stopping power. Its torque steer – though exists - isn't as pronounced as the Opel too. But its problem lies in chassis balance and response. Ridiculously, this is an area the old Focus ST170 renowned for !
Compare to the regular Focus, the ST has 25 mm lower ride height yet maintaining the same 200 mm suspension travel. Its springs are set only 30% stiffer than the bread-and-butter model, no wonder it maintains a supple ride. Besides, the steering remains light. Obviously, Ford wants the ST to be a warm hatch rather than a hot hatch, offering the same everyday usability as Golf GTI rather than the full blooded driving excitement of Astra OPC. You can't say this strategy wrong, but in the absence of a hotter version Focus, turning the ST into a warm hatch will inevitably disappoint car enthusiasts, especially the fans of the old fast Focus.
The above report was last updated on 5 Nov 2005. All Rights Reserved.
Focus CC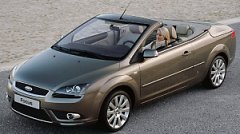 Most hatchback-based Coupe-Cabriolets handle and ride badly owing to the loss of chassis rigidity. Focus CC is one of the best conversions currently available (the others I can think of are Volvo C70 and Volkswagen Eos). It handles, rides and steers nicely. Not as fabulous as the regular Focus, but decent enough to let you forget it is a convertible once the roof is closed. Its torquey and refined 2.0TDCi engine may let you forget it carries an extra 150 kilograms of electro-hydraulic roof mechanism and chassis reinforcement. (Read: avoid the gutless petrol engines, as Volvo's turbocharged T5 engine is not offered in this car)

But you won't buy a coupe-cabriolet just because it drives like a hatchback, otherwise you should have bought a hatchback. You are interested in coupe-cabriolets because you enjoy open air motoring, aren't you? So our question is: does Focus CC provide the best roof mechanism? Unfortunately not.


The roof as well as the final assembly of the car is made by Pininfarina at its main plant in Turin, Italy, taking the space left by Ford StreetKa. Pininfarina is also responsible for Volvo C70 (but assembly is taken place at its Uddevalla plant in Sweden). To reflect the two cars' different social status, C70 employs a sophisticated 3-piece roof while Focus opts for a cheaper 2-piece roof like its grass-root rivals Peugeot 307CC and Renault Megane CC. That explain why it comes with a lot of disadvantages: 1) a strangely long tail to accommodate the larger roof panels, which deteriorates the already unattractive styling of Focus. 2) a fast rear window which limits rear passenger headroom; 3) a steeply raked windscreen whose header locates very close to your head to devoid of any airy feel.

Undoubtedly, niche image and the feel of open air motoring are the most essential elements for coupe-cabriolets. Focus CC's ugly shape and confining cabin ambience work exactly against these two elements. No matter how well it drives, it won't catch our hearts as strong as Volkswagen Eos and Opel Astra TwinTop.
The above report was last updated on 26 Sep 2006. All Rights Reserved.
Focus RS

| | |
| --- | --- |
| | Can front-wheel drive beat 4WD ? Ford thinks so... |
Whenever talk about classic Ford hot hatches, most would think of the 1970s Escort RS series or the 1992 Escort RS Cosworth. The former represented the last great breed of rear-wheel drive small cars, while the latter represented another great era of 4-wheel-drive turbocharged rally car specials. Strangely, few people would name the last generation Focus RS as their dream hot hatch. Although the original Focus was one of the greatest production small cars ever made, its "Rallye Sport" version, which arrived late in its life, caused more controversy than sensation. That was because it combined a powerful turbocharged engine with a front-wheel drive chassis, which inevitably resulted in severe torque steer. The RS team apparently overestimated its ability of tuning or the function of Quaife limited slip differential. Experiment One failed and case closed.

In the second incarnation, Team RS came back with an even more ambitious experiment. Instead of the previous 215hp 2-liter four-cylinder engine, Team RS dropped a 305-horsepower 2.5-liter five-cylinder turbo unit in its engine bay. It started life from Volvo or Focus ST's 220hp unit, but has been thoroughly reworked – stronger con-rods, pistons, gasket and bore inserts, new intake manifolds and exhaust system, a high-capacity intercooler and a large Borg Warner K16 turbocharger which boosts up to 1.4 bar instead of 0.7 bar in ST. Its peak horsepower is already higher than a stock Subaru Impreza STI or Lancer Evo X, but even more impressive is its torque, which tops 324 lb-ft from 2300 to 4500 rpm.

That is exactly our worry. Team RS insisted the second generation Focus RS should remain front-wheel drive – it claimed its new FWD design is better than rivalry 4WD systems, because on the one hand it has torque steer successfully tamed, on the other hand its less weight and friction should aid agility and fuel economy. The decision of keeping front-wheel drive is based on performance alone rather than cost reasons, it said. Wow, a bold claim.
| | |
| --- | --- |
| | Ford claims the decision of keeping FWD is based on performance alone rather than costs... |
We don't need to believe its reasons – for sure, undercutting its Japanese rivals is a big concern in its development – but we have to take its commitment seriously. To contain wheelspin in hard cornering, Focus RS once again employs that Quaife torsen limited slip differential, albeit made more subtle in its intervention. To tame torque steer, it has developed a new front suspension called "RevoKnuckle". It was originally developed for powerful front-drive diesel cars, then applied to Focus WRC racer. RevoKnuckle is based on MacPherson strut design but has its inverted L-shape link replaced with a C-shaped link which connects to both the strut mount and the wheel hub. This geometry shortens the King-pin offset by more than half. If you have studied our Technical School, you will know King-pin offset is the main reason of torque steer. Reducing it means reducing torque steer. This is not a new idea. In fact, Renault Sport has been using a similar suspension design called "double-axis" in the hot Megane and Clio from 2004.

Undoubtedly, RevoKnuckle is the most important feature of the new RS. However, the rest of the chassis has also undergone extensive surgery. Externally, you can see a rally car-like appearance with extended fenders, a big trapezoidal front grille, aggressive air dam and diffusers, extra bonnet cooling scoops (very Cosworth) and a black rear spoiler mounted high above the top of tailgate. It looks very much like a WRC car, and recalling our memory of Escort RS Cosworth. From its looks, you already know this is a firebreathing performance machine.

| | |
| --- | --- |
| | 4WD is also rejected because the RS already weighs some 1467 kg |
Underneath the skin is a 30% stiffer chassis, whose front and rear tracks have been widened by 40 mm to enhance cornering prowess. The front subframe has been lowered by 20mm together with suspensions and powertrain. The suspensions have spring rates increased by 25% front and 15% rear from Focus ST, accompany with sportier dampers. The steering rack has been quickened by about 10%, needing only 2.3 turns from lock to lock. Its 19-inch alloy wheels are shod with bespoke 235/35ZR Continental Sport Contact 3 tires specially developed for this application. Inside the wheels are larger brakes measuring 336mm front and 302mm rear. Our only reservation are their single-piston calipers.
In UK, the Focus RS is priced at £25,000, lower than the entry-level price of £26,500 for Subaru Impreza STI and £29,500 for Lancer Evo X. It is also cheaper than Audi S3 (£27,500) and BMW 135i Coupe (£29,500). Ford plans to build this car for only 2 years, with a total volume of 8,000 units.


On the Road



Whether the plan succeed will largely depend on how it drives. Settle in the deep Recaro bucket seat, your first impression is quite negative. The dashboard is as uninspiring as other Focus. Fake alloy and carbon decorations look cheap. The turbo boost gauge sitting atop the center console is the only indication of its extra performance, yet it looks too much aftermarket. The seat itself is very supportive. Unfortunately, like most other hot hatches these days, it is mounted too high to feel sporty.

| | |
| --- | --- |
| | The cockpit is no Golf GTI, as it looks too aftermarket... |

Start the motor and your impression is changed immediately. Prod the throttle, listen to its lovely 5-cylinder rhythm, you swear this is the sound of Ur Quattro. Slide the gearlever into 1st, engage the clutch, the engine pulls willingly right from idle. To avoid abusing the front tires, maximum torque is limited at 265 lb-ft at first gear, this mean the initial acceleration is not as fierce as expected. Shift into 2nd, you get 60 mph done in 5.6 seconds. That's half a second longer than STI, but not bad for a front-wheel drive machine, considering all-wheel drive alone could take 0.3 second off.

By the time you engage 3rd, the full 324 lb-ft of torque is finally available, thus the RS starts picking up its lost ground. In less than 14 seconds, you passed the 100 mph mark. From then, the world is yours. Forget any STI or Evo, the mid-range torque of RS feels so much stronger, almost mind-blowing. The induction noise, exhaust howl and whoopse of turbo wastegate intensify the exciting atmosphere. Yes, it feels rather like a WRC car.

The RS motor has real character in the way it delivers its power. While its turbo lag is actually no more than other high-power turbocharged engines, it deliberately mapped a small power surge from 1800-2250 rpm in order to simulate the intervention of turbocharger. The result is a more thrilling experience than the linear power delivery of Subaru motor. Character aside, the RS motor is also highly versatile. On the one hand, it will pull from as low as 1500 rpm at 5th gear without any hesitation. On the other hand, its electronic mapping allows a 3-second overrun to 7050 rpm before settling to 6500 rpm, giving you the top-end elasticity of normally aspirated motors. Ultimately, the Focus RS will hit 163 mph like a Porsche Boxster.


The same can't be said to the gearbox. It is merely a beefed up version of the ST unit. The throw is too long and the shift quality is not slick enough. The brakes are also too ordinary compare with the fabulous engine. Its pedal feel and modulation could be improved. Braking power is up to the job for road use, but on tracks it will need to be more resistant to fade. After all, the RS weighs some 1467 kg.
| | |
| --- | --- |
| | Both power and handling are amazing... |

Guide it on a challenging road, you will be amazed by its excellent roadholding, poise and composure. Is this really a front-wheel drive machine ? There is immense grip and traction at the front wheels such that it neither understeer nor slip. This make the ESP stability control superfluous, at least on dry roads. The Quaife LSD guides it towards the right angle, no less and no more. The electrohydraulic steering is quick, precise and meaty, also weighs up beautifully in corners to inspire your confidence. What about torque steer? RevoKnuckle hasn't completely killed it, but it is far more subtle than expected. Open throttle wide or hit a mid-corner bump, you can feel the steering wheel try to fight against your wish, but it is no more than a small hint of protest thus is easily manageable.

As expected, the ride is firm but well damped. On B-roads it has enough suspension compliance and travel to cope with sharp bumps, making it a credible everyday car. On highway, ride quality improves with speed. Only the tire roar prevent it from being a good long-distance cruiser.

The Focus RS can easily beat Impreza STI for cornering prowess, because it has superior grip and body control. Road testers compared them and found the Scooby just too soft and too civilized (despite of that STI logo), while the Ford is sharper, more hardcore and more engaging to drive fast.

Nevertheless, I suspect if it could match the versatility of Lancer Evo X, whose active differential and yaw control have been proved so good in all kinds of road conditions, and so effective to answer whatever the driver asks. If – just if – the front-drive Ford manage to beat it, then we'll definitely need to rewrite our laws of physics.
The above report was last updated on 4 Jun 2009. All Rights Reserved.
Focus RS500

| | |
| --- | --- |
| | Hottest Focus is not necessarily the best |

The RS500 is neither a remake of the legendary Sierra Cosworth RS500 nor a 500-horsepower machine. It is actually a lightly tuned version of Focus RS. How light ? The RS500 differs from the donor car in two areas: 1) It got a special matt black paint; 2) It got an engine upgrade kit by tuner Mountune (which makes the Mountune Focus and Fiesta series). The engine kit includes a remapped ECU, enlarged intercooler and lower restriction exhaust. It produces an extra 45 horsepower and 15 pound-foot of torque, making a total 350hp and 339 lb-ft from the 2.5-liter five-pot. This translates to a 2 mph higher top speed and 0.3 sec shorter 0-60 mph.

On the road, the extra punch is not readily available from low rev, because the turbo boost pressure is unaltered. You need to rev the engine beyond 3500 rpm to feel the difference, which comes in the form of g-force and exhaust noise. On the plus side, the lack of extra low-end grunt means the RS500 displays no more torque steer than the RS. Its handling remains fabulous if you are committed to driving, or tiresome if you are not. The rest of the car, i.e. chassis, gearbox, steering, suspensions, tires and brakes are all unaltered, so there is no surprise.

So why is the car called "RS500" ? Because only 500 units will be built. Even so, at £36,000, it is too expensive for what it offers, especially compare with the tuned versions of Mitsubishi Evo and Subaru Impreza.


The above report was last updated on 19 May 2010. All Rights Reserved.
Specifications
Table 1

11

12

13


General remarks
Layout
Chassis
Body
Length / width / height
Wheelbase
Engine
Capacity
Valve gears
Induction
Other engine features
Max power
Max torque
Transmission
Suspension layout


Suspension features
Tires
Kerb weight
Top speed
0-60 mph (sec)
0-100 mph (sec)

Focus 1.6

Front-engined, FWD

Steel monocoque
Mainly steel
4342 / 1840 / 1447 mm
2640 mm
Inline-4
1596 cc
DOHC 16 valves, VVT

-
-
115 hp
114 lbft
5-speed manual
F: strut
R: multi-link

-
205/55R16
1201 kg
118 mph (c)
9.8*
31.6*

Focus 2.0

Front-engined, FWD

Steel monocoque
Mainly steel
4342 / 1840 / 1447 mm
2640 mm
Inline-4
1999 cc
DOHC 16 valves

VIM
-
146 hp
136 lbft
6-speed manual
F: strut
R: multi-link

-
205/55R16
1247 kg
128 mph (c)
8.7 (c)

-

Focus 2.0TDCi

Front-engined, FWD

Steel monocoque
Mainly steel
4342 / 1840 / 1447 mm
2640 mm
Inline-4, diesel

1997 cc
DOHC 16 valves

VTG turbo

CDI
136 hp
236 lbft
6-speed manual
F: strut
R: multi-link

-
205/55R16
1322 kg
126 mph (c)
8.8 (c)

-
Table 2

21

22

23


General remarks
Layout
Chassis
Body
Length / width / height
Wheelbase
Engine
Capacity
Valve gears
Induction
Other engine features
Max power
Max torque
Transmission
Suspension layout


Suspension features
Tires
Kerb weight
Top speed
0-60 mph (sec)
0-100 mph (sec)

Focus ST

Front-engined, FWD

Steel monocoque
Mainly steel
4362 / 1840 / 1422 mm
2640 mm
Inline-5

2521 cc
DOHC 20 valves, VVT

Turbo

-
225 hp
236 lbft
6-speed manual
F: strut
R: multi-link

-
225/40R18
1317 kg
150 mph (c)
6.5 (c)

-

Focus RS

Front-engined, FWD

Steel monocoque
Mainly steel
4402 / 1842 / 1497 mm
2640 mm
Inline-5

2521 cc
DOHC 20 valves, VVT

Turbo

-
305 hp / 6500 rpm

324 lbft / 2300-4500 rpm

6-speed manual
F: RevoKnuckle strut
R: multi-link

-
235/35ZR19
1467 kg
163 mph (c)
5.7*

13.9*

Focus RS500

Front-engined, FWD

Steel monocoque
Mainly steel
4402 / 1842 / 1497 mm
2640 mm
Inline-5

2521 cc
DOHC 20 valves, VVT

Turbo

-
350 hp / 6000 rpm

339 lbft / 2500-4500 rpm

6-speed manual
F: RevoKnuckle strut
R: multi-link

-
235/35ZR19
1467 kg
165 mph (c)
5.4 (c)

-
Table 3

31

32

33


General remarks
Layout
Chassis
Body
Length / width / height
Wheelbase
Engine
Capacity
Valve gears
Induction
Other engine features
Max power
Max torque
Transmission
Suspension layout


Suspension features
Tires
Kerb weight
Top speed
0-60 mph (sec)
0-100 mph (sec)

Focus CC 2.0TDCi

Front-engined, FWD

Steel monocoque
Mainly steel
4509 / 1834 / 1456 mm
2640 mm
Inline-4, diesel

1997 cc
DOHC 16 valves

VTG turbo

CDI
136 hp
236 lbft
6-speed manual
F: strut
R: multi-link

-
205/50R17
1473 kg
127 mph (c)
9.7 (c)

-





Performance tested by: *Autocar
Copyright© 1997-2010 by Mark Wan @
AutoZine