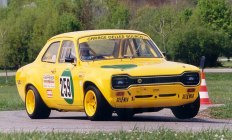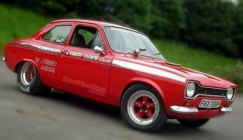 Left: Mk1 Escort Twin Cam; Right: Mk 1 Escort RS1600

Whenever talk about fast and fun small cars, you might remember Golf GTI, Alfasud or Peugeot 205GTi. In fact, in prior to these front-drive hot hatches, there was an even more successful series of rear-drive small cars, Ford Escort RS Series. This series began from the 1968 Escort Twin-cam and ended with the 1976 Escort RS2000, covering the first two generations of Escort and a production time span of 12 years. It complemented the absence of good Fords in the 1970s.

The RS series was the product of the newly established AVO (Advanced Vehicle Operation) by UK Ford. Apparently, its mission was mainly in motorsport, especially rallying, otherwise it would not have named RS, or Rallye Sport. The forerunner of the Escort RS was Escort Twin Cam, a car powered by Lotus' 1558cc twin-cam engine (as used in Ford Lotus Cortina). 109 horsepower transformed the little car into a fireball. The race car also brought Ford 2 straight world rallying championship titles in 1968 and 1969.

Since then, Escort started a career that consistently winning rally races. The formation of AVO produced the first Escort RS1600 in 1970. Instead of the Lotus twin-cam, it used Ford's new 1599cc BDA (Belt Drive, A series) engine with Cosworth's latest twin-cam 16-valve head. This motorsport-oriented design increased output to 120 horsepower and enabled the RS1600 completed 0-60 mph in 8.9 seconds, accompany with 113 mph top speed. The fireball got even hotter.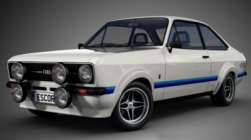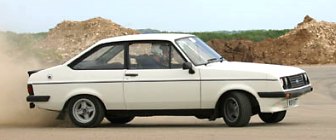 Left: Mk2 Escort RS1800; Right: Mk2 Escort RS2000


As the Escort entered second generation, its new body got a little larger and heavier, more angular and modern. Nevertheless, its drivetrain remained much the same. Ditto the suspensions which consisted of MacPherson struts up front and live-axle with leaf springs at the rear. At the time, Alfa Romeo and Volkswagen's small cars followed Fiat to switch to front-wheel drive. The Escort remained conventional rear-drive. This inevitably lost ground in cabin space and luggage space, but to the RS version it represented a huge advantage in handling. No matter how good a front-driver was tuned to, it could not match a proper rear-drive machine in motor racing.

To compensate the extra weight, the Mk2 Escort had its BDA 16-valve engine bored out to 1.8 liters, hence giving the name RS1800. Power actually dropped a little bit to 115hp, but now the torque spread became healthier. Moreover, the engine had its cast iron block replaced by a light alloy unit to improve handling. The RS1800 race car (actually with a 2-liter 16V engine) was one of the most successful rally car in history. It won 17 WRC races in its life, one manufacturer championship (1979) and two driver championships (Bjorn Waldegard in 1979 and Ari Vatanen in 1981). Although it was neither the most powerful nor the most advanced rally car then, its bullet-proof reliability and obedient handling let it excelled in the toughest races.

Good though the RS1800 was, its race-oriented BDA 16-valve engine was expensive to build and required constant tuning. As a result, for the majority of customers who would not race their RS, Ford produced the RS2000 using the production 1993 cc Pinto sohc 8-valve engine from Cortina. Its extra capacity compensated the loss of 16-valve head and resulted in much the same performance. Autocar magazine measured 0-60 mph in merely 8.6 seconds, faster than any contemporary rivals. The RS2000 differed from its lesser brothers also by a longer nose and quad-headlights. It became the best selling Escort RS ever.

That was also the end of a great era. The Escort Mk3 switched to front-wheel drive and never repeated the success of the first two generations.