Ferrari Enzo

Debut: 2002
Maker: Ferrari
Predecessor: F50
Background

Whenever we talk about supercars, Ferrari must be the word mentioned most frequently. Supercar era was started by Ferrari 288 GTO in 1984 and evaporated by F40 three years later. To many people, F40 is still the best supercar Ferrari ever produced, eclipsing its successor F50 in many areas. Sadly, F50 is now generally regarded as one of the few failures of Maranello. Compare with its predecessor, it was heavier and slower. Its naturally aspirated V12 produced far less torque than the older twin-turbo V8. Its barchetta architecture was nonsense to a 200mph supercar. Its soft roof blew off at high speed. Its vibration and harshness caused by mounting the engine directly to carbon fiber chassis was terrible even by supercar standard. Worst of all, it was the ugliest supercar ever appeared, beside Lister Storm of course.

With such a backward development, no wonder Ferrari lost its top spot in supercar chart. Admittedly, even if F50 were not so bad, it would not have clinched the title either. You already know why: in 1993, McLaren launched the mighty F1 road car, which raised the game so high that, even after 9 years, no one else can touch it.

McLaren F1 was so successful because of 3 reasons. Firstly, it had the world's most powerful engine - 627hp BMW V12, and being naturally-aspirated it was free of any turbo lag. Secondly, it was by far the lightest supercar, weighing just 1138kg. No wonder it could reach 60mph in 3.2 seconds, 100mph in 6.3 seconds and 200mph in 28 seconds. Thirdly, it had a low drag coefficient of 0.32 and an unusually small frontal area, enabling it to set a speed record of 240mph.

Now, after 9 long years, Ferrari Enzo becomes the first challenger to McLaren F1.

Ferrari Enzo - the closest challenger to McLaren F1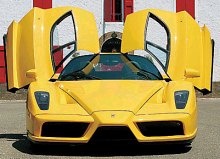 Whenever a car is named after the founder of its maker, you know it must be very serious. An example is my dream car Bugatti EB110, which named after Ettore Bugatti. But this one is even more serious, because it is named after Enzo Ferrari, the greatest name in Grand Prix history and sports car industry.

In the beginning of project FX, Ferrari set a target of beating McLaren F1 in acceleration, if not top speed. Ferrari knew it is impossible to build a car faster than the McLaren in terms of top speed (unless you have 1000 horsepower like Bugatti Veyron) because that require a very low drag coefficient, which inevitably sacrifice downforce, and a small frontal area, which needs narrow tracks. Both deteriorate handling. In fact, McLaren F1 was always regarded as tricky to handle, failing to put down its tremendous power effectively onto ground. Ferrari cannot tolerate that, because it prefers to measure performance according to lap time in Fiorano, its home track.

To out-accelerate McLaren, Ferrari developed an all-new V12 for Enzo. It displaces 5998cc, 66cc smaller than McLaren's V12, but it produces 660 horsepower and 485 pound-feet of torque. In other words, 33hp and 6lbft more than its rival. This become even more impressive if you consider the stringent emission regulation compare with that 9 years ago. Besides, the Ferrari engine is considerably lighter - 225kg versus 266kg.

The Ferrari also has a superior semi-automatic gearbox to enable faster yet easier shifting. Furthermore, it is equipped with "launch control" program to optimize launching. If you remember, Ferrari used it in Formula One in the mid-90s until being banned by FIA.

Nevertheless, when the development program entered its final phase, Maranello knew their hope of beating McLaren F1 in acceleration became slim as they failed to match the target weight of 1200kg. Why? because the Enzo is XL-size compare with McLaren F1, being 40cm longer and 20cm wider. Also because of Ferrari boss Luca di Montezemolo, who insists even the most serious Ferrari must deliver a level of comfort, refinement and ease of driving. For example, Enzo has air-conditioning as standard equipment. It also has adaptive damping (like F50), power steering and braking, ABS and traction control. McLaren had none of these.

Eventually, the production Enzo tips the scale at 1365kg, some 227kg heavier than the F1. According to official figures, it tops "more than" 217mph (350kph) and accelerates from rest to 60mph in a little over 3.5 seconds, both are slower than the F1. Although Ferrari claims it beat McLaren to 200kph (124mph) by 0.1 second, its worse power-to-weight ratio says otherwise. Sadly, Ferrari needs that moral victory - no matter how trivial - to get out of the shadow of McLaren F1.
Anyway, Enzo is already the fastest car since McLaren F1. All other supercars - 911GT1, CLK-GTR and Pagani Zonda included - are now eclipsed by Enzo.

Dramatic Styling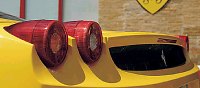 The serious manner of Ferrari Enzo is immediately revealed by its exterior styling. It looks striking, purposeful and uncompromising. Undoubtedly, it is more beautiful than the F50, but compare with Pagani Zonda and some older Ferrari, say, 288 GTO and Testarossa, it is by no means a beauty. Although it was also designed by Pininfarina studio, the responsible designer, Japanese Ken Okuyama, was not very famous in this field. No one knows what he designed during his years in GM and Porsche before joining Pininfarina as Assistant Director of Design. People only remember the Rossa concept which starred in 2000 Turin motor show. In prior to the launch of Enzo, Okuyama had already left Pininfarina and accepted a teaching post in a design college. Therefore Enzo is his only Ferrari made into production.

Obviously, Okuyama's work was not as magical as Leonardo Fioravanti. Compare Enzo with its big grandmother 288GTO and you will see what I mean. Fioravanti's GTO looks pure and sexy; Enzo looks untidy and dramatic; GTO conforms to one design language; Enzo's racing-car nose is at odds with the show-car-like tail; GTO uses grilles to hide those big ventilation holes yet contribute to graphical beauty; Enzo leaves all huge ventilation holes exposed, ruining the body profile and giving us a wind-blocking image.

Yes, the design philosophy of Enzo is all about ventilation and downforce management. Look at that ultra-long Formula 1 nose, it is not just for look but draws air towards the ground-effect diffusers to generate downforce. Look at all those huge air scoops at nose, at the leading edge of rear wings and those air outlets at either side of the triangular bonnet and at the trailing edge of front wings, the whole car is virtually covered by holes!

That said, Ferrari Enzo was shaped according to functions rather than art. Unfortunately, unlike 360 Modena, in this case functions are not compatible with beauty. What the Enzo does impress its viewers is how striking and dramatic it looks, especially viewing from the front. No other cars have a nose so dramatic. Beautiful or not, you know this is the most serious performance machine ever coming out of Maranello.

Advanced Aerodynamics

The Enzo has an aerodynamic drag coefficient as poor as 0.36, virtually back to the Testarossa era. However, like Formula 1 cars, its emphasis is on downforce and therefore handling. When you have 660 horsepower on tap and 217mph top speed, you know how important downforce is.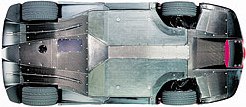 The downforce generated by Enzo is unimaginable, especially for a car having no big rear spoiler. At 300kph (186mph), it generates a massive 775kg of downforce, compare with Pagani Zonda's 500kg. Most of the downforce is contributed by the ground effect diffusers at the bottom of the tail. Many other supercars also have similar stuffs, but Enzo's is far more powerful because its high nose draws a lot of fast air flow towards the diffusers. Thanks to what they learned from Formula 1 racing.

A smaller part of the downforce is contributed by a tiny rear spoiler and a pair of internal aero flaps located in front of the front wheels. Both of them are automatically adjustable according to speed. For example, at 200kph (124mph), the Enzo generates 344kg of downforce. This rises to the maximum 775kg at 300kph (186mph), and then eases back to enable higher top speed. At 217mph (350kph), the downforce is reduced to 585kg.

Improved Chassis

Unsurprisingly, Enzo's chassis tub is constructed entirely in carbon-fiber to keep weight as low as possible. Bodywork is made of an even lighter material - aluminum honeycomb sandwich. Sandwiched by what? carbon fiber skins of course.

However, what really distinguish the Enzo from its predecessor F50 are: 1) the new car is a coupe rather than a spider, with a fixed roof and a pair of "butterfly" doors. This makes a lot more sense to such a serious supercar. 2) its engine and gearbox are mounted on an alloy sub-frame via rubber bushings rather than bonded directly to the carbon fiber tub. In this way noise and vibration are isolated from the cockpit.

So, the chassis of Enzo is constructed in this way:

1) Carbon-fiber tub bonded with roof.

2) Front sub-frame is attached to the tub.

3) Double-wishbones front suspensions are mounted on the sub-frame. The suspensions employ alloy control arms and racing-style, horizontal push-rod type damper / spring units. The dampers are adaptive type, controlled by computer.

4) Alloy rear sub-frame is attached to the tub.

5) Rear suspensions are mounted directly on the sub-frame. Same specifications as the front suspensions mentioned above.

6) Engine and transmission are mounted on the sub-frame via 3 rubber bushings.

7) The whole structure is clad with a bodywork made of aluminum honeycomb sandwich.

World-beating V12 Engine

You know, engine is always the strength and soul of Ferrari, but the V12 of Enzo is really the best of the best, while the same cannot be said to F50. If you remember, the 4.7-litre, 60-valve, F1-inspired V12 of F50 was once praised by the world for its ability to rev to 8500rpm and its super-high specific output of 110 horsepower per litre. However, it could not escape the automotive law of "there is no replacement for displacement", thus generating just 347 pound-foot of torque. No wonder F50 actually accelerated slower than its predecessor F40, which had 425lbft on tap.

Therefore, Ferrari finally followed the footprints of McLaren to seek power from a large-capacity V12. This time they developed a 65° V12 displacing a full 6 litres (5998cc). If you think larger capacity must reduce efficiency, you will be wrong this time. The new V12 produces the same 110hp out of every litre, thanks to the introduction of variable valve timing. Previously, Ferrari applied VVT to 360 Modena only, and it was just a two-stage system working at exhaust camshafts. In contrast, Enzo employs continuously variable valve timing at all four camshafts. This is undoubtedly a big improvement to Ferrari, although McLaren F1 already had Double Vanos some 9 years ago.

We have to mention that the new V12 switched back from 5-valve to conventional 4-valve per cylinder like Ferrari's formula 1 engines since the mid-90s. This might give us a clearer answer to our long-existing suspect: is 5-valve really better than 4-valve?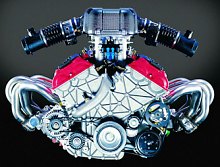 The new V12 employs a variable-length intake manifold made of carbon fiber. At below 3500rpm, induction length extends from 340mm to 430mm to improve low-speed torque. On the other hand, the increased capacity brings 485lbft of maximum torque at 5500rpm, a massive 138lbft more than F50 yet it is achieved at 1000rpm lower the rev. Mid-range torque is also good, if not class-leading, with 80% of peak torque available from 3000rpm.

However, the beauty of this V12 is how revvy and efficient it is without sacrificing tractability. If you look at its oversquare combustion chamber (92mm bore x 75.2mm stroke) and 11.2:1 compression ratio, you will understand why it can rev higher and therefore deliver more horsepower than the V12s from McLaren, Lamborghini and Pagani. The Ferrari engine redlines at 8000rpm and cut-out at 8200rpm. In other words, it is the highest revving V12 in the world this side of F50.

At 7800rpm, it generates 660 horsepower, a record for any road-going engine. That's an astonishing 140hp more than F50, 105hp more than Pagani Zonda, 80hp more than Lamborghini Murcielago and 33hp more than the emission-unfriendly McLaren F1! and don't forget the Ferrari V12 displaces less cc than all of them.
At 225kg, the 6-litre V12 is 27kg heavier than F50's 4.7-litre unit. However, it is still lighter than its rivals and virtually matches Mercedes 5.8-litre sohc V12, which is currently the lightest V12 in the world. I can't help praising Maranello's engineers. Perhaps this is what they learned from formula 1.

F1 Gearbox and Control System

Enzo integrates the control systems of engine, gearbox, damping, aerodynamic aids, ABS, EBD brake force distribution and ASR traction control so that they work in harmony with each other. This also allow a race mode - when the driver push the "Race" button on steering wheel, computer will firm up the adaptive damping, select the middle setting of traction control (which allows a fair degree of slide) and quicken the gearchange of the F1 semi-automatic gearbox.

People used to have reservation about Ferrari's F1 gearbox because of its violent shift quality and sometimes inconsistent response. Anyway, for an uncompromising supercar like Enzo, F1 gearbox is perhaps more suitable than conventional manual. Think about it: this car takes just 3.5 seconds to reach 60mph and 9.5 seconds to 124mph, everything happens so quickly that you don't have time to respond, so a fuss-free semi-automatic with steering column mounted paddles will keep you free of nervous and let you concentrate on the road. Moreover, the F1 gearbox shifts quicker than human hands. At race mode, it can shift within as little as 150ms, same as the system used by 360M and 70ms faster than 575M's. Shift quality will inevitably suffer, but note that Enzo is not bought for refinement.

Ceramic Brakes

Ferrari follows Mercedes and Porsche to introduce ceramic brakes. They are supplied by Brembo, Ferrari's partner in formula 1. The discs are huge in size (380mm diameter all round) and are clamped by monobloc alloy calipers with 6 pistons front and 4 pistons rear. However, the most special is the material of the disc - Brembo calls it CCM (Ceramic-Composite Material). Strangely, Ferrari gives another explanation to CCM - Carbon-Ceramic Material - to link with its formula 1 carbon-composite discs. In fact, many magazines were fooled and simply refer them as carbon-fiber brakes.

There is a significant difference between a real carbon-composite brakes used in formula 1 and the ceramic-composite brakes used in Enzo: the former needs 200-300degC to work properly, otherwise it will be powerless. In contrast, CCM works at normal temperature. It is also much cheaper to build, though not as light. However, 4 pieces of ceramic brakes still save Enzo a valuable 12.5kg compare with conventional steel brakes. Moreover, they have the advantage of long life and heat resistance thus free of fade.

On the Road

Supercars must have super doors, isn't it? sounds a bit nonsense, but the way the doors open has a decisive influence to millionaires or billionaires who buy supercars, for they buy mainly for sense of occasion. They won't be disappointed with Enzo, as the car have a pair of butterfly doors swinging upward and forward in McLaren F1 style. Better still is how easy to get into the cockpit, as the doors open also a large portion of the roof (Enzo's roof is actually a T-bar) thus you need not to mind your head. You don't need to step across a wide sill either, unlike what you did in other supercars, because the doors cut into the sills. Now you notice that Enzo's carbon-fiber tub does not run the full width of the car. The doors are mounted outside the tub rather than onto the tub.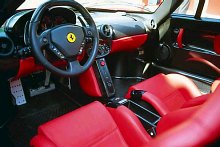 Once you get into the cockpit, you'll notice this is a "cab-forward" design. Thanks to the lack of transmission tunnel, the seats locate close to the center of the car thus Ferrari can push them forward without being blocked by front wheels. As a result, pedals are less offset than Lamborghini.

Wrapping you tightly is a red racing bucket tailor to your size (customers are invited to Maranello to test the right seats and tailor the positions of pedals). Surrounding you is an all-carbon-fiber environment. Not only the bare tub is carbon-fiber, but the instrument panel, center console, the whole dashboard architecture and even part of the steering wheel! some might think cool, but I would prefer more leather and alloy for the color and graceful feel they deliver. Disappointingly, the carbon-fiber panels are not tightly fit while the design of the whole interior is ugly, more like a video game machine. Pagani Zonda looks more expensive in this respect.

Twist the key... excuse me, press the "Start" button, the super V12 immediately impresses you by its smoothness. It is unusually creamy for a sporting V12, so smooth that at idle it may fool you as a limousine engine. It is also very tractable, pulling happily at top gear at 40mph. Prod the throttle, exhaust note gets more serious, and becomes even more exciting once the second stage of variable exhaust (to pass noise regulation) cut in. The short-stroke V12 still spins freely, smoothly all the way to 8200rpm. It is really a masterpiece!


Acceleration is of course astonishing. Although we are unlikely to obtain any tested performance figures - Ferrari refuses to offer Enzo to any journalists for performance testing - undoubtedly, the Enzo gains speed so quickly that no existing supercars can trail it. Think about it: Ferrari said the car complete a lap of Fiorano in 1min 25sec, a massive 5 seconds quicker than F50!

But one thing makes Enzo so special: while it is super-fast, it remains so calm, so well-controlled and so easily accessible. While it is accelerating, all you feel is the g-force which press your head hardly onto the headrest. There is no dramatic nose-lift or wheelspin. The car has a lot of traction and ASR always ensure engine power not to overwhelm the chassis.

The chassis is so stable in corner, with nearly zero roll. It also controls its tremendous power very well. There is strong grip from the tyres and downforce to keep the car firmly on road. At its best, the car can corner at an astonishing 1.36g. If you enter a corner too quickly, Enzo will understeer gently. It can get into oversteer under throttle, but to power slide it seems very difficult - and better to be avoided - because you have to turn off the ASR and fight against the tremendous power by your own "human traction control".

The steering at 2.2 turns from lock to lock is quick, accurate and feelsome. Though being power assisted, weighting is heavy - a good thing to such a serious supercar. The semi-automatic gearbox works well on track (but I don't expect it to perform as consistent on public road), reasonably smooth and very responsive. Because the Enzo accelerates so quick, the clutchless paddle-shift gearbox relieves pressure from the driver and let him concentrate on steering, throttle and braking, thus is a valuable equipment.

The ceramic braking is perhaps the best single element of the car. It is simply the most powerful braking system ever appear on road cars. I guess maybe half of the 5-second cut over F50 is purely due to the new brakes.

On Fiorano, Enzo's variable damping works well. In the most comfortable setting it even damps more beautifully than 575M. Anyway, like all other handling aspects of the car, we have to wait for a road test on a proper public road to give the final verdict. Many Ferrari used to rate high in Fiorano, because they were extensively tested and tuned there. Whether Enzo's outstanding ability translate to public road is yet to be seen.

However, we can already conclude that Enzo is a more complete supercar than McLaren F1, for its superior chassis and accessibility. But the F1 remains to be the more desirable one in my mind, for its performance, look and innovation. And that was achieved in 1993.

Weight of Enzo

Many magazines confuse the weight figures of Enzo and rivals. Ferrari claims Enzo's dry weight is 1255kg while kerb weight (with driver, engine fluid and half tank of fuel) is 1365kg. In the past, Ferrari quoted only dry weight for F40 (1100kg) and F50 (1230kg). Many other Italian supercar specialists also prefer to quote dry weight, such as Pagani Zonda C12S (1250kg) and Lamborghini Murcielago (1650kg).

Unfortunately, some magazines (including Autocar and Evo) confused dry weight with kerb weight thus incorrectly reported that Enzo were 135kg heavier than F50 or 115kg heavier than Pagani Zonda etc. In fact, Enzo is just 25kg heavier than F50 and 5kg heavier than Zonda.

However, McLaren F1's 1138kg, according to McLaren, is kerb weight. Therefore it is 227kg lighter than Enzo.

Price and production number

In two year's time, Ferrari will build a limited run of 349 units of Enzo, the same as F50. Each sold at around £450,000, just slightly cheaper than McLaren F1. That can buy 2 Pagani Zondas or 3 Lamborghini Murcielago.
The above report was last updated on 25 Sep 2002. All Rights Reserved.
Enzo performance recorded

In April 2003, Ferrari invited several big magazines to measure the performance of Enzo at Fiorano. Strictly speaking, this is not a fair testing, because: 1) the Enzo was driven by Ferrari's test driver; 2) the short straight in the Fiorano track they used to record acceleration is a slightly downhill slope. Poor Ferrari did all the dirty tricks in an attempt to match McLaren F1's figures recorded a decade ago by Autocar.

Even so, it failed. Autocar timed the Enzo doing 0-60mph in 3.5 sec (McLaren: 3.2) and 0-100mph in 6.6 sec (McLaren: 6.3), which just confirmed my prediction beforehand - Enzo is the fastest supercar today, but slower than the mighty McLaren F1. The short straight at Fiorano meant acceleration at above 120mph is not possible, so we have no chance to see how McLaren extend its margin over Enzo at 200mph, which it did in just 28 seconds.

Don't take these figures seriously, however. No one knows how much slower the Enzo will be if Ferrari let magazines do the job properly - at a horizontal surface, on a stock Enzo and by a third-party test driver.
The above report was last updated on 15 May 2003. All Rights Reserved.
A fair performance test by R&T, finally.

The wait is over. Ferrari Enzo is finally tested in a fair condition by a third party. In the July 2003 issue of R&T, the magazine borrowed an Enzo from owner Richard Losee, travelling for 1000 miles to the Bonneville Salt Flats of Utah to see its real-world performance and then back to California for performance recording in a proving ground. In the end, they recorded the following figures:

0-60 mph: 3.3 sec
0-100 mph: 6.6 sec
1/4 mile: 11.1 sec @ 133.0mph

Base on these figures, R&T declared that the Enzo is faster than McLaren F1 ! it said the F1 they tested a few years ago did 0-60 in 3.4 sec and 1/4 mile in 11.6 sec @125mph. However, it did not mention that that particular F1 was not a standard European version, as it was converted by the owner to meet the US regulations. If we take Autocar's test data for the standard car, you will see the F1 was faster still:

0-60 mph: 3.2 sec
0-100 mph: 6.3 sec
1/4 mile: 11.1 sec @ 138mph

From the time of 0-100mph and the terminal speed of 1/4 mile, you can easily see the higher the speed, the faster the McLaren is compared with Enzo.

That's not surprising to me. Remember, the Enzo is more than 200 kilograms heavier than the F1. Sophisticated launch control of the 21st century may help it to reduce tyre slippage at launch thus match the F1 for the first quarter mile, but once the F1 get rolling, the rate it accelerate will be much higher than the Ferrari. The point is, at this level of competition, there is no miracle can negate the deficit in power-to-weight ratio, which favours the McLaren overwhelmingly. At higher speed, another scientific parameter - drag coefficient and frontal area - says the Enzo can only lose more. The McLaren can reach 200mph in 28 seconds dead. I would be very surprised if Ferrari Enzo can do that within 30 sec. Believe me.
The above report was last updated on 5 July 2003. All Rights Reserved.
More impression and verdict

Evo magazine tested the Enzo on public road and gave us a few more hints about its road manner. Its ride is surprisingly compliant. At low speed, the steering is not very feelsome, especially at initial turn-in. In comparison, Pagani Zonda has a more communicative and confidence-inspiring steering setup. However, the weight and feel of the Enzo's steering improves gradually as speed and downforce increases. Above 60mph, it is no longer a problem and you can fully trust the chassis.

Evo confirmed our saying that the Ferrari supercar is extremely easy to go faster than aware, because its handling is obedient, its acceleration and deceleration are both mighty quick. Later, R&T magazine drove the Enzo for 1,000 miles and concluded "The Ferrari Enzo is both an ultra-high-performance car and a capable grand tourer."

Finally, we have to make a decision to the question we left over: is Enzo the best supercar currently on offer?

In objective terms, yes, because it goes much faster than its sole rival Pagani Zonda yet without the uncompromising handling / ride manner of traditional supercars. However, in subjective terms it can't beat the Zonda, which is equally user-friendly on road while subjectively hardly feel any slower or less exciting. In particular, the AMG V12 makes a wonder noise, beating Ferrari's V12 in sound quality.

Then, you can't help amazed how the Zonda's strengths hit right at the Enzo's weaknesses - one looks tastefully styled and elegantly finished, built with the highest quality ever seen in supercar business, while another looks strange and built like a cheap kit car. Just look at the varying assembly gaps of the exterior body panels and the ill-fitted carbon-fiber parts in the cockpit and you will see the Enzo will never be a perfect masterpiece to car collectors. Therefore, while my brain says the Enzo is the winner, my heart chooses the Zonda.

However, in half a year's time both will face tougher competition from Porsche Carrera GT, McLaren Mercedes SLR and Bugatti Veyron. Watch this space then.
The above report was last updated on 17 Jun 2003. All Rights Reserved.
218.7 mph - Enzo beats rivals in Nardo

In 1998, McLaren F1 set a record of 240.1mph at Nardo, Italy, the fastest proving ground in the world. Since then no other cars ever came close. A prototype Koenigsegg CC8S was said to reached 233mph there, but no one really know if the car was finished like the final production car and complied with all legal regulations. In June 2004, German magazine Auto, Motor und Sport took 6 of the current generation fastest supercars to Nardo for top speed measurement, hoping to find out which one is currently the fastest car in the world. Unfortunately, they did not get the Koenigsegg, so the contenders are limited to Ferrari Enzo, Porsche Carrera GT, Mercedes SLR and Lamborghini Murcielago, plus a couple of also-runner, Aston Martin DB9 and Bentley Continental GT.

In the end of the day, they confirmed my believe - Ferrari Enzo recorded 218.7mph, some 13mph fastest than either Carrera GT and SLR. Moreover, it also beats other cars in any of the acceleration figures. Enzo is finally confirmed as the world's fastest car of this generation !


| | | | | |
| --- | --- | --- | --- | --- |
| Model | Top speed | 0-60 mph | 1/4 mile | 1 mile |
| Ferrari Enzo | 218.7 mph | 3.6 sec | 11.4 sec | 20.1 sec |
| Porsche Carrera GT | 205.8 mph | 3.8 sec | 11.5 sec | 20.4 sec |
| Mercedes SLR McLaren | 205.8 mph | 3.8 sec | 11.5 sec | 20.5 sec |
| Lamborghini Murcielago | 203.3 mph | 3.7 sec | 11.8 sec | 21.4 sec |
| Bentley Continental GT | 198.4 mph | 5.2 sec | 13.4 sec | 23.9 sec |
| Aston Martin DB9 | 190.4 mph | 5.0 sec | 13.1 sec | 23.6 sec |

Surprisingly, All these cars ran very close to their claimed top speed, including the traditionally optimistic Ferrari.

Another thing to note is how these cars behave at top end - the Ferrari was found to be the most stable, thanks to its superior variable aerodynamics which enhances downforce at high speed and varies to maintain the balance between front and rear downforce. It seems that F1 experience really helped the Enzo. Carrera GT is also pretty stable at high speed, if not matching the Ferrari, in contrast to SLR which vibrates severely.

Apart from Koenigsegg, the test also didn't include Ford GT. Earlier this year Ford itself recorded 205mph at Nardo.
The above report was last updated on 14 Aug 2004. All Rights Reserved.
Ferrari FXX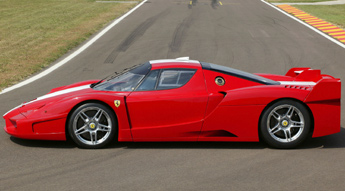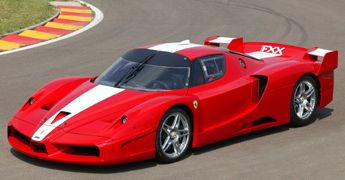 Ferrari promised that only 349 units of Enzo would be built. But then it started playing tricks. Initially, it modified the Enzo into Maserati MC12 and sold 55 cars. Then it upgraded the Enzo into an even hotter track-oriented machine and sold 29 such cars, plus another one given to Michael Schumacher as his retirement present. This car is officially called FXX, but if you call it Enzo R you won't be far off.

The FXX has enhanced spoilers and aero kits to help increasing 40% downforce over the already remarkable Enzo. At the same time, its V12 is enlarged to 6262 cc, accompany with racing grade tuning it pumps out over 800 horsepower at 8500rpm ! some 140 more than Enzo. Besides, the shift time of the F1 gearbox is shortened from 150ms to race car-like 100ms. The car rides on specially developed Bridgestone slick tires. The Brembo carbon ceramic brakes are enhanced with bigger discs and a special cooling and pad system.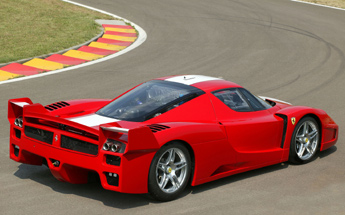 Although FXX is not destined to international racing, it is purely designed for racing tracks. Ferrari did not try to homologate it for road use, thus it is not road legal in most countries. So, what is the purpose of building it? In fact, Ferrari sold it as a "track days car" to those rich people who love racing their supercars. Each FXX is priced at an astonishing 1.5 million Euro, but that include a complete test program and driving course. At first, the buyers were invited to a driving course at Ferrari's Fiorano track where their cars are normally stored. Then they can arrange for driving their cars at private test sessions. Ferrari also arranged a series of track events in various international-level circuits for FXX to race. The cars would be shipped to those circuits and then ship back to Maranello. Each driver would be instructed by Ferrari's racing drivers (including Michael Schumacher). The on-board telemetry system transmits data to Ferrari's technicians, who analyse their driving skills and car setup and discuss with the drivers.

That seems to be a great idea for earning more money.
The above report was last updated on 24 Aug 2007. All Rights Reserved.
Maserati MC12 - derivative of Enzo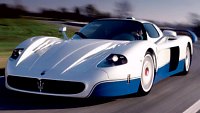 Though badged as Maserati, MC12 is actually a derivative of Ferrari Enzo. More accurately speaking, it is the racing version of Enzo, designed to race FIA GT championship. This is implied by the name MC, which stands for Maserati Corsa, or Maserati Competition, while 12 is the cylinder count. Predictably, the car is hand-built by Ferrari technicians and the racing program is run by Schumacher's boss, Jean Todt. Anyway, today you can no longer separate Ferrari and Maserati. Their design, engineering and production are integrated together.

The styling of MC12 was said to be originated by Giugiaro and executed by Frank Stephenson, but apart from the grille we cannot see anything like a Maserati. In fact, MC12 is very close to Enzo in appearance. It is virtually an Enzo with aerodynamic kits enhanced for racing tracks. Its carbon-fiber bodywork is a massive 440mm longer and 60mm wider than the already big Enzo, taking the overall length to an astonishing 5.14 meters and overall wdith to 2.1 meters. The wheelbase is also stretched from 2650mm to 2800mm to enhance stability. To observers, the most spectacular is the super-long front and rear overhangs, which are necessary to create the tremendous downforce it requires. In particular, the long long tail incorporates huge diffusers to generate ground effect. But that's not enough, Maserati - well, Ferrari - added a huge fixed rear spoiler to generate even more downforce. No figures are available, but undoubtedly it will shame Enzo's tiny electric rear spoiler.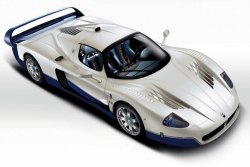 The cockpit also differs from Enzo a little bit. First of all, you will find its doors are conventionally hinged, while the roof is targa. Above the roof is a scoop ramming air into the V12. Once enter the cockpit, you will see the same basic architecture as the Enzo, even the same steering wheel. The same paddles control the same F1 semi-automatic transmission - sorry, now calls Cambiocorsa in Maserati's language. Unlike other Maseratis, there is no luxurious equipment to talk about - no Hi-Fi, no radio, not even a luggage compartment. This is a road-legal racing car !

But Ferrari fans must be anxious that it could be faster than the Enzo. Luckily, it is not. The MC12 has its 6-litre V12 detuned from the Enzo's 660hp / 7800rpm to a still appealing 630hp / 7500rpm. On the other hand, it is 80kg heavier than the Enzo, thanks to its extra bodywork and the use of steel brakes (FIA ruled out ceramic brakes). The latter alone costs 12.5 kg.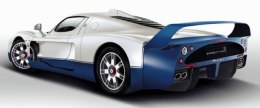 The MC12 is claimed to top more than 205 mph and accelerate from 0-100km/h in 3.8 sec, 200km/h at 9.9 sec, 1km at 20.1 sec. That leaves a slight but psychologically important victory to the Ferrari cousin, which claims 217mph+, 3.65 sec, 9.5 sec and 19.6 sec respectively.

By the time of writing, around 30 MC12s have been built. 5 of them are race cars and 25 are road cars to satisfy the homologation requirement of FIA GT championship. In 2005, another 25 road cars will be built to satisfy the demand from those not lucky enough to get one of the 349 Enzos.
The above report was last updated on 4 Feb 2005. All Rights Reserved.
Maserati MC12 Corsa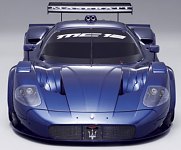 You can see this car as the Maserati version of Ferrari FXX. It is neither road legal nor road suitable (see its non-existent ground clearance). It is not homologated to FIA's regulations, so it could not participate any international racing. However, Maranello will organize 6 races in Europe specially for the owners of this car. Each customer pays 1 million Euro for the car - equalling Bugatti Veyron - plus 260,000 Euro for the race package (entry fees, fuel, tires and servicing). Only 12 cars were built.



The Corsa is derived from the MC12 GT1 race car, but it has 2 seats, a 6-speed Cambiocorsa (F1) gearbox and a V12 without air restricter. The latter raises its output to 757 horsepower, some 127 hp more than the "regular" MC12 but 43 hp less than FXX. However, with a dry weight only 1150 kg, the MC12 Corsa achieves an astonishing power to weight ratio.

The above report was last updated on 24 Aug 2007. All Rights Reserved.