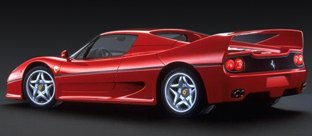 Following 288 GTO and F40, F50 was the next evolution of Ferrari's limited edition supercar. Oddly, while F40 stood for Ferrari's 40th anniversary, F50 was introduced in 1995, 2 years before its 50th anniversary.

1995 was not a good year to launch a new supercar. Not only the world was hit by economy recession, but the supercar market was overcrowded by a dozen of new entries, such as McLaren F1, Jaguar XJ220, Bugatti EB110, Cizeta, Dauer, Lister Storm, Yamaha OX99-11… a result of the supercar booming period in prior to the recession. All these rivals would become commercial failure later on and most even dragged their makers into bankruptcy. Of course, Ferrari's case was much better because it had an overwhelming advantage in fame and client base. However, to ensure sufficient interest to F50, Ferrari set its price at a relatively modest £329,000, or half the price of McLaren F1, and limited its production run to 349 cars, versus the 1300-strong F40. This guaranteed its resale value and avoided angering its loyal customers. History told us Ferrari's realistic strategy was correct, as F50 was the only profitable supercar in its era.

Unfortunately, the car itself was not as brilliant as its business strategy. In fact, many things in the F50 went wrong. The most obvious is styling, which is easily the ugliest design ever penned by Pininfarina for Ferrari. The car was shaped mostly according to the requirements for aerodynamics. Its front end tried to resemble a Formula One racer but the result was just weird. The belt lines and huge rear wing evolved from F40 but their visual effect was no where as convincing. The side profile joined convex and concave surfaces disastrously. No matter then or now, the look of F50 won few friends.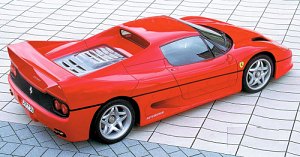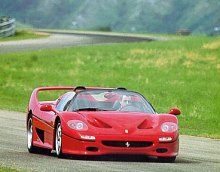 The cockpit was not as spartan as F40, but everything else got worse. Space? Very cramped. Accessibility? Very difficult because of small door openings and door sills that were absurdly wide and high. Blame that carbon-fiber tub. What about the "barchetta" design? It is nonsense to bring open air motoring to a 200 mph supercar. If I were to enjoy sunshine and fresh air, I would choose a Jaguar or BMW convertible instead of a striped-out supercar. The barchetta design also lacked any weather protection, again like a formula one car. A carbon fiber roof panel was offered, but there was no where to store on the car, so you had better to drive home quickly once seeing the first drop of rain.

The chassis of F50 could be said as a revolutionary design, albeit a pre-matured design. While 288GTO and F40 used carbon-fiber composites for bodywork and traditional tubular steel frames for chassis, F50 simply switched to all-carbon-fiber construction like McLaren F1. But the Ferrari took one step further: it bolted the engine directly to the carbon-fiber tub rather than via metal subframes. In this way, the engine and gearbox became part of the load-bearing and the rear suspensions were mounted directly on them, very much the same way as Formula One race cars. This construction brought unpreceding rigidity yet saved weight. Unfortunately, it also transferred a great deal of vibration and resonance into the carbon-fiber cockpit, which would be tolerable by race car standard but not for a road car. That was why Ferrari eventually dumped this design in the next supercar Enzo.



Now it is obvious that many faults of the car were caused by the fact that it followed too much the principles of formula one. The Tipo 130 V12 engine was another example. It was said to be a development from the racing unit powering Alain Prost to 5 GP victories and almost the 1990 Driver Championship title (if Ayrton Senna had not crashed into him on purpose in Suzuka). It shared the same unique 5-valve per cylinder design, similar nodular cast iron block, Nikasil cylinder coating and titanium connecting rods. Of course, most parts were strengthened and redesigned to provide durability necessary for a road car (note: F1 engines only needed to last for 200 miles). The racing engine displaced 3500cc, ran at 12.5:1 compression (thanks to high octane racing fuel), redlined at 13,000 rpm and produced around 700 horsepower. The road version displaced 4700cc, with 11.3:1 compression, 8700 rpm redline and maximum 520 horsepower. By road car standard, it set new records for revability and specific output, i.e., 111 horsepower per liter !

Problem was, it lacked the tremendous torque output of its predecessor. While F40's twin-turbo V8 produced 425 lbft at 4000 rpm, F50's naturally aspirated V12 needed as high as 6500 rpm to deliver just 347 lbft of torque. This made the newer Ferrari supercar felt slower than its predecessor on the road, and it was actually slower in straight line acceleration according to road test results conducted by various magazines. Most found it took 3.8 seconds to do 0-60 mph and 8.0 seconds for 0-100 mph. The official 202 mph top speed was only 1 mph higher than F40. Sadly, F1 technologies did not improve the performance of Ferrari's top supercar.

But even worse was the comparison with McLaren F1. McLaren launched that ultimate supercar a couple of years before F50. Like the Ferrari, it believed in a naturally aspirated V12 engine, but McLaren was cleverer to give it 6.1 liters of capacity and the latest variable valve timing technology. The result was a full 100 extra horsepower and 40 percent more torque than the Ferrari ! And it was also 100 kilograms lighter ! 0-60 mph took merely 3.2 seconds and 0-100 mph took 6.3 seconds, simply two leagues above the Ferrari.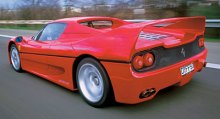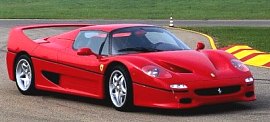 However, was the F50 really that bad ? if so, how can it enter this Classic Car Archive ?

One thing pointed out by motoring journalist Andrew Frankel was quite right: F50 was often underrated by armchair enthusiasts (like us) who had never driven the car, mainly because of its ugly look and the fact that it was not as quick or as sensational in straight line than F40. However, no one can deny that its handling was fabulous – the balance, the poise, the grip, the brakes and the huge downforce that made it stable at any speed. The linear power curve and instantaneous throttle response of the V12 engine enabled the driver to exploit its speed much easier than in the turbocharged F40. While it may have difficulties to beat F40 in straight line, give it a race track and it can beat the F40 ten out of ten times. Its handling approached race car level and was better than any other road cars of its time, McLaren F1 included.

Now looking back, F50 may be not one of the most desirable cars Ferrari ever produced. However, its attempt to bridge the gap between F1 cars and road cars is still worth admiring.