This car was the ultimate product of the Japanese GT booming period that lasted from 1983 to 1993. During this period, many Japanese manufacturers rushed to build landmark GT cars to showcase their R&D power and raise brand image. The fever got even hotter approaching the 1990s, when Nissan
300ZX twin-turbo
,
Mitsubishi GTO
and
Mazda RX-7 Mk3
ignited another round of throat-cutting combat. All adopted the same format of front-engine, rear-wheel-drive and turbocharged six-cylinder motor (okay, the RX-7 had six combustion chambers rather than six cylinders). The Supra arrived the latest in 1993, and it was seen as the ultimate example of this Japanese GT format.
Development of the Supra started in 1989. Having shocked by the fabulous 300ZX twin-turbo, Toyota once considered to trump its rival by adopting a 40-valve V8. However, taking weight and cost into consideration, it finally settled with the traditional 3.0-liter turbocharged straight-6, but more power was to be available with a new twin-turbo setup. To achieve a higher specific output than its rival yet avoid turbo lag, it opted for a sequential twin-turbo arrangement like the new RX-7. At low rpm, all exhaust gas was routed to the first turbo to spool it up more quickly. The second turbo joined from 3500 rpm and together they provided full boost by 4000 rpm. The outcome was precious little turbo lag, yet it successfully lifted the output from the last generation's 232 hp to 326 hp, while maximum torque got a similar increase from 254 lbft to 325 lbft. In fact, the naturally aspirated model was nearly as powerful as the last turbo, with 220 hp and 210 lbft for your disposal.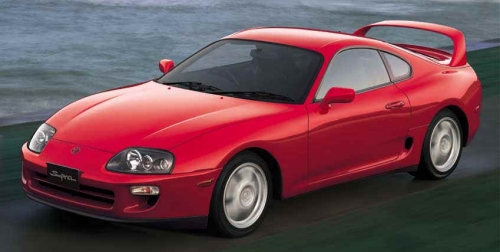 The new Supra also had its transmission upgraded to a Getrag 6-speed manual. Not only benefited by an ultra-short throw and mechanical-feeling gearshift, its extra gear allowed the ratios to be closely packed to enhance acceleration. Initial tests by Car and Driver recorded a jaw-dropping 0-60 mph time of 4.6 seconds. Admittedly, this was never matched by later tests. A typical example should be capable of 0-60 in 5.1 or 5.2 seconds, while 0-100 mph should take 12.3 seconds. Its top speed was electronically regulated at 155 mph, but it should have potential of about 180 mph, according to its maker. Such figures were good enough to guarantee it the top spot of the class and even beating the much pricier
Porsche 928 GTS
.
Cornering speed was equally outstanding. All-round double-wishbone suspensions and their well tuned geometry kept the Michelin Pilot rubbers glued to the road. Torsen limited slip differential and electronic traction control kept wheel spin to the minimum. As a result, the level of grip and traction it provided in corners was truly amazing – something we might have been accustomed to in recent years but hardly believable by the standards of the 1990s. Road & Track recorded an astonishing 0.98 g on the skidpad, matching exclusive supercars like Ferrari F355 and Dodge Viper GTS! Not just on test track, Autocar found its grip, chassis control, suspension composure and steering precision were just as outstanding on public roads. No wonder it described the car as the fastest cross-country production car they could buy. Nevertheless, the magazine also said its slightly numb steering, dull exhaust note (overwhelmed by the turbo whistles) and lack of sharp throttle response (compared with a naturally aspirated engine) made it less inspiring to drive than a Porsche 968 or RX-7, even though it was undoubtedly quicker on all roads. The same view was shared with Car and Driver a few years later, which ranked it below the much slower but more involving BMW M3.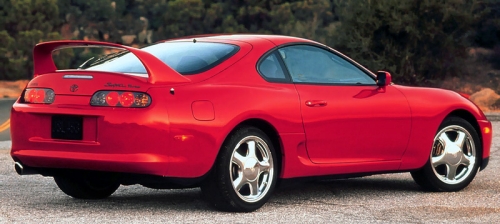 The Supra wasn't as stylish as 300ZX, but neither was it a dull looker, especially if the optional, F40-style tall rear spoiler was fitted. Its body shell was remarkably rigid for its time, thanks to using 36 percent of high-strength steel. By adopting aluminum bonnet, front subframe, bumper support and some suspension control arms, it managed to keep kerb weight less than the old car as well as most of its 2+2 rivals. Weight distribution was also good at 53:47 (or 51:49 for the naturally aspirated car). The cockpit offered sufficient room for front occupants while the rear was limited to small children. The small boot also limited its usability.

However, what really hurt was its high price. Like its rivals, strong yen forced Toyota to sell it at a price not even Porsche dared to charge. Compared with the last generation, its price inflated by nearly 50 percent! That, in addition to economic recession, meant car enthusiasts were more interested to see rather than buy it. To recoup the development costs, Toyota kept it in production for an unusually long 9 years (something like Mitsubishi GTO), during which only the addition of VVT-i (which boosted output slightly) and electronic adaptive damping in 1997 were worth mentioning. When its production ceased in 2002, it also signaled the end of the Japanese GT era. Japanese manufacturers would not produce another fast and costly GT until today, with the exception of Nissan GT-R perhaps.