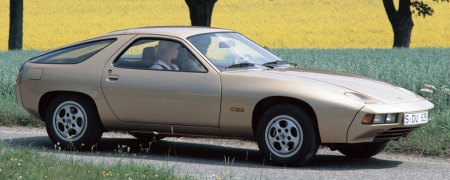 One can conclude the Porsche 928 in three words: Mass, Power and Luxury. It was heavy, but the powerful V8 overcame with ease. It was costly, but the build quality, refinement and luxurious driving environment well deserved the price. Being Porsche's flagship GT, it was positioned even higher than the mighty 911 on the price list.
The story began in 1971. Porsche started planning a replacement for the 911, which had been in service since 1964. Although the 911 was still selling well, it was running out of its originally planned lifespan – of course, no one could foresee its eventual lifespan of 34 years at that time – thus it could be highly risky if Porsche continued relying on the sales of 911 for its fortune. The project 928 was supposed to be its successor, but it was very different in concept. In the view to please the very important USA market, it switched to front-engined, V8 power and a more spacious interior that included two real child seats (rather than the dog seats in the 911). A 3-speed automatic transmission would be offered beside the standard manual to please lazier American drivers. To obtain the targeted 300 hp output, engineers designed a brand-new 5-liter SOHC V8. Since the engine was quite heavy, they also developed a rear-mounted transaxle gearbox so that even balance between front and rear could be achieved. By 1973, essential development was finished and a prototype was built and under testing. At this moment, Arab-Israeli war broke out and brought the threat of energy crisis. Sales of large and thirsty cars plunged. It was a big hit to both 928 and Porsche. The project was put into low gear and production postponed until 1977.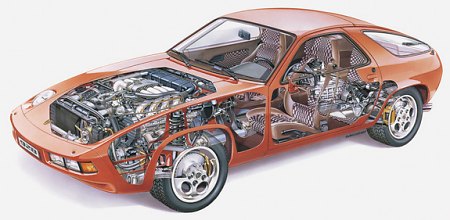 When the 928 was unveiled at Geneva motor show that year, its engine was already downsized to 4.5 liters and the resultant output dropped to 240 hp. Inevitably, it was slower but more fuel-efficient. Despite of running only a single camshaft each bank, the 90-degree V8 was quite advanced in construction. It employed a high-silicon aluminum block, with Nikasil cylinder treatment to reduce friction and save the need of cast-iron liners. Combustion chambers were made oversquare with 95 mm bore and 78.9 mm stroke to ensure smooth revving. They were fed by Bosch K-Jetronic (mechanical) fuel injection. Apart from the new V8, that car also featured a new invention –
Weissach axle
, which was a new kind of rear suspension that allowed a certain degree of passive rear-wheel steering. Conventional semi-trailing arm rear suspensions introduced toe-out under braking forces, thus resulted in oversteer. Weissach axle compensated the toe-out thus resulted in a much more neutral and predictable manner. This made the 928 far more secured to drive to the limit than the 911. The double-wishbone front suspensions and new Pirelli P7 low-profile tires also helped it to achieve a roadholding never experienced in any large GTs before.
Although the 928 was by no means lightweight, it employed aluminum bonnet, front fenders and door shells to save weight and by the way improved its weight distribution to a remarkable 51:49. While the body shell looked smooth, its drag coefficient was not quite special at 0.41.


The exterior design by Tony Lapine was truly special. Never before the world had seen something similar. Its big body shell had the classic sloping back of Porsches but it looked completely modern. It was so round, so smooth, so clean and so refined that today everybody regards it as a timeless design. Bumpers were fully integrated as if part of the body. It did not need to show off muscles or wings to speak of performance. In fact, you can feel its deep reserves of power, solidity and quality from the shape of its sheet metal, incredibly. It was also a rare example of the time that looked truly 3-dimenional, thanks to the symmetric doors, curvy rear quarter windows and the tapered profile of its cross section. The round headlamps were another classic features of the car – in appearance they looked like ordinary exposed headlamps, but in fact they popped up to operate, like those on Lamborghini Miura. This gave the 928 a certain degree of family resemblance to 911 without looking old-fashioned.

By the standards of the 1970s, the interior of 928 must be very stylish. Its sweeping center console and glovebox area merged smoothly into the cabin to give a modern and airy feel. The instrument pod stood above the dashboard level in a minimalist manner. The early cloth seats were not attractive, but they were soon replaced with good-looking leather buckets – at least most buyers opted. The instrument pod could be raised or lowered together with the steering wheel angle so to guarantee good reading. The rear seats were good for children, or short adults for short trips. Their backrests could be folded to expand luggage space, too. Loading practicality was well taken care by the large tailgate. The 928 was a true grand tourer.
With a top speed of 143 mph and 0-60 mph taking 7 seconds flat, the original 928 was not the quickest Porsche at the time, obviously, but as a luxury grand tourer its performance was faultless – faster than the rivaling Mercedes SLC and Jaguar XJS. It also bridged the gap between GT and sports car better than others, thanks to the outstanding roadholding and poise. The smooth revving V8 and its good spread of torque were also popular points of praising by contemporary road testers. Ditto the creamy bass of the exhaust note, which could be easily recognized without looking at the car. The bad points? Poor road noise suppression, harsh ride on rough surfaces and slightly suspectable high-speed stability.

Motoring journalists loved the new Porsche from the outset. They even voted it the European Car of the Year in 1978. That was the first and the only occasion that a sporting car won this title!


Evolution

In 1979, Porsche restored the originally planned 300 horsepower and 150 mph-plus performance by boring out the V8 to 4.7 liters, accompanied with 10:1 compression ratio and dual-exhaust. The name was changed to 928S. Additional chin spoiler and a tiny black rubber tail spoiler lowered its aerodynamic drag coefficient from 0.41 to 0.38 while improved high-speed stability.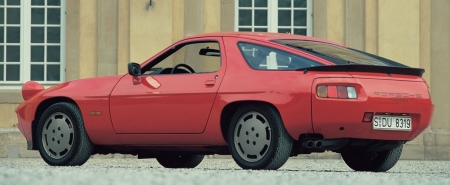 928S Series 2 (928 S2)
In late 1983, Series 2 of 928S appeared. It got Bosch LH Jetronic fuel injection, electronic ignition and higher, 10.4:1 compression to boost output by another 10 hp. 4-speed automatic box replaced the original 3-speeder, while ABS was added to the all-round ventilated discs. Officially the car was still called "928S". The name S2 was marketed only in the UK, though this could not be told from the badge.

928 S2 (1985)
Porsche did not use the S3 label, but there was a heavily revised S2 launched in 1985 exclusively for the US market. Its engine displaced a full 5 liters and got advanced 4-valves heads so to maintain power while meeting Federal emission regulations. 288 hp and 302 lbft guaranteed much the same performance as the more polluting European version.

Further uprated from the US-spec S2, the Series 4 was introduced in late 1986. It got the biggest ever facelift, with smoother nose and tail bumpers and a larger black rear wing to cut drag coefficient to 0.34. The 5-liter 32-valve V8 employed larger valves, faster cam profile and a 2-stage variable length induction manifold with resonance effect. Power and torque rose to 320 hp and 317 lbft, respectively. As a result, top speed was lifted to 167 mph. To deal with the increased performance, the rear tires were widened.

The interior got more luxurious. Leather seats became fully power adjustable, while driver seat and door mirrors got memory function.

The S4 was a successful update. Sales climbed back to the level of the original 928 despite of inflated price. As the majority of customers chose the automatic transmission (keener drivers would probably choose 911 or 944 Turbo), Porsche simply made the 928 S4 name representing the auto version, while 928 S4 SE was reserved for manual version. Later on, a lighter, tauter-tuned, 330 hp manual version called 928 GT was introduced as the hottest S4.

928 GTS
When Porsche launched the 928 GTS in 1992, it knew it would be the last evolution of 928. Anyway, this was not merely a facelift like American normally do to the last evolution. Porsche really did a lot to enhance performance and refinement, hoping its luxury flagship would leave a fond memory to car lovers.

The engine was stroked to 5397 c.c., with 8 balance weights instead of 6 to enhance smoothness. No less than 350 silky horsepower and 362 lbft of torque were available. This enabled a top speed of more than 170 mph. The GTS engine was smoother and more flexible than its predecessor. Its cabin got extra sound-proofing. These made it quieter, smoother and easier to drive. Changes to the chassis included wider rubbers, wider rear track and larger brakes. Externally, the GTS differed from S4 in only new wheels, flared rear fenders and a body-colored rear spoiler.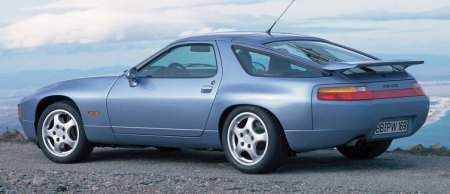 The End of 928

During its 18 years life, the 928 never achieved its original goal, i.e. replacing the 911. There were a few reasons. Firstly, it was too expensive, whereas performance was not proportional to the price; Secondly, owing to its excessive weight and size it was never quite as agile as traditional Porsche drivers would like. Thirdly, the 911 was simply too iconic to be replaced. People refused to accept the idea that the 928 was a True Porsche, because it differed too much from the 911. As a result, the 928 was always the slowest selling model in the company's lineup. However, the biggest threat to its survival probably came from other manufacturers. In 1989, Mercedes launched its superbly engineered 500SL R129. That car was nearly as fast as the Porsche while being more comfortable and luxurious, not to mention its irresistible open-air motoring. Since then the 928 had to struggle for survival. A year later, BMW 850i added further salt to its wounds. The market positioning of 928 became embarrassing – it was neither as quick as Ferrari nor as luxurious as Mercedes, and was much more expensive than a Toyota Supra turbo. Yearly production dropped to a thousand units in its last year. Consequently, the termination was inevitable. A total of 61,000 units were built throughout the years, not exactly a successful number by the standard of Porsche.